WeChat B2B Marketing: How to do Advertise with WeChat's New Search & Video Ads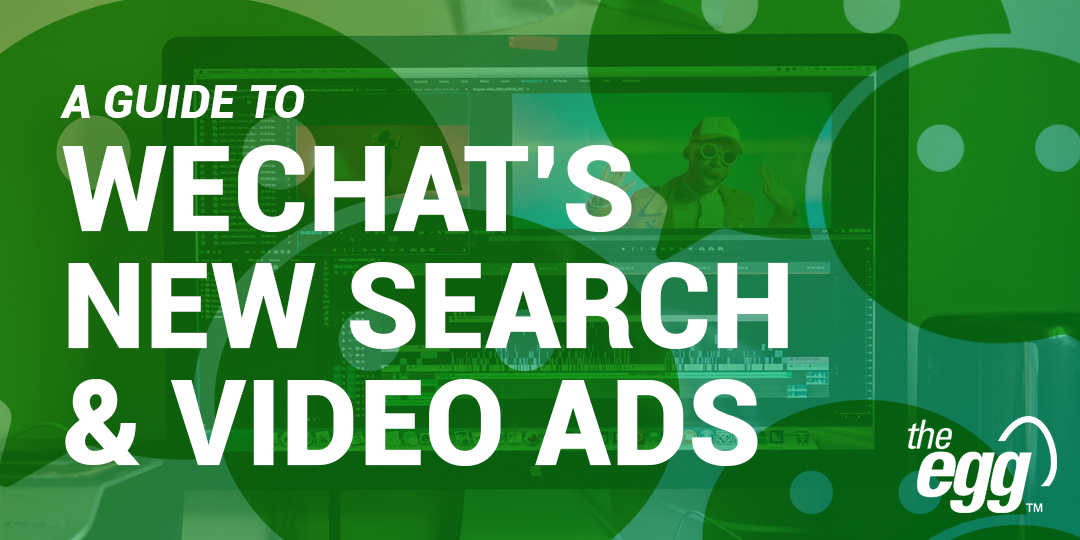 In WeChat Search, what began as a simple built-in search engine has evolved into an all-in-one search portal interconnected with the rest of the WeChat ecosystem. By 2022, it reached a milestone of 700 million monthly users, reflecting its popularity on par with that of even Baidu's app.
At the same time, WeChat promptly introduced WeChat Channels after catching onto the growing user preference for watching video content over reading text. According to QuestMobile data, its active userbase has now surpassed 813 million, leading the likes of Douyin and Kuaishou with 680 and 390 million users, respectively.
With these two WeChat properties fast maturing, it's prime time for advertisers to leverage their latest advertising options to boost brand exposure—cue in WeChat's new search and video ads.
In this article, let's explore where WeChat's new search and video ads appear and how to leverage them for your China B2B marketing goals.
But before we do, here's a quick refresher on the ad types available on the various WeChat properties:
WeChat Search ads
WeChat Channels ads (i.e., video ads)
WeChat Search Ads
WeChat Search ads appear on WeChat Search's results pages and vary depending on a user's search terms. WeChat Search also supports paid keyword advertising for short-tail keywords related to your brand, business category, or product or service-related terms you may want to prioritize targeting. This makes its ads ideal for generating interest for lead acquisition and promoting your:
Brand campaigns
Products and services
Applications
WeChat Official Account
WeChat Mini Programs
Pro tip: Leverage WeChat Search's keyword explorer tool (微信指数) to find and target more related terms and drive traffic for those.
Where do WeChat Search Ads appear?
WeChat Search Results
Your search ads appear on WeChat Search's results pages whenever a user searches for keywords you've targeted through bidding and can show up beside results for brand websites, articles, Mini Programs, and more. Results boosted with search ads will have an ads tag appear next to them.
Here, ad bidding is calculated by cost-per-click (CPC).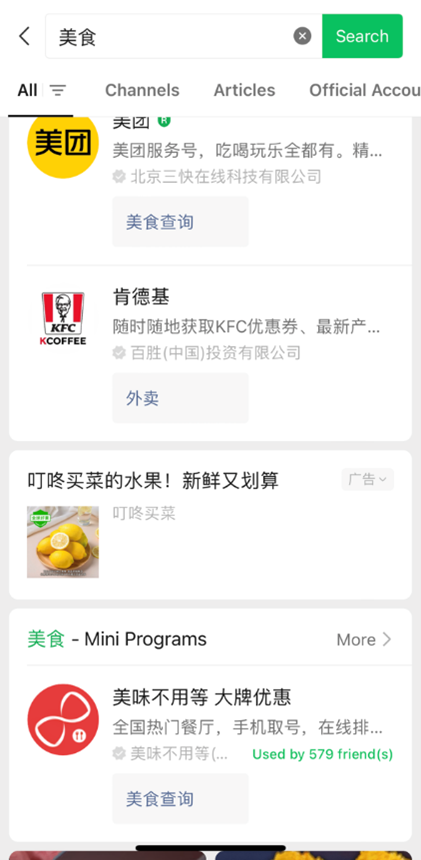 An example of a boosted WeChat Search result (with its ads tag outlined in red)
WeChat Super Brand Zone
Through the branded content card medium from WeChat's Super Brand Zone, you can run search ads to show up for searches about your brand information, products, or services and offer users quick access to your WeChat Official Account or Mini Program.
Here, ad bidding is calculated by cost-per-thousand-impressions (CPM).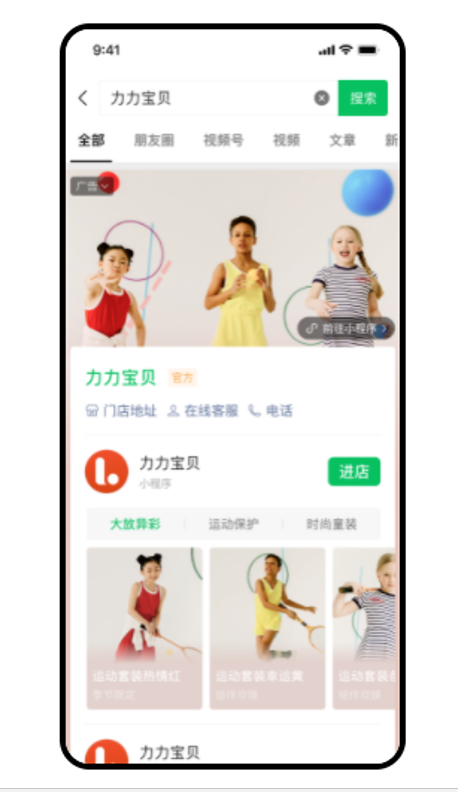 WeChat Search Ads (in brand content card format) on WeChat's Super Brand Zone
WeChat Channels Ads (i.e., Video Ads)
WeChat video ads are full-screen video ads that appear on a user's WeChat Channels feed, providing them with an immersive video experience. Video ads may even come with call-to-action (CTA) buttons or swipe-up links that can direct users externally—for example, to your official brand website—or to your brand assets on WeChat.
You can either produce your content for video ads in-house or co-produce them with video bloggers or KOLs relevant to your business. By opting for the latter, you can potentially expose your ads to a wider pool of users who, in turn, may also be inclined to share them on their WeChat Moments or WeChat group chats, thereby potentially expanding your reach even further.
Where do WeChat Video Ads Appear?
WeChat Channels Video Feed
As mentioned, WeChat video ads appear on a user's WeChat Channels video feed in-between their organic video recommendations.
Here, ad bidding is calculated by cost-per-thousand-impressions (CPM) or cost-per-click (CPC).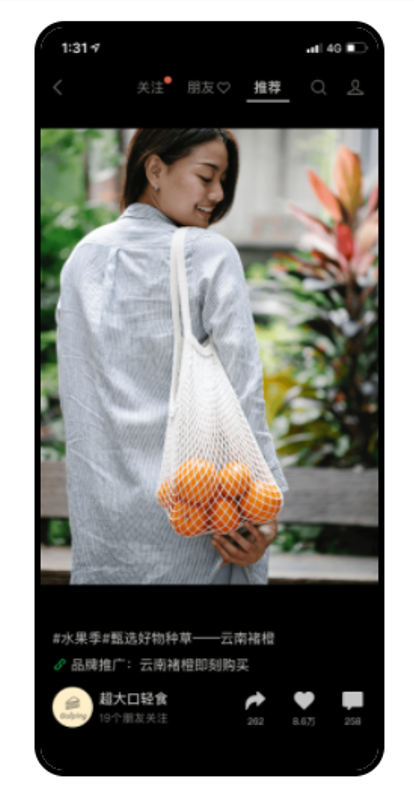 An example of a WeChat video ad
***
The size and scope of WeChat mean brands advertising there have enormous reach to millions of users. And while most brands are advertising passively on WeChat Search and Channels due to the platform's limited B2B-specific targeting options—especially compared to Douyin or Weibo—and higher ad costs, that may soon change with the engagement potential of these new search and video ad formats.
Ready to maximize your digital marketing in China?