DOU+ vs. Douyin Ads: How should you advertise on Douyin?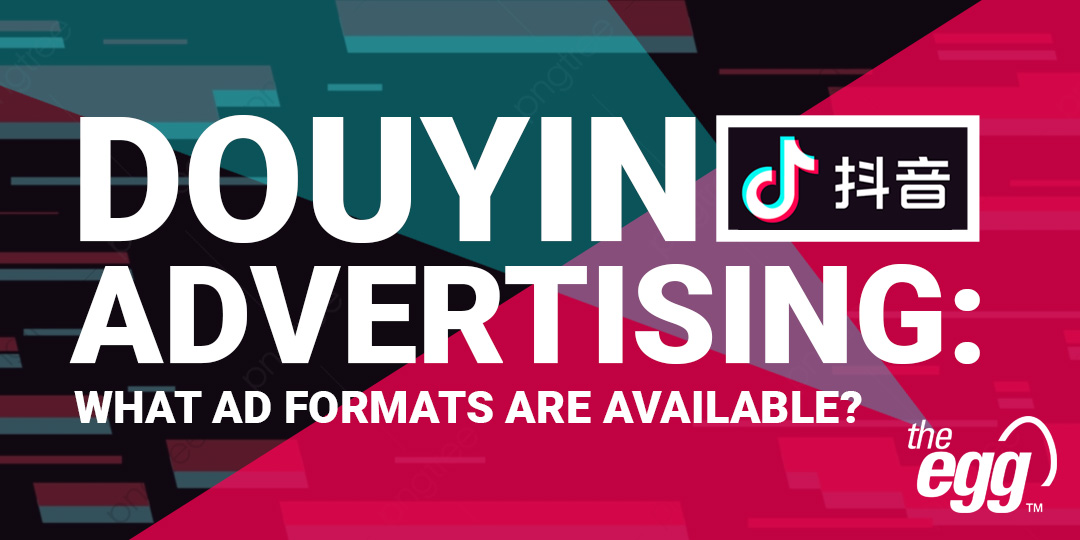 Owned by ByteDance, Douyin (i.e., the Chinese version of Tiktok) is China's most downloaded video-sharing app, where over 600+ million active users use it to create, view, and share short video content based around comedy acts, dancing, stunts, and much more.
Whether to promote your brand in China or gain followers as an individual creator, Douyin is the place to be, given its stickiness and viral popularity. But with so much user-generated content (UGC) circulating the app, how can you boost the discoverability, engagement, and retention of your videos? That's where DOU+ comes into play.
What is DOU+? Launched in 2018, DOU+ (DOU Plus) is Douyin's content promotion and targeting tool that lets content creators push videos to custom target audiences, thereby making themselves more discoverable to viewers who are likely interested in their content.
In this article, let's explore how you should be advertising on Douyin and whether DOU+ ads or Douyin's more traditional ad formats are a better fit for your brand goals on the platform, whose users are some of the most captive and engaged in the world.
How to Advertise on Douyin: DOU+
DOU+ is a content promotion tool that boosts your Douyin native videos to amplify their reach and engagement among your target audience. Essentially, DOU+ enables you to buy more views and get your videos trending, which in turn increases your engagement of likes, shares, comments, and even followers.
However, unlike content boosted by Douyin's more traditional ad formats, videos boosted by DOU+ appear just like any other organic video on the app, resulting in a blend of organic and paid posts for a more seamless user experience.
What's more, users have shown a higher receptivity towards ads on Douyin compared to other popular Chinese social platforms, with around 43% of Douyin users stating that Douyin ads are easy to accept—and sometimes even entertaining to watch. This higher receptivity leads to positive brand perception and helps make conversions likelier later down the road.
With that said, DOU+ offers three types of audience targeting:
AI-powered targeting: While DOU+ will serve videos to target audiences by matching the video tag with the users' tag, its system will decide how to spread it further based on video interactions, like the number of likes, comments, and shares. This offers the most extensive coverage out of the three methods.
Similar audience targeting: DOU+ lets you target ads to followers of other similar creator accounts, considering they are also likely your potential customers.
Demographic targeting: Targeting based on parameters like age, gender, location, and interests.
Considering more than half of Douyin's users are aged below 30 and mostly come from developed metropolitan areas (i.e., tier 1 and 2 cities) in China, Douyin is ideal for brands with young and affluent target audiences.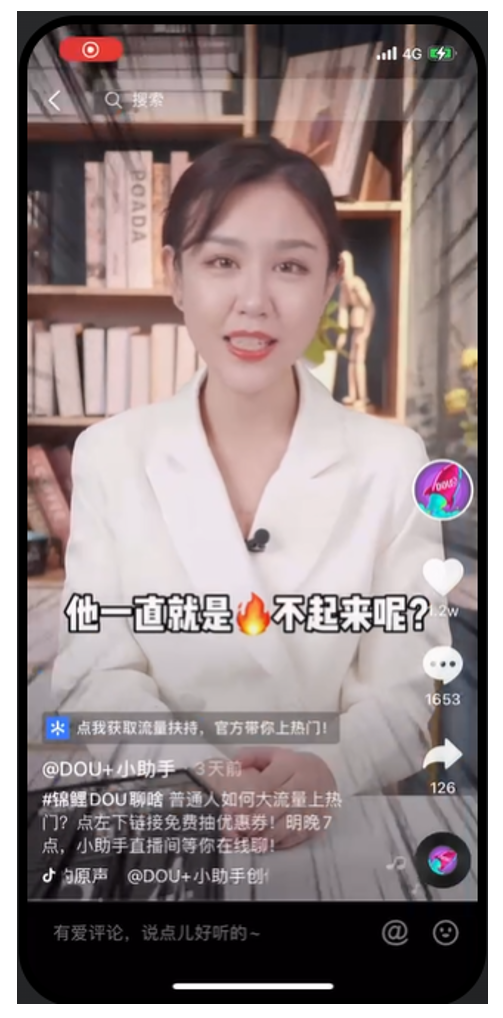 An example of a Douyin video boosted by DOU+
Ultimately, DOU+ is only one of Douyin's advertising options, so in the following section, let's explore some of Douyin's more traditional advertising options: Launch screen ads, feed ads, and search ads.
WANT DIGITAL INSIGHTS STRAIGHT TO YOUR INBOX?
How to Advertise on Douyin: Launch Screen, Feed, & Search Ads
Let's look at three Douyin ad formats that present massive opportunities for brand exposure and lead generation.
Douyin Launch Screen Ads
These full-screen ads appear when users first open and load the Douyin app, leaving users with a strong visual impact at the get-go.
Moreover, you can push launch screen ads—made up of static images, GIFs, or videos—to redirect target users to creatives, livestreams, and landing pages at times when they are most likely to resonate with them.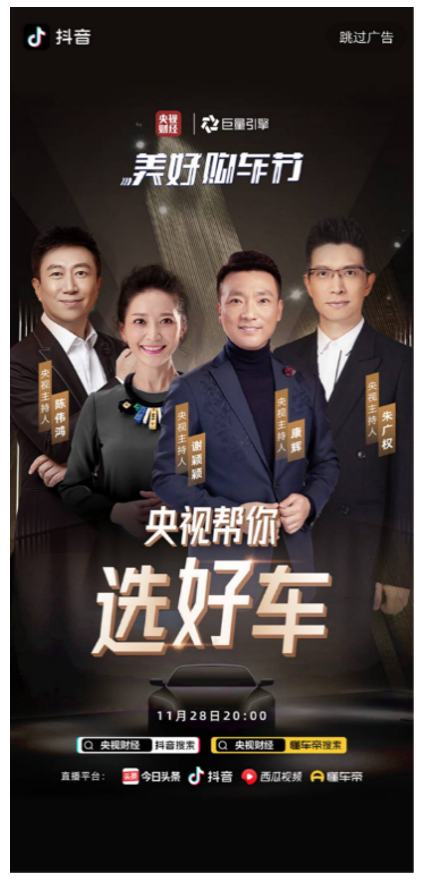 An example of a Douyin launch screen ad
Douyin Feed Ads
Taking the form of short videos, feed ads are seamlessly integrated throughout a user's daily video feed and can lead to high engagement, particularly if they emulate the style of popular UGC on Douyin.
Like with standard organic posts on Douyin, users can comment on feed ads, share them with friends, and reshare them to other social media sites—all of which can significantly increase a brand's exposure and following.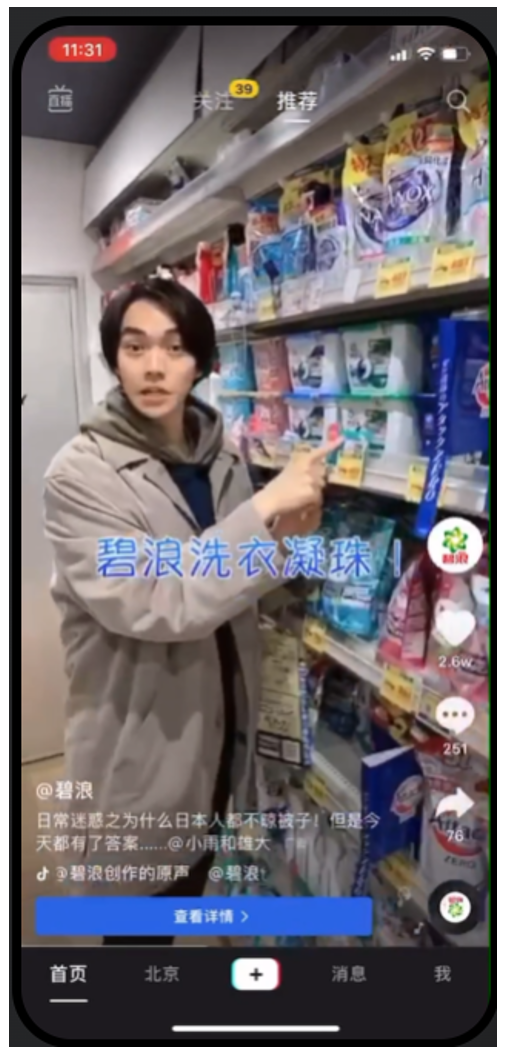 An example of a Douyin feed ad
Douyin Search Ads
Unlike other ad formats in Douyin's "For You" section, search ads only appear when users search keywords that match those you have pre-defined as related to your brand.
Due to how closely they match user search intent, search ads can help you capture more qualified traffic in the lower funnel and convert users who are likely already interested in your brand, products, or service.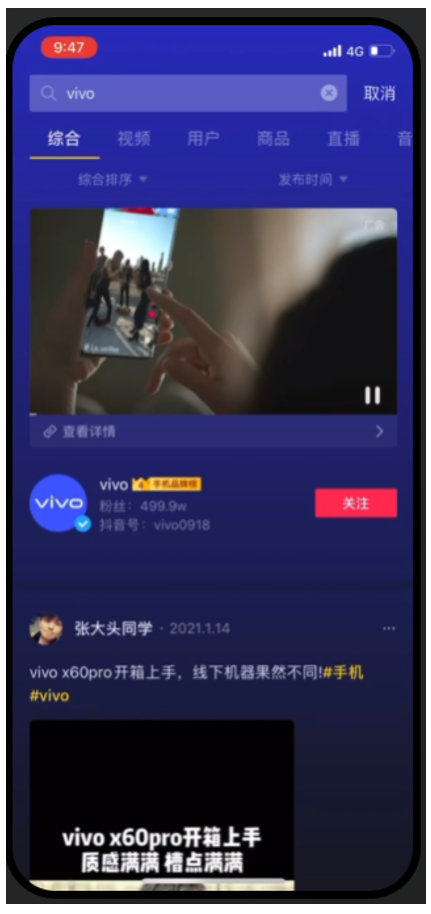 An example of a Douyin search ad from Vivo
***
As the #1 short video app in China, Douyin is one of the most important social platforms for marketing your brand in China. To this end, you can leverage the smart targeting of DOU+, coupled with Douyin's ad formats—like launch screen, feed, and search ads—to engage target audiences at different stages of the user journey.
Ready to maximize your digital marketing in China?