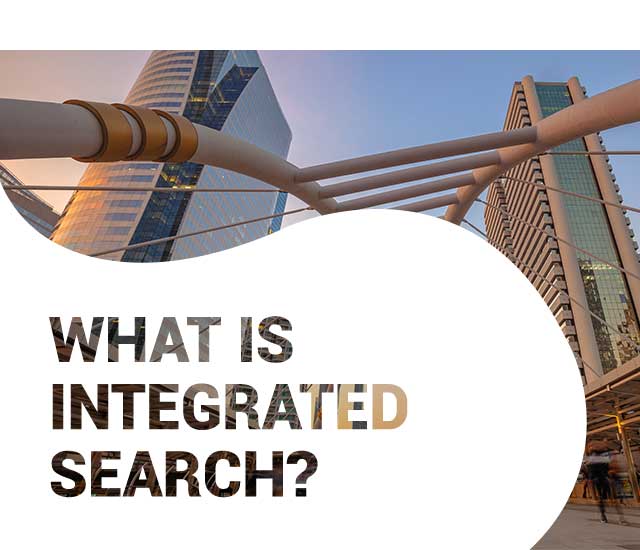 Integrated search is the unification of your SEO and SEM strategies under one agency and one account. This works because brands must understand search ROI in totality, not in isolation. 
Our multinational SEO and SEM teams join forces to optimize all stages of your customer search journey—through any platform, on any device, and wherever the search happens. 
With quality service, nuanced analysis, bespoke solutions, and agility to scale, we ensure strong global visibility across your entire search profile and on myriad search engines.  
Together, we put integrated search to work for you:   
One agency and one account creates greater cost-savings and time-efficiency for your search campaigns.
Strategic collaboration optimizes across all your search properties–paid and organic.
Nimble and streamlined execution minimizes resources and maximizes performance.
Centralized data integration means fewer technical anomalies and faster issue resolution.
Integrated Search. Global Growth.
BETTER TOGETHER
A centrally integrated search marketing team speeds up management time and reduces errors, while consolidated spending affords you greater attention from Google.  
Integrating your search profile allows you to pool resources: smart people, strategic budgets, and valuable time.  
KEY BENEFITS
Consolidated billing and

spending

 

Full global support for all regions due to pooled budget

 

Access to beta or future initiatives ahead of release

 

Shared set of global tags and conversion actions

Shared negatives

and

audiences

 

Centralized automation

 
SPAN REGIONS + LANGUAGES
Your integrated search service team at The Egg is comprised of digital specialists widely experienced in global markets. With expertise in multinational, multilingual, and multi-platform campaigns, we develop global strategies that convert through market-specific optimization.
ONE SERP. ONE OPPORTUNITY.

 
SEO and SEM target the same audience performing the same action in the same environment. So, it simply makes sense to integrate them with the same agency.  
Because we have the rounded expertise, we build your strategy based on user behavior, not siloed skillsets.  
Right Results. Right Time.
We understand that you just need to be visible on the right search results at the right time, regardless of channel. 
Navigating the stringent requirements, leveraging the right platforms at the right time, and bridging the subtle but critical cultural nuances that can make or break marketing revenue, we help clients increase their influence on the myriad search engines and platforms used around the world.
FROM ISOLATION TO INTEGRATION
KPI + reporting

 

Planning + strategy

 

Attribution

 

Budgeting

 

CENTRALIZED REPORTING

 
Our expertise in both SEO and SEM works together to help you:  
Improve visibility of the ROI from platforms on myriad levels

 

Understand and capitalize on brand, non-brand, and remarketing trends for all key metrics

 

Leverage our comprehensive reports customized specifically for you to provide actionable insights on your unique KPIs and business goals.

 
Your monthly integrated search report includes: 
Blended SEM + SEO country-level month-on-month trends and key metric comparisons

 

Key findings, strategic insights, recommendations, and optimization opportunities
UNIFIED DATASETS

 
Previously siloed data gets pulled into one report from which you draw actionable and strategic insights across all your search assets. 
ONE REPORT. MYRIAD SOURCES. ACTIONABLE INSIGHTS.

COMPLEMENTARY LANDING PAGES

 
Do your SEM landing pages have a low conversion rate? We help you leverage SEM data to identify search terms that are more likely to convert.  
Do your SEO landing pages have a low-quality score? We maximize our SEO expertise to improve keyword, content, and metadata relevancy.  
KEYWORDS THAT WORK TOGETHER

 
SEM and SEO leverage keywords at different stages of the conversion funnel.  
You need both working in concert to ensure that you capture leads all the way through your customer journey.  
Integrated search is the catalyst for retention and loyalty. 
Trusted by world-renowned brands