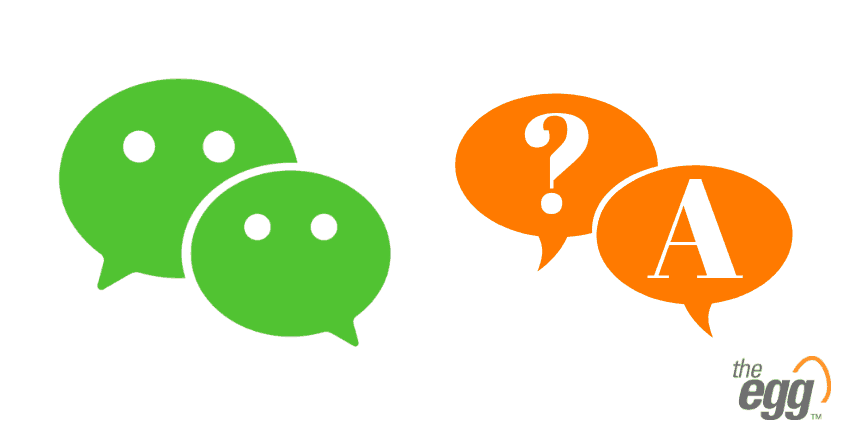 Today is the last day of 2018. Thank you for your reading and supporting our blog this year!
Over the year, we received many inquiries from many different countries about WeChat advertising and official accounts.
Here, we'll answer 4 of the most frequently asked questions.
Should I try WeChat advertising?
If you want to promote your brand in the Chinese market, WeChat advertising is one of the leading channels for social marketing in China. The WeChat advantage includes:
Access to the top social users in China
Wide reach and demographic base, from teenagers to the elderly
Audience targeting through the orientation feature
Options for different budgets
User-friendly advertising display
High engagement and conversion rates
Accurate reporting
We recommend 3 forms of WeChat advertising:
WeChat Moments Ads
WeChat Moments ads are suitable for mature brands, B2C industries, and e-commerce.
WeChat Official Account Banner Ads
WeChat official account banner ads are suitable for mature and new brands, B2C and B2B industries, and e-commerce.
WeChat KOL Marketing
WeChat KOL marketing is suitable for mature and new brands, B2C and B2B industries, and e-commerce.
Learn more:
As an overseas company, can I advertise on WeChat?
As an overseas company, you can advertise on WeChat. However, there are stipulations. For example, there are some industries that are best suited for WeChat advertising, some industries that are banned from WeChat advertising altogether, and some special industries that must meet certain criteria before advertising on WeChat.
Overseas Industries Best Suited for WeChat Advertising
E-commerce (relates to the entire advertising platform)
Tourism (excluding casinos)
Digital appliances/electronics
Parent and child commerce (excluding milk powder)
Food (excluding health food)
Wine
Transportation
Domestic/life services (excluding gambling, such as casinos, horse racing, etc., and home services)
WeChat advertising is suitable for the following overseas industries—only if brands have an established reputation in the local market:
Apparel
Shoes and bags
Jewellery and watches
Skin care and makeup
Daily necessities
Outdoor and sporting goods
Overseas Industries Banned from WeChat Advertising
Web portals
Merchants (relates generally to advertising merchants)
Healthcare
Tobacco products
Business services
Legal services
Personal overseas WeChat official accounts
Special Overseas Industries: Must Meet Particular Conditions Before Advertising
Education
Special support is provided for overseas universities approved by the Ministry of Education. Here's a list of approved overseas universities.
Banking
At present, only banks with domestic branches can advertise on WeChat. All banks must meet the following criteria:
Qualification certificate of domestic branch or office
Material and landing page are used only for brand promotion, not transactions
Seal or signature of the letter of commitment
Real Estate
WeChat advertising supports only the overseas real estate business of domestic entities.
Online and Telecommunication Services
WeChat advertising supports overseas companies that provide operator services in China. These companies must have the "Basic Telecommunications Business Operation Permit" or the "Value-added Telecommunications Business Operation Permit," which is issued by the Ministry of Industry and Information Technology.
Gaming
Gaming companies must meet the following criteria for WeChat advertising:
Proof of registration/approval (imported games must provide approval documents from the Ministry of Culture)
Game version number (the version must be approved by the State Administration of Press, Publication, Radio, Film and Television)
Agencies and Associations
Agencies and associations must strictly abide by the relevant provisions of the Law on the Administration of Domestic Activities of Non-Governmental Organizations Outside the People's Republic of China and must provide a seal or signature of the letter of commitment.
Learn more:
What are the requirements for WeChat account application and verification?
Local business license/company number and country of company registration
An operator passport number and issuing date
Office address of the applicant
Desired display name
Desired name of the WeChat ID
Email address for the purpose of registration
Account type: subscription or service
A short introduction to your business
Profile picture
local landline phone number of your company (for a verification call from Tencent)
Learn more:
Can my overseas business license be used to register for WeChat official accounts?
Below is a list of countries from which an overseas business license is accepted to register for WeChat official service accounts.
Asia
Afghanistan
Armenia
Azerbaijan
Bahrain
Bangladesh
Bhutan
Brunei
Cambodia
China Mainland
East Timor
Georgia
Hong Kong China
India
Indonesia
Iran
Iraq
Israel
Japan
Jordan
Kazakhstan
Korea
Kuwait
Kyrgyzstan
Laos
Lebanon
Macao China
Malaysia
Maldives
Mongolia
Myanmar
Nepal
North Korea
Oman
Pakistan
Palestine
Philippines
Qatar
Saudi Arabia
Singapore
Sri Lanka
Syria
Taiwan China
Tajikistan
Thailand
Turkey
Turkmenistan
United Arab Emirates
Uzbekistan
Vietnam
Yemen
Europe
Aland Islands
Albania
Andorra
Angola
Austria
Belarus
Belgium
Bosnia
British Isle of Man
Bulgaria
Croatia
Cyprus
Czech Republic
Denmark
Estonia
Faroe Islands
Finland
France
Germany
Gibraltar
Greece
Guernsey
Hungary
Iceland
Ireland
Italy
Jersey
Latvia
Liechtenstein
Lithuania
Luxembourg
Macedonia
Malta
Moldova
Monaco
Montenegro
Netherlands
Norway
Poland
Portugal
Romania
Russia
San Marino
Serbia
Slovakia
Slovenia
Spain
Svalbard and Jan Mayen
Sweden
Switzerland
Ukraine
United Kingdom
Vatican
Americas
Anguilla
Antigua and Barbuda
Argentina
Aruba
Bahamas
Barbados
Belize
Bermuda
Bolivia
Brazil
Canada
Chile
Colombia
Costa Rica
Cuba
Dominic
Dominican Republic
Ecuador
Falkland Islands (Malvinas)
French Guiana
Greenland
Grenada
Guadeloupe
Guatemala
Guyana
Haiti
Honduras
Jamaica
Martinique
Mexico
Montserrat
Nicaragua
Panama
Paraguay
Peru
Puerto Rico
Saint Kitts and Nevis
Saint Lucia
Saint Pierre and Miquelon
Saint Vincent and the Grenadines
Salvador
Small island outside the United States
South Georgia and South Sandwich Island
Suriname
The British Virgin Islands
Trinidad and Tobago
Turks and Caicos Islands
United States
United States Virgin Islands
Uruguay
Venezuela
Africa
Algeria
Antilles
Benin
Botswana
British Indian Ocean Territory
Burkina Faso
Burundi
Cameroon
Cape Verde
Cayman Islands
Central African Republic
Chad
Comoros
Cote d'Ivoire
Democratic Republic of the Congo
Djibouti
Egypt
Equatorial Guinea
Eritrea
Ethiopia
Gabon
Gambia
Ghana
Guinea-Bissau
Kenya
Lesotho
Liberia
Libya
Madagascar
Malawi
Mali
Mauritania
Mauritius
Mayotte
Morocco
Mozambique
Namibia
Netherlands
Niger
Nigeria
Republic of Congo
Reunion
Rwanda
Sao Tome and Principe
Senegal
Seychelles
Sierra Leone
Somalia
South Africa
Helena
Sudan
Swaziland
Tanzania
Togo
Tunisia
Uganda
Western Sahara
Zambia
Zimbabwe
Oceania & Antarctica
American Samoa
Australia
Bouvet Island
Christmas Island
Cocos (Keeling) Islands
Cook Island
Federated States of Micronesia
Fiji
French Polynesia
French Southern Territories
Guam
Guinea
Heard Island and McDonald Island
Kiribati
Marshall Islands
Nauru
New Caledonia
New Zealand
Niue
Norfolk Island
Northern Mariana Islands
Palau
Papua New Guinea
Pitcairn
Samoa
Solomon Islands
Tokelau
Tonga
Tuvalu
Vanuatu
Wallis and Futuna
Learn more: 
Ready to target the Chinese market in 2019?