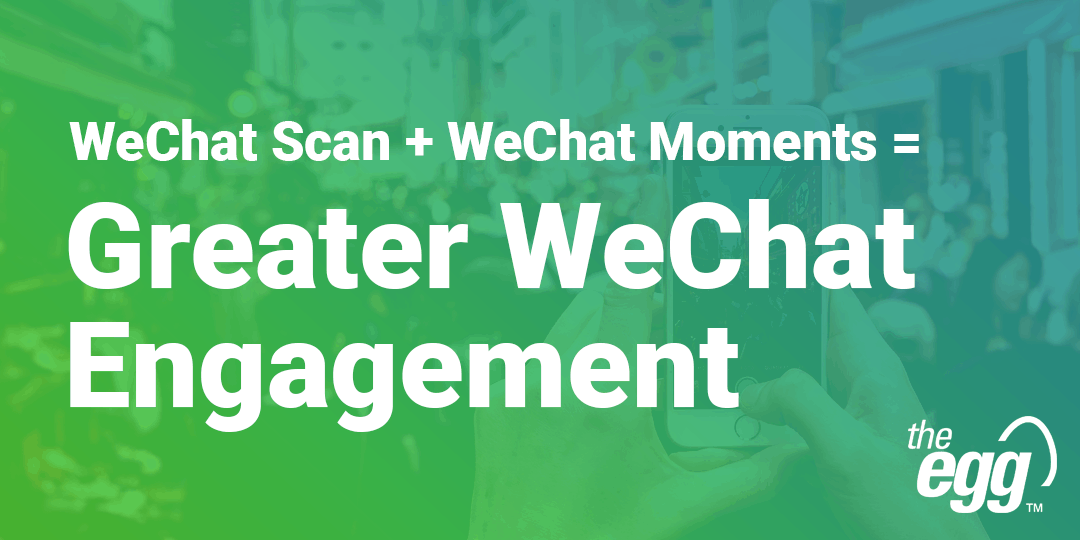 With more than 1.2 billion monthly active users, WeChat is China's #1 social platform.
And although WeChat is an online tool, it's permeated all aspects of offline life too, allowing people to order food, hail a cab, pay a utility bill—even show a digital government-issued ID, and more!
The platform also allows brands to move offline interactions online with WeChat Scan.
In addition to capturing QR codes, WeChat Scan can also capture products, images, barcodes, and words as well as interpret touch gestures, all of which ultimately create greater engagement potential within the WeChat ecosystem.
Leveraging WeChat Scan functionality in your WeChat Moments ads allows for more creativity and interactivity. This type of ad engagement is particularly effective during public holidays and celebrations in China, such as National Day, Valentine's Day, and Mid-Autumn Festival.
In this article, we will show you a few examples of how some brands have engaged their audience on WeChat Moments using WeChat Scan features.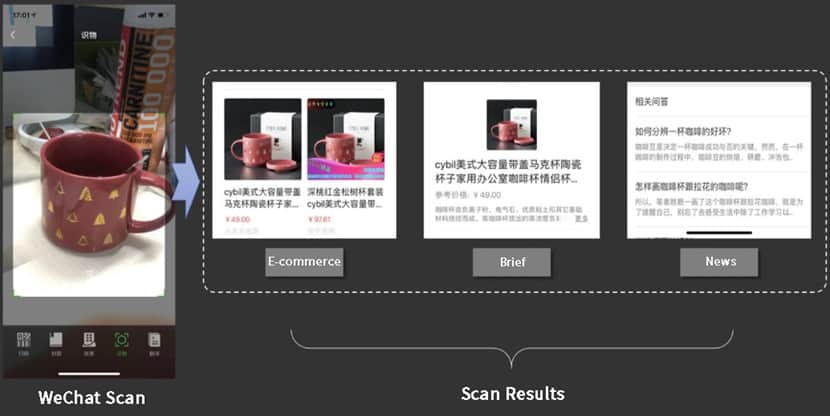 When an item is scanned using WeChat Scan, key information, such as product name, description, price, e-commerce links, related mini programs, and other relevant info/news is shown.
WeChat Scan + Moments Case Study 1
Mengniu Dairy: Unlock heart gesture to get rewards
During Chinese Valentine's Day, Mengniu Dairy launched an interactive WeChat Moments ad with WeChat Scan features. Users created a heart gesture with their fingers on their phone screens, and these gestures were interpreted through WeChat Scan.
When users made these touch gestures, random surprises then popped up as rewards—it could have been a coupon, customized digital red pocket cover, or special message. But regardless of the reward generated, the ad captured attention and drummed up brand excitement.
WeChat Scan + Moments Ad ROI for Mengniu Dairy
75% higher engagement rate than the industry average
150% higher comment rate than the industry average
Customized red pocket covers garnered more than 4 million impressions.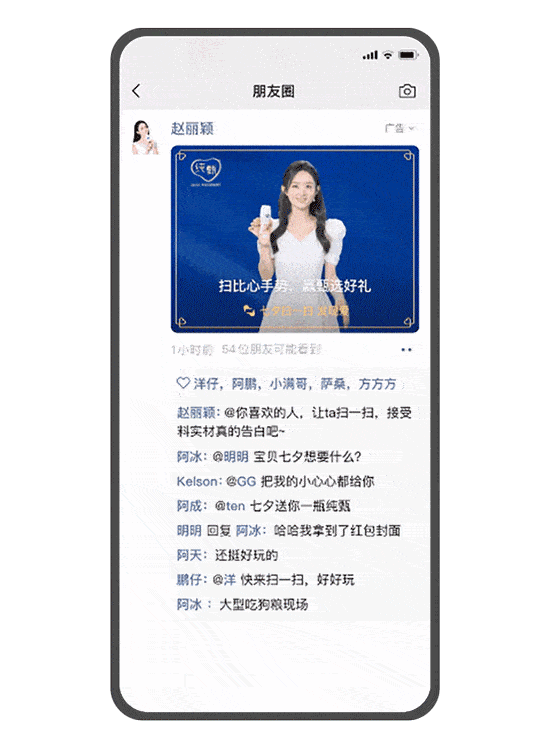 Mengniu Dairy WeChat Scan + Moments Ad
WeChat Scan + Moments Case Study 2
Tom Ford: Unlock heart gesture to get a free sample
With the same interactive WeChat Scan + Moments ad concept and format, users received a new perfume trial pack as a gift for Chinese Valentine's Day.
WeChat Scan + Moments Ad ROI for Tom Ford
"Like" rate increased by 3.4 times.
Comment rate increased by nearly 4 times.
It generated leads and drove foot traffic to offline stores.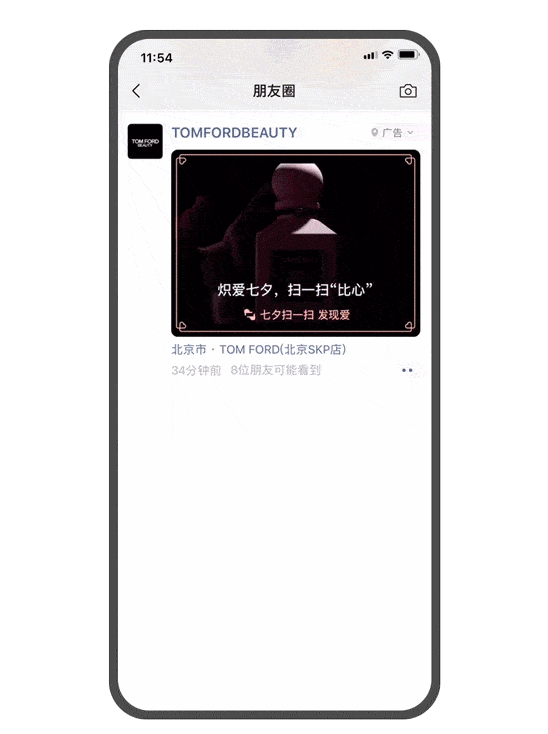 Tom Ford Dairy WeChat Scan + Moments Ad
WeChat Scan + Moments Case Study 3
Tiffany: Unlock finger gesture to get KOL's stickers
Tiffany also launched the same interactive WeChat Scan + Moments ad format to promote its new product. Users scanned a "1" finger gesture (as shown in the picture) to obtain the brand endorser's (Jackson Yi) stickers.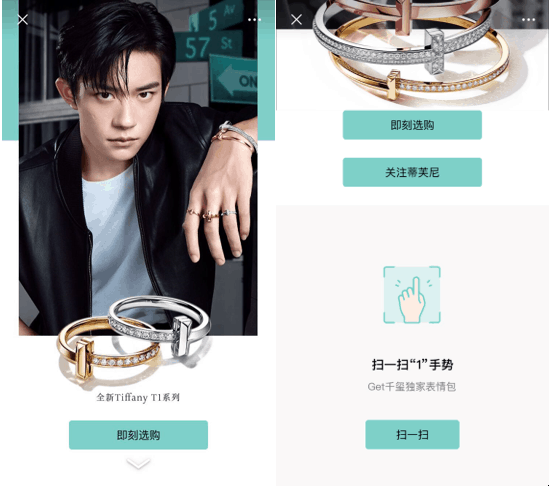 Tiffany WeChat Scan + Moments Ad
More New and Interactive Ways to Engage Users
In addition to interpreting touch gestures, WeChat Scan will soon be able to support more types of recognition. It will cater to different industry needs and marketing demands for more creative campaigns.

For example:
Brands in the food and beverage industry can attract consumers with rewards after scanning bottle packaging.
Brands can increase recognition by creating activities for users to scan and identify brand logos and/or flagship products.
Brands can promote offline-to-online by enticing users to identify and scan offline store elements in exchange for rewards online. Not only will this enhance brand awareness and interactivity, but it will also drive offline and online traffic.
Insights from Case Studies
Younger users in first- and second-tier cities most frequently engage with WeChat Scan + Moments ads.
According to Tencent, users who participate in interactive scanning are generally younger, and they are mainly from first- and second-tier cities. This shows that these new interactive methods can help brands increase brand awareness and engagement among a younger target audience who has greater consumption potential.
WeChat Scan + Moments ads saw a 50% increase in exposure rate.
During Chinese Valentine's Day campaigns, there was an increase of more than 50% in the daily exposure rate of WeChat Scan + Moments ads. On top of that, the rewards that coincided with interactive scanning helped to establish brand awareness and—most importantly—boost sales revenue.
***
All these results show how brands can actively engage users in an effective and innovative way with WeChat Scan and WeChat Moments ads!
Need help reaching your target market on WeChat?
Learn some of the rules that your advertisements must follow in China.
Learn how to leverage WeChat's new features to increase exposure and engagement