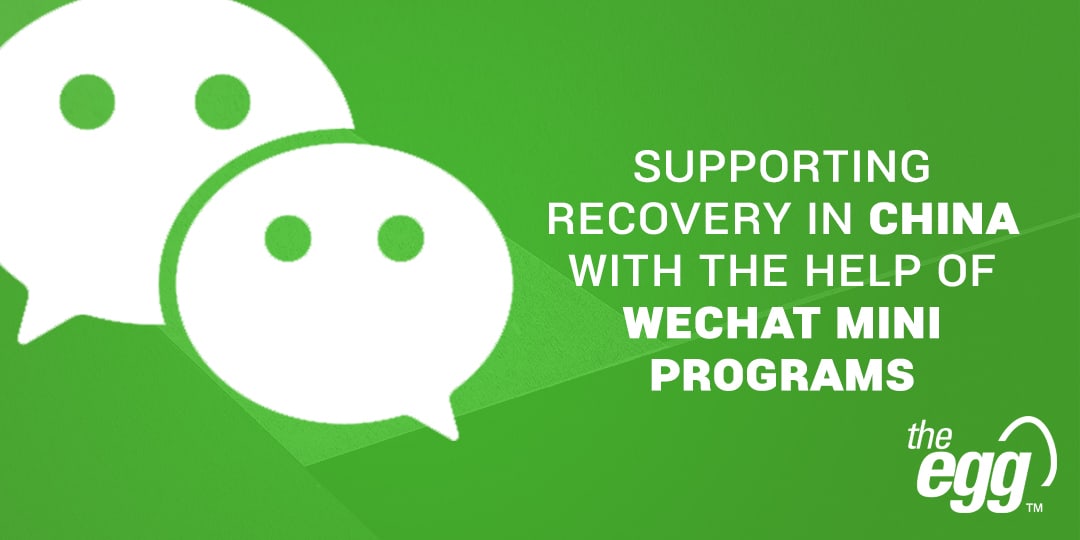 As a huge part of the WeChat ecosystem, mini programs permeate virtually every aspect of daily life in China, from ordering food and hailing a taxi to performing banking functions and paying for products/services.
Mini programs provide a convenient, safe, and effective platform for breaking down current communication barriers.
Here, we look at some examples of industries and brands that have leveraged WeChat mini programs to drive recovery.
But first, let's define a mini program:
What is a WeChat mini program?
Mini programs are essentially sub-applications within the larger WeChat app. Mini programs facilitate auxiliary functions, like e-commerce.
For users, mini programs avoid the annoyance of having to download additional silo apps outside of WeChat to engage with a brand. Rather, users can simply search the brand on WeChat, and enter the relevant mini program(s) to obtain information, purchase goods/services, and engage with the brand.
For brands, mini programs digitize traffic and are a key part of building 'traffic pools'—a new marketing concept that refers to using a pool of users to drive and sustain traffic.
This helps connect diverse usage scenarios, shortening the conversion process and forming a closed marketing loop for user outreach, online transactions, and conversion retention. In this way, mini programs help merchants efficiently stimulate online traffic at a low cost while facilitating long-term growth.
Now that we've defined mini programs, let's dive into some examples of organizations using WeChat mini programs to drive recovery in China.
Driving Recovery with WeChat Mini Programs
Government
China State Council launched its WeChat official mini program in 2019 to provide lifestyle and livelihood services for the public. During COVID-19, the Council launched additional health-check features.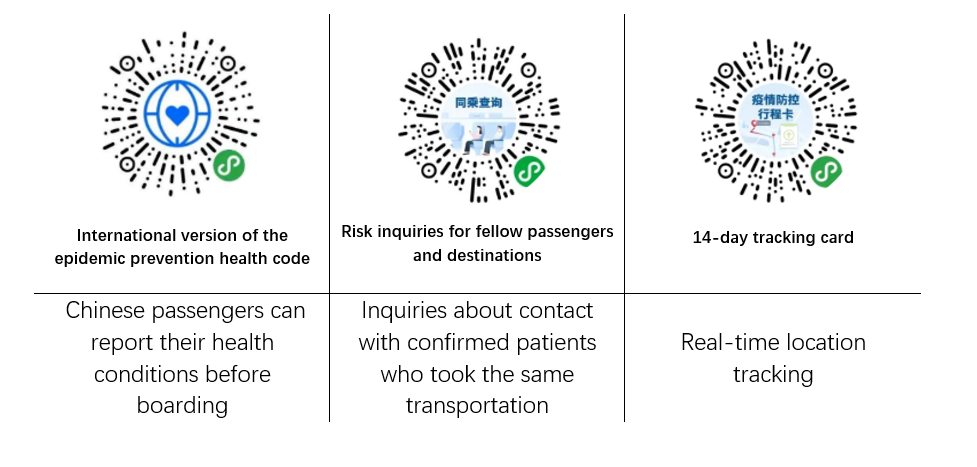 Additional health check features through China State Council mini programs
Education
Of course, the outbreak has also seriously affected students and access to education.
While schools have encouraged students to study at home through online courses, Tencent (WeChat developer) also developed education solutions. Among these is a mini program that offers a convenient, easy-to-use platform for families to pay tuition from the comfort of home.
In addition, WeChat is working to establish a more complete ecosystem of educational resources aimed at solving the pain-points of developers, parents, students, schools, and privately run training institutes. These pain-points include high development costs, unequally distributed educational resources, inefficient instruction, and other issues.
In response, myriad mini programs have launched to provide a range of tools from digital campus IDs and registration/payment channels to online classes and communications tools.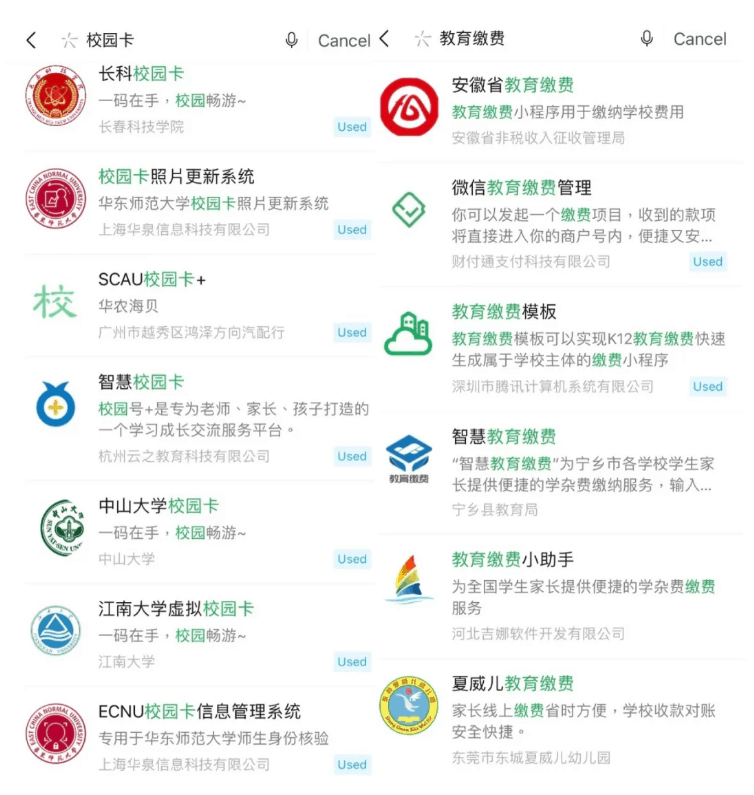 Examples of WeChat mini programs for education services/solutions
 Medicare
To help people avoid infection while accessing necessary healthcare, some medical organizations released mini programs for users to make doctor appointments, access online consultation, and make video calls for doctors to assess health issues while being socially distanced.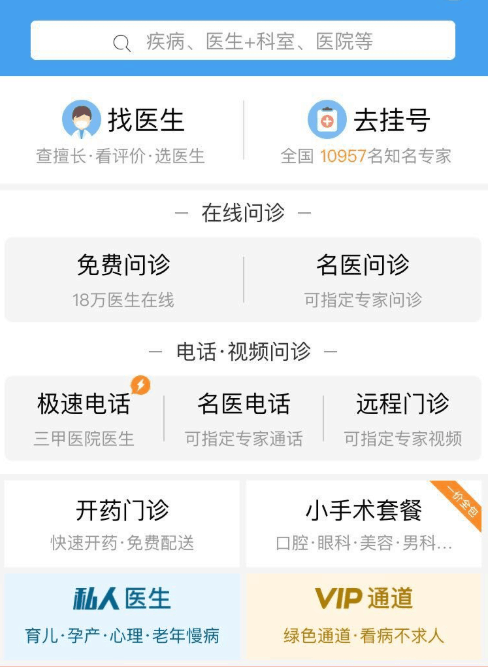 Examples of WeChat mini programs for healthcare
Travel
As all tourist attractions were under lockdown, some destinations developed mini programs to take visitors on a virtual trip. Users can watch live scenery, listen to interpreters, explore a destination, such as a museum, and more.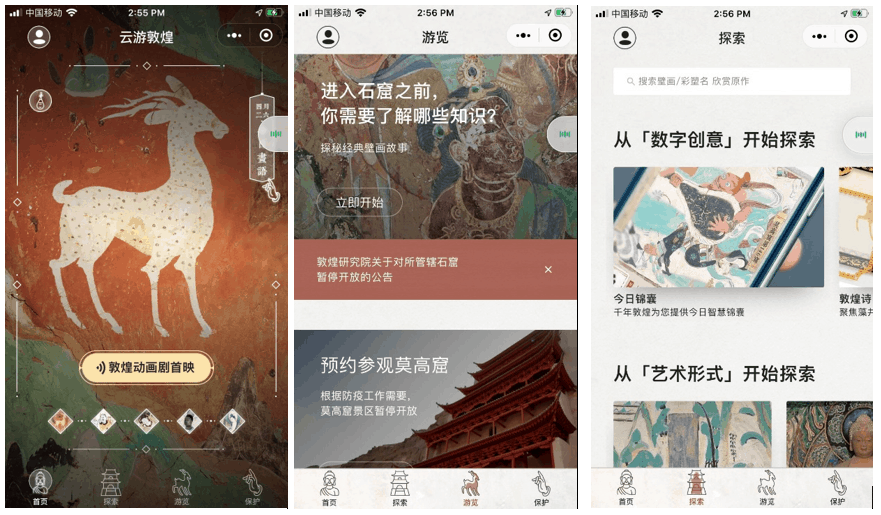 For example, as shown above, Dunhuang Grottoes launched a mini program that uses multimedia to share information on and virtual tours of the historical site.
B2C Industry
With offline stores closed due to COVID-19, merchants innovated to provide delivery services. In particular, many restaurants, grocers, and retail outlets launched mini programs for users to order products and produce for delivery.
Additionally, many takeaway services instituted contact-free delivery policies, so that people do not have to leave their homes to pick up groceries or access other deliveries, minimizing person-to-person contact and effectively mitigating the spread of infection.
***
WeChat also collects all mini programs in a user's surrounding area into a "Mini Programs Nearby" list and will soon be releasing more functions, including door-to-door delivery, healthcare essentials, grocery stock-ups, and more.
Due to the COVID-19 outbreak, more and more people are using digital channels to meet demands. Even when the epidemic ends, people have now fostered and become accustomed to this online, mobile, and easy-to-access social medium to ease their daily lives.
Meanwhile, with the increasingly fierce competition for platform traffic, it is critical for brands to master how to build and retain an active audience and establish long-term relationships. This requires merchants to establish a user management system for segmented, personalized outreach.
At present, many brands use WeChat as their main tool for social marketing, centering on mini programs and connecting official accounts, personal accounts, and a strong product circle in WeChat's ecosystem to leverage different user scenarios, build traffic, and ultimately reach people where they are: online.
Need help using WeChat to reach your audience in China?