Essential WeChat Marketing Guide for B2B in China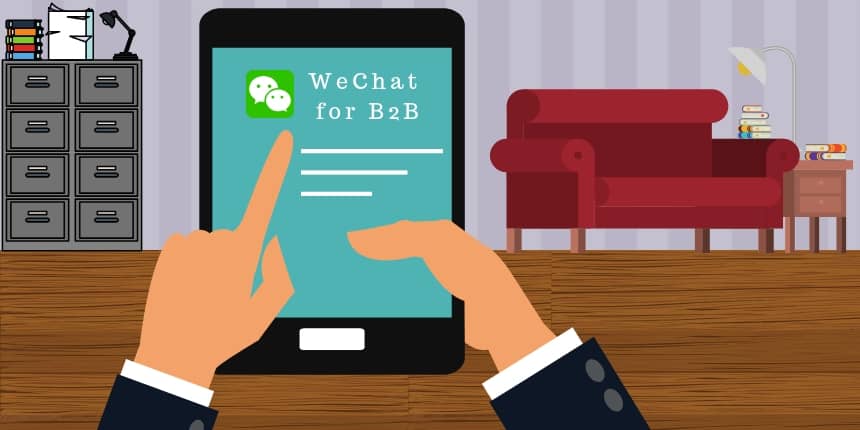 Whether you are a Chinese business or a foreign one, there are major sales and revenue opportunities on WeChat. WeChat is the most influential social media platform in China with 1.057 billion monthly active users.
However, B2B companies have not leveraged WeChat as well as B2C companies. B2C companies conduct measurably more WeChat marketing campaigns and thus have faster sales growth through the platform.
To help B2B companies succeed on WeChat, we've put together a WeChat marketing guide. We've divided the guide into 2 sections:
Create WeChat Opportunities – Before you open your WeChat official account
Seize WeChat Opportunities – After you open your WeChat official account
1. Create WeChat Opportunities
Establish your brand
First, you must determine your company values. What do you strive for? What is important to you? What were your founding intentions and goals? Make sure that you understand your company values so that you can communicate them as underlying themes for your content and in your brand positioning. For example:
IBM's brand position: Let's put smart to work
Xiaomi's brand position: The ultimate pursuit of cost-effective
When you know your brand, you can position and communicate your value across the market and to your customers.
Ways to communicate your brand on WeChat:
Company history
Stories
Founder's interview
Provide rich industry and product insights
Emphasize your brand authority by sharing your knowledge through industry and product insights. The more professional and helpful your content, the more people will follow you.
Provide timely insights on relevant topics that add value to your audience. Help people learn about your industry by writing content on your website that answers the questions they have about the solutions you offer. That way, you have content to share on WeChat once you open your account.
Ideas for content to share on WeChat:
Case studies
Reports
Whitepapers
Hot topics
News
Company social events
Garner support from different departments
Maintaining your WeChat official account is not a 1-person job. Especially for a B2B company, you'll get the best results and the most leads if you bring in your various teams to support as needed.
For example, you may need support on:
Account design
Sales
Pre-sale
After-sale
Technology
Customer service
Bringing in the experts from your various teams will provide your followers with the best experience of your company's products and services.
Show your human side
Your social media audience is made up of people who are genuinely interested in not just staying topical and knowledgeable but also learning more about who your company is.
Therefore, the content you release on WeChat should not be just company news. It must also have educational and social features, such as topical content, staff pictures, human language, etc.
In fact, there is an 80/20 golden rule: 80% of your WeChat posts should inform, educate, and entertain your audience, while only 20% should directly promote your business
We are all human, and we want to engage. Because more and more people are engaging online, this is where you need to show the human side of your business. This type of marketing is called H2H: human-to-human.
You can balance your H2H and B2B marketing on WeChat:
Write your profile as B2B-oriented—so professional and corporate
Write your content and campaigns as B2C-oriented—so warm and human
2. Seize WeChat Opportunities
Cross-promote your social media channels
Social media channels do not operate in silos. You should cross-promote your various social media accounts across your various social media accounts.
Now that you've opened your WeChat account, make sure to create your company's WeChat official account QR code, and share it across your various social media channels.
Don't forget to share links to your various social media channels on WeChat as well!
Content is king
B2B's most powerful weapon is content marketing. Providing useful content of-value to your audience will build your follower base.
Your WeChat promotes your content. Your website houses it. The goal is to drive traffic from WeChat to your website to convert your followers into customers. You do that by writing and sharing compelling content.
88% of B2B companies conduct content marketing, which saves 62% of the cost compared to traditional marketing and brings over 3x the leads. 55% of B2B companies plan to increase their budget for content marketing this year. (Source: US Content Marketing Institute & Hiten Shah & Econsultancy report.)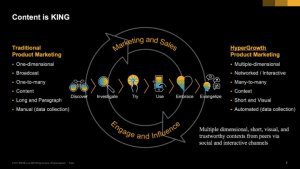 Source: Forrester 2015-2016
However, while more than 50% of companies conduct content marketing, most do not have a clear direction. 70% of marketers simply do not know what a sustainable or integrated content marketing strategy is.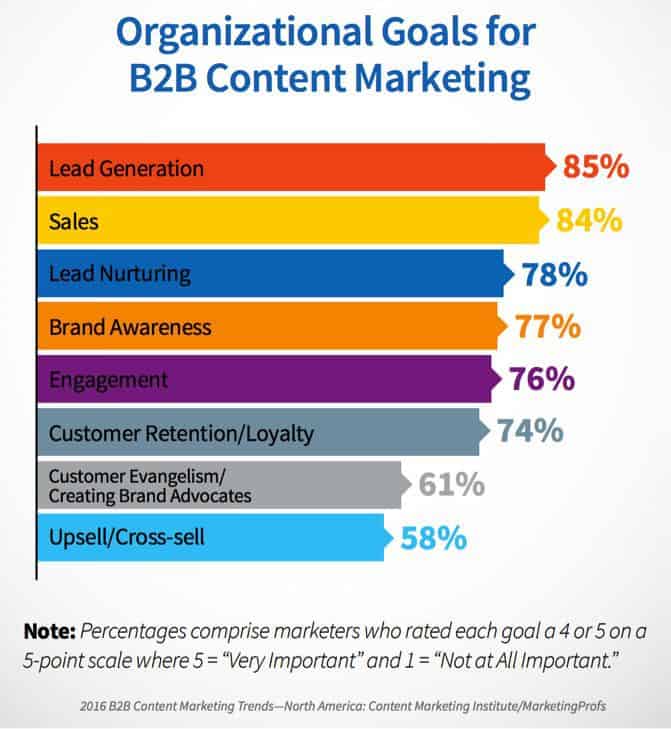 Strongly position your brand to promote your products
The purpose of content marketing is to educate your audience while promoting your brand and products.
Customers make purchasing decisions based on more than just price. Sometimes, they consider the spirit of the brand, a sense of intimacy with the brand, the feeling of safety and satisfaction that comes from purchasing a recognized brand product, the experience of growing with a brand, etc.
By providing effective content with strong branding helps your audience understand your products/services and the unique value that you bring.
B2B companies must position a strong brand and reputation. Otherwise, in the increasingly homogenized market, B2B companies may lose their competitive edge.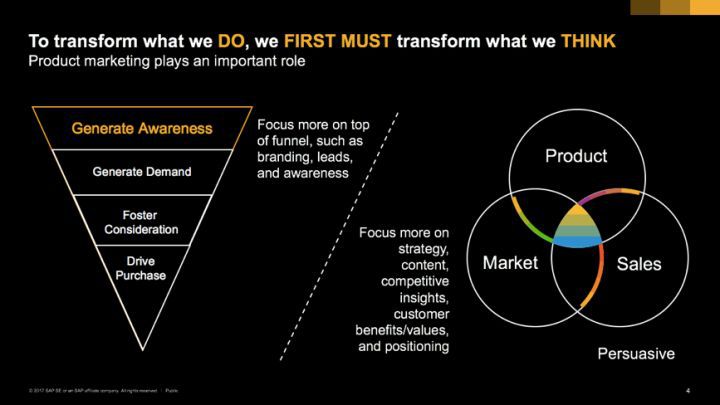 Seed your content
Content seeding is a strategic approach to scatter content across the internet. Content creators spread content to various outlets where that content will be read, noticed, and spread. This marketing approach increases brand awareness by pushing content across the web to relevant target groups.
The B2B social media marketing cycle is not like B2C. B2C may quickly profit on a social media platform just by the nature of what they sell, while B2B involves a complicated purchase behavior map.
Customers may read your articles on your WeChat, then check more details on the web to know about your brand reputation, service, customer feedback, etc. For example, for some IT companies, customers can't directly download software from WeChat, so they must go to the website.
So it's important to share your content on WeChat and beyond for the best results and the most leads.
Engage with your audience
It's important to not just post on WeChat, but also interact with your customers on the platform.
You can gain valuable insights about your audience through WeChat, including their interests, activities, lifestyles, and much more. This information will allow you to better target your customers' interests and emotions. To reinforce this connection, make sure to create stories and content that relates to these interests and emotions, and then engage with your audience on WeChat.
Engagement opportunities on WeChat:
Instant messaging

F

ollower

community pages

G

roup chat

Online p

roducts

book
Opportunities + Challenges for B2B Marketers on WeChat
There are key differences in the overall marketing prospects of B2B and B2C companies.
| | | |
| --- | --- | --- |
| Marketing Prospects | B2B | B2C |
| Purchase motivation | Objective reasoning | Subjective reasoning |
| Decision period | Longer | Shorter |
| Interactive channel | Multi-channel | Social |
| Marketing environment | Online and offline | Retail and e-commerce |
| Experience | Custom | Custom |
B2B marketers face unique opportunities and challenges: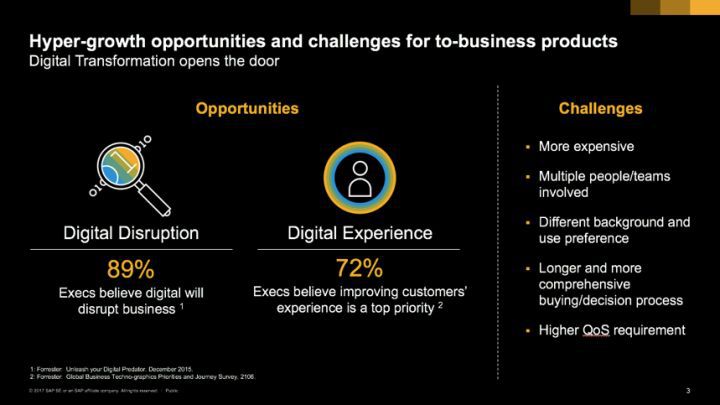 Source from: Forrester 2015-2016
Digital marketing is an important sales lead source for B2B companies—with WeChat as one of the main channels in China.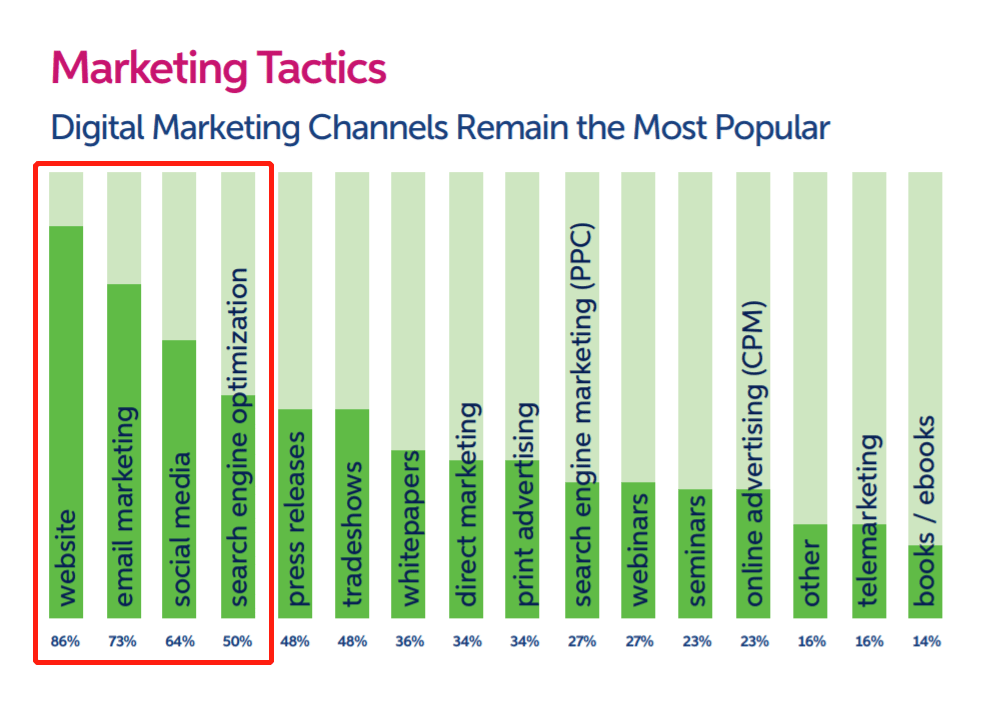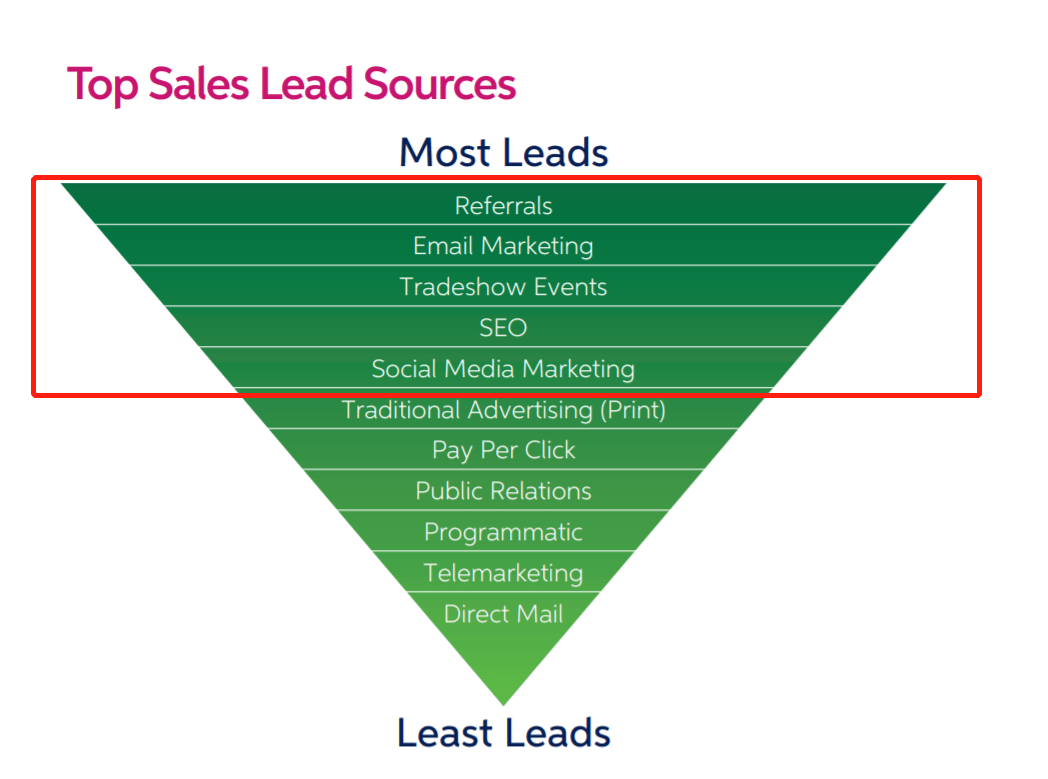 Source: Sagefrog B2B Marketing Mix 2017 Report
A quick overview:
Post great content on your WeChat official account to increase your exposure across digital devices and channels and display your products.
Seed your content across the internet, including on influencer WeChat/Weibo blogs, relevant web communities, top forums, search engines (SEM, SEO, SSO), web portals, other social media channels, and more.
This all works together to improve your brand and product presence across your audience base to increase leads, conversions, and ultimately revenue.
Want us to put WeChat solutions to work for you?