Cosmetics Advertising Solutions on WeChat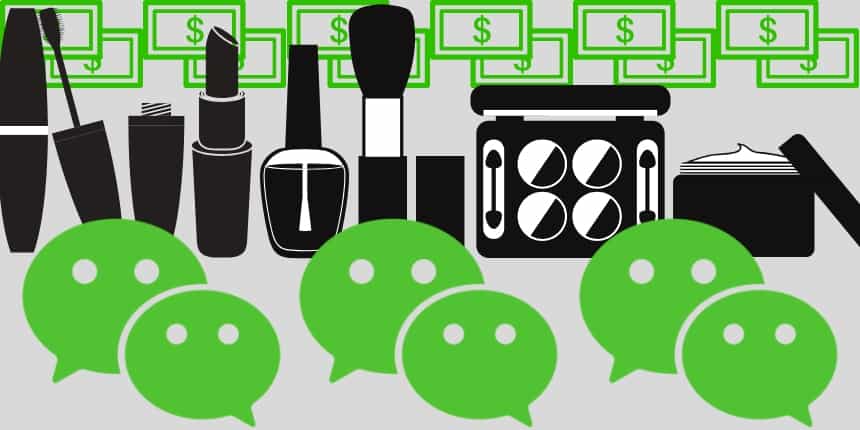 China's "Double 11" e-shopping festival is held annually on Nov. 11. This year, Taobao, the festival's founder and one of the biggest online shopping platforms from Alibaba, achieved a new online sales record: RMB ¥213.5 billion. Last year, sales reached RMB ¥168.2 billion from 225 countries and regions, 90% of which came from mobile purchases.
With the prevalence of e-commerce, social media is a powerful promotional channel for brands and products. Among the various industries and platforms, cosmetics is increasingly keen on WeChat advertising, which more effectively targets consumers and generates leads.
Tencent and WeChat released a report analyzing the cosmetics industry's social media marketing performance. Here, we'll look at the report for some insights and solutions on WeChat advertising.
Cosmetics Marketing Trends in China
Trend 1: WeChat is the primary advertising channel
From 2016-2017, there were 156 cosmetics brands advertising on WeChat Moments, and the average frequency of cosmetics advertising increased by 81%. During the same time, more than 60% of the brands advertised on WeChat official accounts to maintain brand exposure. WeChat ads have become the premiere platform for most beauty brands' social marketing.
By analyzing user behavior around social media advertising through the SICAS* consumer model, we can see that social media brings significant value for brands.

* SICAS: Sense, interest & Interactive, Connect & communication, Action, Share.
Trend 2: Beauty brand marketing is more personalized and targeted to a younger demographic
The average age of people using beauty and skin care products is relatively young—people born after 1980 and 1990 have become the primary cosmetics consumers. From the below chart, we can see that 18-24 years old users have greater interest in beauty content on social media. Therefore, brands tend to develop more creative advertisements for a younger demographic using younger endorsers.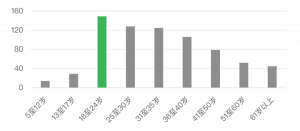 Different age groups who read cosmetic-relevant content over 1 month.
Meanwhile, male beauty demand is growing steadily. Over the next 3 years, mainland China's male skin care and beauty market average retail sales is projected to increase by 13.5%, greater than the global projected increase of 5.8%.
Due to different ages, skin, and preferences, customers require personalized cosmetics and make-up products. Brand marketing must meet different demands. As such, cosmeceutical and niche brands are becoming more successful.
Trend 3: KOLs affect target audience purchasing decisions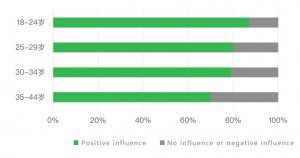 KOL impact on cosmetic purchase decisions (source: OC&C)
Celebrity and beauty KOL endorsements affect the purchasing decisions of younger consumers. Over 6 months of observation, it was found that WeChat ads targeting celebrity followers achieved a click rate of 31% and a comment rate of 50% greater than average.

Trend 4: Online and offline channels are becoming more integrated
In 2017, online skin care sales increased by 41.9%, and online cosmetic sales increased by 56% from 2016. The increase rate in third, fourth, and fifth tier cities was faster than first and second tier cities.
More and more cosmetic brands built greater interactive experiences, both online and offline, with their audience, such as online coupons, offline free samples, etc., which encourages customers to engage and buy.
Trend 5: Cosmetics customers have low loyalty
Cosmetics customers usually use several brand products at the same time—most consumers simply follow what's on-trend. Observing the top 10 WeChat cosmetics advertisements, it was found that the target audience was interested in an average of 6 brands, which means customers were not loyal to one brand.

Brand interest of target audience for top 10 cosmetics brands
Average degree: 99; standard deviation: 15
While social media may lead customers to learn about and judge brand value, consumers prefer to choose brands that match their own values. In China, 52% of consumers living in cities prefer to purchase from brands they perceive as moral.
Cosmetics advertising strategies on WeChat
Strategy 1: Become an active social user
When brands post advertisements, they encourage users to engage and use the @brand name, which increases interactivity with users. Through this, brands can find more interested users by leveraging the social relationship chain of potential customers. If users see their friends engaging in the advertisement, they are more likely to also interact with the advertisement, which of course helps promote brand reputation.

Advertising strategy suggestion:
Advertise new product releases during important festivals.
Case Study: Yves Saint Laurent
YSL launched a selection of WeChat Moments advertisements on Valentine's Day, promoting different gift boxes.
The target audience consisted of couples and people interested in luxury cosmetics, promoting a higher conversion rate.
By offering different gift-box prices, YSL met different budget demands, and the ads included a single call-to-action button linking to the official online shop.
Result:
The comment rate was 200% higher than the industry average.
The Like rate was 71% higher than the industry average.
More than 5,000 gift boxes were sold within 2 hours.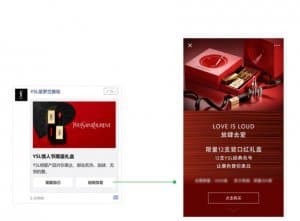 YSL WeChat Moments ads on Valentine's Day
Strategy 2: Impress target audiences with strategic word choice
Most people interested in cosmetics on WeChat are between 18-30 years old. Brands can target not just this younger demographic, but also even more specific demographics through WeChat segmentation labels. Different creative content should meet the different demands of segmented audiences in WeChat ads.
Advertising strategy suggestion:
Story's advertisements have a stronger effect on younger users.
Understand what appeals to younger consumers, and leverage celebrity endorsements to get closer with users and promote brand reputation.
Case Study: Innisfree
Innisfree created Moments ads with a Korean celebrity who has many young female fans, which caught young users' attention.
The poster looks like the celebrity is holding hands with the user. The unique image angle helped users feel closer with the actor and, therefore, the brand, building a romantic feeling, which aroused the target audience's desire to click the advertisement.
Result:
The interactive click rate was higher than the industry average.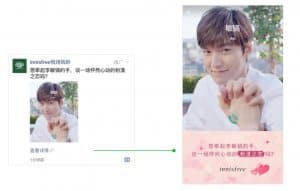 Innisfree WeChat Moments ads
Strategy 3: Leverage KOL influence
KOLs and celebrities can expand brand exposure and influence. In terms of WeChat Moments ads, brands can target celebrity fans and/or follow groups to improve interactivity and boost brand profile.
KOLs can also endorse brands through their own WeChat official accounts. Many popular KOLs can directly influence users, especially those born after 1980 and 1990. According to Tencent data, there are over 18,000 WeChat cosmetics official accounts with a daily readership of over 62 million. Therefore, custom content in KOL WeChat official accounts can effectively drive product sales.
Advertising strategy suggestion:
Take advantage of WeChat's labeling feature. WeChat's backend has many different segmentation labels that users can choose. Target the labels matching your needs for more strategic advertising.
Share original content on a KOL official account, fostering potential customers and improving brand reputation.
Case Study: Guerlain
Guerlain launched a WeChat Moments ad video. The video featured Bingbing Fan, a popular celebrity in China, displaying brand spirit.
Guerlain also cooperated with a cosmetics KOL who posted custom content about the Bingbing Fan story and Guerlain's excellent quality to entice potential customers to purchase products.
Result:
The click rate of the ad was 50% higher than the industry average.
The click rate on the KOL official account was 7.9% higher than the industry average.
Sales doubled.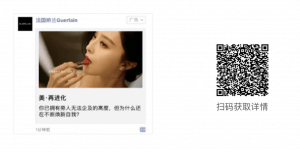 Guerlain WeChat Moments ads
Strategy 4: Be active both online and offline
Brands can effectively generate sales leads from WeChat ads. In terms of the customer purchase journey, users go to an offline store to get product samples or they go to your online official shop to actually purchase, which maximizes conversions.
On the WeChat ad backend, brands can select stores, locations, and areas to help reach nearby people. The LBS feature supports more than 4,400 commercial areas and over 58 million POI (point of interest) locations, covering 0.5 – 5 km ranges in China.
Advertising strategy suggestion:
Online: If your brand has an e-shop on Chinese shopping platforms, leverage the "Double 11," "6.18" e-shopping festival, and use brand history data and customer behavior data to increase conversions.
Offline: Combine online advertising with offline promotion to lead users to your stores.
Case Study: Elixir
Elixir created a video as a WeChat Moments ad. The landing page displayed an "apply free sample" button, then jumped to a related form. After filling the form, users could get a free sample in-store.
During the WeChat ad period, users received a 15% discount in-store.
Result:
Store sales grew dramatically.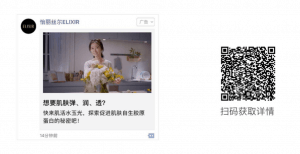 Elixir WeChat Moments ads
Strategy 5: Build long-term brand value
Re-advertising and re-targeting can strengthen brand impressions and consumer loyalty. As an organic advertisement, WeChat provides a non-disruptive and highly immersive reading environment.
According to a report from Brand Life, a cosmetics research organization, being exposed to an advertisement 3+ times is dramatically more effective than being exposed to an advertisement just once.

Advertising strategy suggestion:
Re-advertising with different WeChat ad combinations can achieve better results.
By taking advantage of special holidays and topics, brand can build interaction with users.
Case Study: Estee Lauder
Due to the interactive success of the first round of a WeChat advertising campaign, Estee Lauder re-advertised to those users again.
According to advertisement performance data, Estee Launder reached a wider target audience.
Result:
From January to December 2017, Estee Launder advertised 18 times and reduced customer cost by 60%.

Estee Lauder WeChat Moments ads
In the face of the ever-changing market, WeChat advertising is also constantly introducing new products and features to enhance marketing value.
Do you want to target the Chinese market?