How to Succeed with B2B Marketing in Japan
3 Keys to Successful B2B Marketing in Japan – APAC in 3 – Episdoe 22
Successful B2B marketing in Japan is dictated by a unique business culture and preferences that, although evolved with digitalization, still have many traits that remain omnipresent. For global B2Bs, then, understanding all facets of this culture is crucial to not only penetrating the Japanese market but also converting interested users into repeat customers.
Here are 5 must-know considerations for B2B marketing in Japan so that you may reach your target audience and, in turn, drive conversions for your business.
Tip #1: Localizing Your Website Requires More Than Just Translation
Many business owners make the mistake of thinking they can conduct business in Japan so long as they have a Japanese mini-site. However, such sites—usually comprising direct translations of content from a brand's global website to Japanese—tend to lack the subtle but critical nuances in the language and culture to resonate with native Japanese users.
For one, Japanese users strongly value content readability and accuracy and use these to determine a brand's credibility. So, if any content on your mini-site features broken Japanese, they will likely overlook it and not waste time trying to decipher your messaging.
The localization of your website in Japan is also much more than just translation. Instead, it requires careful consideration of local context and culture to break through to your Japanese target audience and match their needs. This includes tailoring your mini-site to appeal to the Japanese language, payment methods, currencies, unique culture, and more.
SEO is equally important—optimizing your content and headlines according to the most relevant and commonly searched terms in your niche will not only increase your site's organic traffic but also help it rank higher for related searches. To stand out, also research what content your competitors across Japan are putting out and the search terms they are targeting so that you can one-up them.
Localizing and optimizing your content to serve Japanese audiences will take time.  But if you don't take this crucial step before kickstarting an advertising campaign, you'll be spending ad dollars attracting visitors to your site that likely will not convert.
Tip #2: Optimize Your Landing Pages for Lead Generation
Creating landing pages specifically for acquiring leads is a common practice among Japanese B2Bs, particularly when managing search ads. The key here, however, is to design them with a sense of familiarity for local users and serve content that will appeal to their specific business needs.
For instance, when evaluating a product or service, Japanese users tend to prefer reading text over more visual or interactive forms of content preferred among users from English-speaking countries, such as images, videos, or infographics.
This comes from Japanese users' tendency to avoid risk by gathering as much detailed information as possible before deciding whether to purchase and is reflected in the web design of many Japanese B2B review sites. As such, the lesser known your brand is in the Japanese market, the more critical it is to make your written content as comprehensive as possible.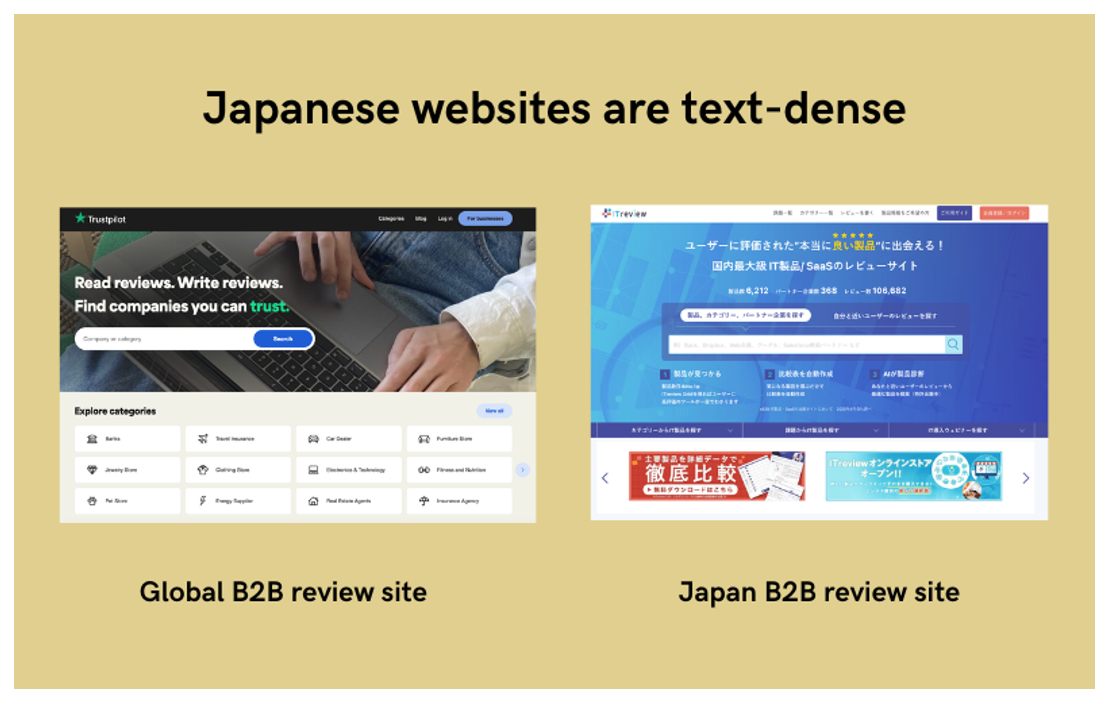 Japanese websites tend to comprise more text-heavy information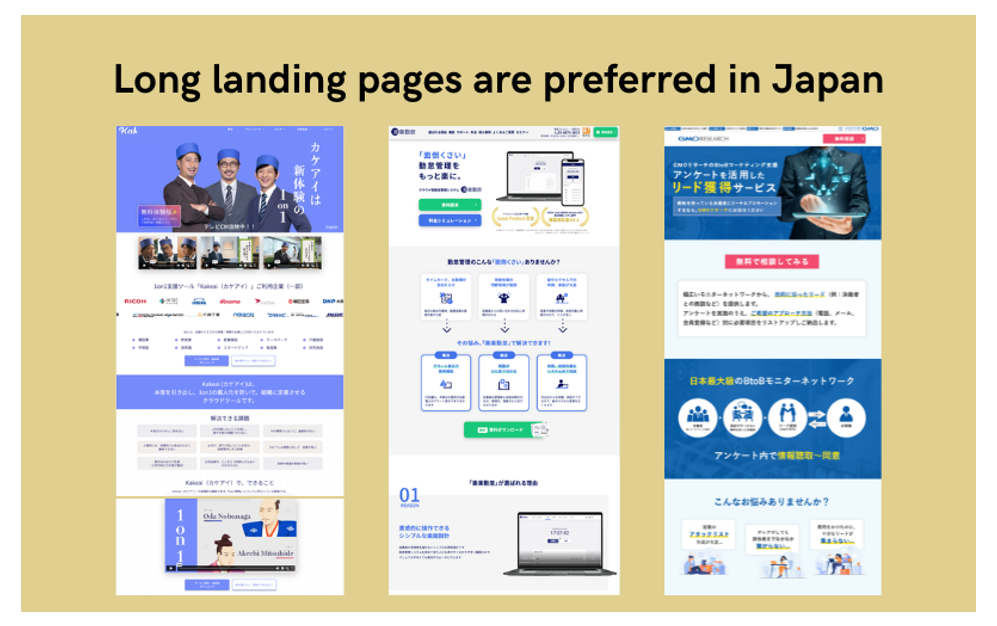 Japanese landing pages tend to be longer
Tip #3: Tailor Your Customer Success Stories for Japanese Audiences
The Japanese commitment to customer service is world-renown—and this could not be truer for B2B marketing in Japan, where success stories play a key role in a customer's evaluation process. These usually come in the form of case studies and testimonials tailored to a target customer's specific needs and requirements and outline business solutions for problems or challenges they may encounter.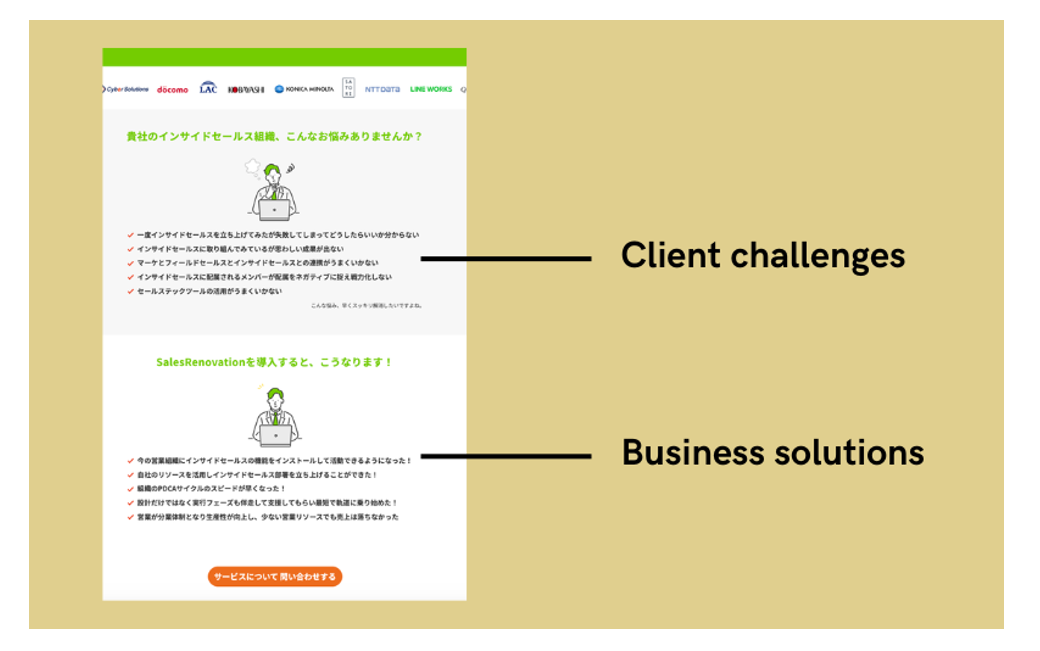 A good example of a customer success story in Japanese
As mentioned, Japanese users are generally more risk averse, so maintaining a dedicated webpage to showcase your client success stories will help potential customers visiting your site for the first time grasp your brand's credibility and trustworthiness. So, if you are translating your client success stories from another language into Japanese, remember to localize further by providing Japan-specific examples and use cases.
Manga is also a popular online format in the business world in Japan, considering how prevalent anime and comic culture is in the country to the point of it having its own advertising genre. Google Japan's support pages even showcase cartoons to explain how its algorithm works.
As such, Japanese users may grow more accustomed to your product or service if you deploy manga—on top of more orthodox visual formats—to illustrate your B2B information or customer success stories.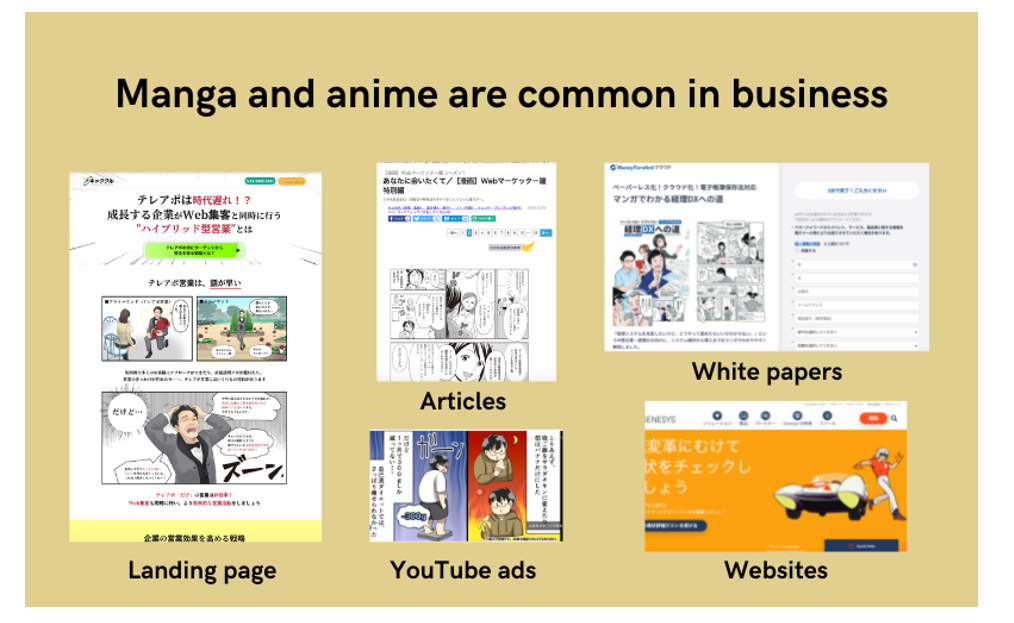 Manga and anime are popular online formats in Japan, even in a business context
WANT DIGITAL INSIGHTS STRAIGHT TO YOUR INBOX?
Tip #4: Leverage Japan's Unique B2B Marketing Channels
Google accounts for more than 75% of the Japanese search market, followed by Yahoo! Japan with just over 14%. This makes Google Japan a familiar territory, albeit with some needed localization, for most global brands targeting Japanese B2B buyers on search. Still, some level of investment in Yahoo! Japan is recommended as its user demographic in Japan tends to be older with a preference for domestic trends.
How about channels other than search engines?
While LinkedIn is the go-to B2B marketing channel for most of the world, it has limited B2B scope in Japan since its users widely view it as a job search site than a professional networking platform. LinkedIn's small proportion of Japanese users also tend to be bilingual or have worked internationally.
Facebook, by contrast, enjoys a role in Japan akin to LinkedIn's for the rest of the world and is where the country's business decision-makers live and breathe on social.
Moreover, Eight–a Japanese digital business card management app launched in 2012—now has around three million business users and presents an opportunity for B2B marketing. Like LinkedIn, it allows for detailed targeting by industry, job title, employee size, and company name.
On mobile, meanwhile, LINE is the most popular messaging app in Japan, used by more than 80% of its population. However, its targeting options for B2B are limited, making it better suited for businesses that enjoy a larger budget and want to boost their visibility and lead generation on social.
Tip #5: TV Commercials are Still Effective for Japanese B2B Awareness
Even with the rise of digital advertising, television commercials are still as effective as ever for brand awareness and demand generation and cannot be ignored by B2B marketers. The considerable number of B2B companies featuring in Japanese TV commercials only confirms this.
Here are a few examples:
Japanese TV commercial from Adobe
Japanese TV commercial from Biztel (Cloud contact center software)
Furthermore, according to a survey by Dentsu of professionals from small and medium-sized Japanese businesses, television programs and commercials ranked as their second-most accessed information source about B2B companies in the IT space.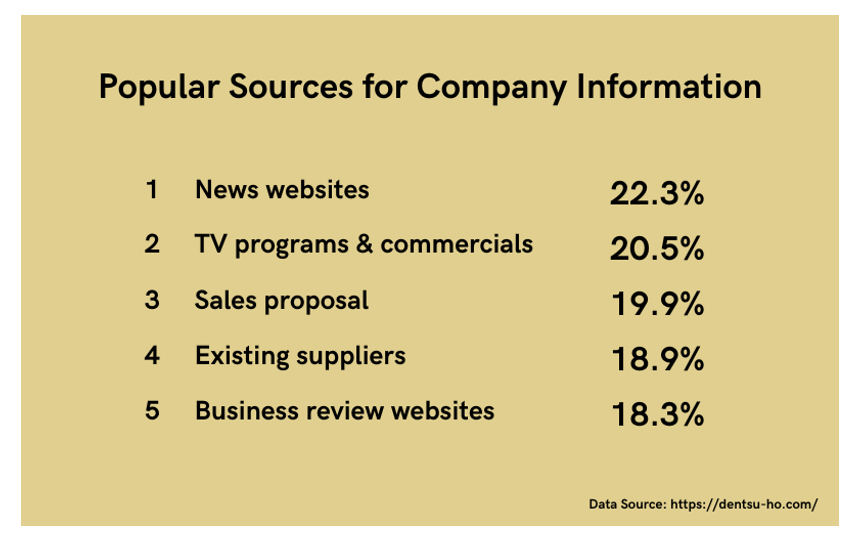 TV was the second-most popular source for B2B company information in the IT space among a group of respondents surveyed by Dentsu
 ***
Ultimately, a winning B2B marketing strategy for Japan hinges on tailoring your website and content to your target audience's needs and behaviors, but also leveraging the right platforms, and optimizing your content for consumption on those platforms.
Ready to maximize your digital marketing in Japan?