The Best Social Platform Alternatives to WeChat for B2B Marketing in China
Top 3 Social Apps for China B2B Marketing – APAC in 3 – Episode 23
Most B2B marketers know of China's behemoth user engagement potential across its social media space, but many are still unfamiliar with which local platforms to target besides WeChat.
And you can't blame them—after all, WeChat is China's most popular social app, with over 1.25 billion active users and all-in-one functionality making it a staple of daily life in the country. It's no wonder why the app is such a critical promotion tool for Chinese brands across myriad industries.
But even so, there are alternative social platforms that befit—if not better suit—the needs, interests, and use cases of niche B2B audience segments and are worth trying for brands that want to reach these users.
In this article, discover two alternative social platforms to WeChat—Zhihu and Maimai—that are worth including in your B2B marketing strategy to maximize reach in China.
Launched in 2011, Zhihu (meaning "do you know") is China's biggest Q&A platform—and its equivalent of Quora—where you can post questions that other users can answer or form into a discussion.
As of Q2 2022, it has 105.9+ million monthly active users (MAU), primarily mature individuals between 18 to 40 years old with medium to high incomes.
As such, Zhihu is one of China's most credible, expert-led social networks, whose users have high search intent for well-informed content and insights from industry experts for particular topics.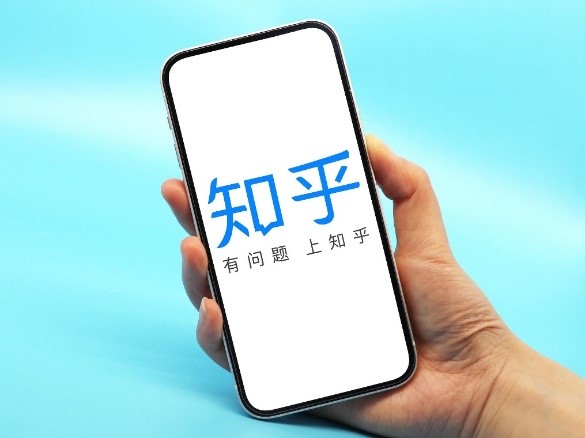 This stands in stark contrast to WeChat, whose private domain channels—like a brand's WeChat official account, group chats, and WeChat Moments—typically comprise users who follow that brand as a genuine user of its products or services without any real search intent.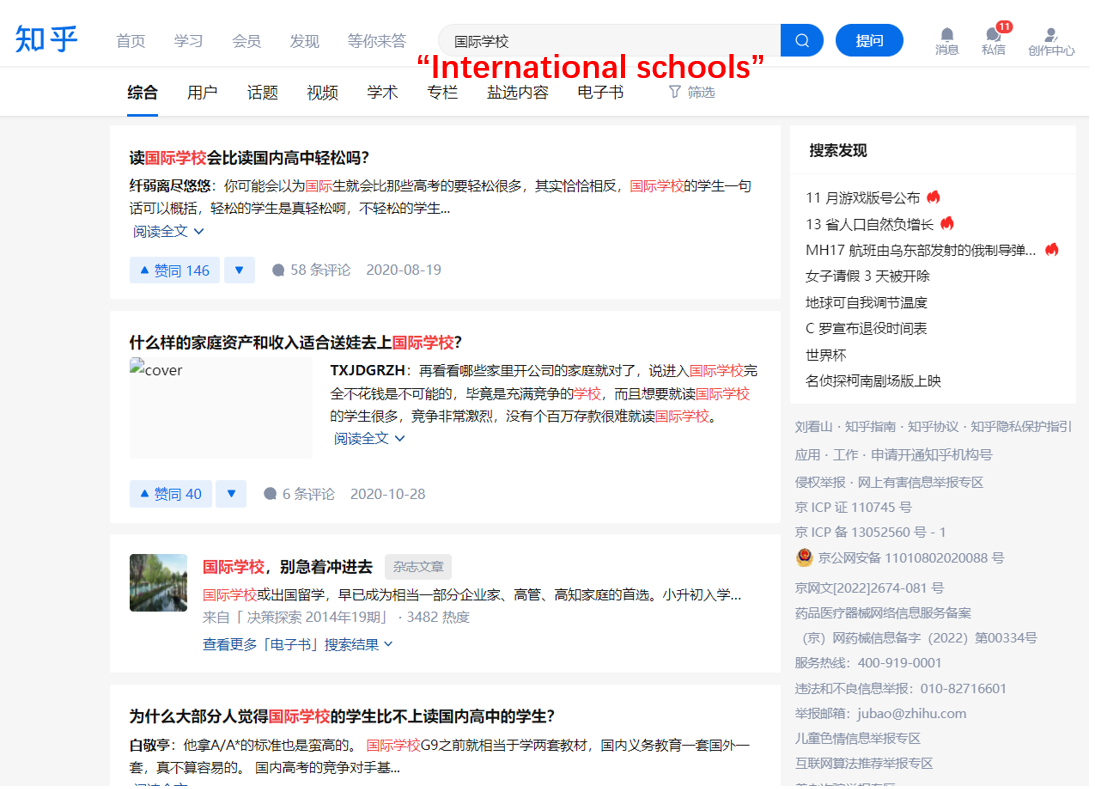 Zhihu's results page for queries related to search term: "International schools"
Zhihu's User Demographics
98% of Zhihu's userbase are mature users between 18 and 40 years old.
80%+ of Zhihu users hold at least a bachelor's degree per an iResearch report and are, thus, relatively well-educated.
40% of Zhihu users are relatively affluent and have medium-to-high monthly incomes. Moreover, 49% reside in first- or second tier cities in China.
Why should you do B2B marketing on Zhihu?
Zhihu's unique positioning as a knowledge-sharing platform poses several potential benefits for B2B brands.
For one, brands can better target niche audiences on Zhihu based on their query-based intent and deliver content tailored to their search needs.
Due to the longer average engagement time of interested users, longer-form content, in particular, tends to perform better on Zhihu.
At the same time, there is the option for brands to actively answer user questions to build customer rapport and enhance their own credibility in their niche.
Here are more perks of doing B2B marketing on Zhihu:
You can foster a loyal customer base with frequent and direct communication with your customers
You can soft sell your products or services as you build better customer rapport
You can increase the likelihood of your Zhihu content ranking higher on search results across search engines, like Baidu, and social platforms with in-built search, like WeChat Search. So, optimize your Zhihu content around keyword themes to maximize your reach.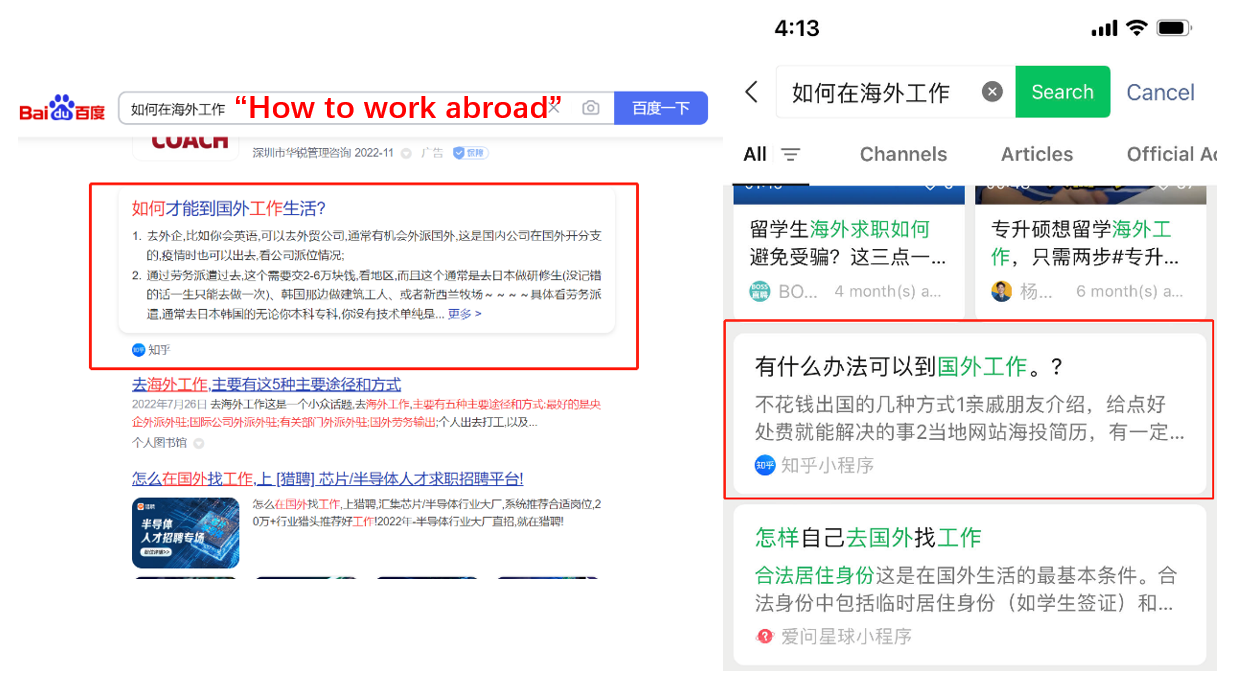 An example of a top-ranking Zhihu result on Baidu's (left) and WeChat Search's (right) search results
How to do B2B Marketing on Zhihu
To start posting content on Zhihu, you must register for a brand account—available only to businesses registered in China—and complete its signup and verification process.
You can begin posting once your account is verified, by which time ZhiPlus (知+) will also be available for you to apply for if you wish to run paid ad campaigns and promote posts.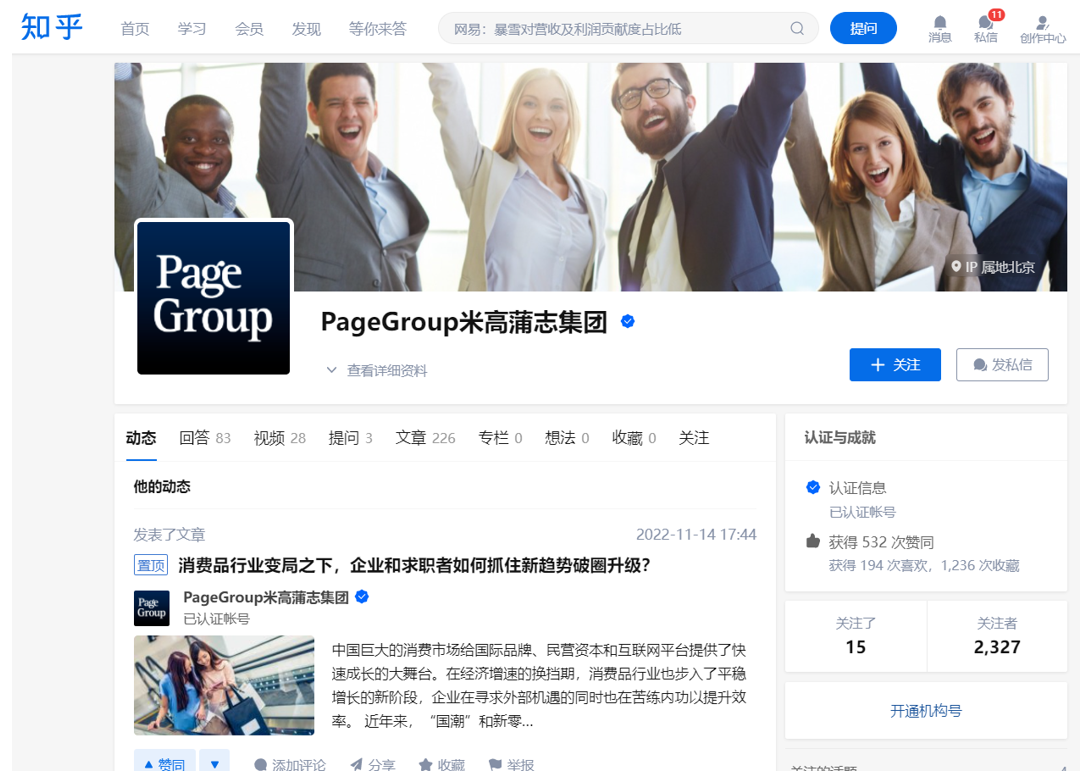 PageGroup's brand account page on Zhihu
However, note that brands from the finance/investment/trading, cosmetics/medical, franchising, and psychotherapy industries have restrictions imposed and are not permitted to post on Zhihu.
Best practices for successful B2B marketing on Zhihu include:
Creating well-researched, educational content to showcase your industry expertise
Actively engaging with users who have commented or reacted to your posts
Encouraging users to ask more feedback questions to generate back-and-forth discussions that resonate with them
WANT DIGITAL INSIGHTS STRAIGHT TO YOUR INBOX?
Maimai (脉脉) is China's most used professional social networking site—more so than LinkedIn—and has now accumulated tens of millions of users since its founding in 2013.
Its users are predominantly entrepreneurs, managers, and white-collar workers from the Internet, media, and finance industries, 49% of whom reside in first-tier Chinese cities like Beijing, Shanghai, and Shenzhen.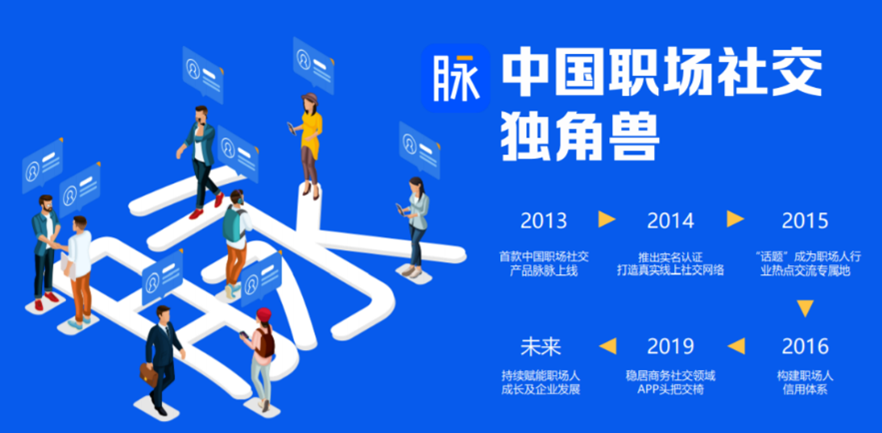 But unlike most professional networking platforms, MaiMai lets users comment anonymously in chat forums under aliases like "Employee of Alibaba" (after they've verified their employment status), which, in turn, can encourage higher user engagement.
Maimai's User Demographics
75% of Maimai users are between 20 and 35 years-old
88% of Maimai users have more than four years of work experience
49% of Maimai users reside in tier 1 Chinese cities (Beijing, Shanghai, Shenzhen, and Guangzhou)
41% of Maimai users are in job positions of high-level seniority (supervisor level or above)
Maimai users are relatively affluent, with 50% who have a monthly salary of over RMB ¥10,000
Why should you do B2B marketing on Maimai?
Maimai business account provides brands with profile features like the ability to write company bios, post updates, communicate with users in a comments section, view follower analytics, and more. On the user engagement side, it lets brands post content across a range of formats (images, video, long-form content etc.), operate private channels like group chats, and target audience segments with paid lead-gen campaigns.
Hence, if your primary target audience is active on Maimai, it could be an ideal brand awareness tool to attract new customers.
Here are more benefits of doing B2B marketing on Maimai:
You can run targeted lead-gen campaigns
You can understand who your followers are based on their profiles
You can filter your audience targeting by local region or city if you wish to concentrate your B2B marketing efforts by location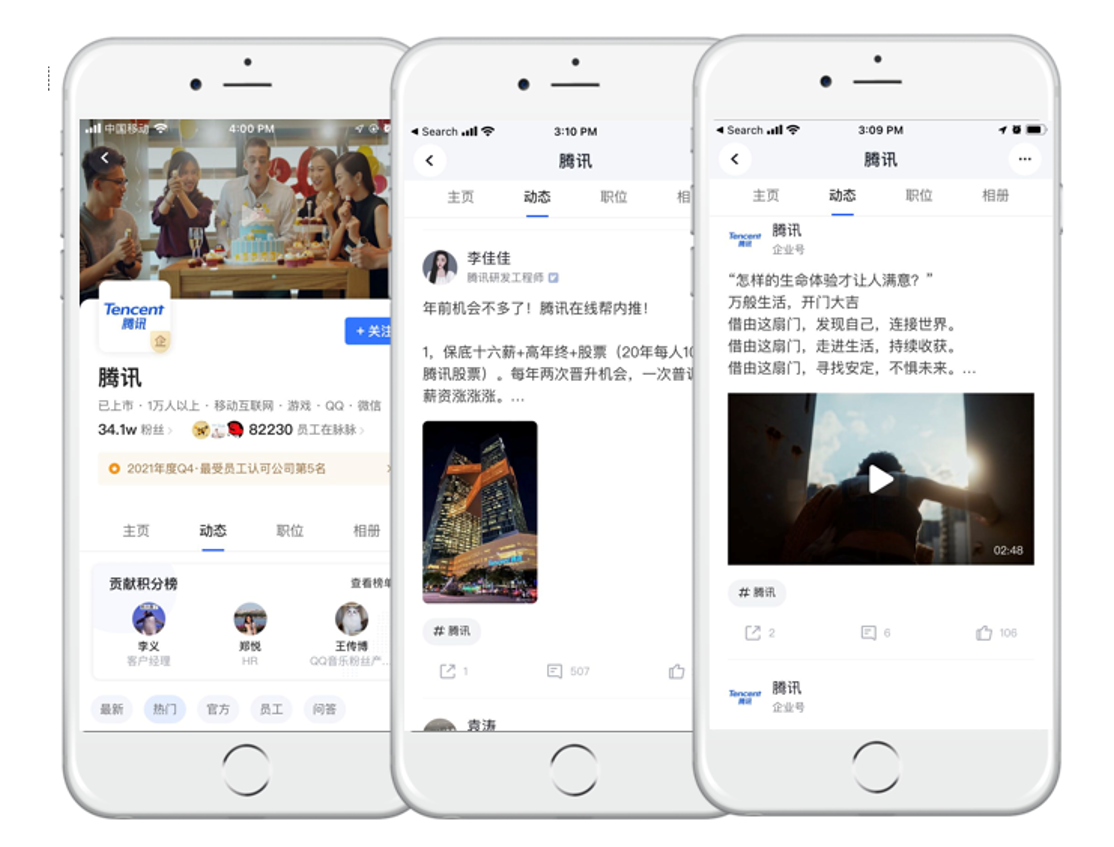 Tencent's business account page on Maimai
How to do B2B Marketing on Maimai
Best practices for successful B2B marketing on Maimai include:
Engage with your employees with Maimai accounts to amplify your brand page and grow its following
Regularly publishing high-quality posts to stay on top of your target customers' minds
Leveraging Maimai's various media formats to appeal to all your ideal customers' consumption preferences
***
To succeed with your B2B marketing in China hinges on being present on the right platforms where your target audience is most engaged and, in turn, optimizing your content for those platforms.
Ready to maximize your digital marketing in China?