How to do China B2B Marketing on Baidu
How to do China B2B Marketing on Baidu – APAC in 3 – Episode 20
Baidu is far and away the leading search engine in China. According to its financial report for Q2 2022, monthly active users (MAU) on its app rose 8% year-on-year (YoY) to 628 million in June, with at least 84% of them being daily active users (DAU).
Like on Google (or any search engine for that matter), Baidu continuously updates its search algorithm, paving way for alterations in search results and, in turn, new opportunities to rank higher on its search engine results pages (SERPs).
But Baidu tends to rank results from its own integrated properties higher, which complements Chinese search behavior but poses unique challenges when carrying over universal SEO best practices to Baidu. Such challenges are particularly distinct for B2Bs since their search traffic relies more on general webpage searches.
Besides those from its B2B-specific platform (Baidu B2B), Baidu's other properties have appeared more often across its search results for B2B-related queries. But understanding which to target based on your needs is critical to tapping into China's hyper-lucrative market.
Here, we've outlined five Baidu properties with the highest potential for B2B brand exposure and how to leverage each of them for your China marketing goals.
The five properties are:
Baidu B2B
Baijiahao
Baidu Wenku
Baidu Baike
Baidu Zhidao
Baidu B2B (爱采购)
Launched in October 2018, Baidu B2B is Baidu's B2B vertical search engine that lets users explore product or service information from credible B2B merchants. It boasts high search visibility on Baidu and tends to have at least one search result on Baidu SERPs for common B2B-related keywords.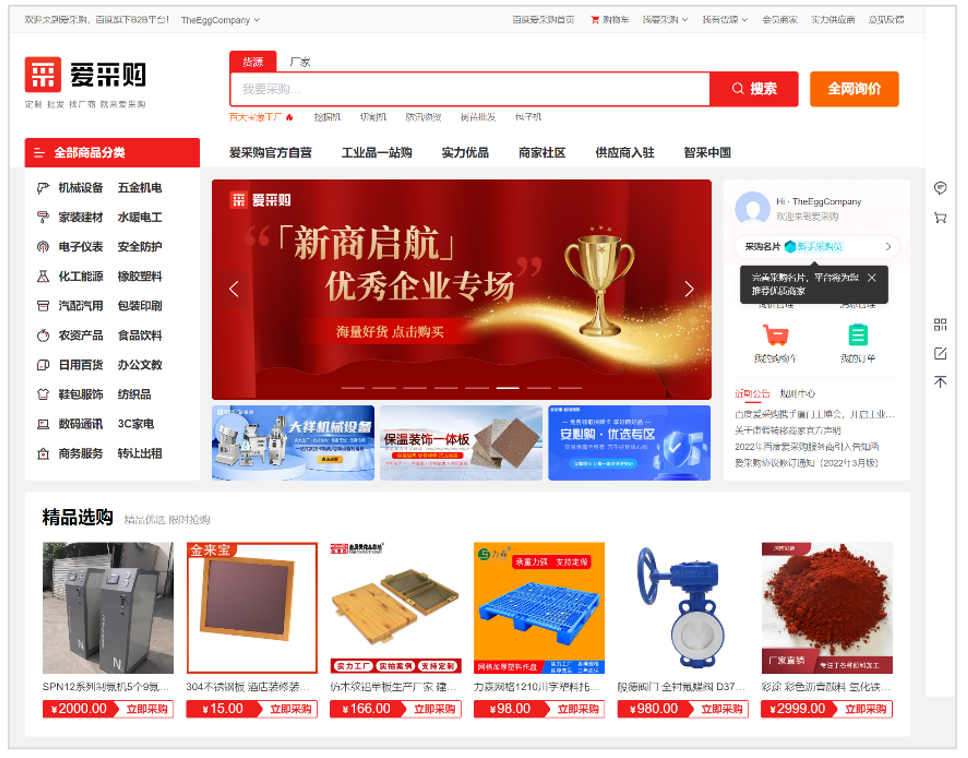 Baidu B2B: Homepage
Baidu B2B also provides interested buyers with useful functions like the ability to filter and search for specific products or manufacturers, communicate with merchants, view quotations, conduct online transactions, and more.
As for sellers, it can help you attract users—especially those at the beginning of your conversion funnels—by matching your listing information and customer data with their search needs.
Baidu B2B is free-to-use for buyers, while sellers can place their listings on the platform through one of the following ways:
Advertised listings under the Baidu B2B SERP sections (through the Baidu advertising platform)
Join the Baidu B2B platform (annual membership fee of RMB ¥6980 per year)
Baidu B2B: Common Layouts
These are the three search result types from Baidu B2B that commonly appear on Baidu's SERPs.
Note: Baidu B2B's SERP features currently do not divert traffic away from the platform (i.e., to a seller's official website). Instead, all communications and transactions are done through Baidu B2B. However, as a seller, elements like page titles, content, and images within your Baidu B2B shop can be customized to your brand.
Featured Image Snippets
Occupying much of the Baidu SERP real estate, featured image snippets display eight product images and details such as their name, price, and business name, and location by default.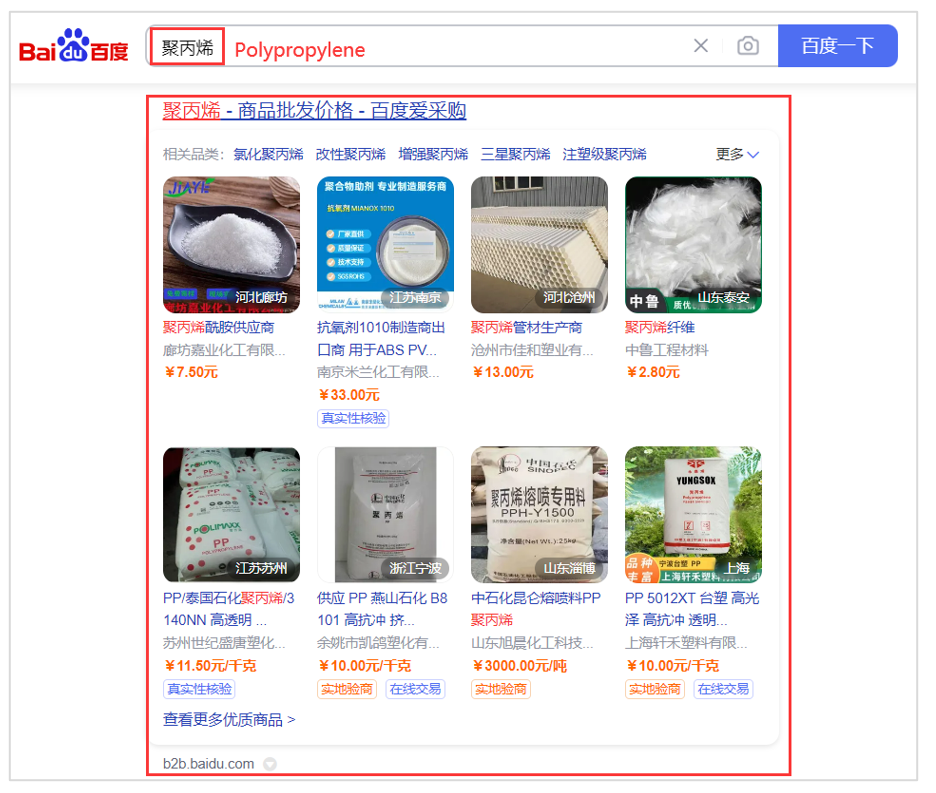 Baidu B2B featured image snippet on Baidu's SERP for search term: "Polypropylene"
Product Lists
Baidu B2B's product lists are similar to its featured image snippets but purely text-based, displaying product information for the eight-most relevant products for a given search term in lists, including their product model, quantity, supplier, and price.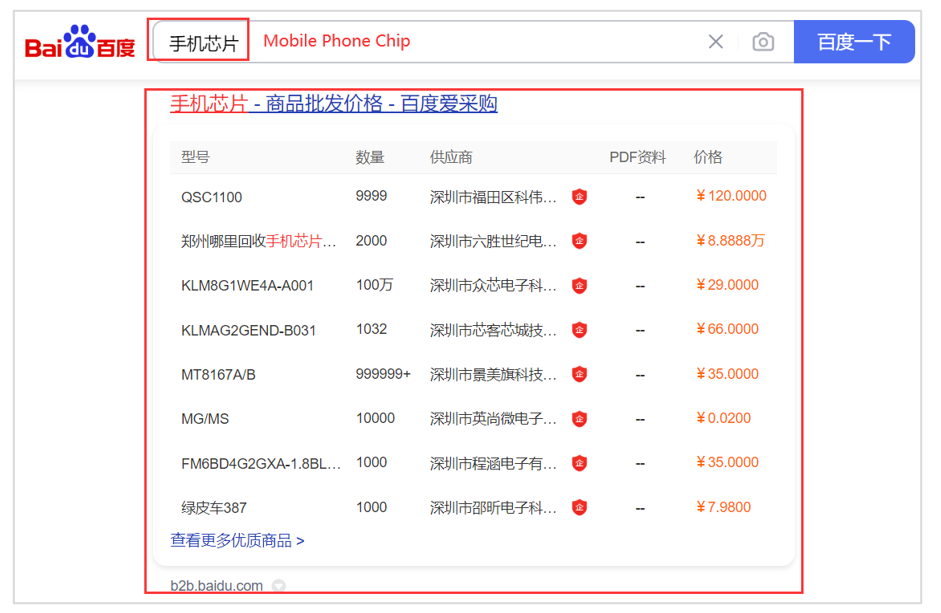 Baidu B2B product list on Baidu's SERP for search term: "Mobile phone chip"
General Results
Baidu B2B's general results appear like any standard result on Baidu's SERP with a meta title and description, publish date/modified, site name, and—in some instances—a featured image.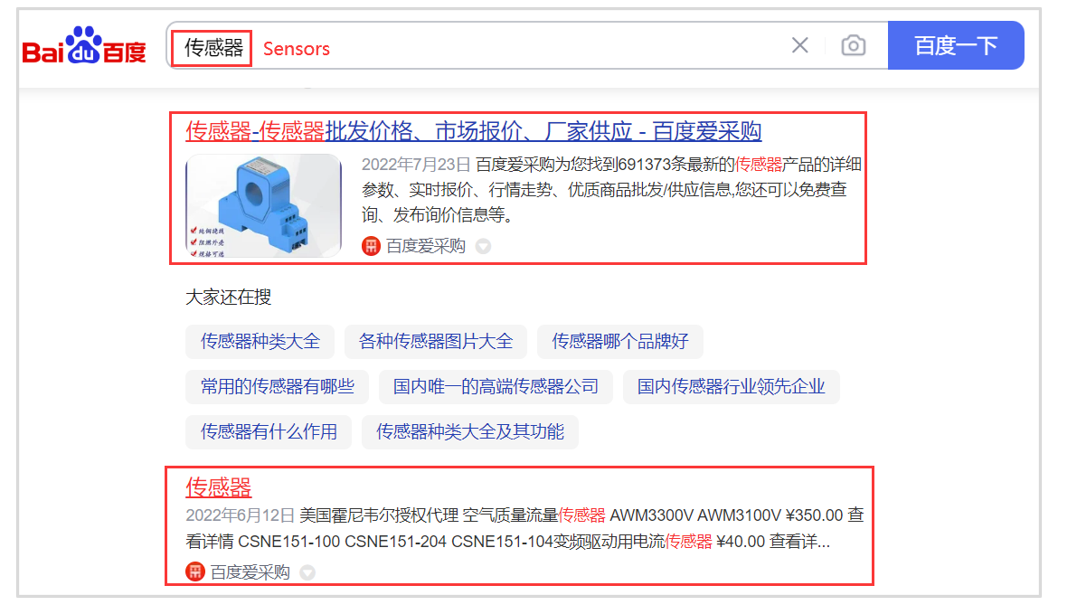 Baidu B2B general result on Baidu's SERP for search term: "Sensors"
Baijiahao (百家号)
Introduced in 2016, Baijiahao is Baidu's content creation platform where publishers post content ranging from videos and livestreams to text articles to dynamic images. News and entertainment are among the most popular topics among users.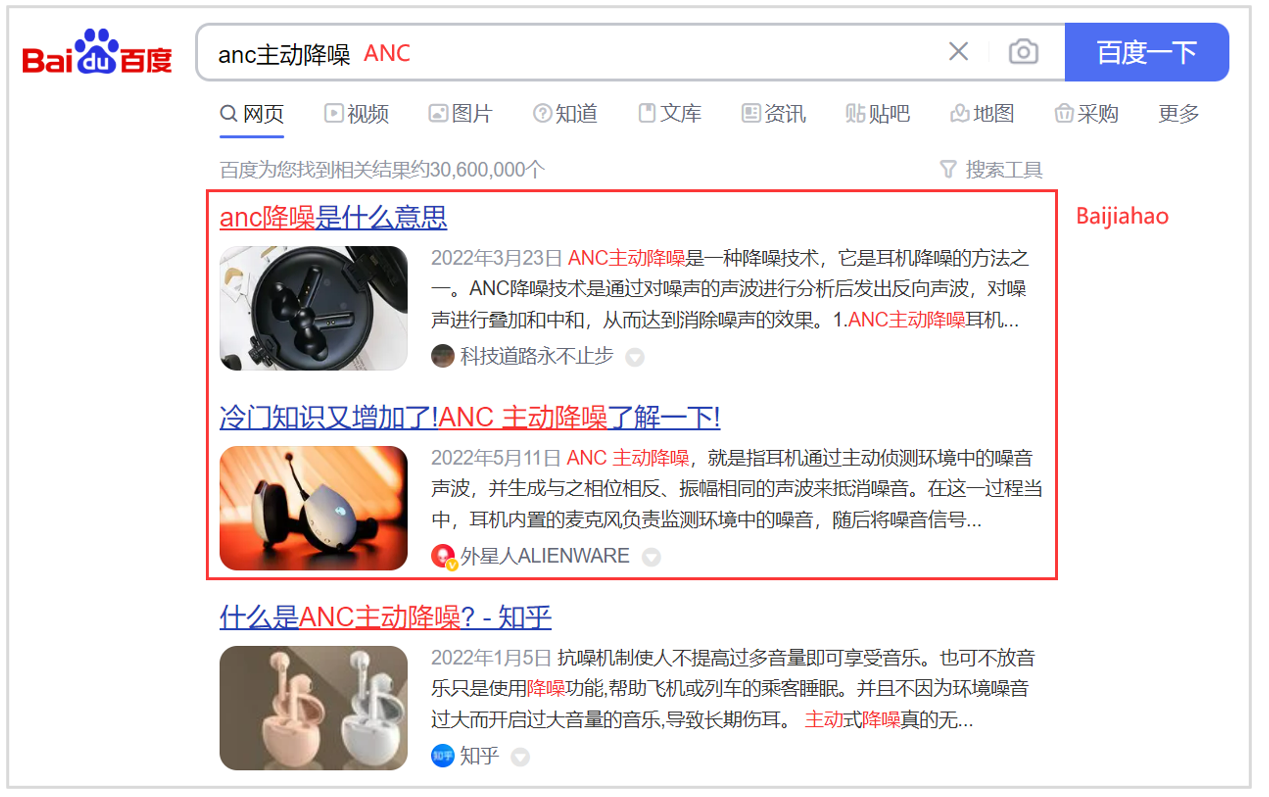 Baijiaohao search result in Baidu's SERP for search term: "Active noise cancellation (ANC)"
It supports five different types of entities to register accounts, including individuals, news and media outlets, enterprises, governments, and other*.
*Other organizations: For all kinds of public venues, public welfare organizations, schools, associations, non-governmental organizations (NGOs), and other institutions to apply.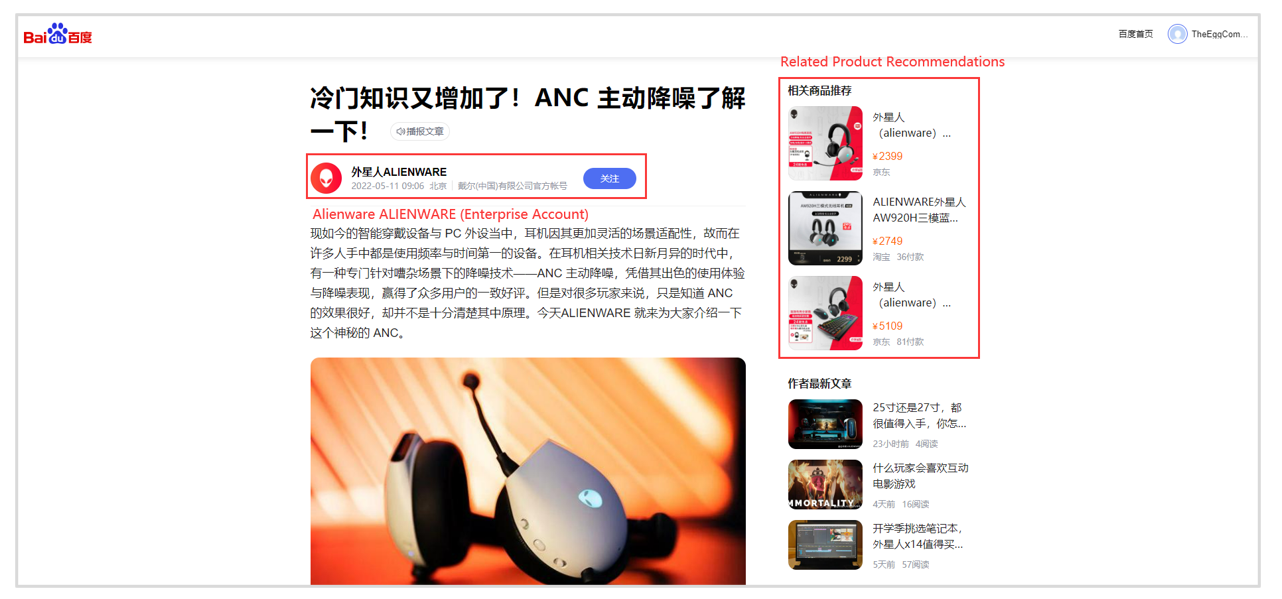 Official Baijiahao (enterprise) account belonging to Alienware
Baijiahao is currently free for all entities.
But if you are a business and wish to enjoy the tools available exclusively to verified enterprise accounts, such as adding business phone numbers to your Baijiahao page, you'll need to verify your account and pay an annual fee of RMB ¥600.

Alienware's verified disclaimer on its Baijiahao enterprise account
Baijiahao currently provides six ways to monetize content on its platform, including:
Traffic revenue
E-commerce link cards*
Paid content (videos, online courses, research articles etc.)
Content marketing
Paid groups or exclusive communities
Patron buttons and widgets
*Through a verified enterprise Baijiahao account, brands can even add their own third-party product pages (via Taobao, JD, Baidu Wutong etc.) directly into their articles.
WANT DIGITAL INSIGHTS STRAIGHT TO YOUR INBOX?
Baidu Wenku (
百度文库
)
Baidu Wenku was released in 2009 and remains the world's largest online Chinese document-sharing platform. Here, you'll find educational materials, research papers, business and legal documents, novels, comics, and more. Its concept is similar to that of the Canadian professional content-hosting service Slideshare—but with a greater variety of document formats and types.
Publishing materials on Baidu Wenku is a common way to attract organic traffic from potential clients seeking more in-depth information about a higher-end B2B product or solution before purchasing it.
In recent years, Wenku has also developed into a user-generated content (UGC) platform where authors can promote and sell their content. To encourage more content creation on its platform, Wenku utilizes a credit system to reward authors and require users to download documents using credits, which can be purchased directly or earned by pricing their own content uploads.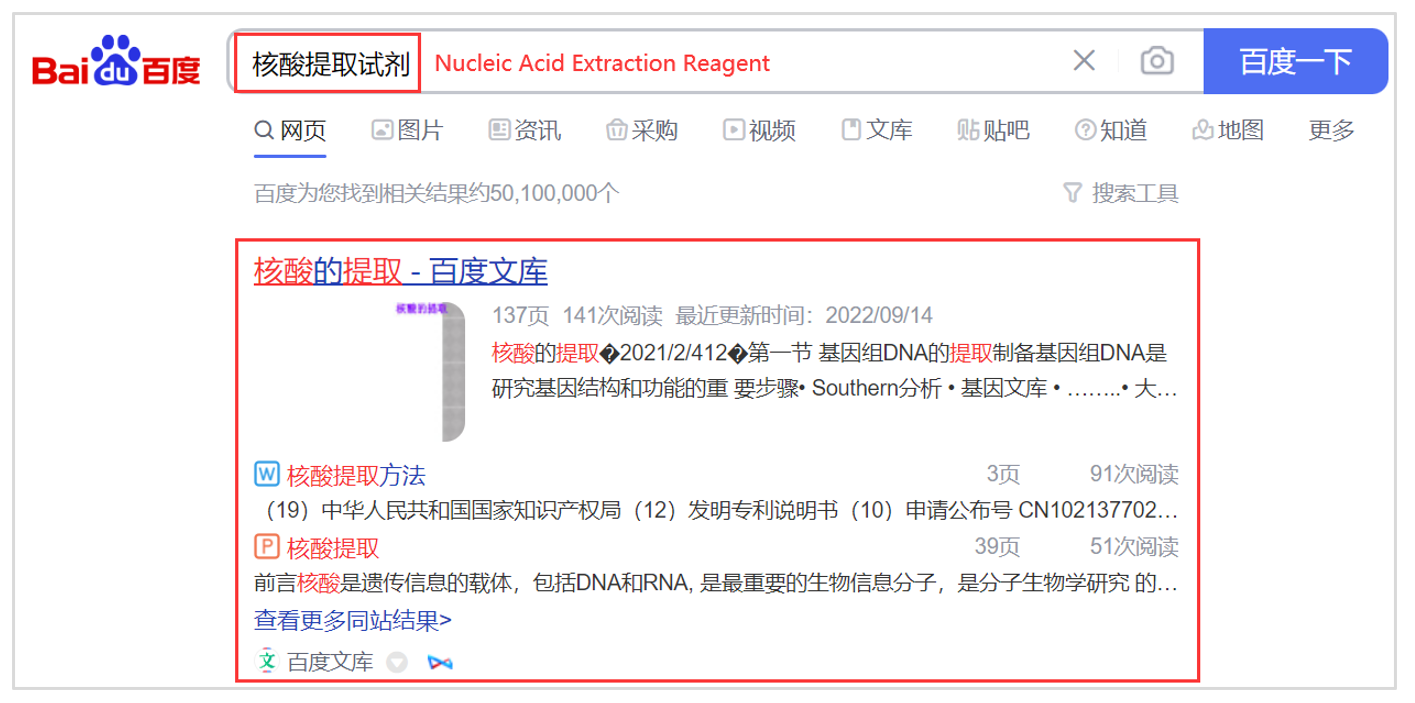 Baidu Wenku search result on Baidu's SERP for search term: "Nucleic acid extraction reagent"
Baidu Baike (百度百科)
Released in 2008, Baidu Baike is China's Wikipedia equivalent, providing Baidu users with mostly authoritative articles on virtually every subject. As of October 2022, Baidu Baike has more than 26 million articles and over 7.6 million netizens contributing to entries.
Since Baidu Baike search results tend to rank high on Baidu's SERP (i.e., among the top three results, oftentimes the first) for searches on brands, people, and places, brands should target Baike to rank for their own business or product-related search terms.

Baidu Baike search result on Baidu's SERP for search term: "AMD Semiconductor"

Baidu Baike search result on Baidu's SERP for search term: "Mobile Phone Chip"
Aside from optimizing for business or product-related searches, maintaining a corporate page on Baidu Baike—given its credibility as an authoritative source of information—can help boost your brand's credibility, so be sure to follow suit by publishing educational and impartial content on your Baike page.
Baidu Zhidao (百度知道)
Launched way back in June 2005, Baidu Zhidao (meaning "Baidu knows") is one of China's most popular Q&A platforms that provides helpful answers to millions of questions about every topic imaginable.

Baidu Zhidao search result on Baidu's SERP for search term: "MEMS Sensors"
Baidu Zhidao can't funnel organic traffic to your site directly. But since its search results tend to rank favorably on Baidu's SERP, answering questions related to your business niche can help educate potential customers about your offerings and, in turn, improve their perception of your brand.
***
Baidu and Google may seem similar on the surface, but the more you delve deeper into the two, the more apparent their differences become. Although Baidu has more features and ads crammed onto their SERPs, alongside deeper integration of their own properties, its algorithm—particularly in determining page quality—is much simpler to understand than Google's and has a strong preference for everything Chinese.
If your brand or business wants greater search exposure on Baidu's SERPs, the Baidu properties discussed in this article are worth the effort to try to rank for, especially the most popular ones like Baidu B2B, Baidu Baike, and Baijiahao.
Ready to maximize your digital marketing in China?