How to Use ChatGPT for SEO
How to use ChatGPT for SEO – APAC in 3 – Episode 21
While interactive AI chatbots are far from a novelty—think menu chatbots on eCommerce websites or Google's search assistant, Alexa—ChatGPT's generative language model, trained on vast amounts of data, can go as far as generate textual answers, article drafts, summaries, and more for just about any topic.
It is also smart enough to partake in discussions with end users and answer prompts—instructions to guide conversations or interactions with AI—in a manner very close to a human, even being able to acknowledge mistakes and reject inappropriate requests in its follow-up answers.
Unsurprisingly, ChatGPT has been a focal point among marketers since launching in November 2022, thanks to its comprehensiveness and quality of answers and—of course—its potential applications in SEO.
Here, let's explore five ways to use ChatGPT to power your content marketing strategy and improve your SEO.
Note: ChatGPT is available in all but a few countries, so when registering, check to see if you need to bypass any regional restrictions in your country of residence with a VPN or valid overseas phone number.
5 Ways SEOs are Putting ChatGPT to Work
The best use of AI tools in the SEO world is to scale content creation while streamlining the marketer's workflow to be more efficient. That usually consists of letting the AI take on repetitive or time-consuming tasks like topic brainstorming, keyword research, and article drafting.
Beyond long-form content, ChatGPT has also demonstrated it can write meta descriptions, ad copy variations, and even debug code.
With that said, here are five ways SEOs can put ChatGPT to work for them and some key considerations when implementing each.
1. Creating and Optimizing Content
Creating relevant content regularly for your target audience can be a hassle but is essential to keeping your brand fresh on their minds—that is where ChatGPT can come into play.
For instance, you can use ChatGPT to create an article draft for you to refine by giving it specific topic points, say "What is a CMS", and constraints, like a word count of 1,000 words. You may also use it to generate different versions of existing articles to avoid duplicate content on your site, which can hinder its crawlability, confuse search engines, and hurt your rankings.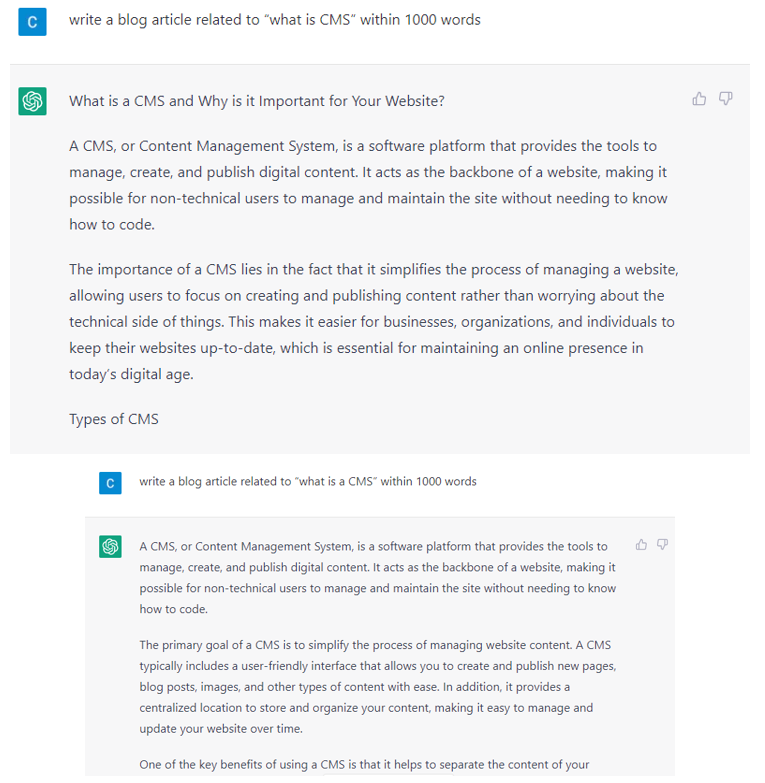 Prompting ChatGPT to write an article about "What is a CMS"
However, remember that you should only ever limit ChatGPT to a 'support' role rather than let it create content for publishing entirely on autopilot—after all, it is still a machine not void of inaccuracies. It is also unlikely to be able to completely replicate the research, analysis, critical thinking, and value-creation that goes into producing high-quality content.
Not to mention Google's algorithm—in line with its recent Helpful Content update that prioritizes people-first content and began devaluing content written purely for SEO—is becoming better at identifying AI-generated long-form content, even those that deploy anti-detection algorithms.
For these reasons, always do a human review of anything AI-generated to maintain content quality and avoid getting penalized for violating Google's Search Essential guidelines, particularly when using ChatGPT to write your webpages and articles.
2. Writing Meta Descriptions
Aside from long-form content, ChatGPT can also help write social media posts, email pitches, ad copy, and page summaries. You can even repurpose summaries of longer articles generated by ChatGPT to form landing page copy or shorten them to a sentence or two for a meta description.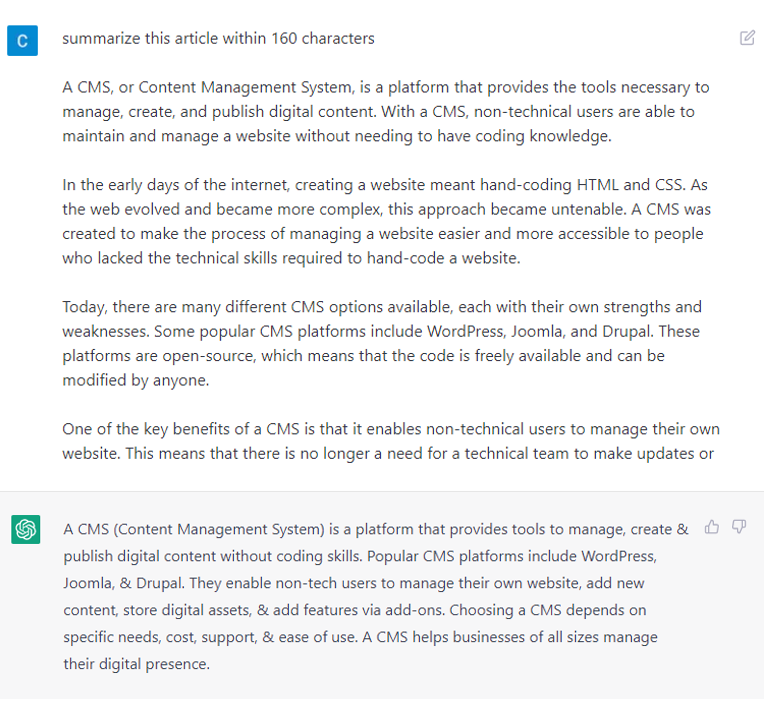 Prompting ChatGPT to summarize an article within 160 characters
3. Generating Title Ideas
ChatGPT can facilitate brainstorming of other relevant topic ideas to target—for example, by feeding it keywords, you can prompt it to suggest title variations relating to CMSs that must include "best CMS".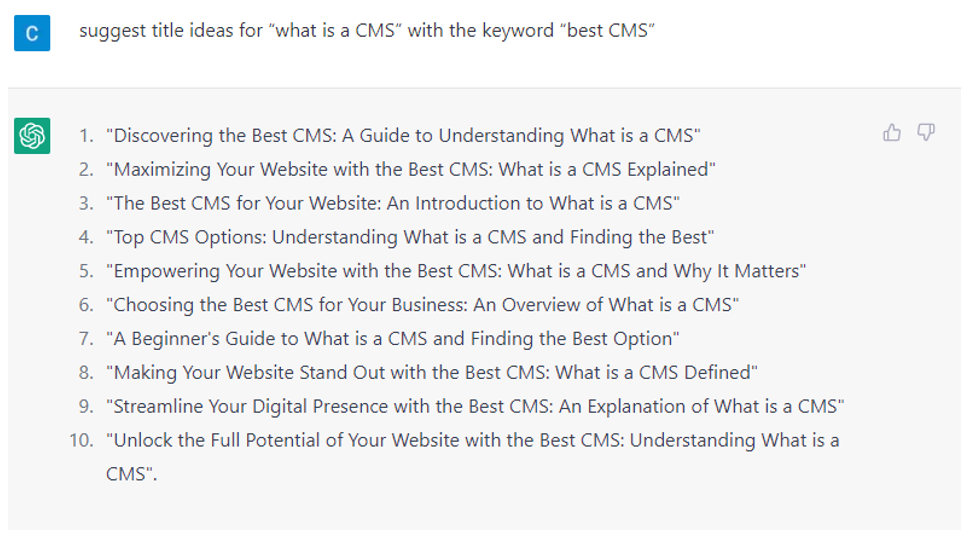 Prompting ChatGPT to suggest title ideas related to "What is a CMS" that must contain the phrase "best CMS"
4. Conducting Keyword Research
Keyword research is an essential yet time-consuming component of SEO—but AI tools like ChatGPT can alleviate this time burden.
How? Simply ask ChatGPT to generate keywords for a specific topic (i.e., "What is a CMS") and it will generate a list of relevant keywords and phrases within a matter of seconds. You can then add these to your new content or cluster them into themes to optimize relevant existing webpages.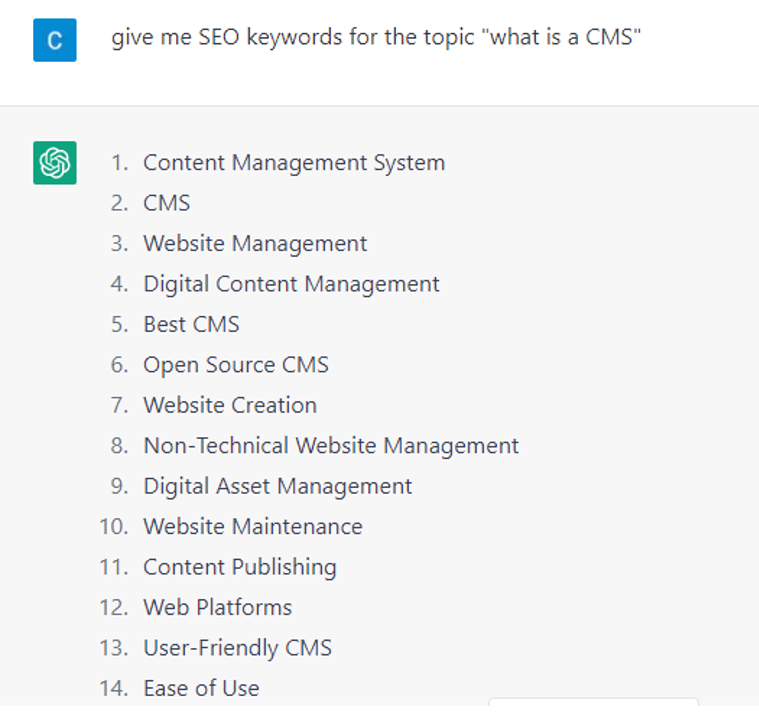 Prompting ChatGPT to generate keywords and phrases related to "What is a CMS"
Note ChatGPT currently does not display search volume data for keywords it generates, so you'll need to input them into other SEO keyword tools to access that data and decide which ones to target in your content.

ChatGPT's intuitive response to a user's follow-up request about search volumes for keywords related to "What is a CMS"
5. Generating Schema Code
Schema markup on a webpage helps search engines like Google better understand what that page's content is trying to convey, aiding its crawlability. However, SEO professionals not experienced in coding may not be familiar with implementing schema code into the webpage HTML.
While there's no shortage of schema generators on the Internet, ChatGPT can do so with ease and little instruction—simply copy and paste an extract into the tool and ask it to generate a specific schema code that you can, in turn, paste into your webpage HTML.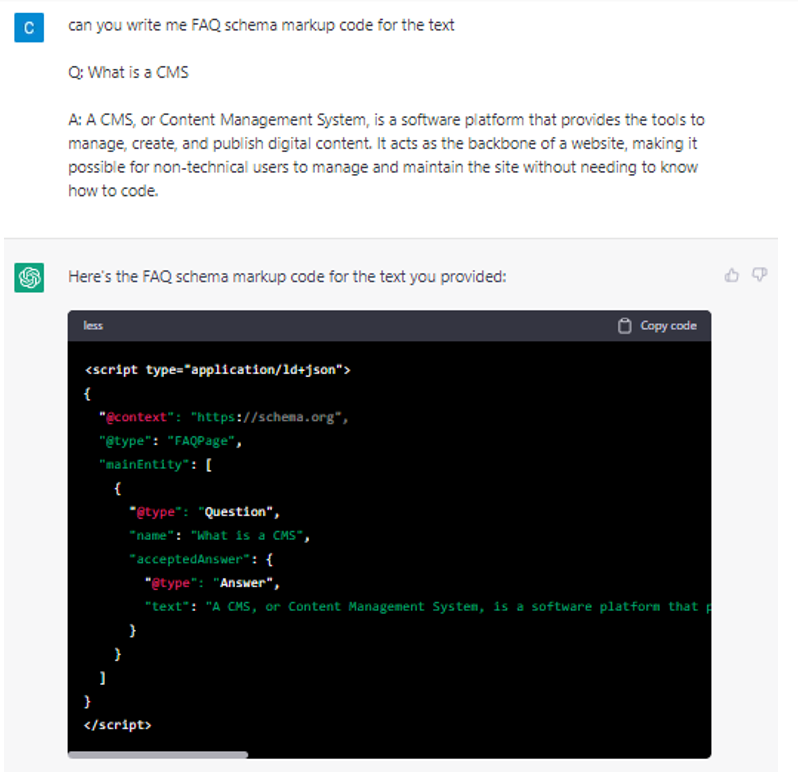 Prompting ChatGPT to write a schema code for an extract of text
If ChatGPT is here to stay, what does the future hold for SEO?
ChatGPT's popularity is mind-blowing, considering it gained one million users within the first five days of launching—a milestone that took Netflix around 3.5 years to reach, Facebook 10 months, Spotify 5 months, and Instagram 2.5 months.
However, it's not without its drawbacks. In its current state, it draws on data from no later than 2021, which means it's unable to provide any information on current events. And while a later version of the chatbot will likely remedy this, there is still uncertainty surrounding how long its AI will take to learn about new events and relate them to other topics.
The future of search could well look like sending prompts to a chatbot and getting answers from language models such as ChatGPT's. As part of a "code red" plan to compete with ChatGPT, Google has even recently announced it will begin rolling out an AI conversation technology it's calling "Bard" for public testing.
As such, writing prompts—including how clear and descriptive it is in explaining your request—will become a key skill for SEOs to master, given their impact on the quality and originality of the ChatGPT-generated output. The fewer instructions there are in a content request, the likelier its output will turn out similar to others with similar requests, whether in their phrasing, structure, or sub-topics.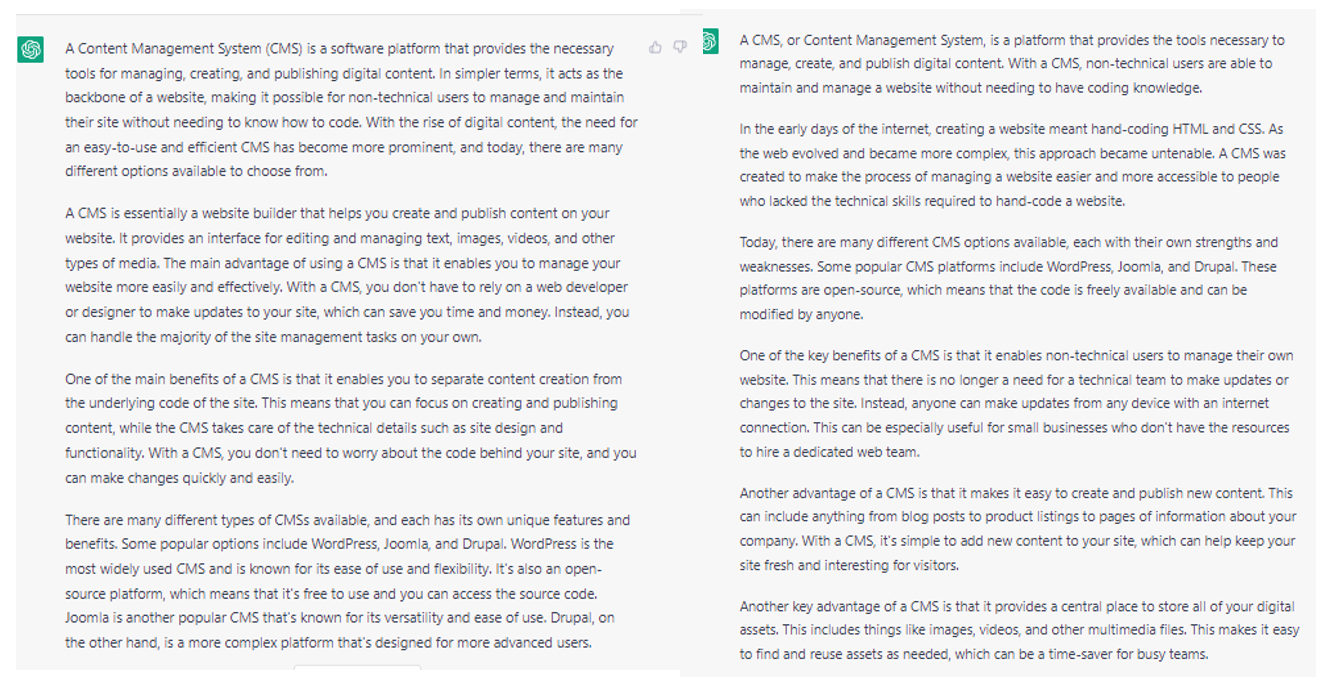 A comparison of two ChatGPT-generated articles from the same prompt ("What is a CMS") that were similar in structure, just with different words
***
The future belongs to those who don't shy away from technology but embrace it—that holds especially true for ChatGPT and other AI tools in the SEO world.
ChatGPT will likely continue improving and has the potential to make SEO faster and more efficient—even our small sampling of ways to incorporate it into your SEO workflow could potentially save you hundreds of hours every year.
Ready to maximize your digital marketing in Asia?