WeChat Digital Trends: Chinese New Year 2022 Edition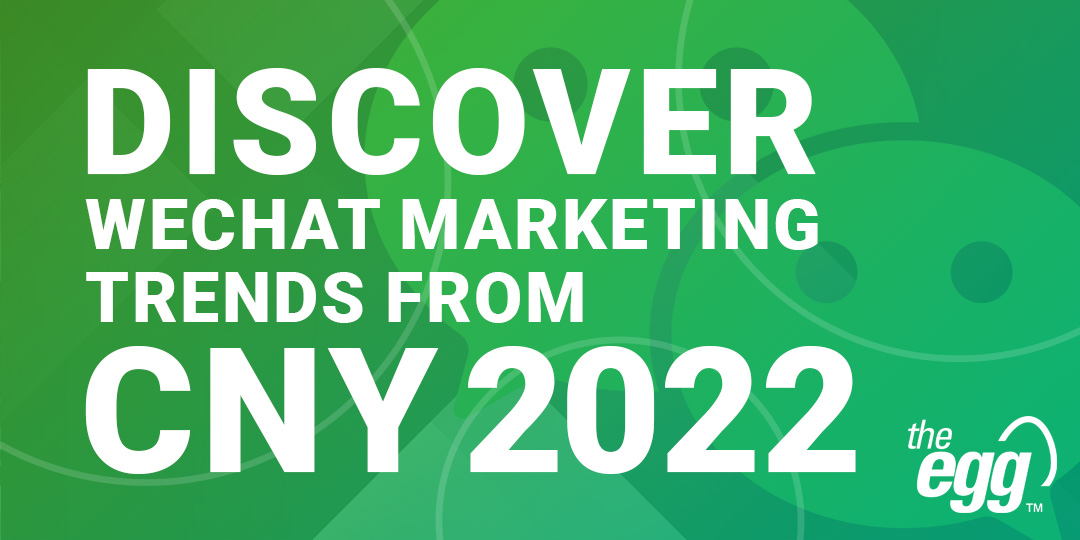 Chinese New Year (CNY) is the most important family-oriented holiday in China, and often a key period for seasonal campaigns for many brands. As the biggest social platform in China, WeChat naturally saw considerable brand engagement and user activity throughout the period.
Just last month, WeChat published figures about how its platform and features were used during CNY 2022.
The biggest takeaway? Custom digital red packet covers are the new hot trend!
In fact, between January 31st and February 5th, more than 380 million custom-design covers were collected and saved by WeChat users—and out of that, over five billion were sent as red packets across the platform.
And there were some other figures from CNY 2022:
More than 800 million consumer coupons were issued via WeChat Pay for various CNY campaigns.
WeRun—WeChat's pedometer that tracks a person's daily step count—recorded 12.9 trillion total steps among its users.
The total reading time of all WeChat Read users was as high as 17.65 million hours.
Here, let's explore the biggest WeChat trends from CNY 2022—particularly the craze behind its custom red packet covers—and how you can leverage their popularity to engage Chinese audiences during the country's biggest national festival.
WeChat CNY 2022 Trend #1: Mainstream users can now create custom red packet covers, further fueling their popularity
One of the most popular customs of CNY is the exchange of "lucky money" in ornate red packets between families and friends as blessings of luck and fortune. As the digital adaptation of this real-life practice, it's no surprise that digital red packets took WeChat by storm after being introduced on the platform in 2014.
Since then, WeChat's digital red packets—along with their cover designs—have been used by brands to engage customers and promote themselves around and during CNY.
However, 2022 was the year in which the popularity of digital red packets truly skyrocketed among mainstream WeChat users. The reason for this? Now, virtually all individual users can create custom covers after WeChat recently forwent its criteria that limited the feature to business accounts and individual accounts with large followings.
At the time of writing this article, the cost to send a custom red packet cover was RMB ¥1 per recipient. This meant it would cost you RMB ¥10 to create a custom cover to distribute to 10 people, who in turn could save your design and use it when sending out red packets to their family or friends. So, by making mainstream users eligible to create custom covers, WeChat has also potentially opened itself a door for a new revenue stream in the form of micro-transactions.
WANT DIGITAL INSIGHTS STRAIGHT TO YOUR INBOX?
WeChat CNY 2022 Trend #2: Consumption of Digital Red Packet Covers was Ecstatic Across WeChat
The consumption and perceived popularity of custom red packet covers among mainstream users was also amplified by WeChat's channels of engagement during CNY 2022. Let's delve into some examples:
WeChat Users Could Shake Their Phones to Win Special Edition Red Packet Covers
Between January 12th and February 10th, users would encounter ads with the phrase "shake for a surprise" while scrolling through WeChat Moments, whereby immediately shaking their phones gave them a chance to receive a custom-shaped Spring 2022 special edition red packet cover.
Thus, the more they scrolled through their feed, the higher their chances of encountering these ads and possibly winning these custom covers—this, in turn, led to more engagement and user screentime on WeChat Moments.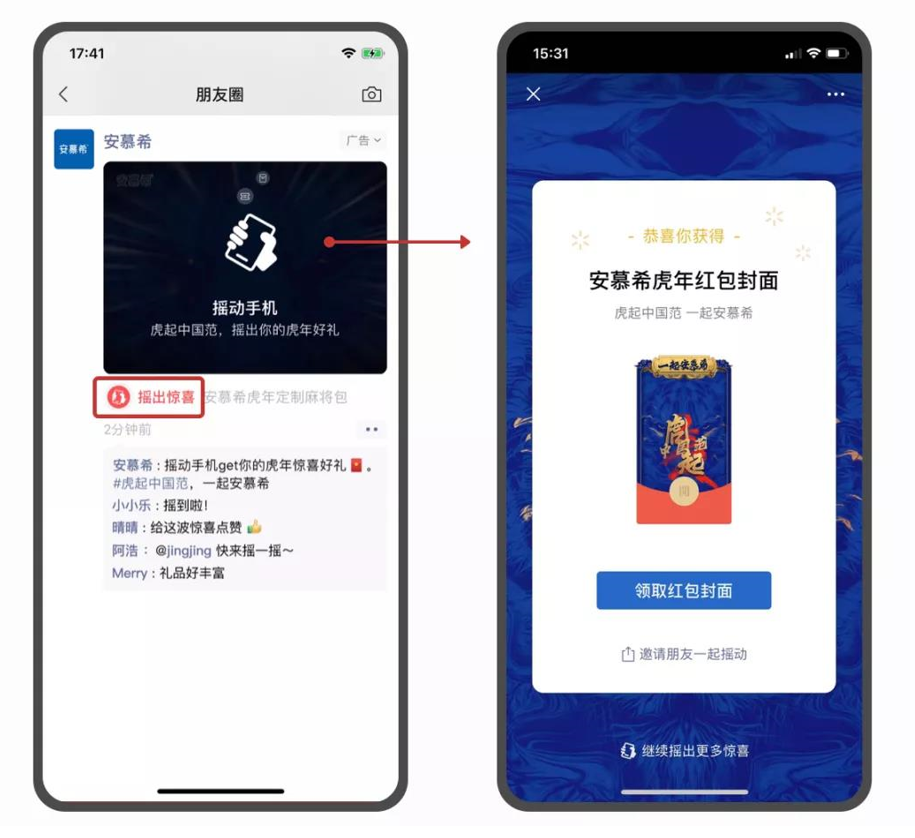 WeChat's "shake for a surprise" ad for its custom-shaped Spring 2022 special edition red packet covers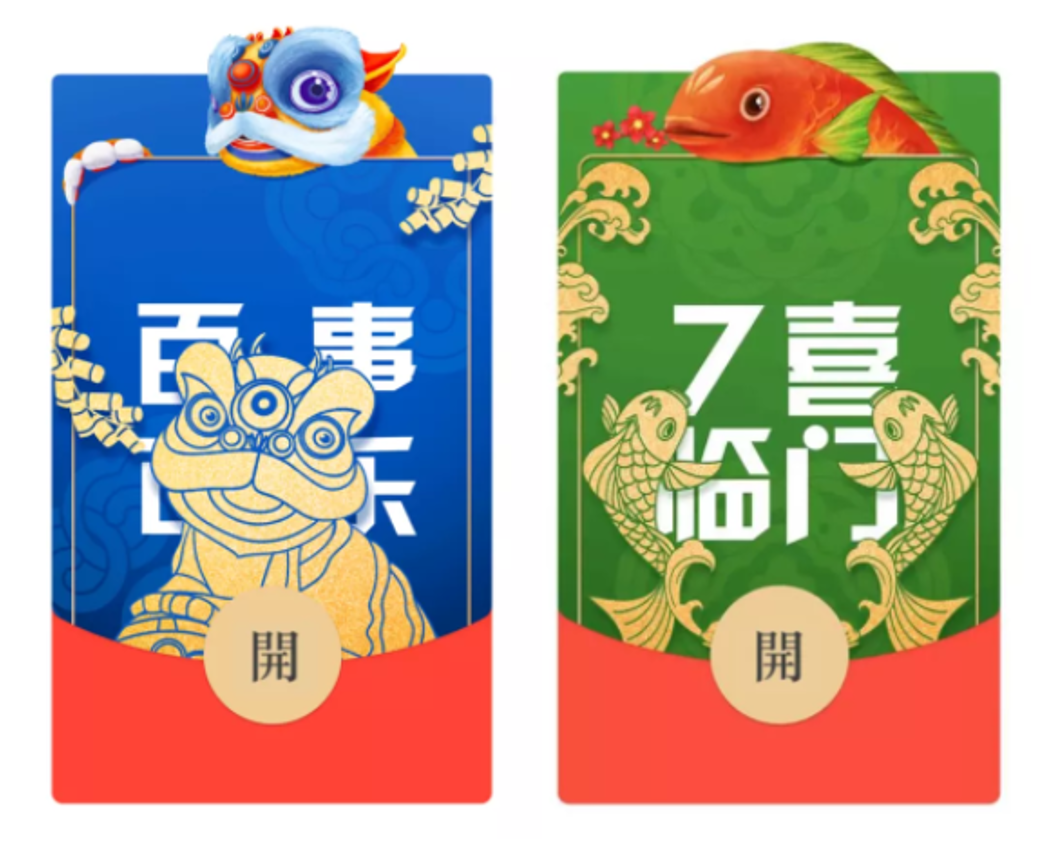 WeChat's Spring 2022 special edition red packet covers
Random Lucky Draws for WeChat Livestream Viewers
As part of its larger push towards livestreaming concerts and events, WeChat livestreamed the nationwide-popular 2022 Spring Festival Gala on WeChat Channels on January 31st. In doing so, WeChat aimed to attract more viewers—who were likely going to watch the landmark program anyway, whether on television or other streaming platforms—and showcase WeChat Channels' interactivity to users who hadn't fully bought into it yet.
For example, users could watch the livestream and chat among themselves simultaneously. And at every hour of its duration, organizers of the gala sent out custom red packet covers to viewers at random.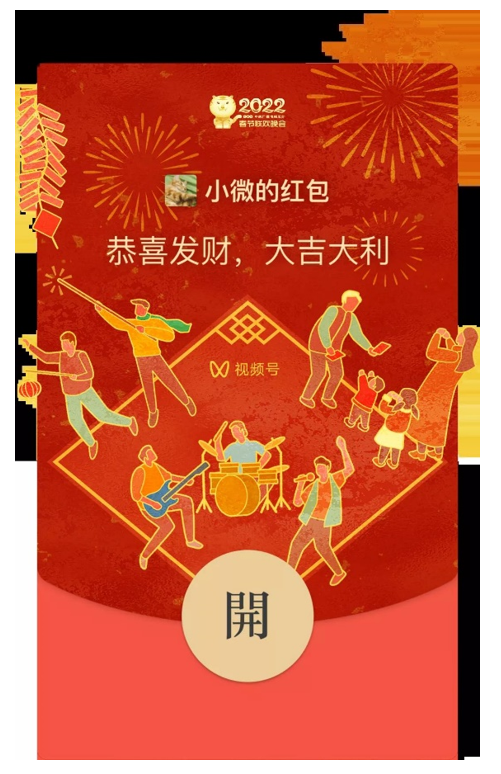 WeChat Spring Festival Gala red packet cover
In commemoration of the Year of the Tiger per the Chinese zodiac, users who commented on the livestream and shared it on their WeChat Moments even had their comments decorated with tiger-themed designs.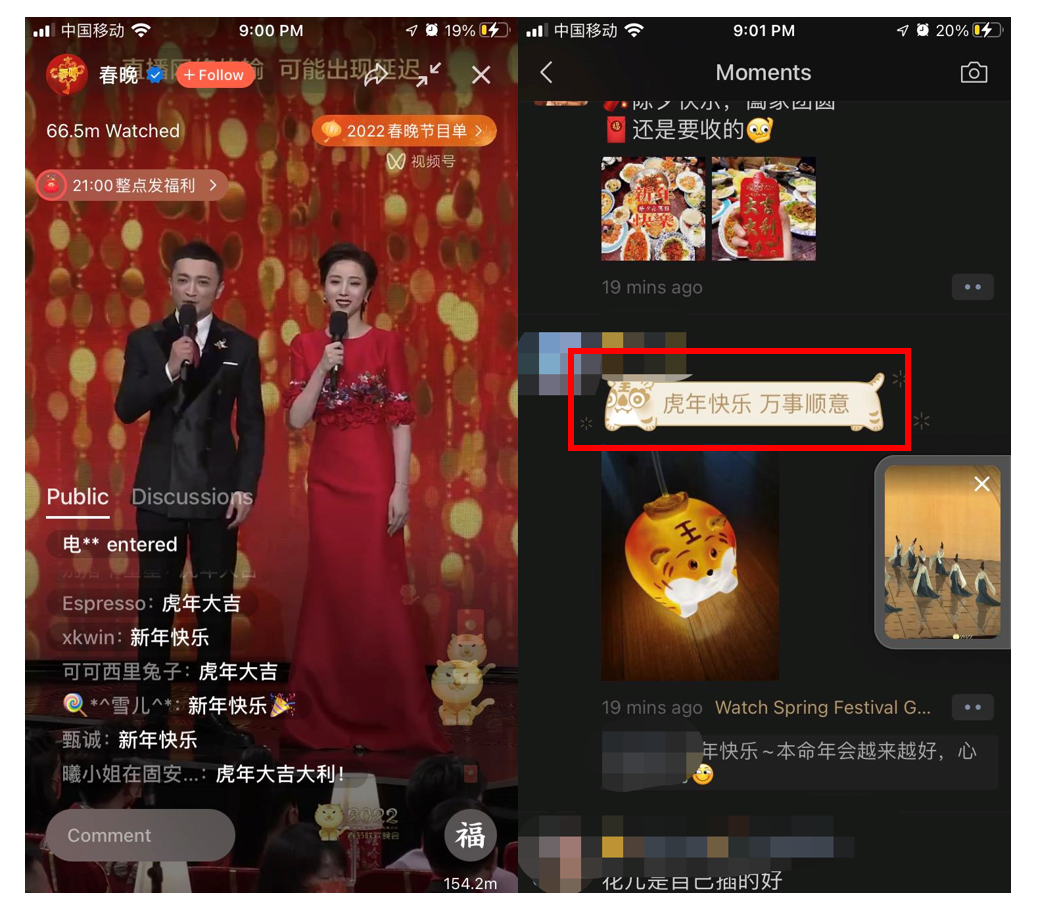 WeChat's Spring Festival Gala viewers could share the livestream and have any of their comments made on it decorated with a CNY theme
WeChat Users Could Send CNY Wishes to Win Digital Items
Once users on WeChat sent popular CNY greetings to their friends, the screen interface would spawn an animated tiger and a mystery bag that potentially contained a red packet cover or other digital items like lucky money, QQ music VIP memberships, and WeChat beans.
This encouraged more users to use WeChat to send lucky blessings to their family and friends.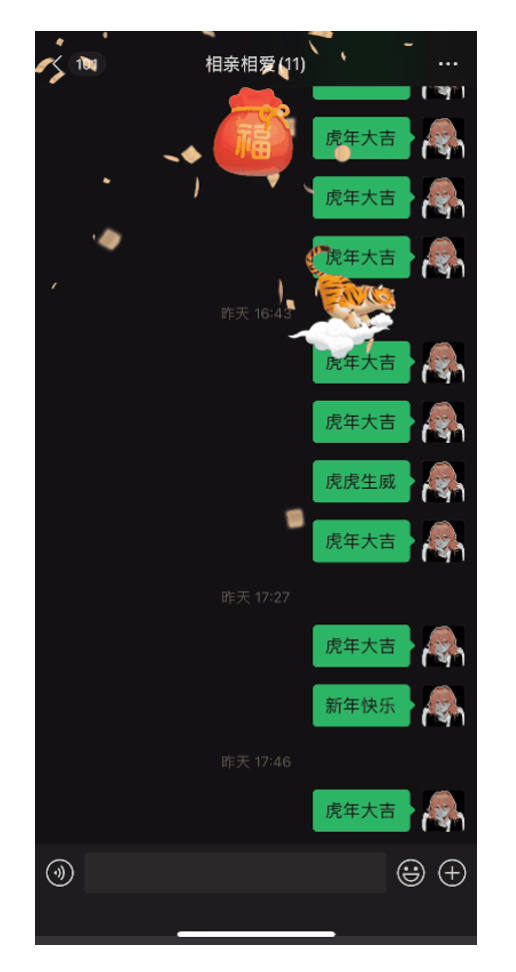 Send CNY wishes to your friends to win a pack of digital items
New Holiday Greeting Feature on WeChat Chatting Interface
The new Holiday Greeting red packet feature this year lets users send digital red packets to friends and family along with a Chinese New Year blessing.
However, users cannot decide how much to send in these digital red packets as WeChat's system will randomly set a figure based on numbers deemed lucky in Chinese numerology (like 3, 6, and 8)—e.g., RMB ¥2.88, ¥6.66, ¥8.88, ¥0.88, and ¥2.33. Also selected at random is a CNY blessing and accompanying animation effects.
There are a variety of blessings and animations, so users can have fun generating the ideal holiday greeting red packet to send out.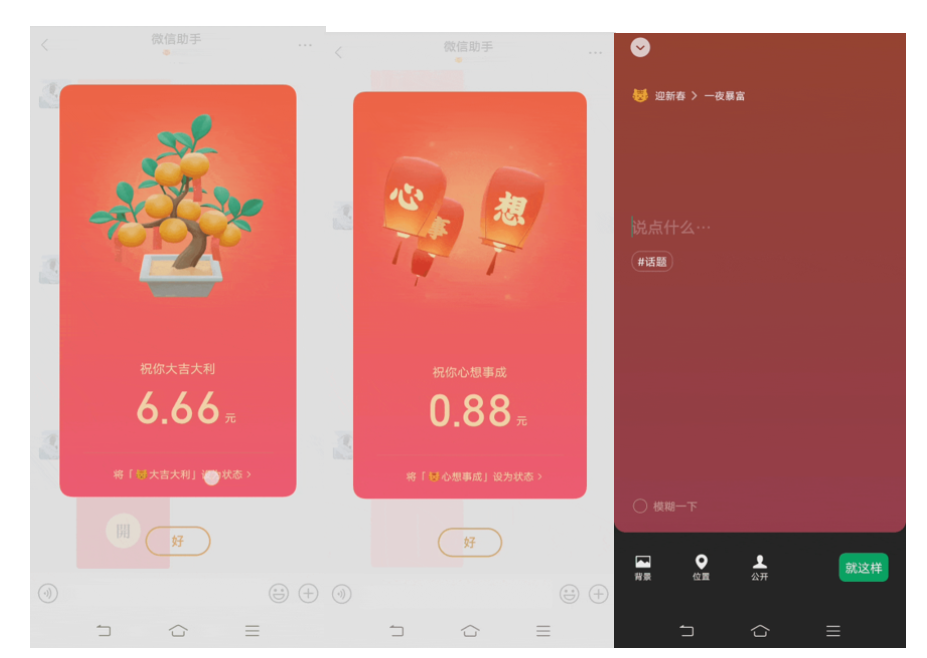 WeChat's "Holiday Greeting" red packet
What's more, after receiving a WeChat Holiday Greeting red packet, recipient users can set the accompanying CNY blessing (like "一夜暴富", meaning "get rich quick") from the red packet cover as their WeChat status.
After doing so, a small tiger emoji will appear alongside a welcome message—based on the recipient's CNY blessing—on a custom profile background cover, which can be a dynamic image or a video loop.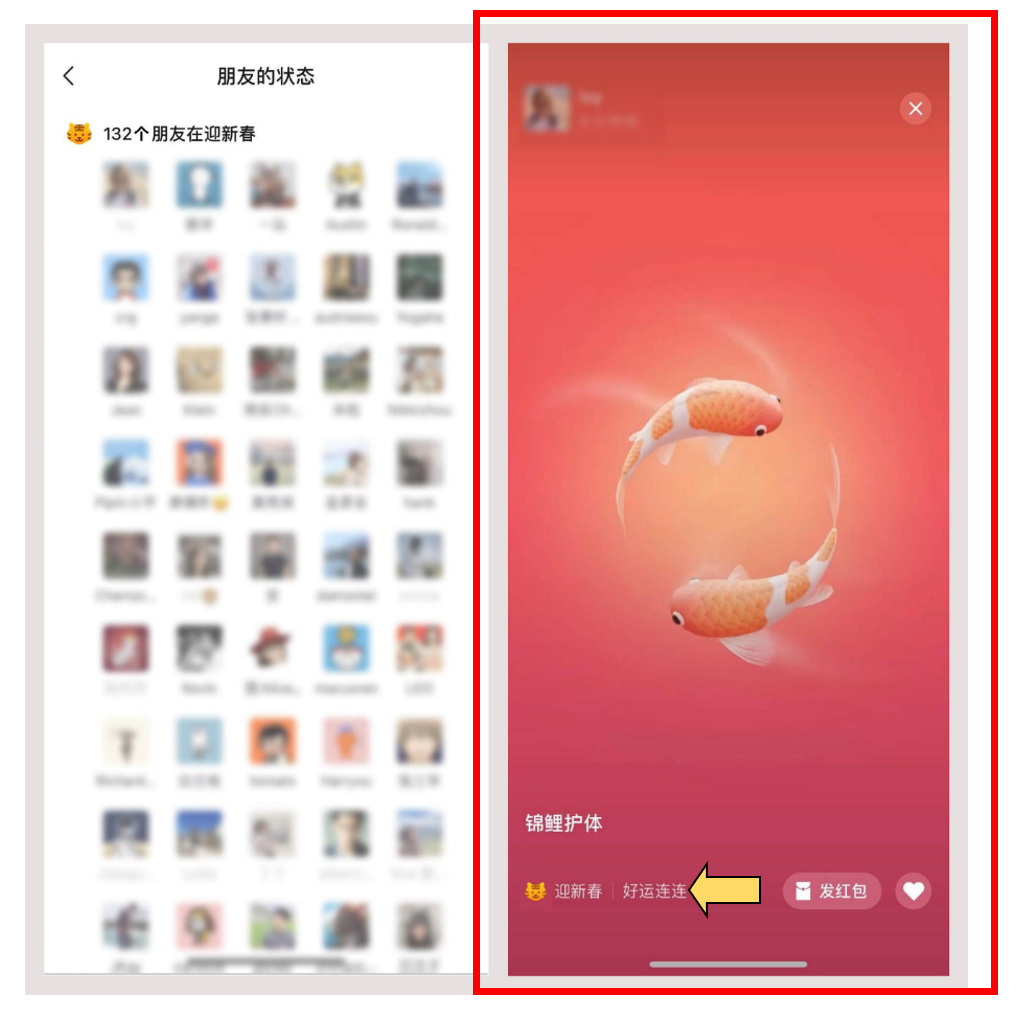 A custom profile background cover with the welcome message ("好运连连" or "good luck") as this user's WeChat status
WeChat CNY 2022 Trend #3: Mini Programs Continue to Support China's Pandemic Recovery
As an immense part of the WeChat ecosystem, mini programs permeate virtually every aspect of daily life in China, enabling people to order food, hail cabs, pay bills, purchase products, and more.
During CNY 2022, China State Council's official mini programs, which provide lifestyle and livelihood services to the public, effectively helped minimize the spread of COVID-19 in the country with its health-check features.
According to WeChat's report, the number of online visits to the State Council's mini program for its health declaration QR-code increased by 248.8% year-on-year (YoY), while visits to general healthcare mini programs rose by 62.7% YoY.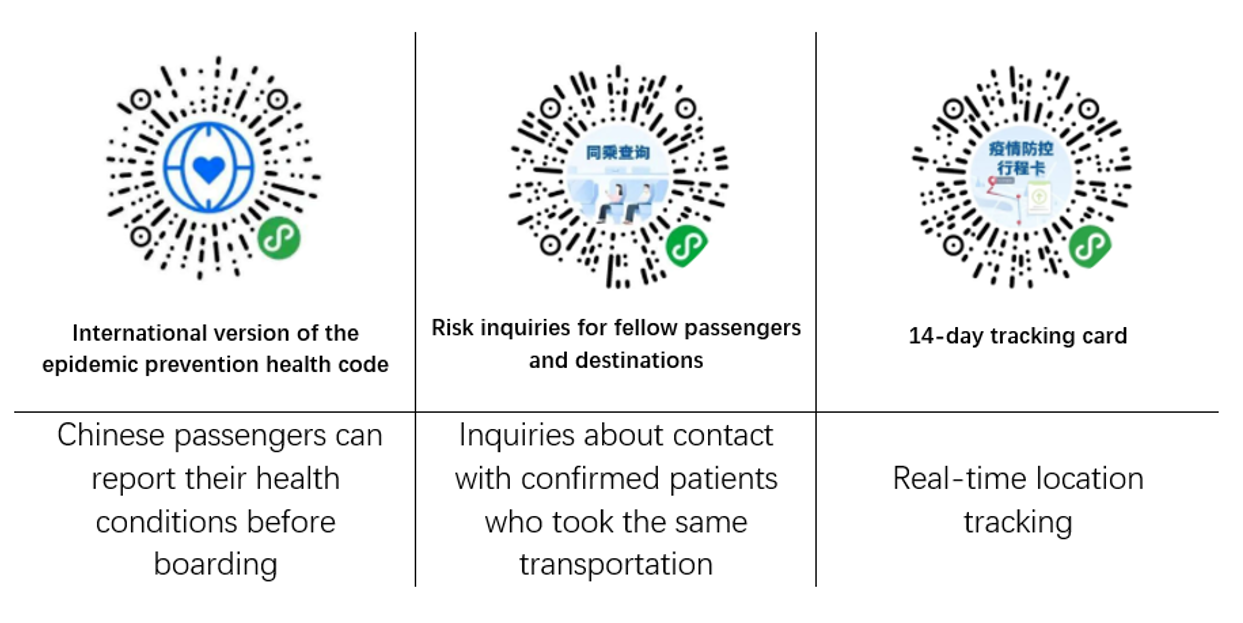 Some of the health check features on China State Council's mini programs
Simultaneously, whether for family gatherings or travel purposes, the movement of China's citizens over CNY 2022 was more environmentally friendly than before, partly thanks to WeChat's mini programs. Indeed, data showed that the number of paperless check-ins via WeChat mini programs for air travel and hotel stays increased by 82.3% and 22.2% YoY, respectively.
WeChat CNY 2022 Trend #4: Holiday Greeting Coupons on WeChat Pay Drove Higher Spending
During CNY 2022, the Chinese government and local trade unions supplied WeChat Pay with more than 800 million consumer coupons. As of February 6th, more than 50% of users who participated in the coupon collection scheme had used the coupons while shopping, which increased spending by nearly fivefold.
On top of that, online transaction volumes on mini programs for fresh food brands rose by 51.8% YoY, while visits to the mini programs of local department stores and shopping malls increased by 25.5% YoY.
***
Today, cultural phenomena increasingly dictate marketing strategies—and Chinese New Year is a prime example.
As social campaigns are heavily engagement-oriented, brands should experiment with different strategies to see what works best for them—whether that means organizing lucky draws or gifting digital red packets to users in return for their "follow".
Ready to maximize your digital marketing in China?