WeChat Marketing: Increase Brand Visibility with Digital Red Packets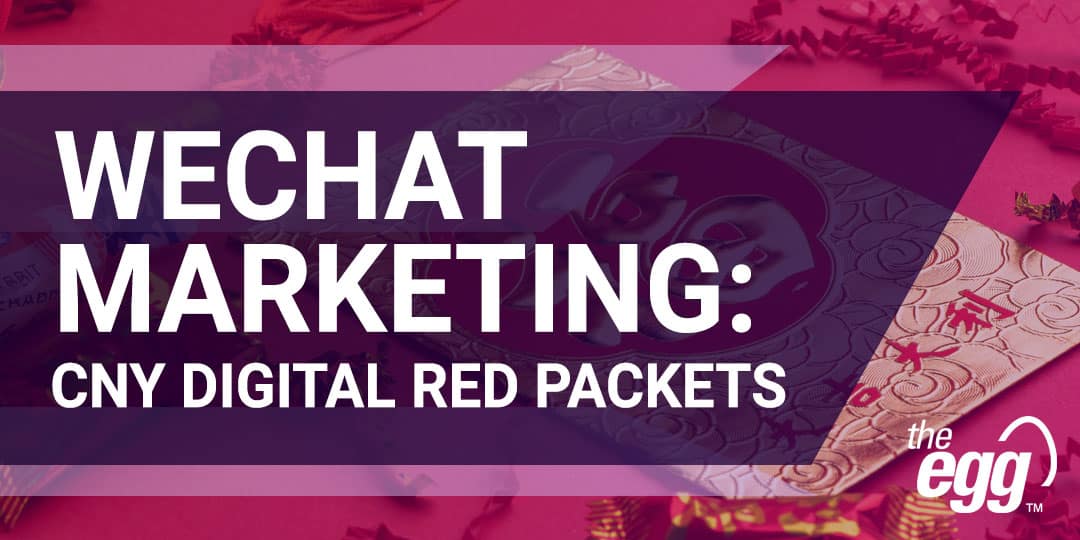 Chinese New Year (CNY) can be a great opportunity for B2C's to connect with audiences and promote their brands through social campaigns that commemorate the holiday.
One of the most popular customs of CNY is the exchange of monetary gifts in ornate red packets ("hongbao") between friends and families as blessings of good luck and fortune.
Thus, it's no surprise that digital red packets took WeChat by storm after being introduced on the platform a few years ago.
In this article, discover insights on successful WeChat red packet marketing strategies to help you connect with audiences in China during Lunar New Year and beyond!
WeChat's Custom Red Packet Covers
In 2019, WeChat began collaborating with luxury brands like Gucci and Fendi to launch customizable red packet covers. These feature brand logos and reflected a unique brand identity through different colors, shapes, and other visual elements.
When WeChat's red packets first featured as an app widget in 2020, the cost of custom covers dropped from RMB ¥100 to RMB ¥1 per cover. Thereafter, more retail and FMCG brands entered the fray because of the lower barriers to entry.
According to WeChat's 2021 Cloud Spring Festival Social Life Report, there was a staggering 30 million new red packet covers exchanged during CNY 2021.
Digital Red Packets in your WeChat Branding Strategy
With WeChat's custom red packet covers, B2C's capitalize on more than just attractive visuals.
Since covers can be linked to official WeChat accounts, mini programs, and video channels, brands that create custom covers typically generate more traffic to their various WeChat feeds, ultimately driving greater awareness, engagement, conversions, and loyalty.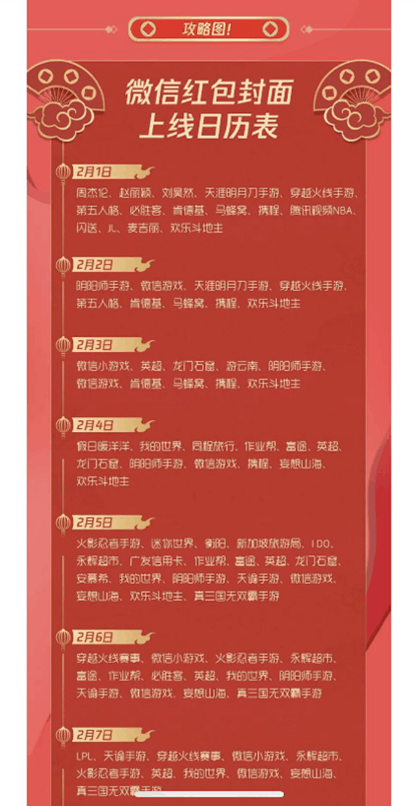 Calendar showing the custom WeChat cover launch dates of different brands
Let's examine some successful red packet campaigns by notable brands during CNY 2021.
Successful WeChat Red Packet Campaigns:
Estee Lauder
Estee Lauder featured their ads on users' Moments (i.e., timeline), where users rotated their phone to interact with the ad. Notice how the brand's packet design (a silhouette of a cosmetics bottle juxtaposed by flower patterns) reflects its trademark products.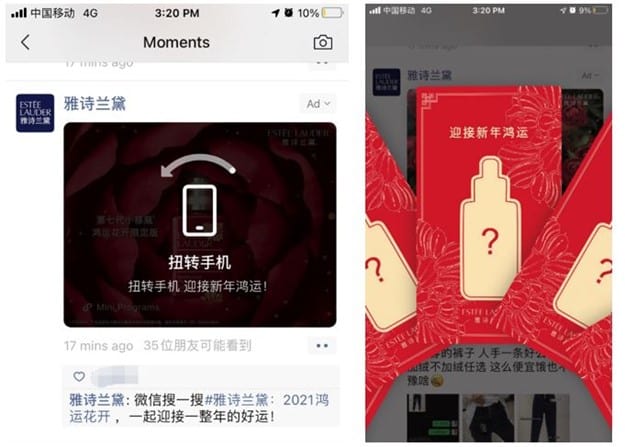 Estee Lauder's ad (left) and red packets (right) on a user's timeline
Upon interacting with the ad, the user would receive a custom red packet; accepting it allowed the user to shop for Estee Lauder's CNY limited edition products on its mini program.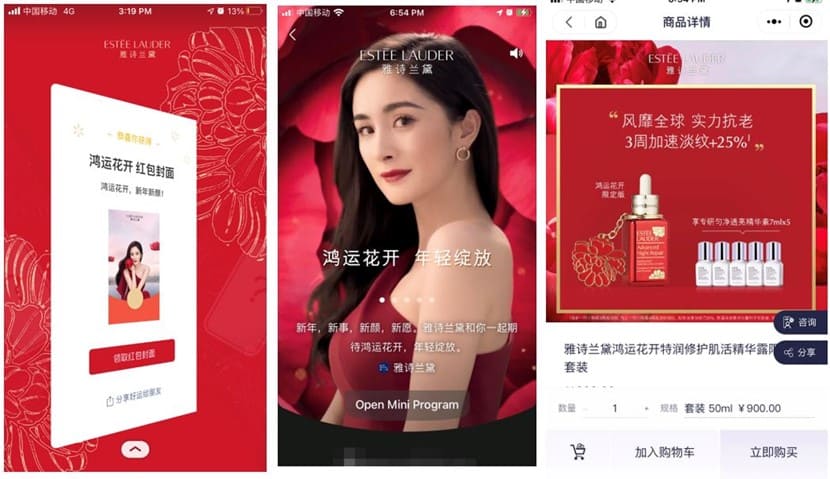 The user journey: Estee Lauder's mini program after accepting a red packet
Successful WeChat Red Packet Campaigns:
Pepsi
In Pepsi's campaign, user interactions worked very differently.
A simple mention of the Pepsi brand or product (like "百事可乐") in a chat with your WeChat friends would trigger Pepsi icons and a gift bag to trickle down both of your screens.
Clicking the latter randomly generated either a coupon or a custom red packet.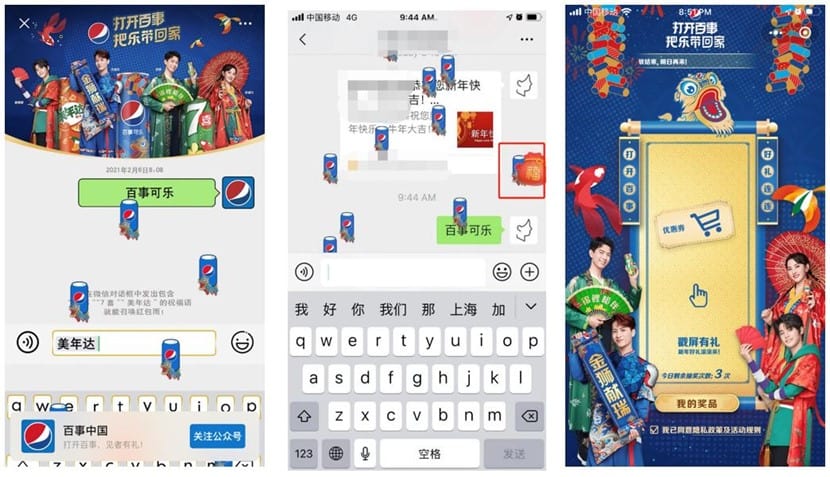 Once a product term was shared, users saw floating Pepsi cans and a clickable gift bag to redeem coupons
Successful WeChat Red Packet Campaigns:
Cartier
Like Estee Lauder's campaign, Cartier's also involved interactive ads on users' Moments feeds.
Clicking on the ad took users to a redeemable red packet and invited them to follow Cartier's official WeChat account, while clicking on the hashtags in the ad description took users to Cartier's WeChat Brand Zone (an overview of the brand and its product listings).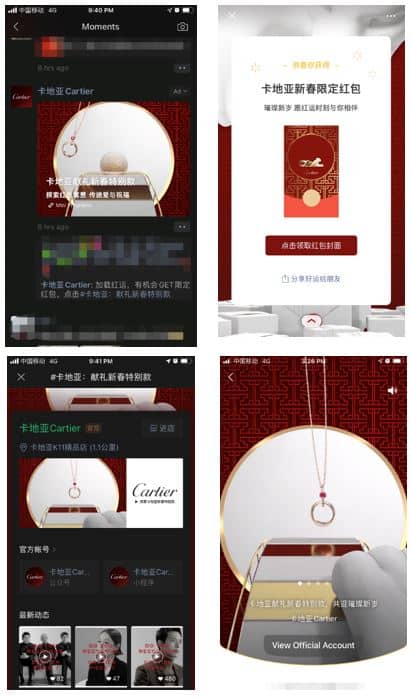 What users see when they redeem digital red packets from Cartier
***
There are many creative formulas to generate engagement on WeChat through digital red packets—from discount coupons to random draws. Perhaps the most tried-and-tested strategy for brands is to gift digital red packets to users in return for their "follow".
Today, cultural phenomena increasingly dictate marketing strategies—and digital red packets are a prime example.
The implication for brands is that as more red packets are shared, the cost of customer acquisition decreases. This makes it one of the most efficient methods of increasing followers on WeChat.
Digital red packets have traditionally only been available to brands operating in China through WeChat. However, with WeChat Pay (as well as Alipay) becoming more prevalent in North America, they may soon be adopted more universally to engage with Chinese audiences outside of Mainland China.
Need help with your WeChat branding strategy?