Travel Trends from China's Golden Week 2020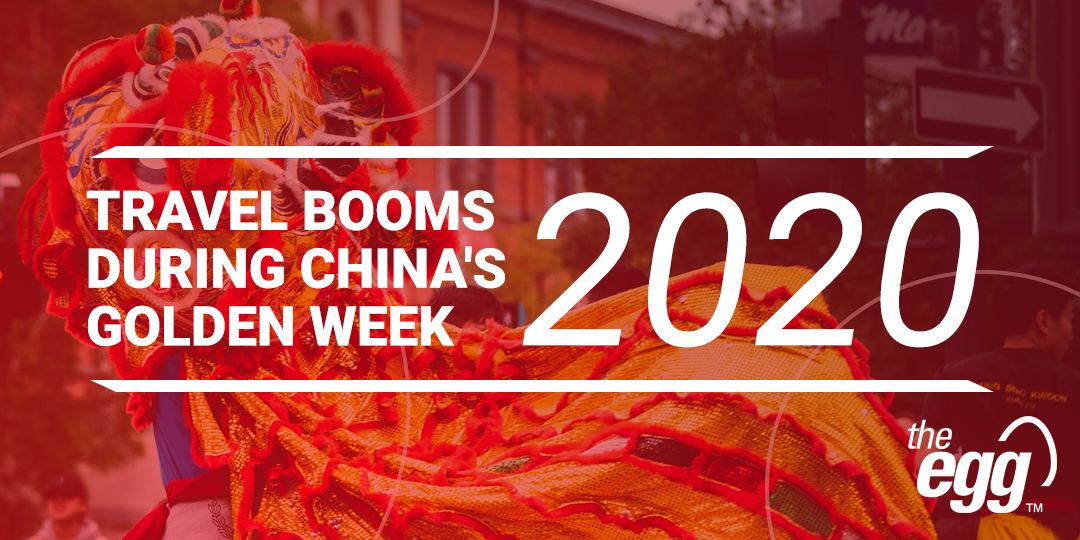 In celebration of China's National Day, which is on October 1 each year, people in China get a week of holiday. This holiday is also known as Golden Week.
This year, China's Mid-Autumn Festival also fell on October 1, coinciding with Golden Week. This meant that there were 8 consecutive days off! Such an occurrence is so rare that the next one won't happen again until 2031.
Usually, Golden Week is the biggest travel time in China, with millions of Chinese people travelling domestically and internationally. Of course, however, 2020 has been different. But there were still some interesting travel trends as domestic tourism boomed.
In this article, we'll look at some of the travel trends from Golden Week 2020 and what they could mean for the future of travel in China.
Golden Week 2020 Travel Trend 1:
Strong Travel Marketing Initiatives
Being the first long holiday since COVID-19, Golden Week spurred enthusiasm in many to travel. To help speed up recovery for domestic travel, 20 provincial and municipal governments issued travel coupons. But governments weren't the only ones crafting enticing offers.
To attract online bookings, major tourism platforms also offered deeply discounted tickets for accommodations, airfares, train travel, and more. Many OTAs launched a 'Consumption Subsidy War,' in which they offered huge discounts ahead of Golden Week to seize a share of local tourism.
For instance, Ctrip collaborated with more than 15 provinces and cities to launch travel coupons and consumer vouchers for hotel accommodations, scenic attraction tickets, tourist routes, and other products. By the eve of Golden Week, more than 1,500 scenic spots across the country offered complimentary entry, promotions, or large-scale discounts.
Riding on its sales promotion—Connecting you to the Motherland this National Day—Ctrip offered a discount of up to RMB ¥500 for car rentals and RMB ¥600 for travel and group tour products. There was also up to RMB ¥70 discounts on attraction entry tickets and up to RMB ¥35 discounts for local specialty products. All these discounts amounted to more than RMB ¥1,800.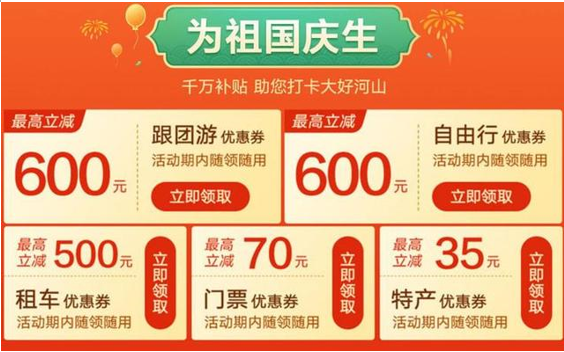 Ctrip's Sales Page: Connecting you to the Motherland this National Day
Golden Week 2020 Travel Trend 2:
Strong Travel Demand
Strong travel demand has led to a significant recovery in local tourism in China. According to the National Tourism Administration, China saw 637 million local tourists over Golden Week 2020—79% more than 2019. Golden Week 2020 also generated a revenue of RMB ¥466.56 billion—70% higher than 2019.
Ctrip's data shows that the peak travelling traffic started a day before Golden Week this year. On 1 October, there were 15.09 million passengers on railways and 1.67 million passengers on airplanes, which set a new single-day high for travel since the outbreak.
Demand for sight-seeing and short-distance trips continued to increase, driving the market demand for "high-speed rail tours" and outdoor tours.
Golden Week 2020 Travel Trend 3:
Staycations on the Rise
'Hotels as destinations' is a new trend, particularly among travelers to luxury hotels.
Dr. Liang Jianzhang, co-founder and chairman of Ctrip, conducted livestream sessions and generated demand for domestic luxury hotel stays; sales of which reached new heights: During Golden Week 2020, Ctrip's hotel pre-sales increased more than 100% month-on-month, with 4- and 5-star hotels accounting for nearly half of the overall hotel bookings.
Golden Week 2020 Travel Trend 4:
Outdoor Travel
Seaside, riverside, and historical town hotels were among the favourite destinations for Golden Week 2020. Sanya, Dali, Xiamen, Qingdao, and Xi'an were the popular cities for hotel stays. To encourage longer stays, Ctrip offered special discounts of up to 40% for travelers who stayed for 3-7 days.
Golden Week 2020 Travel Trend 5:
Greater Northwest
In addition to the popular traditional destinations, the demand for "greater northwest" locations surged by a whopping 475% year-on-year. The greater northwest region of China includes 5 provinces: Shaanxi, Gansu, Ningxia, Qinghai, and Xinjiang, which are part of Inner Mongolia.
According to Ctrip, there were three dark horse travel destinations during Golden Week 2020: China's version of Route 66 (a u-shaped highway) and the China's version of the Maldives (Dongtai Jinel Lake), and The Devil's Eye.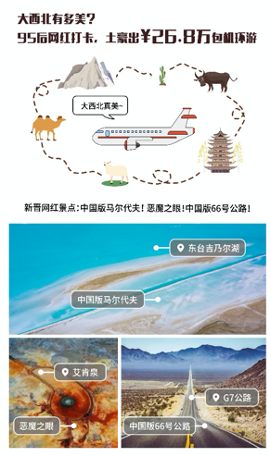 Dongtai Jinel Lake (middle), Devil's Eye (bottom-left), and China's version of Route 66 (bottom-right)
In the tropical greater northwest region of China, car rentals were popular, increasing by 207% year-on-year. Many preferred to have their whole family travel in one vehicle–thus, the high demand for luxury and SUV car models. Visiting deserts, big rivers, and Danxia landforms, riding camels, and walking along the Silk Road were also social media-worthy activities in this region.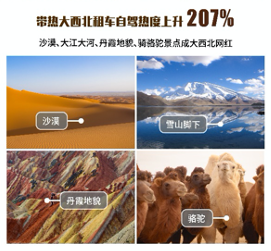 Desert (top-left), foot of a snow mountain (top-right), Danxia landforms (bottom-left), and camels (bottom-right)
Golden Week 2020 Travel Trend 6:
Strong Travel Demand Among Younger Generations
The ratio of male travelers to female was 52:48 during Golden Week 2020. Those born after 1990 (aged 30 and younger) were a force to be reckoned with, accounting for more than 60% of domestic tourists.
***
Ctrip predicted in their Revival Report that domestic travel within China would boom post-COVID. And that has certainly been the case, particularly during Golden Week 2020.
As every crisis presents new opportunities, it is necessary to keep your finger on the pulse of new travel trends in China so that you can reach your traveling audience at the right time and on the right platform to help survive during and thrive after this global crisis.
Need help reaching your target market in China?