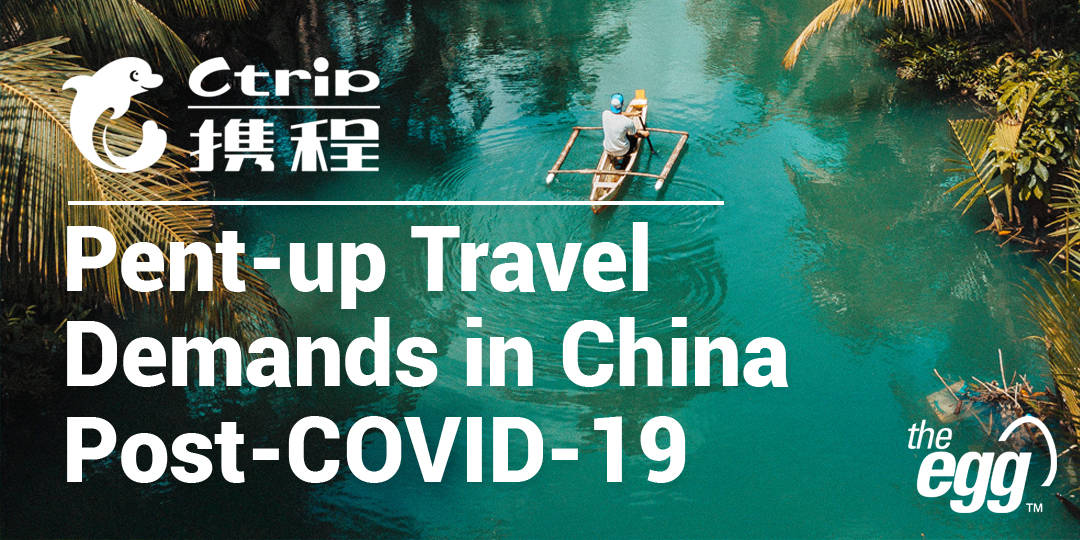 "The pandemic did not kill travel demand. It only postponed it." – Sun Jie, Ctrip's CEO
Ctrip recently released and shared with us its travel revival report. It includes positive trends and promising data and shows Ctrip's confidence in China's travel economy for the months ahead.
According to Ctrip, at the peak of the COVID-19 outbreak in China, domestic travel willingness dropped by 27%, but has now recovered to 92%. Similarly, international travel willingness dropped by 35% at the pandemic peak, but has now recovered to 86%.
In a previous article, we wrote about how online travel apps (OTAs) can use this lull period to innovate their services and systems. In this article, we look at how Ctrip, one of China's biggest OTAs, has done just that—proactively taking strategic steps in anticipation of the impending strong travel rebound.
Travel Wish Index
Ctrip and another of China's biggest travel portals, Mafengwo, conducted a survey to assess consumer travel demands. The survey was done in the form of a wish list. Thousands participated and signaled a clear travel demand.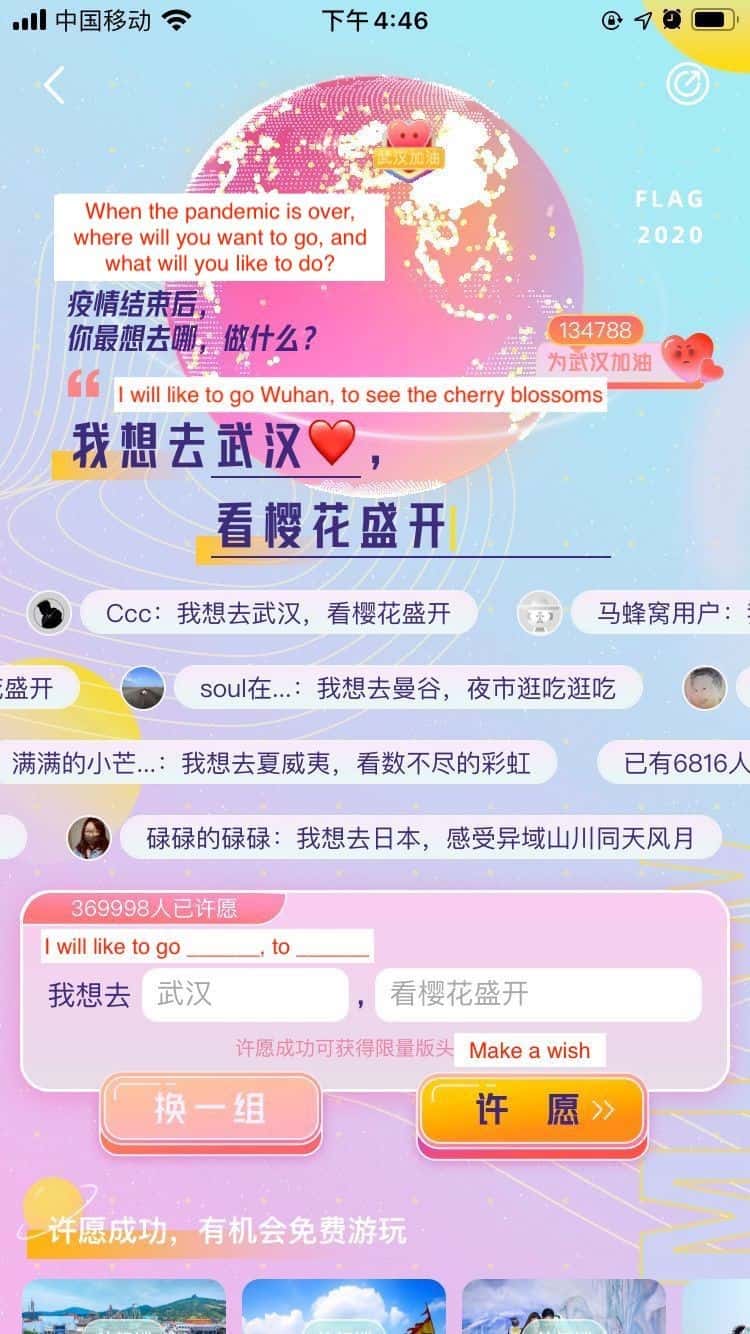 Using its own big data, Ctrip also compiled a list of overseas destinations categorized by theme along with the countries of greatest interest to Chinese travelers.

Trends in Chinese traveler behavior after similar outbreaks
According to previous data from similar outbreaks like SARS and MERS, Chinese travel demand experienced a strong rebound.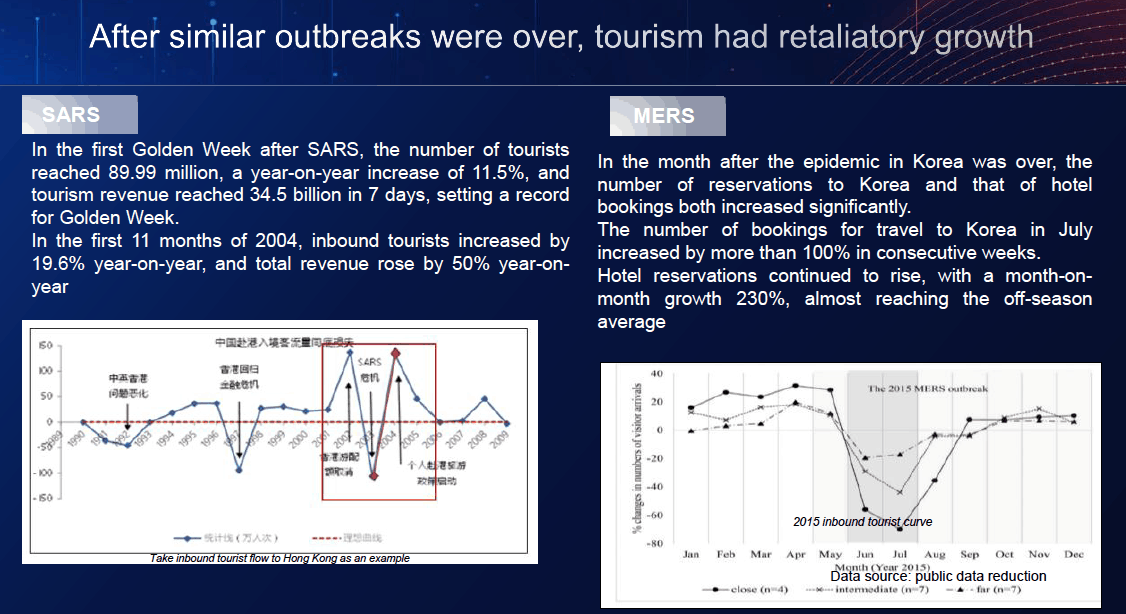 Based on its social media trends and data findings, Ctrip prepared a V-shaped, 3-phased road to recovery. They also improved their marketing efforts to provide better services to their users and brand marketers alike.
Ctrip's Forecast for 2020: China's tourism market post-outbreak
The 3 phases of Ctrips road to recovery include:
Resumed confidence: February to March
Initial recovery: March to June
Explosive growth: June to August
This coincides with Chinese National Day in October where travel demand is expected to peak. Domestic travel is expected to recover the quickest, followed by international travel.

Phase 1: Resumed Confidence (February to March)
In this phase, Ctrip worked with other social media platforms and KOLs to put out soft-sell travel content. Brands can use this to reach out to their target audience. The idea is to increase the frequency of user-generated content and capture user aspiration.
This phase is also known as "种草", a term that describes planting a seed in users' minds to grow their desire. One such example is "cloud traveling", where brands create beautiful, compelling content and imagery that helps users feel as if they are actually visiting a  destination—but of course it's virtual.
Below are cloud traveling examples in China.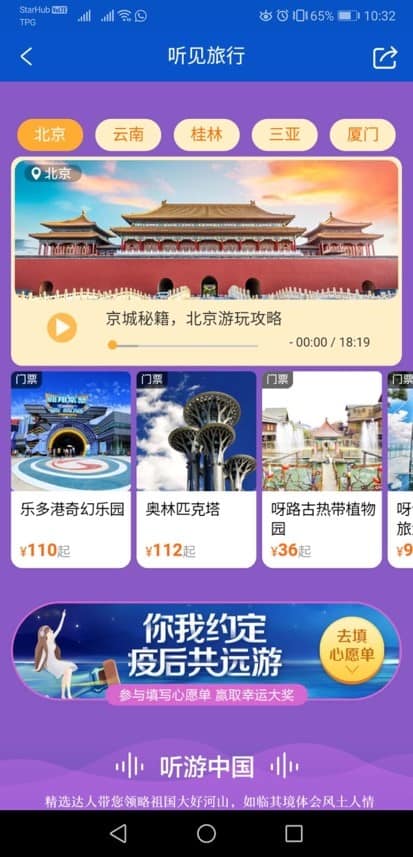 Podcasts about different destinations coupled with tickets that users can purchase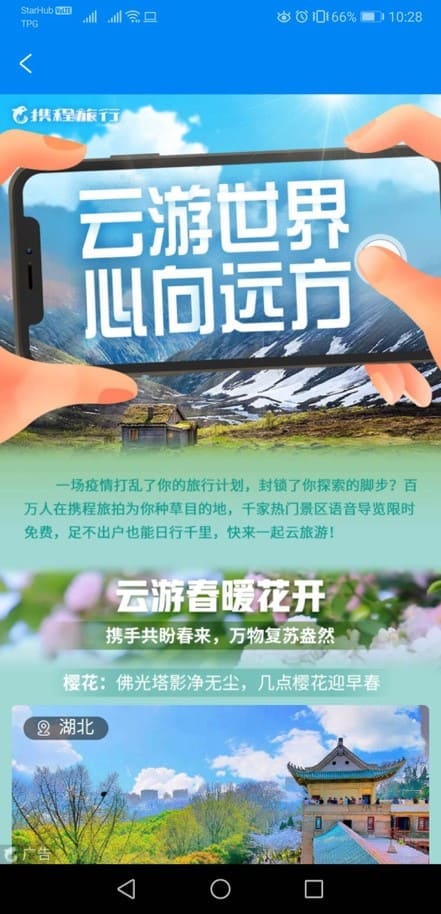 A compilation of cherry blossom cloud traveling destinations within China.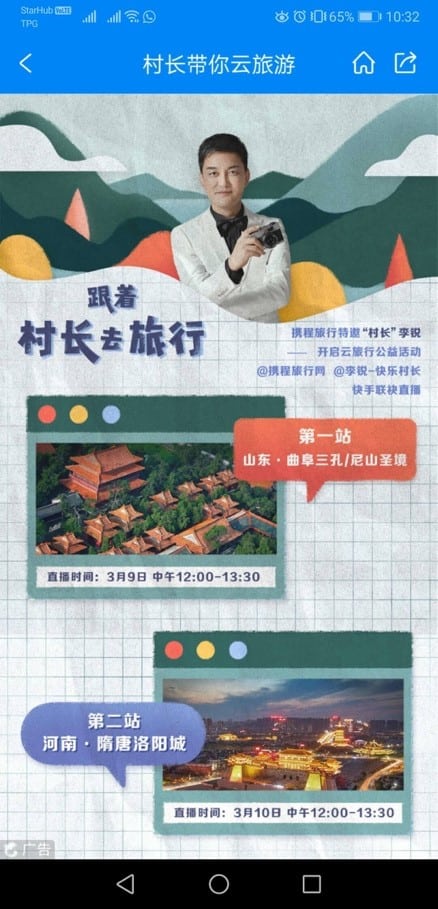 Ctrip partnered with KOL 李锐 and social media platform Kuaishou to share a series of travel livestreams
Phase 2: Initial Recovery (March to June)
During the initial recovery period, Ctrip will launch a pre-sale of tickets and support these sales with strong customer service.
The pre-sale includes domestic and overseas tickets for flights, hotels, and attractions. As price competitiveness is one of Ctrip's core competencies, the pre-sale tickets launched at a discount of up to 50%.
To encourage users to get on board, Ctrip has launched a new service guarantee for worry-free refunds and additional safety measures.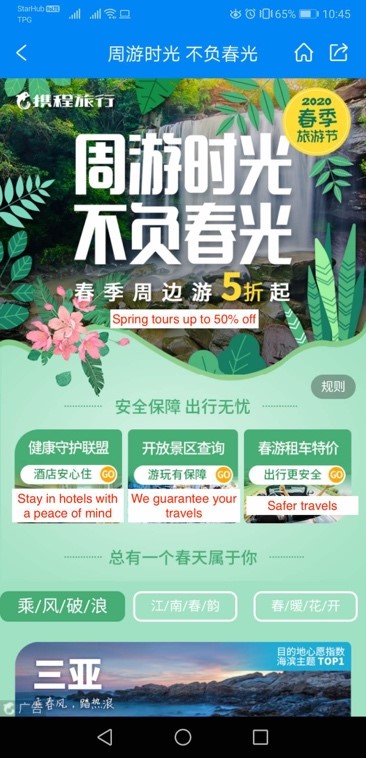 Example of a spring festival promotion for the 5-day May Day holiday, which is anticipated to be one of the first waves of domestic travel
While the situation is ever-evolving, thus far there are 3 main aspects of Ctrip's service guarantee:
Travel guarantee

For cancellation 7 days before the trip, Ctrip will fully refund customers.

Emergency service

There is now greater availability of Ctrip's online customer service.

Service upgrade

Entrance to attractions will be booked online so that they can be regulated and visitors can have a good experience without needing to squeeze in.
Hotels listed on their promotional page must carry out strict hygiene practices, such as staff will carry out daily temperature checks, hotels will be prepared with disinfectants, and there is a presence of robots for contactless service.
As a thank-you gesture, medical staff gets an upgrade at participating service providers.
With the elevated standards of service, brands that participate in this can help enhance their reputation.
Phase 3: Explosive Growth (June to August)
In anticipation of the summer holidays leading up to another of China's biggest holidays, National Day in October, Ctrip will release a series of closed-loop marketing activities through online and offline channels to further promote user interest in travel.
***
In addition to Ctrip, there are other online travel portals, such as Mafengwo, that have shaped their marketing plans in anticipation for the rebound of Chinese travelers, starting from domestic travel leading up to international travel.
At The Egg, as a partner of China's biggest OTAs and online travel portals, we have access to the different advertising resources that can help your brand better connect with Chinese travelers. We are happy to help!
Need help capitalizing on the pent-up travel demands in China post-COVID-19?