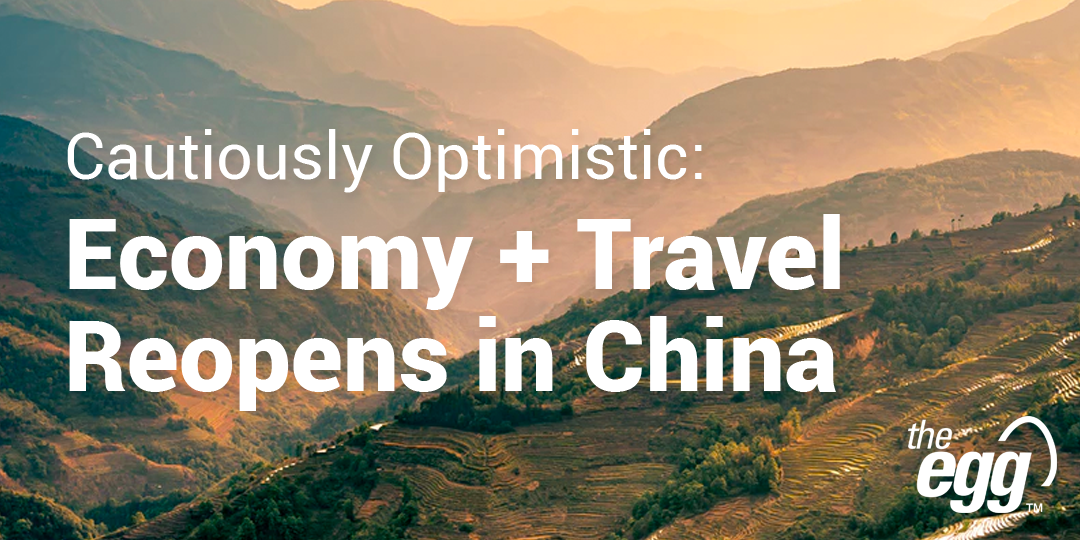 This year, China's labor day holiday—dubbed 小长假, which translates to a pun: "small-long holiday"—took place from May 1-5.
After the first holiday since reopening its economy, China can offer insights to the rest of the world on what to expect as consumers emerge from lockdown, particularly in terms of travel.
We can also see opportunities for how marketers and operators can adapt to the needs of consumers and prepare for when countries open domestic travel and eventually global travel.
Here, discover four 'May Day' travel trends in China.
4 Post-Lockdown China Travel Trends
Safety is critical for travel
Independent travel is in greatest demand
Driving is dominating
Rural tourism is recovering strongly
1. Safety is critical for travel
Although the state of the pandemic is improving in China, traveling with peace of mind is still the most important factor for tourists.
Recently, Ctrip partnered with five major business types—tour-group ticketers, attraction ticketers, independent travel (scenic spots and hotels) ticketers, car rental companies, and transportation companies—to launch the "Epidemic Prevention and Tour Relief Alliance."
This partnership guarantees a greater standard of service in core areas, including:
Safety and protective measures
Early reservations
On-site experiences
Online discounts
After-sales assistance
Ctrip revealed that to maintain order at scenic destinations with large tourist flows, they launched a smart service system so people can make reservations and queues can be better managed. A strategic cooperation plan that addresses ticketing, admission, on-site experiences, and after-sales assistance is also in place to help scenic destinations recover.
2. Independent travel is in greatest demand
Post-pandemic, what is China's preferred travelling style in 2020?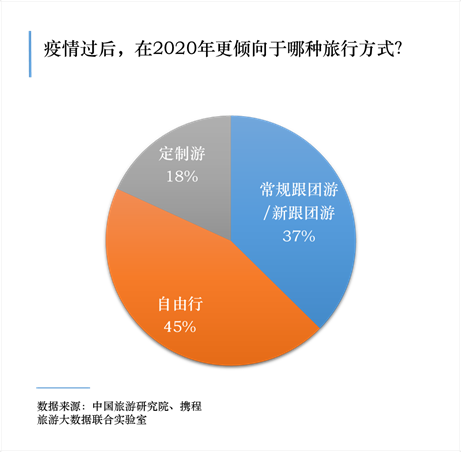 This pie chart shows the survey results of 15,000 Chinese respondents from over 100 cities in China:
45% of respondents are interested in independent travel.
37% are interested in group tours (such as private groups, semi-self-help groups, destination groups, etc.).
18% are interested in custom tours.
This also matches Ctrip data, which shows that 70% of travelers are now choosing to travel independently.
3. Driving is dominating
People are choosing to drive as their main form of transport. And many are driving to the outskirts of cities for short trips or staycations.
Key phrases—like "rural homestays in Beijing," "one day adventure in Tianjin," "outdoor camping in Beijing," etc.—have risen by 30%.
4. Rural tourism is recovering strongly
In a previous article, we wrote about how a B&B (bed and breakfast) owner with homestays in the mountainous area of Mount Mogan had to find ways to save his business during the initial outbreak in China when all homestays were put on pause.
Now, rural tourism is recovering strongly. This is backed by a rise of 233.7% in homestay bookings, an indispensable part of rural tourism, as reported by Mafengwo.
Rural tourist destinations are characterized by low population density, outdoor activities as the main attraction (and hence better air circulation too!), charming accommodation, and rustic culture, making it one of the hottest tourism trends.
At the moment, a tour group is only allowed to visit rural areas around the city that the tour group is from. For instance, a tour group from Shanghai is only allowed to explore the rural areas of Shanghai.
However, if you are travelling independently, there is no limit to where you can travel. It's no surprise then that independent, driving travel to rural areas is on the rise.
Following the news of the mutual recognition of "healthy green codes" in Beijing, Tianjin, Hebei, and the Yangtze River Delta, rural tourism surrounding these cities quickly became top choices for May Day travelers.
It is believed that homestays with high hygiene standards, strict safety measures, and exceptional service standards have seen a peak in their bookings during the May Day holiday.
So, what are ways to enjoy rural tourism? Mafengwo big data has revealed that the most popular keyword searches for rural tourism include:
Picnic
Camping
Hiking
RVs
Bungee jumping
Mountain climbing
Among these, "picnic" rose 67% week-on-week, "bungee jump" rose 40% week-on-week, and "mountain climbing" rose 36% week-on-week.
Bookings in southeastern cities, such as Zhejiang, Jiangsu, and Guangdong, were relatively popular, while Mount Mogan, Qiandao Lake, Tonglu, Anji, and Mount Qingcheng saw significant increases in keyword search popularity. Finally, hot topics around homestays, such as "influencer homestays," "tenting, farmhouses," "resorts," "tree houses," etc., all rose by more than 30%.
***
Consumer demands for travel have changed. As marketers, it helps to be in tune with the ever-changing needs of travelers.
Granted, the situation will continue to change as long as COVID-19 is prevalent in our communities; but, keeping up with travel trends can help us plan and prepare for when one of the world's largest source of tourists—Chinese people—get to travel globally once again.
Need help reaching your target market in China?