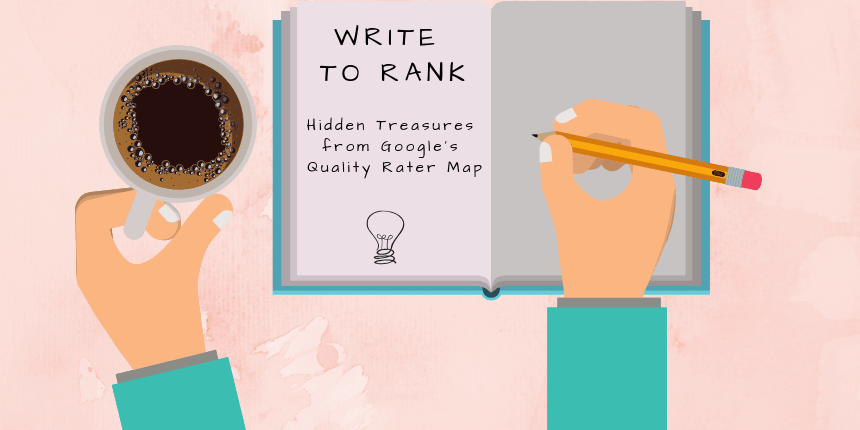 Welcome to the fourth and final installment of our series "Write to Rank – Hidden Treasures from Google's Quality Rater Map," where we uncover gems in Google's Search Quality Rater Guidelines to help you write quality content that ranks higher on Google's SERP.
Today, we'll wrap up our series with our top 10 tips for writing quality content that ranks and an overview of the characteristics of high-quality pages.
Top 10 Tips for Writing Quality Content that Ranks
1.      Make sure your site is mobile-friendly.
Google is making mobile a top priority, so if you're site isn't mobile-friendly, you may be penalized.
2.      Publish compelling content regularly to draw users to your site and build a trusting readership.
In this content, clearly answer searchers' queries with specific, relevant, and unambiguous language and links.
3.      Make sure your content shows your expertise, authority, and trustworthiness.
Do so by writing accurate, timely, and helpful content. Include relevant keywords that help users find the information they're looking for.
4.      Do not mislead searchers with irrelevant, inaccurate, and/or spammy titles or content.
Your content needs to match the users' intent. Google will penalize you for click-baiting and offering no value to your users.
5.      Ensure your site clearly defines and achieves its purpose to benefit your users.
All websites should achieve a clear purpose, whether it's promoting your services, selling your products, and/or sharing your knowledge.
6.      Make sure your homepage, navigation, and links are clearly defined.
This helps to efficiently guide users through your site.
7.      Clearly communicate your company information, contact information, and site ownership.
This shows Google that you're a real and accessible person/company with good intentions.
8.      Also communicate your credentials (awards, certifications, recognitions, education, industry rankings, etc.).
This shows your authority and reputation in your industry/field.
9.      Share testimonials and case studies.
This shows your work, prominence, trustworthiness, and relevance to your topic/industry.
10.  Write content that users want to read.
Easier said than done! But through these tips, you can see how important it is to create content that meets users' needs effectively and efficiently. Think about yourself—when you're searching for something, you want the most accurate answer in the least time. Give this to your users by publishing informative content on a regular basis. Google will recognize your efforts, giving you a better-quality rating, ranking you higher, and ultimately drawing more people to your site for conversions.
Characteristics of High-Quality Pages
So, what does Google view as the characteristics of high-quality pages? A high-quality page should have a beneficial purpose and achieve that purpose well through:
A high level of expertise, authority, and trustworthiness
A satisfying amount of informative content, including descriptive or helpful titles.
Satisfying website information and/or information about who is responsible for the website
Positive website and industry reputation
Thanks for tuning in to our series on writing quality content to rank well on Google. We've covered a lot of ground in these 4 articles. If you have any questions about how you can create content that drives conversions and ranks on Google, don't hesitate to ask us! And in case you missed the first three articles, here you go!
Write to Rank – Part 1 – Needs Met Ratings
Write to Rank – Part 2 – Page Quality Ratings
Write to Rank – Part 3 – EAT for Your Money or Your Life
How can I write SEO content that performs well on Google?
We've also put together a great article on blogging best practices for SEO. It's a guide for writing quality SEO content that converts and ranks well on Google.
We can help you optimize your content and rank higher on Google.