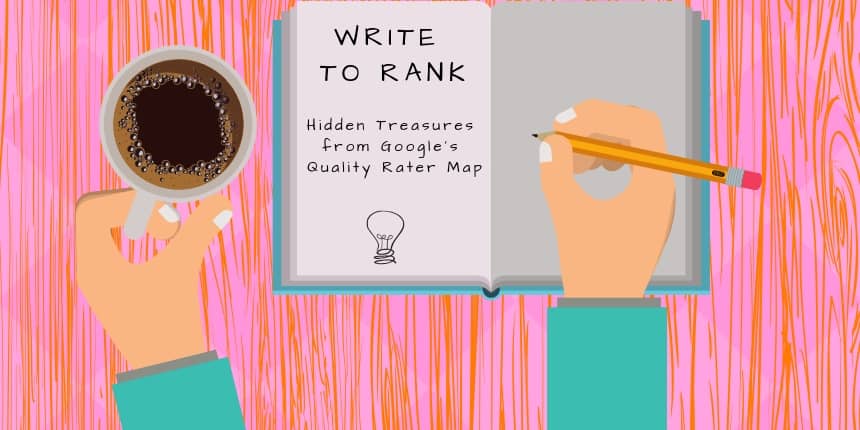 Welcome to part 2 of "Write to Rank – Hidden Treasures from Google's Quality Rater Map," where we dissect Google's Search Quality Raters Guideline to uncover gems on how to write content that ranks higher on Google.
Today, we introduce you to page quality ratings. Page quality is a major Google ranking factor. The greater the quality rating of your website and pages, the higher you can appear on Google's SERP.
So, how do you improve the page quality of your site? Let's look at how purpose, authenticity, content, and reputation affect your quality rating.
But first—let's start off with a bang! Here's the top tips for getting a higher quality rating from Google.
Top 6 Writing Tips to Get a Higher Quality Rating from Google
Ensure your site clearly defines and achieves its purpose to the benefit of your users.
Make sure your homepage, navigation, and links are clearly defined and efficiently guide your users through your site.
Clearly communicate your company information, contact information, and site ownership.
Answer your searchers' questions and meet their needs in your main and supplementary content.
Ensure that you're allowing only trusted, reliable sources to advertise on your website.
Build and maintain strong relationships with customers, clients, and industry leaders to uphold a strong reputation with Google
Now, let's get into the details. Read on, friend!
Purpose
Google assesses 1) whether your website has a purpose, and 2) whether your site actually fulfills that purpose to benefit the searcher. To give your website purpose, your content must clearly align with the user's expectations. For example, some common helpful or beneficial purposes include:
Share information about a topic
Share personal or social information
Share pictures, videos, or other forms of media
Express an opinion or point of view
Entertain
Sell products or services
Allow users to post questions for other users to answer
Allow users to share files or to download software
While there are many potential purposes for sites, yours must be clearly demonstrated and executed. If your website has an immediately clear purpose that meets your searcher's needs, you'll get a better page quality rating.
Authenticity
Homepage
You can think of your website as a house—one in which your company lives.
If your website is your house, then your homepage is your front yard. It welcomes users and gives a clue as to the state of what's inside.
If you have a messy front yard, with overgrown trees and junk strewn about, people will think the inside is just as disheveled.
But if you have a well-kept front yard, with manicured landscaping and clear pathways to the front door, more people will be inclined to enter—and more importantly stay.
It's important to construct your homepage so that it informs your guests as to what's inside and invites them in—essentially to navigate deeper into your sales funnel.
This starts with having a tidy homepage URL. Make sure not to have any wonky or erroneous characters appending to your homepage URL especially, but to any URL on your site, really.
Additionally, it's important to have a clean homepage that directs readers to engage with your site. You can do this by briefly highlighting key content areas of your site with clear links to dig deeper.
For example, make sure that your homepage is consistent with your brand look and feel and include introductions to such content as case studies, client success stories, products, services, testimonials, social media, blog, and more.
Then link those introductions to their respective areas of the site to drive deeper engagement, better serve your user's needs, and ultimately improve your page quality.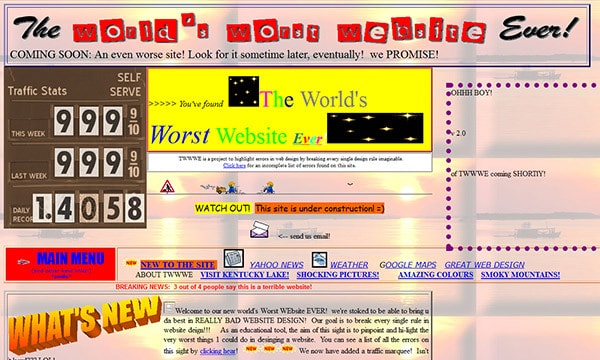 A bad homepage (source: InstantShift)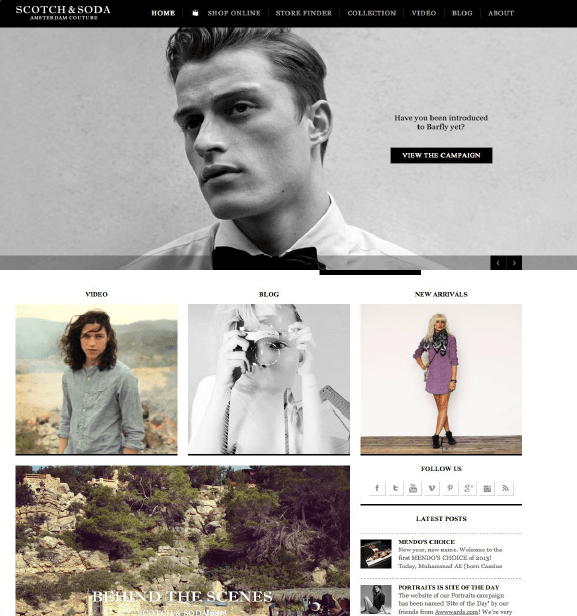 A beautiful homepage (source: HubSpot)
Ownership
Going back to the house analogy, if your homepage is your front yard, then your company information is the kitchen—the heart of the house.
Google appreciates authenticity and transparency. It values the clear communication of site ownership for page quality ratings. You should clearly communicate:
Who (what individual, company, business, foundation, etc.) is responsible for the website.
Who (what individual, company, business, foundation, etc.) created the content on each page.
There are several easy wins for you to communicate site ownership and show authenticity:
Create an informative About page that describes your business, team, products, and services.
Include an easily accessible contact information page that shares your email address, mailing address, phone number, social media, etc. and customer service information.
Include your logo, company name, and contact information in the footer of every page on your site.
Include author information on each of your blog posts.
Content
Main content
Google rates the quality of your main content. It views main content as any part of the page that directly helps the page achieve its purpose.
Main content can be text, images, videos, page features, and more—it just needs to help the user achieve the site's purpose.
Main content also includes the title at the top of the page. Descriptive main content titles allow users to make informed decisions about which pages to visit on your site. Helpful titles summarize the main content of the page.
Thus, writing clear main content that serves your site's purpose and clear titles that inform your visitors will help you improve your quality ratings.
Supplementary content
Google also rates the quality of your supplementary content. Google defines supplementary content as contributing to a good user experience but not directly helping the page achieve its purpose.
Because supplementary content is an important part of the UX, it affects the quality rating of your site.
A couple easy wins for improving UX and thus your quality rating:
Ensure that your navigation and links clearly direct users to visit other parts of the website.
Post engaging content that informs and entertains your users, such as videos, images, news, blogs.
Ensure that the text on your site is easy to read—don't make it too small or off-colour.
Make sure that your content is scannable—so include bullets and spacing that allow users to skim quickly to find what they're looking for.
Ads/monetization
Google defines ads as content or links displayed for monetizing (making money from) the page. The presence or absence of ads is not by itself a reason for a high- or low-quality rating.
However, even though a website may not always directly control the content of its ads, Google considers a website responsible for the overall quality of the ads displayed.
Ensure that you're allowing only trusted, reliable sources to advertise on your website.
Here's a breakdown of content categorization: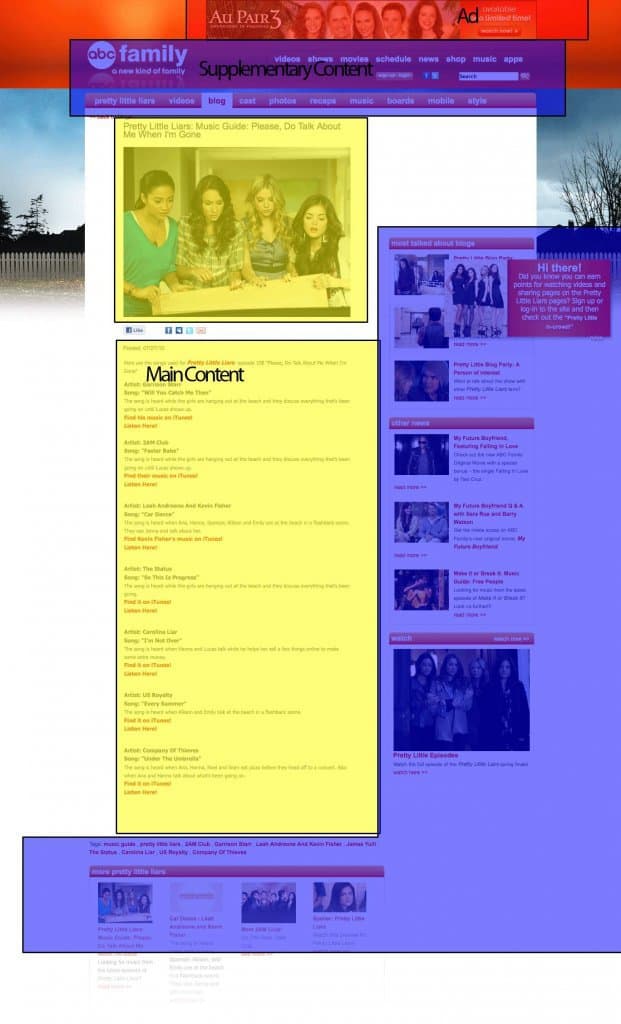 Highlighted content types (source: Google)
Reputation
A website's reputation is based on the experience of real users as well as the opinion of people who are experts in the topic of your site.
Google places great value on reputable online reviews of your business and on the expert opinion of your business. Quality raters look for references, recommendations by experts, news articles, and other credible information created/written by individuals about the website to determine the reputation of your site.
Therefore, it's important to develop and maintain healthy and strong relationships with customers, clients, and industry leaders to uphold a strong reputation with Google.
A couple easy wins for building your reputation:
Positively respond to reviews online (even the not-so-good ones!)
Cultivate relationships with experts through your content and content development
Engage in the conversation on social media
How can I write SEO content that performs well on Google?
We've also put together a great article on blogging best practices for SEO. It's a guide for writing quality SEO content that converts and ranks well on Google.
We can help you optimize your content and rank higher on Google.