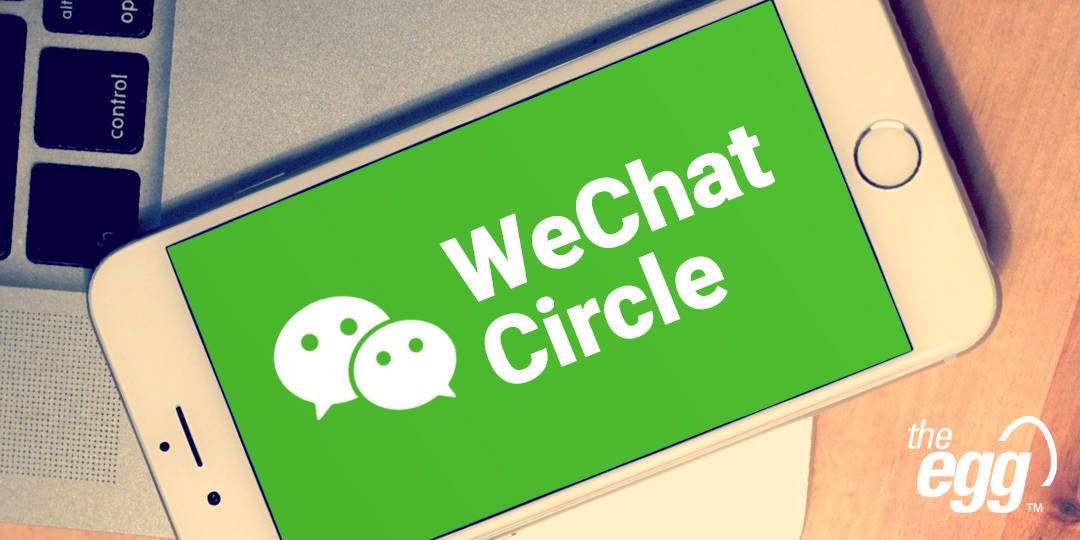 Over 2017 and 2018, most social apps in China focused on building out e-commerce functionalities, such that many platforms, WeChat included, fast-tracked shopping feature development.
Flash forward to 2020, and we see that social apps are adjusting their strategies: User experience and loyalty are becoming more important than conversions.
Here, we discuss WeChat Circle, WeChat's new group mini program, and what it means for your social marketing efforts in China.
What is WeChat Circle (微信圈子)?
Boasting the most users among all the Chinese social apps, WeChat consistently updated and launched new features throughout 2019, improving privacy, UX, and content quality.
Meanwhile, users tended more toward sharing their opinions, lifestyles, product preferences, common interests, etc. in larger online social groups.
Before December 11, 2019, there was a Goods/Products Group (好物圈) under WeChat Search. This function allowed brands to integrate mini programs to sell products. Essentially, when users searched keywords related to your brand and/or products, the results showed a purchase link through a mini program.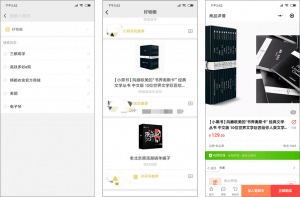 User Journey of Goods/Products Group (好物圈)
However, on December 11, 2019, WeChat launched WeChat Circle to replace Goods/Products Group (好物圈), transforming the feature from a goods-sharing community into an interest-sharing community.
WeChat Circle has 2 access points: 1) search (圈子) to find the mini program or 2) click Search under Discover: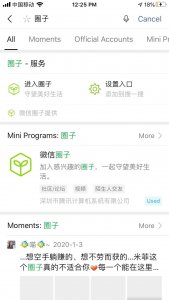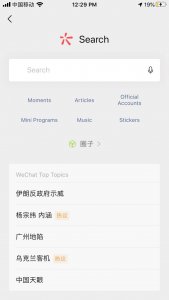 What are the features of WeChat Circle?
WeChat Circle includes 3 features:
Top Stories
Discover Groups
What's New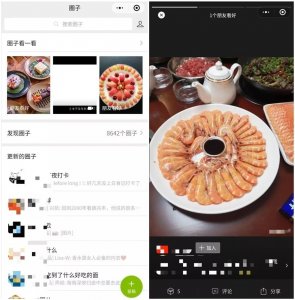 WeChat Circle: Top Stories
This function is similar to Instagram Stories. The platform recommends short videos you may be interested in and/or ones that your WeChat friends have liked. It is in a newsfeed format, and users can slide up and down to switch videos.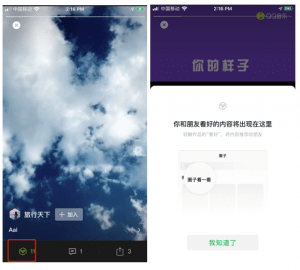 The like button is on the bottom left of the video.
WeChat Circle: Discover Groups
As of January 13, 2020, there were 14,600 groups on WeChat Circle. Users can choose interest tags to look for relevant groups. Then, they are free to join related groups.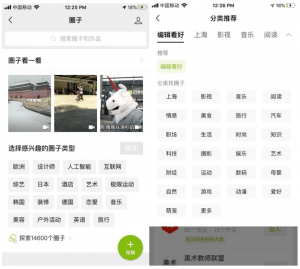 WeChat Circle: What's New
Once users join a group, they will receive notifications on the WeChat Circle index page regarding new posts in that group.
How can I create a WeChat Circle group?
WeChat Circle applies a points system. Once points equal or exceed 10, users can create a group. As a group owner, you can set gated questions to filter your members. Owners can also organize group discussions and add e-shops.
When owners post in the group, they can insert a purchase link under the post.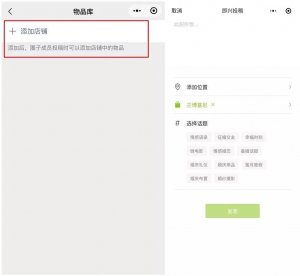 How can I earn points?
If the post you created is shared by WeChat Circle or in any groups, you will get 1 point, to a maximum of 4 points per day.
Based on your points, you may upgrade to a star author. Stars dictate your permissions to create groups and modify your nickname and profile.
What's new for social media marketers?
From TV and website advertising to KOL and KOC campaigns, livestream is becoming increasingly popular. Individual and group influence plays a critical role in engaging users.
And while marketers today promote their products using KOLs, trust needs to be strengthened by users. KOLs also need to consolidate their followers, and groups are the best way to do so while being interactive and maintaining relationships.
Hence, creating and leading a common-interest group in which all members can speak their opinions and feedback instills trust. In this consensus environment, users understand that it's a public forum for truth and authenticity.
For marketers, we can leverage this group influence to build trust with—and ultimately conversions from—our audience.
Want to use WeChat to reach your target audience in China?