Travel Marketing in China: How WeChat Livestreaming Captivated Millions of Tourists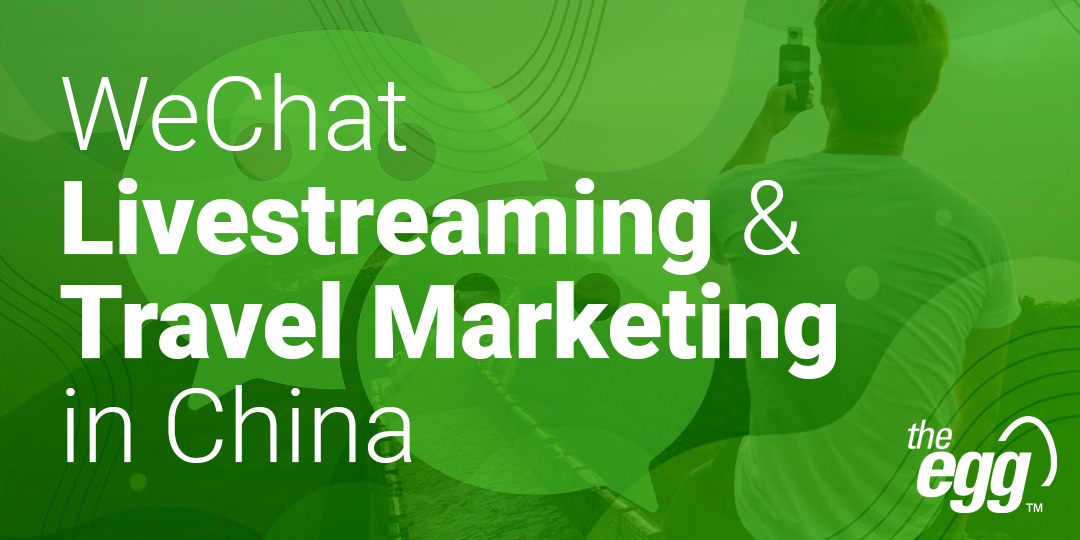 The launch of WeChat Channels in February 2020—a time when travel came to a standstill in China—was hardly ideal for travel brands looking to join the platform.
Since then, however, livestreaming on WeChat has emerged as a highly attractive avenue to promote digital outbound tourism in front of its 1B+ monthly active users.
Back in March 2020, WeChat—together with tourism bureaus from 52 regions—co-launched the Global Tourism Boards WeChat Channels Creator Plan, a program aimed at digitizing the tourism sectors of member regions by using WeChat's features and mini programs to enhance the virtual experiences of Chinese tourists.
From February to May 2021, the program livestreamed popular travel destinations around the globe on WeChat Channels, enabling viewers to virtually explore unique customs, cultures, and natural beauties.
Here, let's examine 4 of the many livestreams under WeChat Channels' Creator Plan and how they engaged the world's largest traveler demographic.
Digital Outbound Destination #1: The Aurora Borealis, Sweden
Facts & Figures
Livestream title: "Encounter the Aurora"
Duration: 13 hours
Audience count: 260,000
Number of likes: 1,500
Number of clicks on Visit Sweden's post: 4,489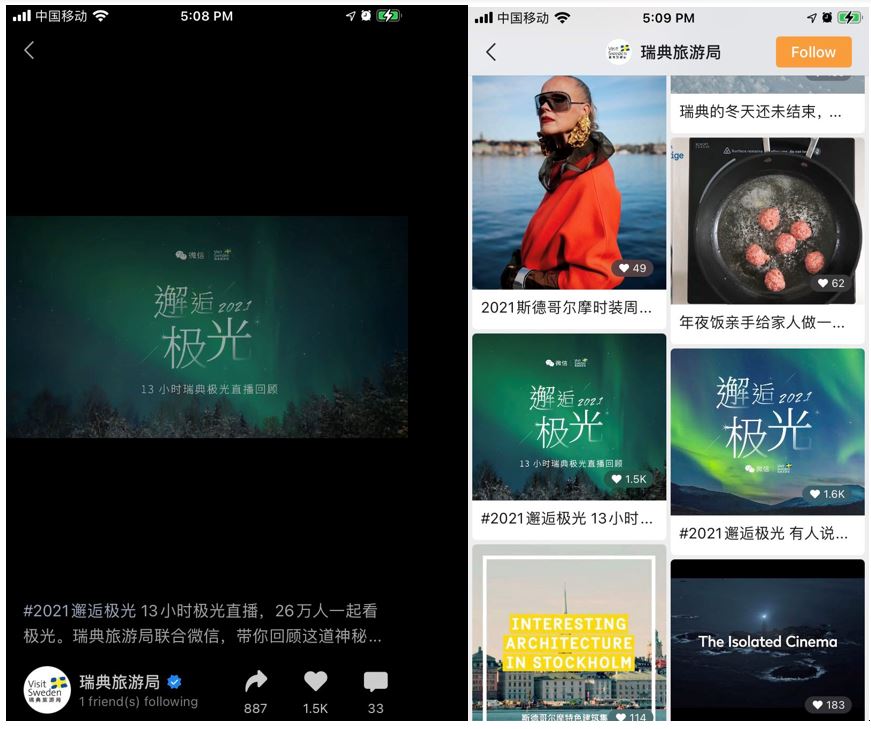 WeChat interface: Visit Sweden's official account
In February 2021, WeChat Moments (@微信时刻) partnered with Visit Sweden (@瑞典旅游局) to give viewers a glimpse of the Aurora Borealis (the northern lights), a natural polar light display that crosses the Swedish skyline at 67° north latitude.
The organizers at Visit Sweden were warmed—in stark contrast to the cold Scandinavian winter—by the cheers and applause of the hundreds of thousands viewing from abroad: When the Aurora Borealis appeared live, viewers watched the extraordinary natural phenomenon captured by virtual livestreaming technology.
WeChat's official account promoted the campaign by giving users access to the livestream via a CTA button on a promo post and even created a new topic called "Who comes with you to view the Aurora" to increase engagement.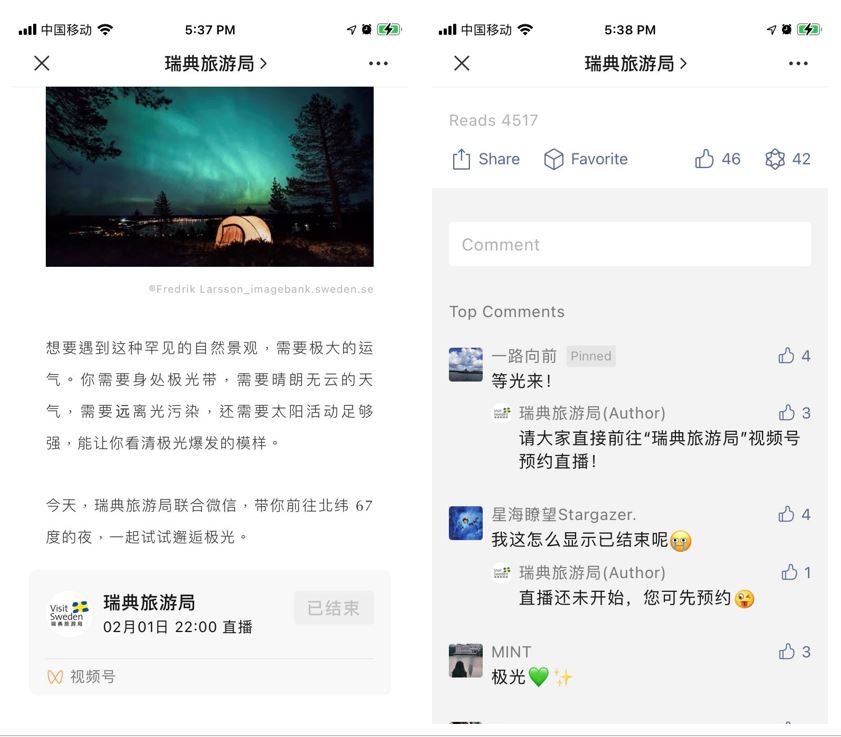 Promo post for Visit Sweden's campaign on WeChat's official account
Digital Outbound Destination #2: New Zealand
Facts & Figures
Livestream title: "Return to Middle Earth"
Duration: 5 hours
Audience count: 113,000 viewers
Number of likes: 221
Number of clicks on NZ Tourism Board's post: 9,064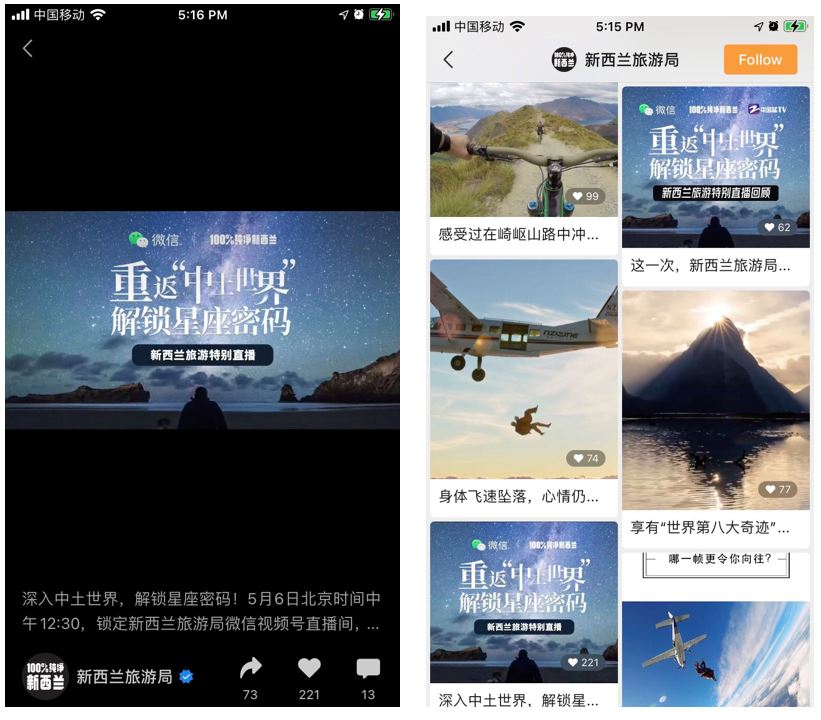 WeChat interface: Tourism New Zealand's official account
From the dreamy Hobbiton in the Shire to the towering Mount Doom in Mordor, New Zealand's otherworldly landscapes brought the Lord of the Rings (LOTR) movies to life, which became one of the most beloved franchises in film history.
To captivate its behemoth fan base, Tourism New Zealand (@新西兰旅游局) not only re-screened the entire trilogy on WeChat Channels, but also virtually toured viewers through iconic filming locations from the trilogy's first instalment: "The Fellowship of the Ring".
After the tour, viewers also got a glimpse of how special effects are made at Weta Workshop Unleashed, a film effects workshop based in Auckland.
And much like the Visit Sweden campaign, WeChat also promoted an article from New Zealand's tourism board on its official account with a subscription button to access the livestream. To drive more engagement in the livestream, the tourism board also gifted fridge magnets and travel stamps to a few lucky viewers.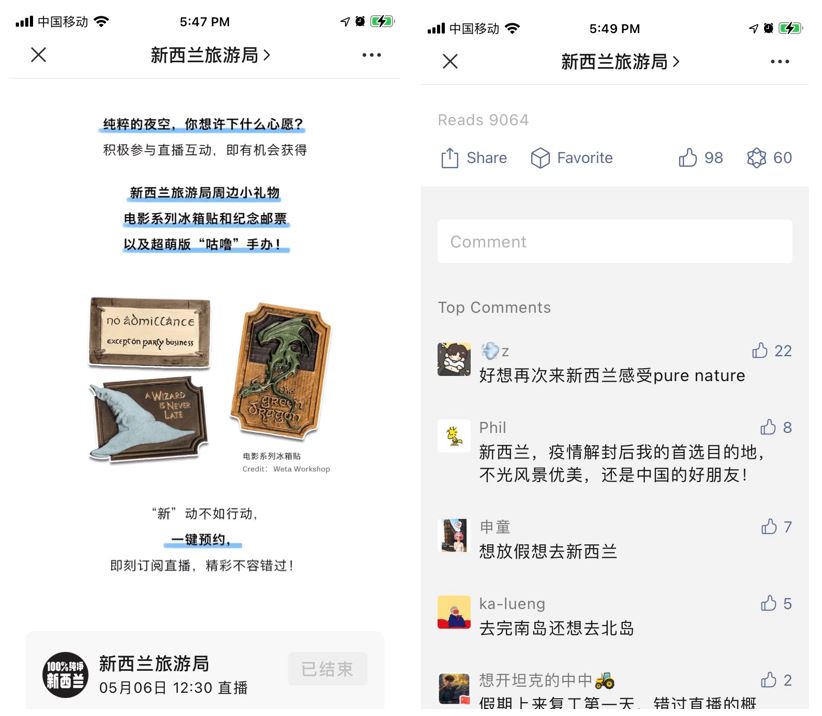 Promo post for Tourism New Zealand's campaign on WeChat's official account
Digital Outbound Destination #3: Stuttgart, Germany
Facts & Figures
Livestream title: "Speed & Passion"
Duration: 6 hours
Number of likes: 1,100
Number of clicks on German National Tourist Board's post: 3,473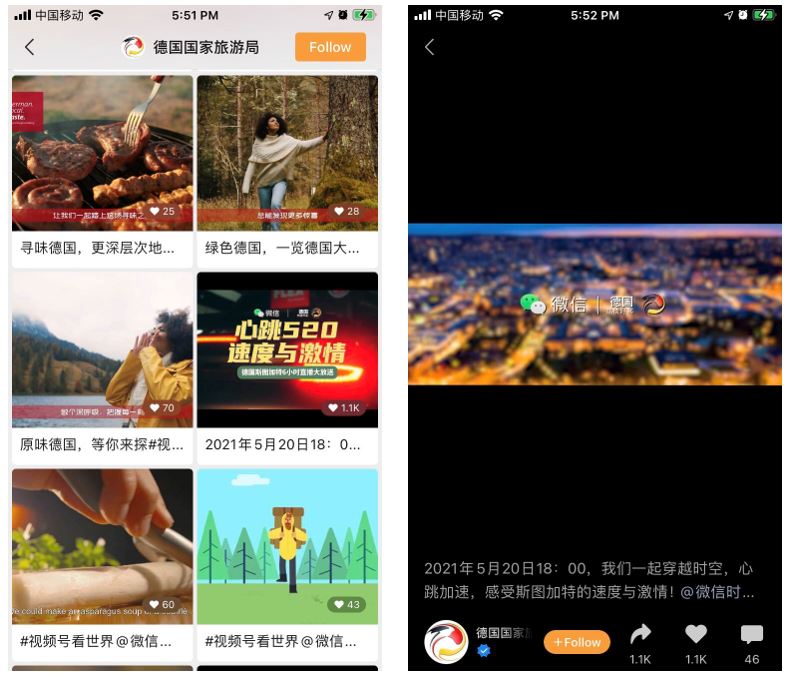 WeChat interface: German tourism board's official account
In May 2021, WeChat Moments partnered with the German National Tourist Board (@德国国家旅游局) to capture the heritage and architectural beauty of Stuttgart, the birthplace of Germany's modern design movement and home to world-leading car brands, like Porsche and Mercedes-Benz.
From the city center to the public library, the livestream perfectly showcased Stuttgart's embodiment of tradition and innovation. Viewers and car enthusiasts alike were also treated to spectacular virtual tours of the Porsche and Mercedes-Benz museums and could mimic staying overnight at the famous car-themed V8 Hotel Motorworld.
Interestingly, the German National Tourist Board's promo post was also shared on Mercedes-Benz's WeChat account, a win-win for both parties.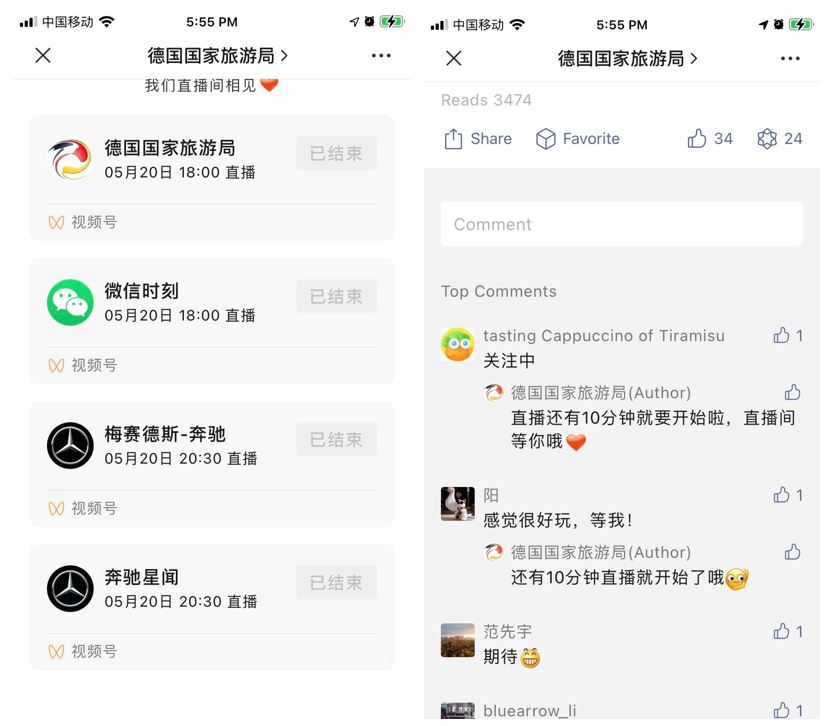 Promo post for German tourism board's campaign on WeChat's official account
Digital Outbound Destination #4: Peru
Facts & Figures
Livestream title: "Explore the homeland of Alpacas"
Duration: 4 hours
Audience count: 31,800
Number of likes: 250
Number of clicks on PROMPERÚ's post: 8,255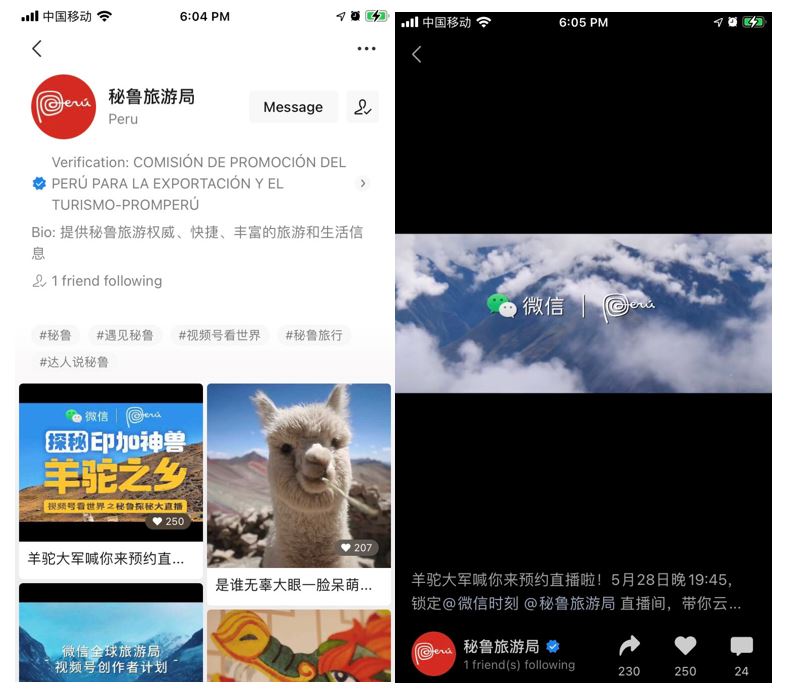 WeChat interface: PROMPERÚ's official account
In May 2021, WeChat Moments and PROMPERÚ (@秘鲁旅游局) brought viewers to the vast Andean plains of Peru and delivered an opportunity to witness the Pachamama ("Offering to the Earth")—an annual local ceremony that pays tribute to Mother Earth in gratitude for good harvests over the year.
In addition, viewers watched on as furry llamas and alpacas grazed the plains, learnt how Incan patterns are woven from alpaca hair, and experienced ancient Incan wisdom and spirituality firsthand.
To increase engagement, PROMPERÚ sent out limited souvenirs and even leveraged influencer marketing by inviting KOLs to promote their post on WeChat's official account in the lead up to the livestream.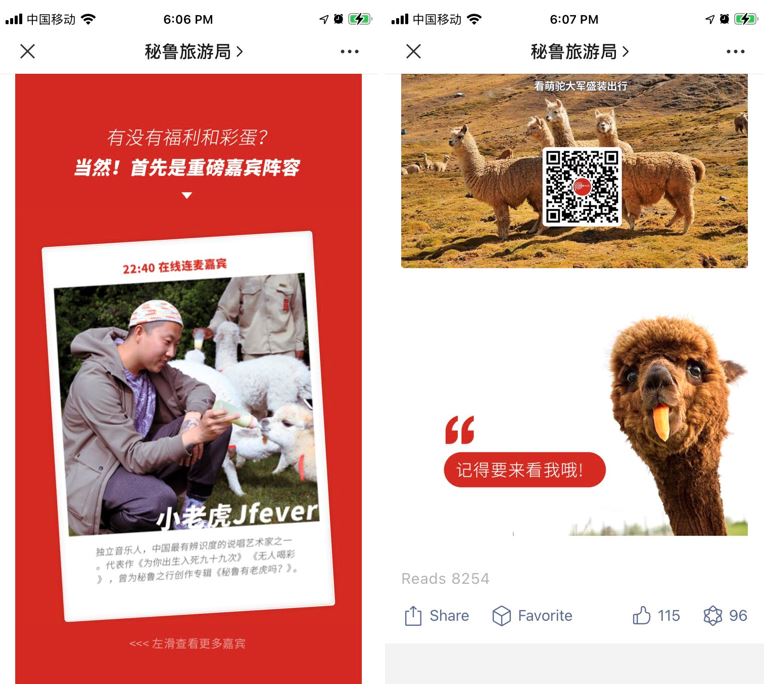 Promo post for PROMPERÚ's campaign on WeChat's official account
***
WeChat Channels has enabled hundreds of thousands of viewers to virtually discover the beauty of the world—on an unprecedented scale and level of engagement.
And as livestreaming continues to grow as the linchpin of travel marketing in China, travel brands can leverage WeChat's vast online reach to engage China's massive traveler demographic.
Ready to maximize your digital marketing in China?