Globalization has taken an enormous hit as the world came to a screeching halt in the wake of COVID-19, slowing down economies and industries around the world.
However, it also brings new opportunity for digital transformation through which every industry is adapting to this new era. In particular, internet companies in China are developing with unprecedented speed.
Since the initial Covid-19 outbreak in China, WeChat has seen a significant increase in users as people are socially distanced offline but more engaged online.
To help brands better connect with audiences and increase content engagement during this time, WeChat launched new features for official accounts. Here, join us on a deep dive into the most recent updates for WeChat official accounts.
WeChat Album (domestic WeChat official accounts only)
If owned content is labeled as original by WeChat, domestic official account owners can curate a collection of original articles or videos in an album.
Album Features
Based on your album's subject, you can set up a page with a custom cover and description.
One album can host 50 original articles.
Albums are displayed at the beginning of the content.
Albums can be shared among WeChat friends and on WeChat Moments.
WeChat analytics shows the readership per album.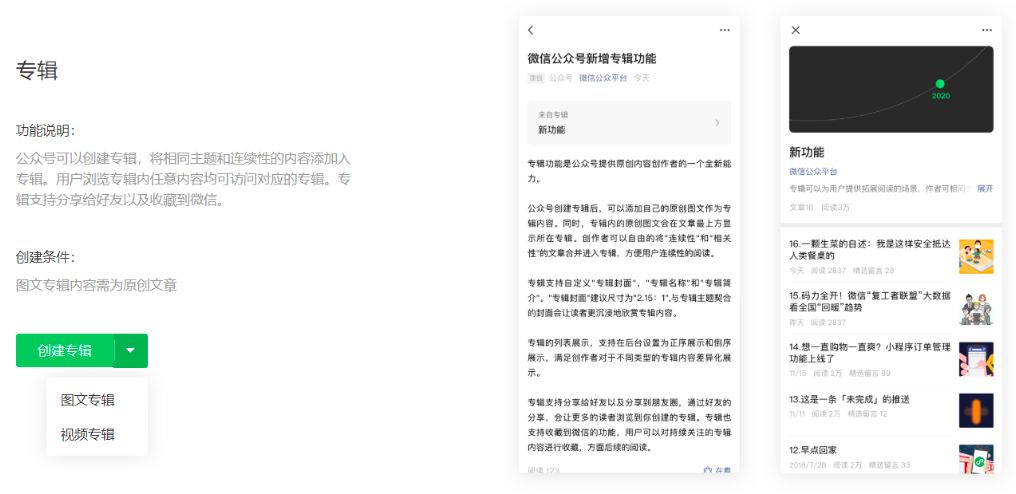 Album Benefits
Albums increase exposure to an archive of articles.
Albums build brand image.
The high-quality content featured in albums can increase and retain loyal followers.
Albums can also be used to build a series of courses, vlogs, etc.
WeChat Paywall (domestic official accounts only)
In January, WeChat tested a paid content feature for some official accounts and gave access to some "qualified" account owners. This feature allows account owners to add paywalls to selected or all content.
Essentially, readers have to pay to unlock articles or subscribe to the account with different price options. WeChat will not receive a cut of the revenue generated during the feature's trial period.
Paywall Features
The paid content price range is RMB ¥1-208.
Android users can pay with WeChat Pay.
Paid content cannot be reposted or used in WeChat advertising.
Unpaid users can read the preface only.
How to get the feature:
The domestic WeChat official account must have been operating for at least 3 months.
The account must have posted at least 3 original articles.
The account must have committed no serious violations in the past 3 months.

Paywall Benefits
WeChat Paywall can provide paid service for brands, such as training, courses, reports, etc.
WeChat Paywall can surface targeted audiences and explore high potential customers.
Welcome and Auto-Reply (overseas official accounts)
Compared with domestic WeChat official accounts, overseas accounts have limited functions. Previously, overseas account could not set up a custom welcome or auto-reply message. Recently, however, these features have been launched for overseas accounts.
Welcome Message
When users follow a WeChat official account, the system will auto-send a welcome message to those new followers.
Auto-Reply
If followers send a direct message to the account, operators can set an auto-reply to tell users how to contact you.
Welcome and Auto-Reply Features
The auto-reply message supports text, image, audio, and video
You can insert hyperlink to visit external sites (WeChat articles, mini programs, etc.).
600 or more characters allowed.
Previous welcome message
New welcome message
Welcome and Auto-Reply Benefits
The welcome message provides a strong first impression for new followers.
The welcome message can be a menu guide for users to know discover your account and brand.
The welcome message can broadcast your latest activity.
The auto-reply can increase visits and leads.
The auto-reply can help to retain followers and capture all engagement.
News Update: WeChat shuts down iOS virtual payments
On 29 May, the WeChat official account platform announced that it will not support virtual payment services for iOS devices.
After closing iOS virtual payments, the product page may still retain iOS payment functions or buttons, such as price tag, purchase, payment, subscription, and recharge.
Tencent said that for official accounts that do not restrict iOS payments, WeChat will issue a notice and give three days to adjust. WeChat will perform relevant function restrictions and other penalties to accounts that have not adjusted.
***
It's critical for brands to keep up with all the features and updates to WeChat during this time to stay connected with Chinese consumers on the road to recovery in China.
Need help reaching your audience on WeChat?