China Social Marketing: 3 Takeaways from WeChat's May Day Travel Report 2021
As Mainland China celebrated a 5-day holiday from May 1st to 5th, Chinese residents flocked online to research, interact, and book their perfect domestic getaway.
This travel rush epitomizes China's continued revival of domestic tourism, which has mirrored pre-pandemic levels for over half a year.
In fact, according to China's Ministry of Culture and Tourism, a staggering 230 million domestic trips were recorded over May Day 2021—a 120% growth compared to last year.
To capture travel demand, WeChat published its May Day Holiday Travel Report 2021, which highlights key social trends—from livestreaming to virtual tours—at the center of the holiday's travel and spending frenzy.
Let's explore 3 key takeaways from WeChat's report and how you can position your online presence for greater engagement in China in 2021.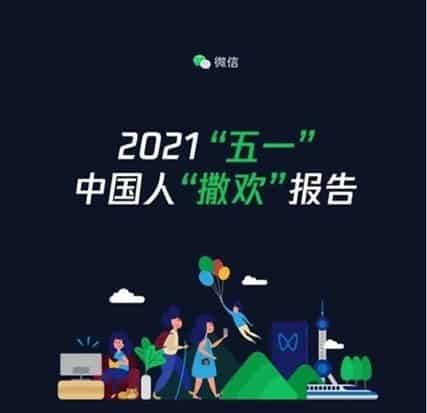 WeChat's May Day Holiday Travel Report 2021
WeChat May Day Report – Insight #1: People are active & engaged
Between May 1st and 5th, WeRun—WeChat's pedometer that tracks an individual's daily step count—recorded a country-wide average of 2.72 trillion steps per day. And among the millions of users, around 20,000—over half of whom were millennials—reached WeRun's ceiling of 98,800 steps per day.
At the other extreme, most of the 500,000 or so WeChat users who recorded fewer than 100 daily steps were born after 1990, followed by users born after the 1960s.
Fun fact: The maximum number of recordable steps on WeRun is 98,800, which is based off the average steps it takes to climb Mount Everest—the tallest mountain in the world.
WeChat May Day Report 2021 – Insight #2: Renewed Enthusiasm for Travel Content
With millions of users seeking travel inspiration online, WeChat pushed out more virtual traveling content to capture that demand.
Indeed, over the 5-day holiday, the number of active travel content creators on WeChat Channels increased sevenfold compared to the preceding week.
Simultaneously, the duration of livestreaming content across the platform rose by an astounding 601%. The content creator "Travel Beijing with Guide Zhang" (张导带你游北京), for instance, livestreamed each day of the holiday and averaged 420,000 views per livestream—with one even hitting 1.176 million likes.
To help boost traveler confidence in China, Tencent's Institute of Culture and Tourism has been promoting its "Looking good, China" (好看中国) initiative since 2020.
Under this banner, WeChat hosted a special livestream about Henan province at the Henan Museum in Zhengzhou on April 22 this year. Likewise, WeChat Channels continually features image cards of major cities throughout its app.
Featured cities include (so far): Beijing, Shanghai, Guangzhou, Zhengzhou, Wuhan, Chengdu, Heilongjiang, Henan and more.
Among them, visitor traffic to attractions in Zhengzhou increased by 1,518% YoY, while travel bookings in Wuhan also rose by 300% since 2019.
In fact, data from Ly.com—one of China's most popular travel websites—indicated that visitor traffic in Zhengzhou, Guangzhou, and Wuhan during this year's May Day holiday increased more than tenfold compared to the same period in 2020.
Red tourism, which saw ticketing for notable attractions increase by 859% YoY, is also booming ahead of the Chinese Communist Party's (CPC) landmark 100th anniversary.
WeChat May Day Report 2021 – Insight #3: Duty-Free Shopping Spurs Travel Excursions
Since July 1, 2020, the Chinese government has implemented the Outlying Islands' Tax-Free Shopping Policy to attract visitors to Hainan, China's largest and most populous island. Duty-free shopping on Hainan continues to rise—peaking on May 1st and 2nd this year with a YoY growth of 350%.
Similarly, as more people traveled to Macau this year, the transaction value on WeChat Pay increased by 293% compared to October 1, 2020—the start of China's Golden Week.
***
With domestic travel and retail therapy on the rise in China, especially during major holidays, it's prime time for travel brands to optimize their WeChat official account and get creative with their social marketing strategy.
Whether you leverage influencer marketing or livestreaming, engagement opportunities are far and wide on WeChat, and will only grow as Tencent continues enhancing the app's features in line with the social trends that dominate and drive China's massive, unparalleled market.
***
Ready to maximize your digital marketing in China?