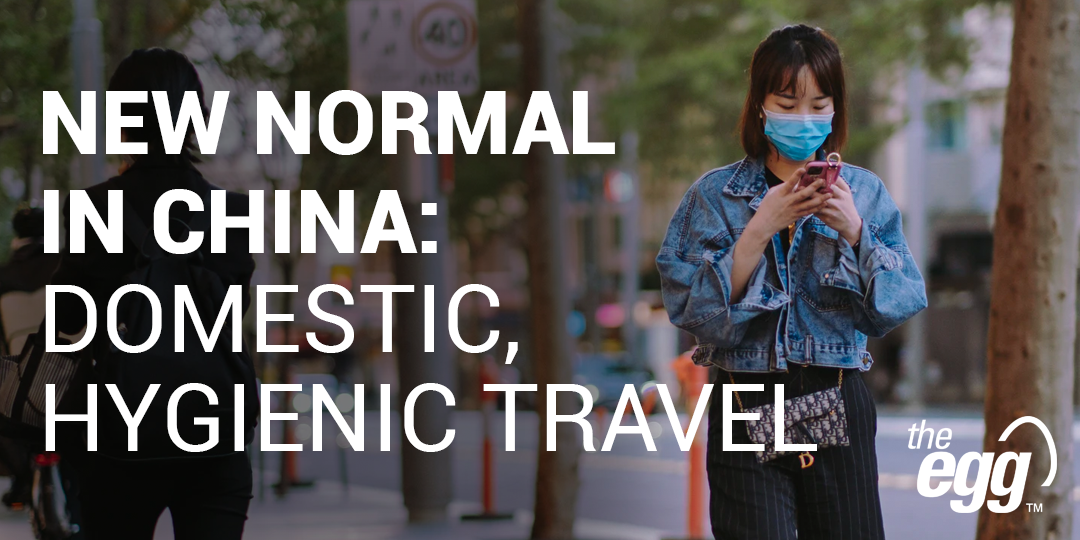 While China's Labor Day holiday in May showed a promising uptick in domestic travel, the question became whether that trend would continue to strengthen.
In this article, we examine travel sentiment in China, particularly leading up to the next big holiday—National Day (Golden Week) in early October, which produces the greatest surge of Chinese travelers every year, usually globally but this year domestically in China's new normal for travel.
Next Big Travel Point in China: National Day
Optimistically, based on data from 360 Search, the #1 web browser in China, search demand for China's National Day holiday in Q1 2020 exceeded Q1 2019 search demand. Summer holidays (July and August) also received greater search demand in Q1 2020 than Q1 2019.
Ultimately, this shows rising levels of confidence and desire to travel.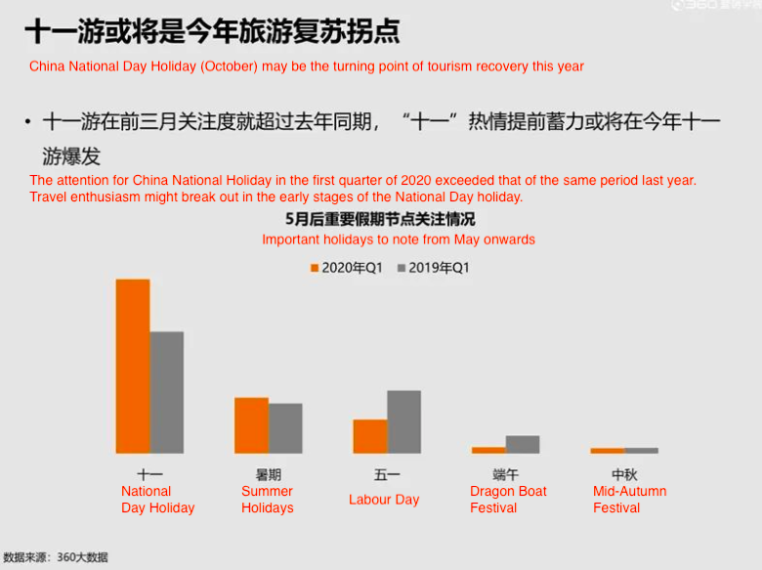 It is expected that travel enthusiasm will grow in the coming months leading up to National Day and throughout the summer holidays, as users search travel destinations, consume travel content, book transportation and hotels, follow travel KOLs, engage on social media, and more.
This holiday could potentially be China's recovery turning point in tourism.
According to 360 Search data from the May Day holiday, people were keen to travel domestically, and there was significant interest in self-driving.
For the upcoming National Day holiday, it is anticipated that travelers will remain interested in domestic travel, but particularly cross-provincial—so still within China, but farther away from their places of residence than they traveled during May Day.
Outbound travel sentiment is still abysmally low, with just 8.1% of overall searches showing interest. Of course, this will take more time to recover as situations continue to unfold around the world.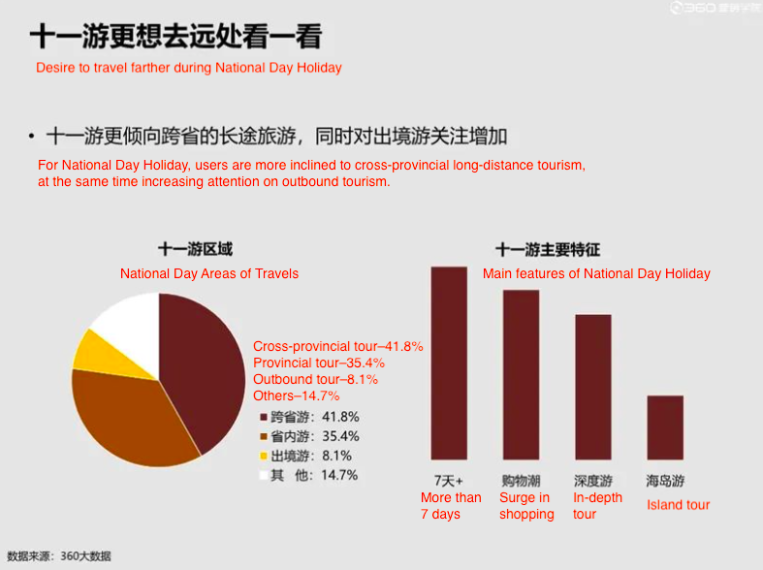 Consumer Demand for Travel in China: Domestic + Hygienic
To analyze consumer sentiment for travel, McKinsey did a month-on-month comparison between April and May.
Based on their comparison in April 2020 as opposed to May 2020, traveling sentiment up to National Day is relatively stable, while beyond that it fluctuates, with a jump of more users who are unsure of their travel plans from 7% to 18%, respectively.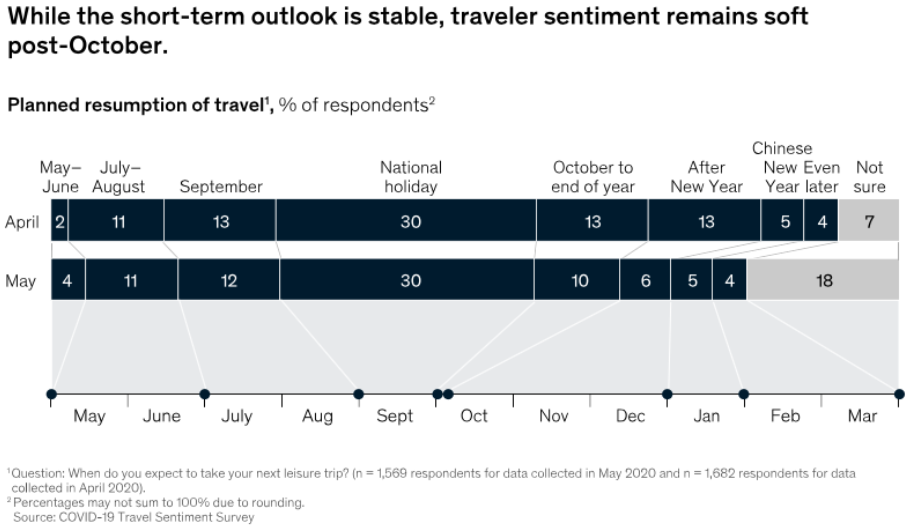 Safety is one of the most important factors for people in deciding whether or not to travel. As McKinsey reported, respondents with the lowest expectations of safety showed a strong leaning to deferring travel to after Chinese New Year 2021.
Safety sentiment rose slightly between April and May for short- and long-haul domestic travel; however, it still received a low overall score. This is coupled with the perception gap that travelers experience of expected safety versus actual safety in domestic travel.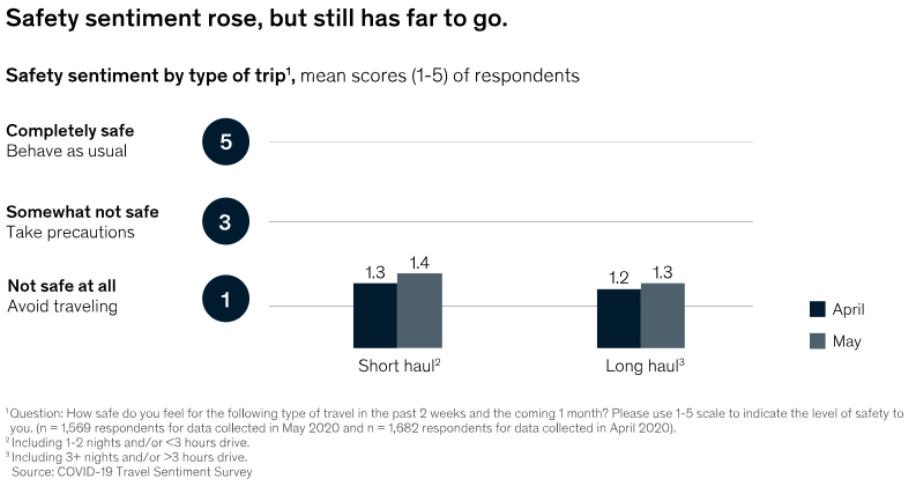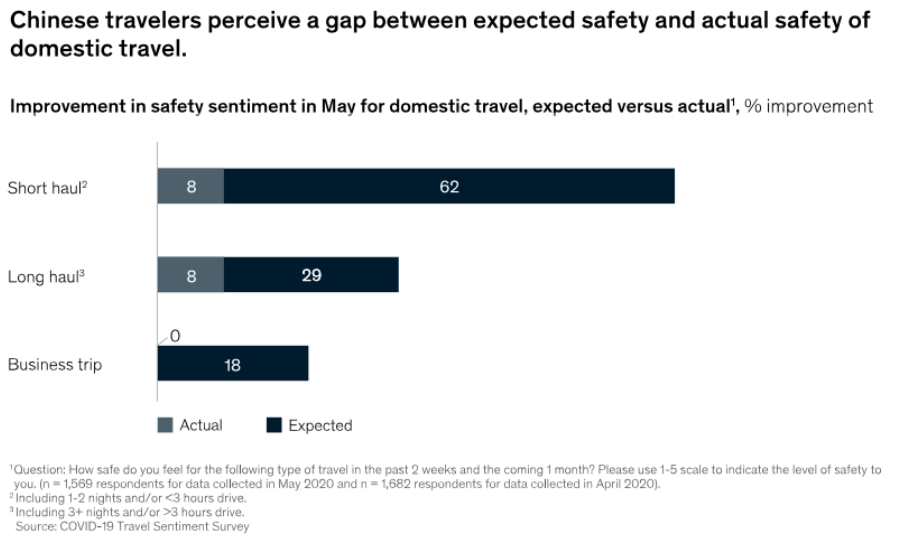 While long-term travel sentiment has met with volatility, there is positivity for short-term travel. Marketers can focus their efforts on promoting the upcoming National Day holiday and work with operators that are heavily invested in traveler safety as part of the new normal in China: domestic, hygienic travel.
Are you ready to maximize your digital marketing in China?