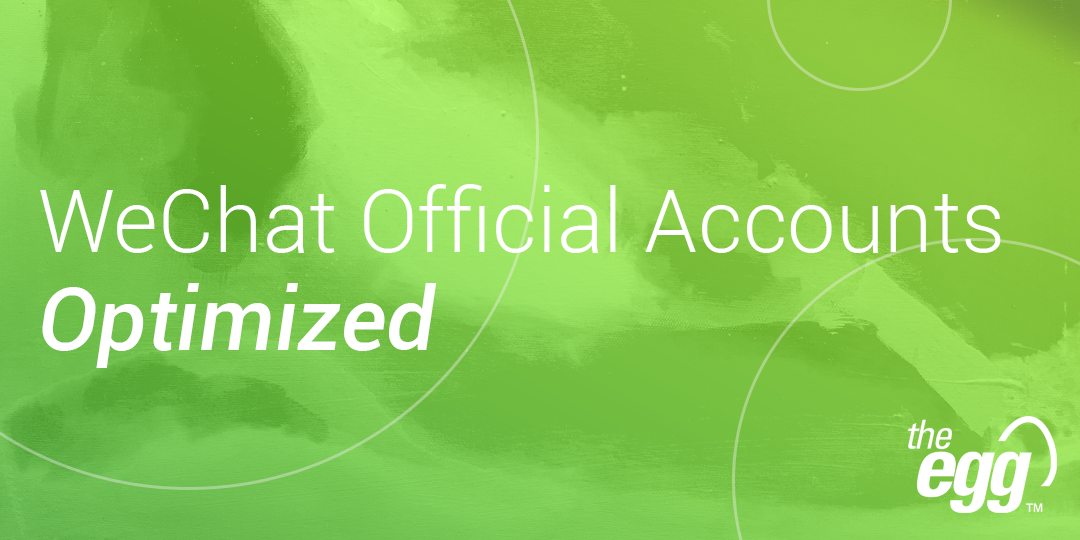 As the entire world catapulted online in the wake of COVID-19, China was no exception: Its #1 social platform—WeChat—continued to grow and connect brands with +1 billion monthly active users.
Here, discover 10 tips to effectively manage your WeChat official account—the premier channel for brands to reach their audiences in China's new normal.
Before we get started, a quick note on the basics of WeChat official accounts:
A WeChat official account is essentially a business or enterprise account that acts as your brand hub, bringing together your followers, blogs, videos, ads, mini programs, circles, and more, in one platform.
It takes about 2-3 weeks to set up a WeChat official account, if everything goes smoothly with the WeChat verification process. You will need a business license (either Chinese or foreign) along with other supporting documentation.
Optimize your WeChat Official Account Tip 1:
Finalize your posts before publishing
In the world of traditional marketing, once our artwork is printed, we know we can't make any changes without reprinting or damaging the final artwork.
On the flip side, in the world of digital marketing, we expect that even when we publish something, we can always make amendments.
This is true for most platforms, but not for WeChat.
Once an article is posted, you can only make edits of up to 20 Chinese characters—beyond that, there is no changing of images, no editing of header titles (which appear on WeChat push images), etc.
Action: Make sure that you've done all editing before you publish and only post the final version so that you don't have to delete the post, losing any engagement or push quota.
Optimize your WeChat Official Account Tip 2:
Protect your push quota
WeChat official accounts are of two types: service or subscription. Each type allows only a certain push quota:
A WeChat service account allows you up to 4 pushes a month.
A WeChat subscription account allows you up to 1 push a day.
Sometimes, particularly given the editing limits described in tip 1, you may need to delete an entire post. This means you would have used up 1 push within your quota:
For a service account, you would have 3 pushes left for the entire month.
For a subscription account, you would have 0 pushes left for that day.
This push quota loss may be disruptive, as it may change your posting schedule and topics.
Action: Ensure your post is well-prepared before publishing—and think critically before deleting.
Optimize your WeChat Official Account Tip 3:
Include up to 8 posts in 1 push
While you are only allowed up to 4 pushes/month for a service account and 1 push/day for a subscription account, the good news is that each push allows you share up to 8 articles at once.
Action: Maximize your pushes by including up to 8 articles relevant to your target audience—if that amount of articles fits your brand strategy/editorial calendar.
Optimize your WeChat Official Account Tip 4:
Customize your welcome message
In the past, customizable welcome messages were available only for WeChat official accounts registered with a Chinese business license. For WeChat official accounts registered with a foreign business license, the default message users would get when they followed the account was "Thanks for following me."
Now, all WeChat official accounts can customize their welcome messages.
Action: Make sure you create a warm welcome message for your new followers!
Optimize your WeChat Official Account Tip 5:
Respond to inquiries quickly
WeChat has a chat function (located at the bottom of your official account menu page) where your followers can send text messages to you. Most of the time, they ask questions or have business enquiries.
Note that you must respond to your WeChat messages within 48 hours. After 48 hours, the reply field will be greyed out, and you will not be able to respond at all.
Action: Make sure you respond to your WeChat messages quickly so as not to ignore inquiries and lose follower trust.
Optimize your WeChat Official Account Tip 6:
Be prepared if you need an account name change
Annually, your WeChat account must go through a verification/renewal process for which there is a cost of USD $99 (for foreign accounts) or RMB ¥300 (for domestic accounts). The renewal process ensures that your account continues to be official and enjoy the full benefits of a verified account.
However, for whatever reason, you may wish to change your account name; for this, there will be a fee of USD $99 (for foreign accounts) or RMB ¥300 (for domestic accounts).
Additionally, you will need to resubmit all your documentation, including business license, identification card of account holder, last 3 months phone bill, etc. The whole process will take a couple of weeks.
While this name change may seem like an added expense, it actually isn't, because it also renews your account for the upcoming year–something you would have to do anyways. For example, if your annual verification is due on December 25, 2020, and you change your name on September 25, 2020, this process will ensure that your account is validated all the way until December 25, 2021, when you will have to conduct your annual verification again.
Action: Make sure you've got all your renewal documentation and payment information prepared when you want to change your account name.
Optimize your WeChat Official Account Tip 7:
Don't plagiarize!
WeChat identifies and penalizes plagiarism.
Even if you slightly modify an existing article and post it to your account, WeChat can pinpoint egregious similarities. When you post, WeChat will immediately warn you that the content is similar to another account's content and ask if you are certain you want to post.
Further, if you modify an article that is labelled as original in WeChat, your modified post will not show at all. Instead, it will redirect to the original post, causing you to lose readership and direct all traffic to the original article.
If you would like to reuse original articles from other official accounts, you may contact that brand directly to whitelist your account, so that you may repost the content without being penalized.
Action: Ensure that your account is whitelisted if you want to repost other original content to avoid WeChat investigating and penalizing your account up to and including full account removal. Otherwise, only share your own original, high-quality content on your account.
Optimize your WeChat Official Account Tip 8:
Register up to 2 accounts under 1 business license
One business license, be it foreign or Chinese, is allowed to register up to 2 WeChat official accounts, be it service or subscription.
Action: Maximize your business license by adding up to 2 accounts—if that matches your brand strategy.
Optimize your WeChat Official Account Tip 9:
Do not include external hyperlinks in articles
If you are a standard WeChat official account holder, there is no way to include external hyperlinks within the body of your WeChat article text. Only authenticated accounts activated with WeChat Pay and government or media accounts can include hyperlinks.
However, you can include an external link under the Read more section located at the end of your article. This can help drive traffic to your brand's website or other content outside of the WeChat ecosystem.
Action: Do not include external hyperlinks in your article body but do include external links under the Read more section at the end of your article.
Optimize your WeChat Official Account Tip 10:
Do include internal hyperlinks in articles
Even if your account is ineligible for external hyperlinks, you are able to insert internal links to other WeChat articles. These other WeChat articles can be ones you've posted or ones posted by other official accounts.
Action: Include internal links so you can drive more traffic to and engagement with your WeChat articles.
***
Following these 10 tips will help you optimize your WeChat official account. However, as WeChat constantly evolves, these may change. Stay tuned to our blog for the latest WeChat tips and trends as new WeChat features emerge.
Are you ready to maximize your marketing on WeChat?
Discover 3 SEO tactics for brands to remain connected and competitive with their consumers.
Learn how to leverage WeChat's new features to increase exposure and engagement
Follow this guide on how to optimize your .cn domain migration for better speed, ranking, and authority in China.