Localized Keyword Strategy for SEO in Korea
How to Optimize your Korean Keyword Strategy – APAC in 3 – Episode 14
Languages and cultures differ from country to country, making localized keyword research essential for capturing the nuances of how native users search for your products or service—and converting that intent into valuable traffic.
Localized keyword research becomes even more critical wherever a local search giant dominates the local search market, such as in South Korea, where Naver is the #1 search engine with a 59% market share.
In this article, we've outlined best practices and cultural considerations for a localized keyword research strategy to improve your SEO in Korea and, ultimately, better engage Korean users.
Search Behaviors in Korea
Korean Search Behavior #1: Users prefer short-tail keywords
Korean users primarily search with short-tail keywords—a search behavior vastly different from how people search in English. This is because Korean language is more concise than English language. Only a few Korean characters or words are needed to convey the same meaning in English. Search behaviors in Korea are more akin to those of Chinese users since the Korean alphabet, Hangul, originates from Chinese characters.
While English speakers may search long-tail keywords like "how to claim a tax refund" or "how can I get a tax refund?", this is uncommon among Korean users, who are more likely to search short-tail keywords like "세금 환급" ("tax refund").
Most popular search terms on Naver also tend to be shorter keywords like "명동 맛집" ("Myeong Dong best restaurant"), "홍콩 여행" ("Hong Kong travel"), and "노트북 수리" ("laptop repair").
To visualize this, let's use Google Keyword Planner to compare the monthly search volumes (MSV) for Christmas decoration-related search terms in an English-speaking country versus in South Korea.

Google Keyword Planner: MSV for long-tail Christmas-related keywords in the United Kingdom vs. South Korea
While long-tail search terms like "how to decorate Christmas tree" or "how to wrap gifts" have higher MSV in English (United Kingdom), they do not have anywhere near that search volume in Korean.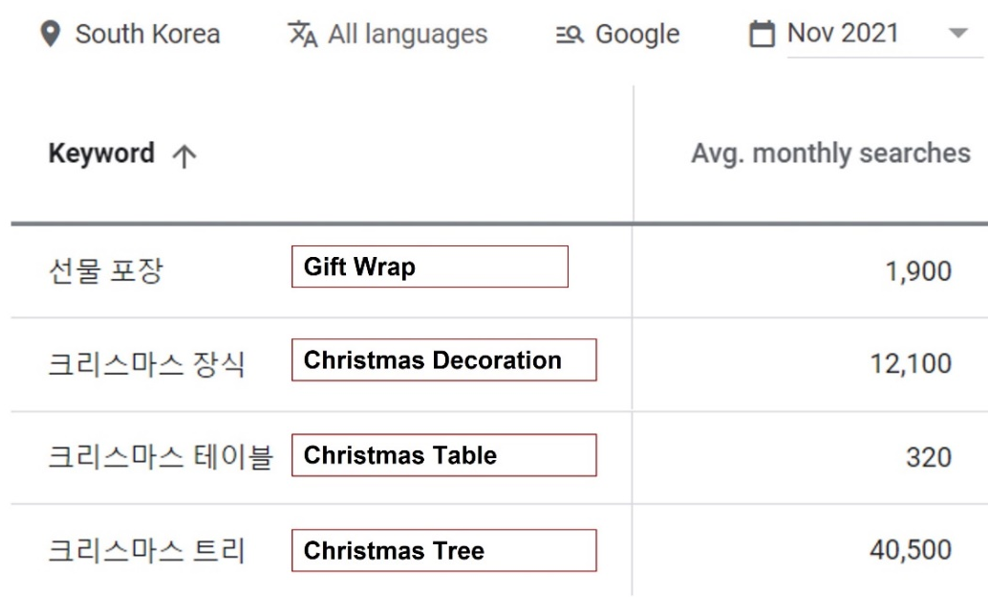 Google Keyword Planner: Average MSV for short-tail Christmas-related keywords in South Korea
Meanwhile, shorter keywords like "Christmas tree" or "Christmas decorations" in Korean yield significantly higher search volumes.

Naver Keyword Planner: Long-tail vs. short-tail Korean keywords for Christmas-related FAQs
Generally, you'll notice that short-tail keywords have much higher search volumes than long-tail, according to Naver Keyword Planner. Thus, it is vital that you identify keyword opportunities by searching related terms on Naver and/or checking Naver Keyword Planner's recommendations.
Korean Search Behavior #2: Users search brand terms by transliterated keywords
Transliteration involves converting words from the alphabet of one language to another based on pronunciation—i.e., changing the letters from the word's original alphabet to similar-sounding letters in a different one.
We often see this with transliterations of branded terms in Korea.
When searching "Apple iPhone", for instance, Koreans can transliterate the term from its original Latin characters and transfer them into Hangul characters based on pronunciation: Another prime example is the search term "플래이스테이션" (pronounced as "pley-station"), which garners a much higher MSV than the official brand term "플레이스테이션" ("PlayStation").
However, some keywords can have multiple variations, so successfully localizing for Korean users requires an understanding of all the possible transliterations of your brand terms—and incorporating them into your content.
Remember that transliterations of certain keywords do not always yield higher search volumes, so double-check their MSVs on Naver Keyword Planner.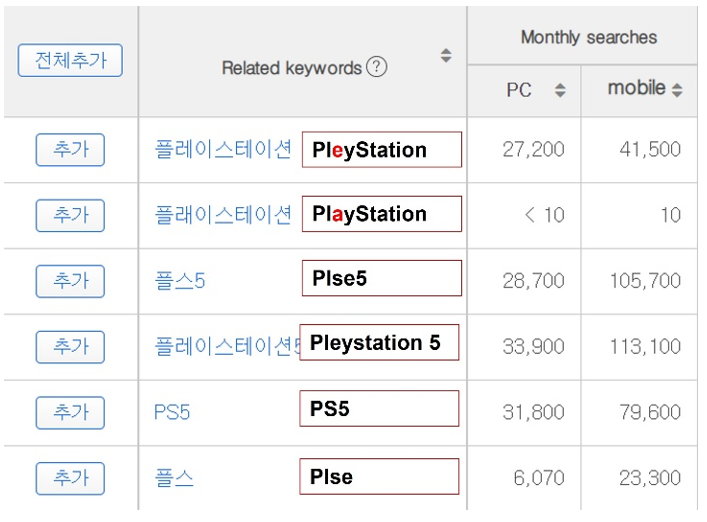 Naver Keyword Planner: Check the transliterations of popular brand terms or target keywords
Korean Search Behavior #3: Search volumes can vary depending on industry
While search volumes for most Korean keywords are higher on Naver than Google, they can vary depending on industry.
In particular, business- or tech-related keywords have higher search volumes on Google than Naver. For example, the MSV for "deep learning server" on Naver was 100 and 210 on Google in November 2021.

Higher MSV for tech-related keywords on Google than Naver (November 2021)
On the flipside, most fashion-related keywords yielded higher search volumes on Naver than Google in November 2021.

Higher MSV for fashion-related keywords on Naver than Google (November 2021)
Since MSVs across search engines can vary depending on your industry or product type, we recommend using multiple keyword planners—in this case, Google and Naver's—to compare the MSVs of potential keywords before deciding which to target.
Korean Search Behavior #4: Cultural cues can dictate how Korean users search
Korean language and cultural norms influence local search behavior. Firstly, an abbreviation of a term can sometimes turn out to be the more popular keyword of the two. In November 2021, for instance, "블프 세일" ("BF promotion") generated higher search volume than "블랙프라이데이 세일" ("Black Friday promotion").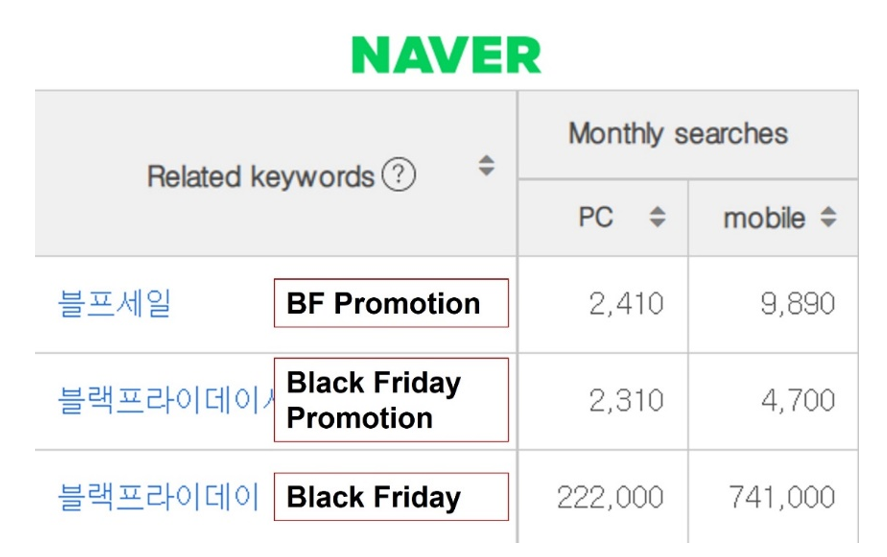 Naver Keyword Planner: MSVs for "블프세일" ("BF Promotion") vs "블랙프라이데이세일" ("Black Friday Promotion")
This proves that in addition to targeting high-volume keywords, you must adapt your keyword strategy based on Korean language usage.
For another example, the trendy search term "맛집" ("tasty place") has emerged more popular than "식당" or "레스토랑" (both meaning "restaurant") for restaurant-related searches.

Naver Keyword Planner: MSVs for "Tasty Place" vs "Restaurant"
It is also critical to consider cultural aspects that resonate with Korean people: Search volumes for keywords relating to Korean national holidays—like "추석" ("Chusuk") or "설날" ("Lunar New Year")—will spike around the time they occur. Koreans also celebrate Mother's Day and Father's Day together in the form of Parent's Day, so be wary of which holidays are commonplace or foreign to Koreans.
WANT DIGITAL INSIGHTS STRAIGHT TO YOUR INBOX?
3 Tools for Localized Keyword Research for SEO in Korea
Although tools like Google Ads Keyword Planner and Google Search's auto-complete function come in handy for finding related keywords, leveraging Naver-owned tools like Naver Keyword Planner, Naver Trends, and Data Lab localizes your strategy as much as possible.
Here, let's explore three resources to localize keyword research strategy for SEO in Korea.
Naver Keyword Planner (For Keyword Ideas)
By entering up to five keywords in Naver Keyword Planner, which can be found in Naver Search Ads (just like what Google Keyword Planner is to Google Ads), you can view their MSVs by device, monthly clicks, and click-through rate (CTR).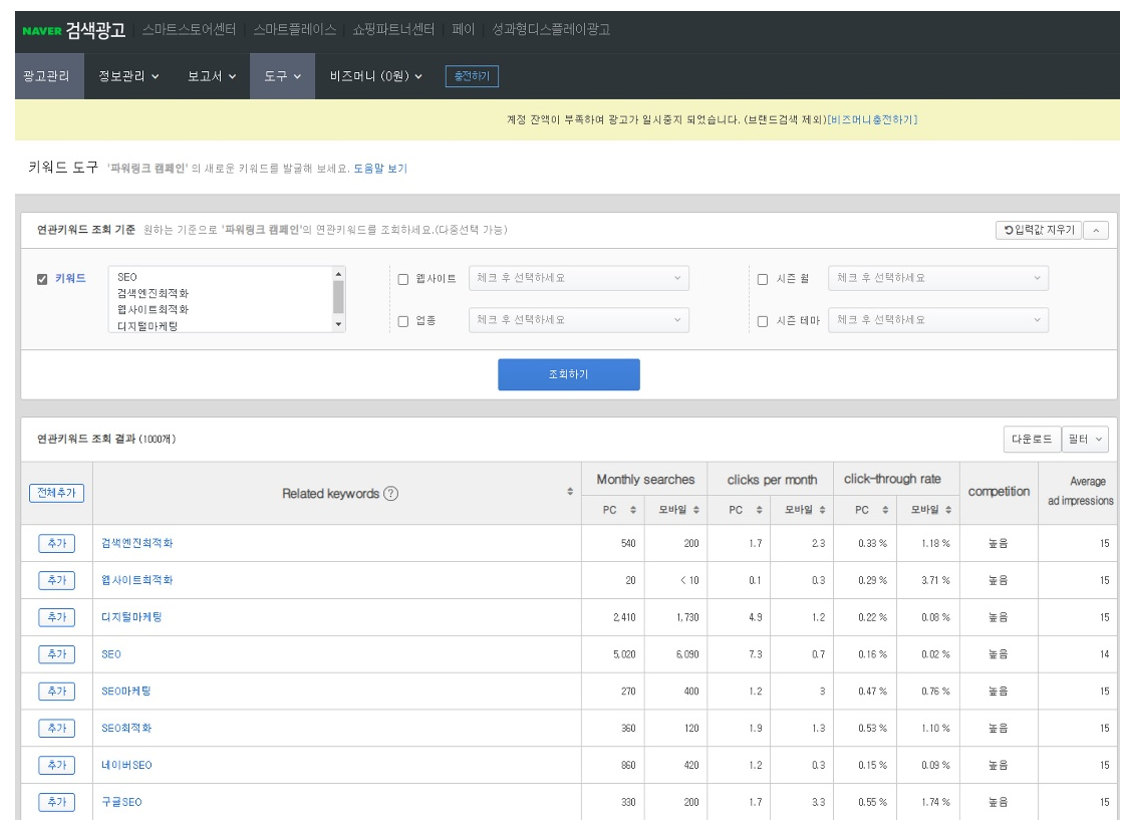 Naver Keyword Planner interface
Naver Keyword Planner also provides more keyword suggestions than Google Keyword Planner, and upon clicking a keyword, you can observe its MSV and user demographic statistics (i.e., gender, age) over time and pick out seasonal keywords too.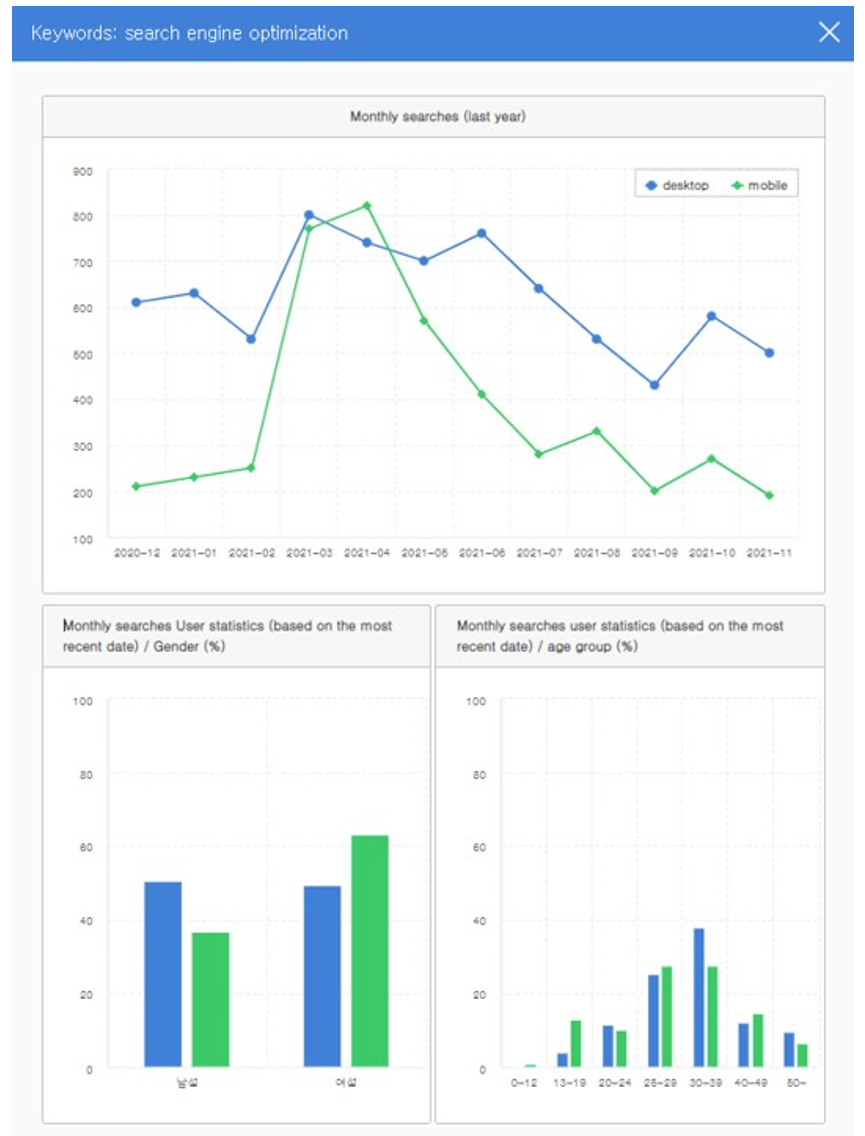 Naver Keyword Planner: MSV trends and user statistics of search term "search engine optimization"
To learn more, check out our comprehensive guide on finding relevant keywords on Naver Keyword Tool.
Naver Data Lab (For Comparing Keyword Insights)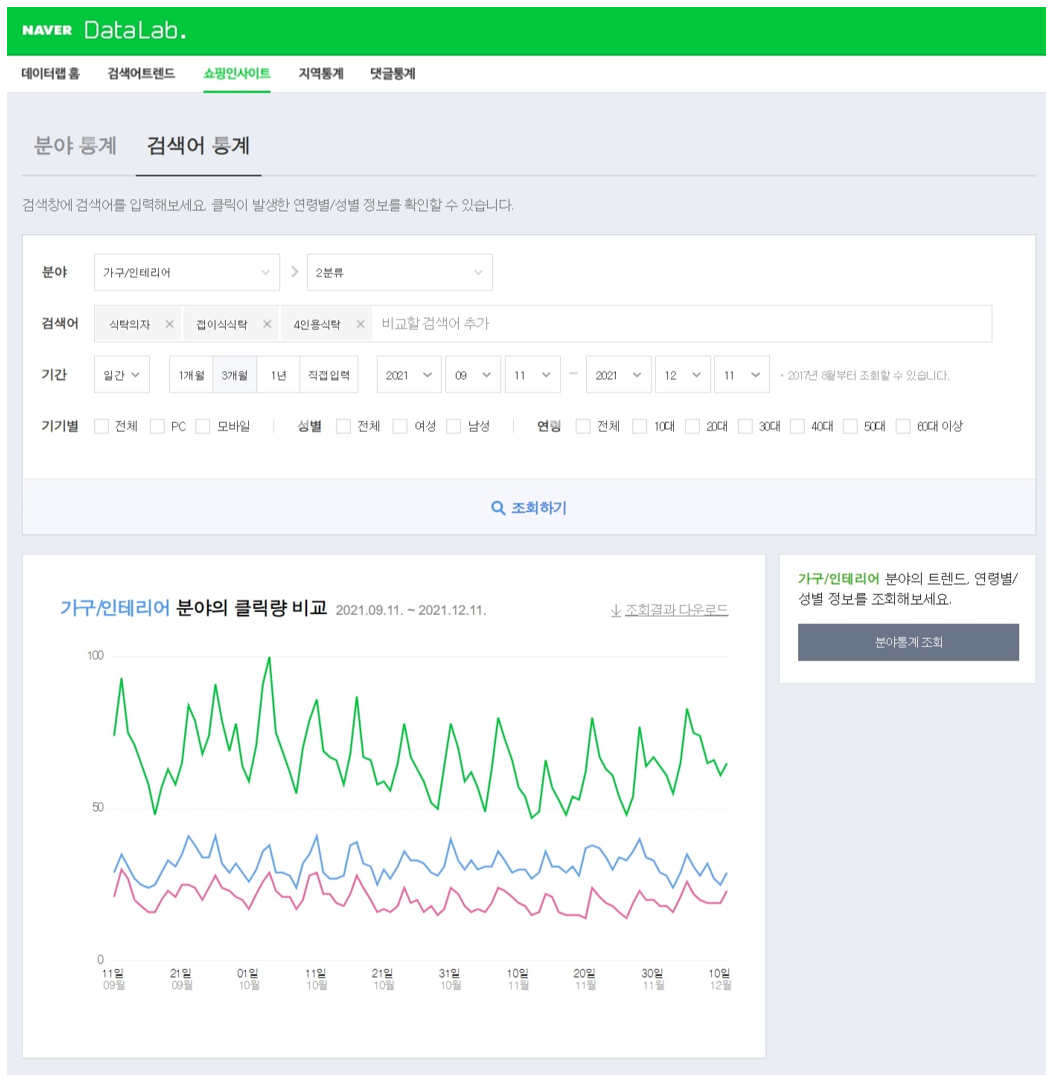 Naver Data Lab interface
Naver Data Lab—similar in many ways to Google Trends—is Naver's comprehensive keyword research tool for observing keyword trends by category, time, or region. And since it pulls data from Naver-owned properties like Naver Café or Shopping, its insights are heavily localized.
Naver Search & Tech (For Staying on Top of Algorithm Updates)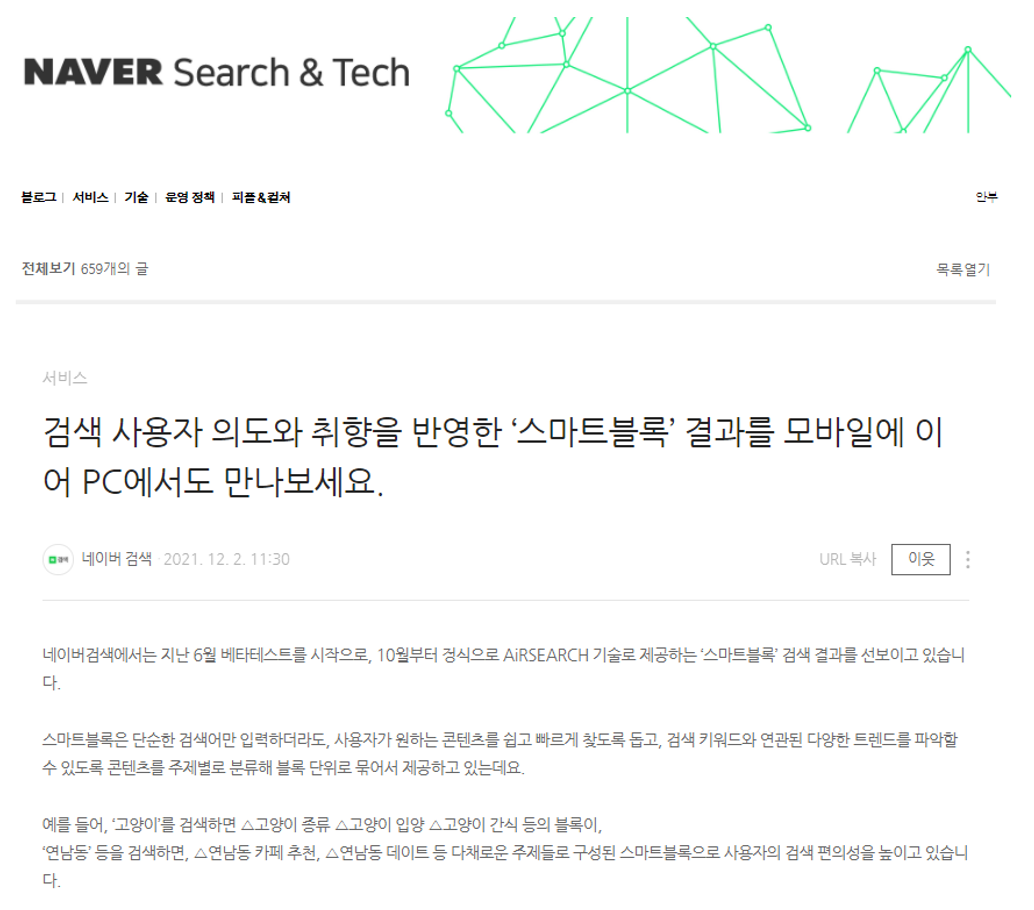 Naver announces their latest updates on their official blog, Naver Search & Tech
Staying on top of Naver's latest algorithm and SERP updates—announced on their official blog, Naver Search and Tech—is also imperative to effective keyword targeting on the platform.

Google's vs. Naver's auto-complete suggestions for the keyword "cat"
For example, Google and Naver search both have auto-complete functions but with very different keywords: When searching "cat" on both platforms, the former suggests generic cat-related keywords while Naver suggests a blend of generic and localized keywords, like the "Rooftop Cat Musical".
Moreover, Naver has announced its new AI-powered SERP ranking feature, Smartblock, which displays SERP results based on topic to deliver relevant content to users. As such, it is highly useful to refer to Naver-suggested topics and incorporate them in your keyword research.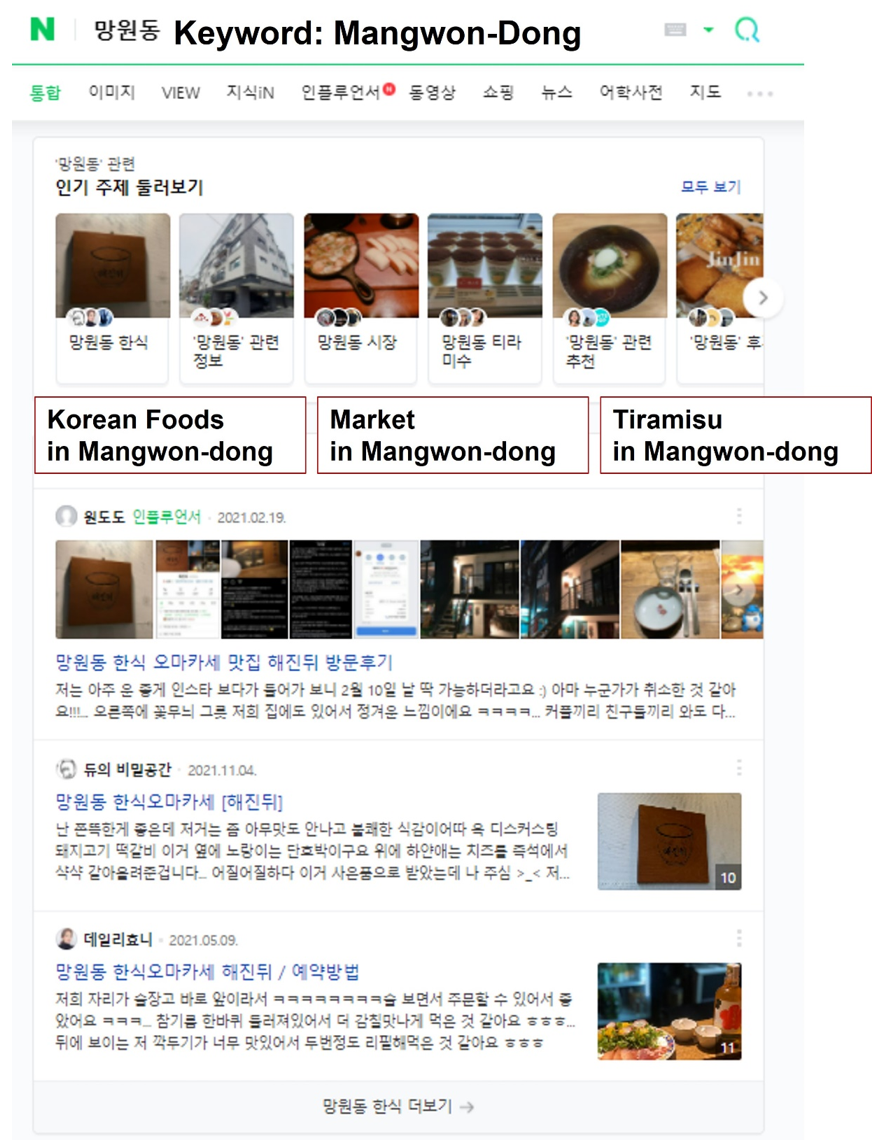 Naver's new feature, Smartblock, serves content on the SERP by topic
***
Localized keyword research is the first critical step to successful SEO in Korea. This starts with understanding Korean search behaviors—from short-tail and transliterated keywords to search volumes and cultural cues—and leveraging localized keyword research tools—Naver Keyword Planner, Naver Data Lab, and Naver Search and Tech—to strengthen your brand influence with Korean audiences.
Ready to maximize your digital marketing in Korea?