How to Optimize Your Keyword Strategy for Baidu Paid Search Advertising (SEM/PPC)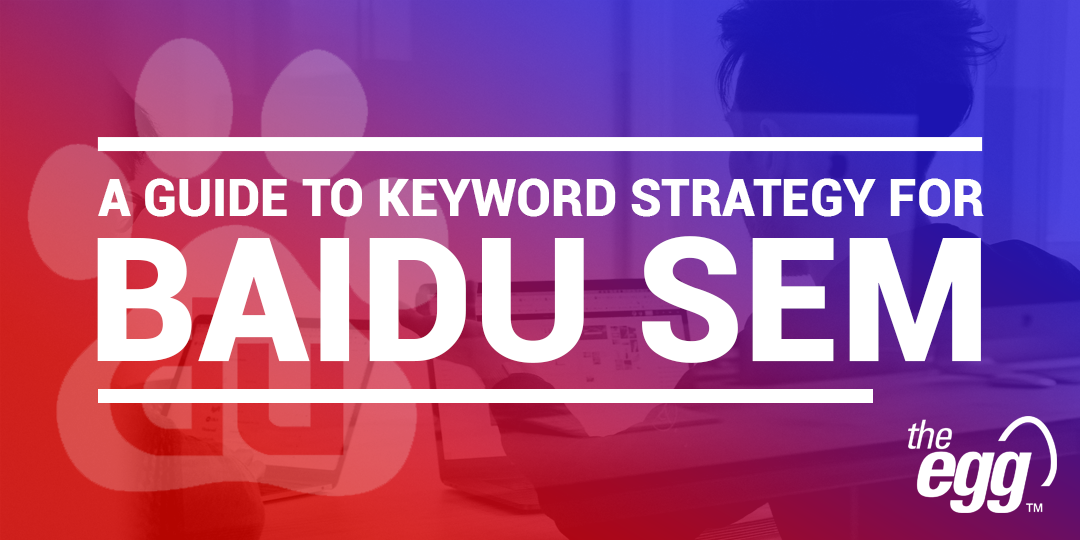 Baidu is home to some of the most lucrative digital engagement opportunities in China, given its position as the country's #1 search engine and its staggering 600+ million monthly active users (MAU).
It has also long been the go-to hub for integrated advertising in China. But while intuitive with its host of targeting filters, running pay-per-click (PPC) campaigns on Baidu is by no means straightforward—though a sound keyword strategy can set you up nicely to get the most out of your Baidu advertising efforts.
Here, learn how to optimize your keyword strategy for Baidu SEM/PPC to maximize your brand visibility and presence on the search engine and, in turn, across China.
3 Keyword Best Practices for Baidu SEM
Before we delve into the tips, here are a couple of things you must know about how many campaigns, keywords, and creatives you can add on your Baidu PPC account:
You can create up to 400 campaigns
Each campaign can comprise 1,000 ad groups
Each ad group can comprise up to 5,000 keywords and 50 creatives
Tip #1: Be Precise with Your Keyword Grouping
To optimize your ad creatives for higher exposure, we recommend limiting the number of keywords in each ad group to between 5 and 15 while ensuring any within the same ad group are coherent in theme and structure.
Why? If an ad group comprises too many keywords, your creative may struggle to achieve high relevancy with user search terms. In turn, it is unlikely to drive high-quality traffic, potentially leading to fewer click-throughs.
At the same time, if an ad group comprises too few keywords, Baidu may struggle to understand the context behind your creative, which can limit its potential to rank for relevant search terms.
Pro tip: If you need to add more keywords to your campaign, you should add them by creating more ad groups since this can help you segment keywords more thoroughly and, subsequently, target more niche audience groups. You may also use Baidu's keyword transfer function to move keywords between different ad groups easily.
Tip #2: Localize Your Keywords for Chinese Audiences
Since simplified Chinese is the default language in Mainland China, it goes without saying that your keywords should follow suit. Even so, the Chinese language is highly complex and carries subtle but critical nuances that make direct translations (i.e., word-for-word) from another language unreliable.
Instead, the localization of your Chinese keywords must go beyond translation and consider context and cultural cues if you wish to break through to your local target audience.
For instance, Tom Ford's color shade #16 of women's lipstick became immensely popular in the last few years. Why? Because it became coined locally as "Scarlett Red" (斯嘉丽红) after viewers noticed Scarlett Johansson donning it both off- and on-screen, like in The Avengers movies.
Thus, leveraging cultural cues like these can make your ad creatives stand out and help them better match the keywords your target customers use when searching for your brand or product/service.
Pro tip: Relying solely on auto-translate functions will likely make your ad creatives awkward to your Chinese audience. Instead, consider incorporating professional translation services or localization specialists (like us!) in your strategy.
Tip #3: Conduct A/B Testing to Identify Top-Performing Keywords
Once you've brainstormed a list of possible keywords your target customers might use when searching for your brand or product/service, the next logical step would be to conduct A/B testing to identify those with the potential to perform best. You should also test which combinations of keywords and ads get you the best results, given that some ads may perform better than others depending on how specific the searches are.
Moreover, you can conduct A/B testing to compare the performances of generalized terms versus more specific ones. In most cases, more targeted keywords are less competitive—and often less expensive—and can drive more qualitative traffic, making them ideal for brands operating with a smaller PPC budget.
For large-budget campaigns, bidding for the most popular keywords tends to yield high traffic volume, but it's still vital to allocate your budget over a pre-defined campaign period to get the most out of your efforts.
***
Ultimately, Baidu is the place to be for international brands seeking to target highly engaged audiences in China, who—relative to most places around the world—are more receptive to advertising and welcome it as part of their online experience.
Want to better target these customers? Begin optimizing your Baidu keyword strategy with our three best practices!
Ready to maximize your digital marketing in China?