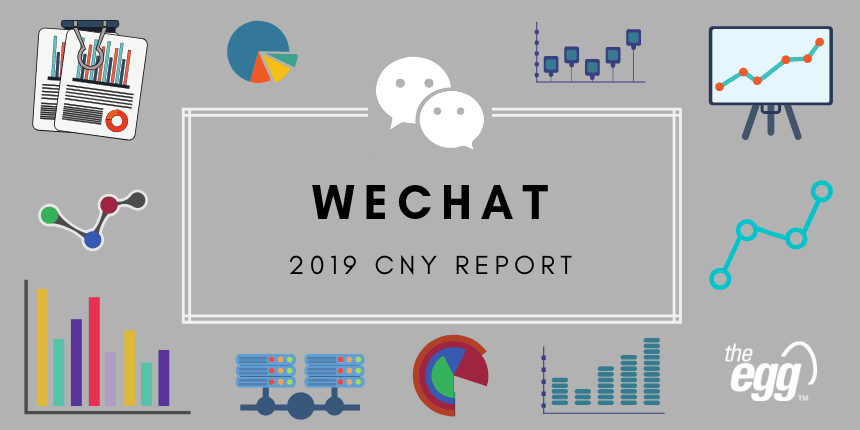 As the most prevalent social platform in China with 2 billion users, WeChat officially released its 2019 Spring Festival data report on February 10, 2019. In this article, we share some of the report's key findings.
Fast Facts
From February 4-9, WeChat daily active users reached 1 billion.
The number of WeChat messages increased by 64.2% year-on-year.
823 million people sent and received WeChat red packets.
WeChat Run users walked a combined 9.63 trillion steps.
Over 31% of WeChat users born after 1990 travelled abroad during Chinese New Year 2019.
On Chinese New Year's Eve, WeChat usage, messaging, and WeChat Moments posts peaked.
Users born after 1990 were the most active WeChat user demographic during Spring Festival 2019.
France entered the top 10 foreign countries with the greatest spending volume over WeChat Pay.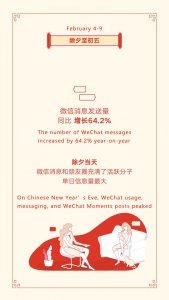 Brief Discussion
Users born after 1990 dominated WeChat usage over CNY 2019: They sent the most WeChat messages, made the most WeChat Moments posts, posted the most stickers, and shared the most WeChat red packets.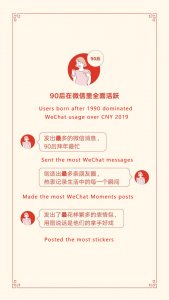 This CNY, 31% of WeChat users born after 1990 travelled abroad. Hong Kong, Macau, and Bangkok were still the most popular destinations for Chinese outbound travel. With the distribution of WeChat Pay in Europe, France became the first European country to enter the top ten WeChat Pay destinations.
Earlier this year, WeChat Pay, in cooperation with the Galeries Lafayette Group's BHV Marais, launched a smart department store solution aimed at meeting Chinese tourists' needs, including an innovative pop-up store celebrating the Chinese New Year. The store offers Chinese consumers at BHV Marais more diverse and personalized products and services while giving them access to an iconic shopping experience.
For European brands, if you would like to explore the Chinese market, now is a good time to open your WeChat official account and WeChat Pay. There is huge potential for Chinese consumption with WeChat Pay.
Want to target China, the world's largest consumer market?