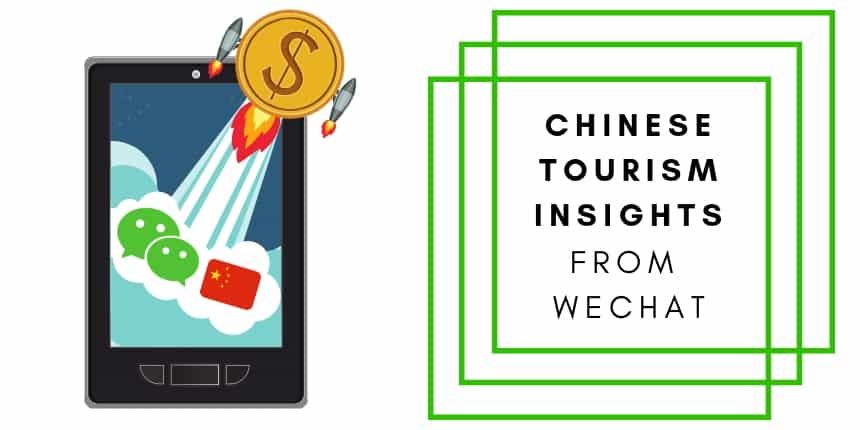 On Oct. 8, 2018, WeChat released a report on user behaviors during the Chinese National Day holiday, also known as the October Golden Week, which gives 7 days of public holiday. During this time, people are increasingly choosing to travel long distances, especially abroad. And this year saw some interesting trends. Let's dive in.
WeChat plays an important role for Chinese travelers
Ctrip predicted that over 700 million Chinese tourists would go overseas during the 2018 holiday, up 10% from last year. Meanwhile, WeChat's report shows that WeChat Pay is available in over 40 countries, and more Chinese tourists chose digital pay while traveling than ever before.
Thailand was the top foreign country using WeChat Pay this year. The remaining 9 of the top 10 include Japan, Korea, Australia, Canada, New Zealand, Singapore, America, Vietnam, and Indonesia. These are popular travel destinations for Chinese people.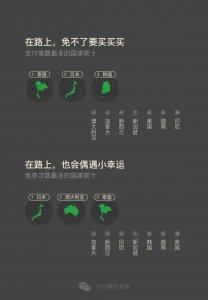 Top 10 countries using WeChat Pay
Source: WeChat
WeChat Pay is an essential part of B2C social media marketing. The availability of WeChat Pay impacts a customer's purchasing decision and is a key conversion factor.
Online transactions reached CNY ¥1.58 trillion
Each WeChat Pay transaction requires a China UnionPay card. China UnionPay released its 2018 National Day Golden Week UnionPay transaction data. During that period, the total amount of UnionPay online transactions reached CNY ¥1.58 trillion, and the total number of transactions reached 794 million, up an average of 31.9% and 24.5% respectively from last year.
UnionPay also found that outbound travel along the "One Belt and One Road" increased. Here are more insights from overseas transactions made with UnionPay cards during Golden Week:
Mobile payment in general is favored by tourists
On October 7, Alipay released a report showing that outbound travel and mobile pay is increasing for Chinese tourists. Fuzhou's 70% per capita travel consumption growth rate made it the fastest growing city for overseas mobile payment. Other second-tier cities were close behind: Hangzhou (50%), Wuhan (31%), Tianjin (30%), Chengdu (26%), and Chongqing (21%). The leading first-tier cities included Shanghai (60%), Beijing (45%), Shenzhen (28%), and Guangzhou (27%).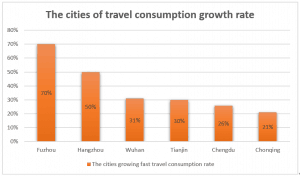 Data Source: Alipay
The number of 50+ year-old Chinese tourists using mobile pay while traveling overseas increased 90%; The average per capita consumption by the 30-48 year-old age demographic increased 35%.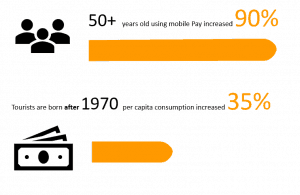 Data Source: Alipay
Alipay published the world's top destinations using digital pay:
Osaka Dotonbori Commercial Center, Japan: Mobile payment grew 90 times greater than last year
Sydney International Airport, Australia: Mobile payment grew 70 times greater than last year
Osman Street, Paris, French: Mobile payment grew 55 times greater than last year
Suvarnabhumi Airport, Bangkok
Toronto, Chinatown, Canada
Kuala Lumpur International Airport, Malaysia
The MALL Village in Florence, Italy
Flushing, New York, USA
Myeongdong commercial center, Seoul, South Korea
The mobile transaction volume of department stores, restaurants, supermarkets, hotels, and transportation also increased significantly this year.
Chinese tourism destinations are more dispersed
Long-distance destinations, such as Europe, the United States and Australia, are popular among Chinese tourists. The volume of transactions in emerging destinations, such as Mauritius, Morocco, Belgium and Iceland, has increased significantly. Along with the "One Belt and One Road," Cambodia, the Middle East, and Russia also grew in Chinese tourism numbers by about 30% since last year.
Shopping travel gives way to leisure and experiential travel
Self-funded tourism was more localized, and the amount of UnionPay (and, in fact, all digital pay) transactions for overseas transportation, entertainment, supermarkets, restaurants, and accommodation continued to grow.
Over 10 million users born after 1980 walked less than 100 steps a day
Another interesting finding from the WeChat report is that while many people are keen to travel during the 7-day holiday, some would rather stay home.
WeChat has a function called WeRun, which records your walking steps every day. According to the report, 21 million users walked less than 100 steps a day, 56% of which were born after 1980.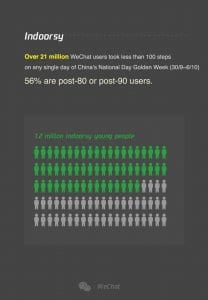 The top provinces of people who walked less than 100 steps
Source: WeChat
The report also shows that users born after 1980 enjoyed their home time, reading and/or watching films. Most of this demographic is from the Guangdong province, with Jiangsu, Shandong, Zhejiang, and Liaoning rounding out the pack.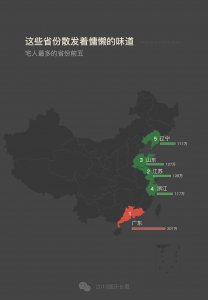 The top provinces of people who walked less than 100 steps
Source: WeChat
Another report from Tuniu, an online Chinese travel agency, found that during Golden Week 39% of Chinese tourists were 26-35 years old and 24% were 36-45 years old.
The number of tourists under 26 years old decreased. The agency found two determining factors for this: 1) the travel cost is higher during Golden Week; and 2) they would rather travel during off-season, which offers lower prices but still good experiences.
Over all, given these behaviors during the National Day holiday, marketers must consider different strategies for different audiences.
We can help you target the Chinese demographic.