Can Taobao links be shared on WeChat? Learnings from Double 11 2021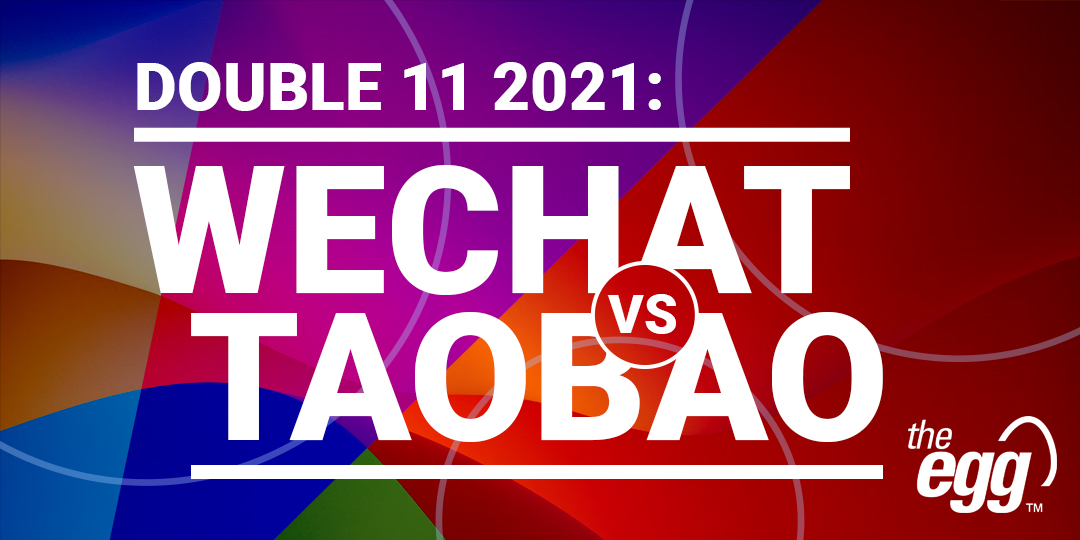 In the lead-up to this year's "Double 11" shopping festival, China's massive spending holiday, Alibaba announced it was testing a new feature for its e-commerce app Taobao that lets users share their shopping carts directly to WeChat.
Tencent, however, has yet to recognize or reciprocate Alibaba's initiative.
WeChat is the most prominent social app in China. With 1.25 billion users, it has proven invaluable to Chinese e-commerce giants—except Taobao. Since WeChat blocks Taobao links (and continues to do so), its users can only open them by copying Taobao product codes from WeChat and pasting them into the Taobao app.
Currently, WeChat Moments, group chats, and mini apps all remain gated to Taobao, despite the latest move by China's Ministry of Industry and Information Technology (MIIT) to curb monopolistic behaviors in the country's internet sector, namely by mandating tech giants—including Alibaba, Tencent, and Huawei—to refrain from link-blocking.
Here, let's explore why Alibaba wants to expand its WeChat reach beyond product codes and how this will affect your marketing in China, the world's #1 consumer market.
Can Taobao Links be Shared on WeChat?
As of 2021, Taobao product links cannot be shared on WeChat–apart from in private chats–as WeChat continues to block external links from Taobao: WeChat Moments, group chats, and mini apps all remain gated to Taobao and numerous Alibaba apps.
However, Taobao product codes are still shareable on WeChat.
What are Taobao product codes?
Taobao launched its product codes in 2015 to attract more traffic from WeChat, popularizing the catchphrase: "Copy this code and open Taobao".
Taobao codes contain both Chinese and English characters and highlight shop names and product information. These codes have gradually changed over the years; previously composed of both pinyin and traditional Chinese characters, they are now standardized to show only Chinese and English characters.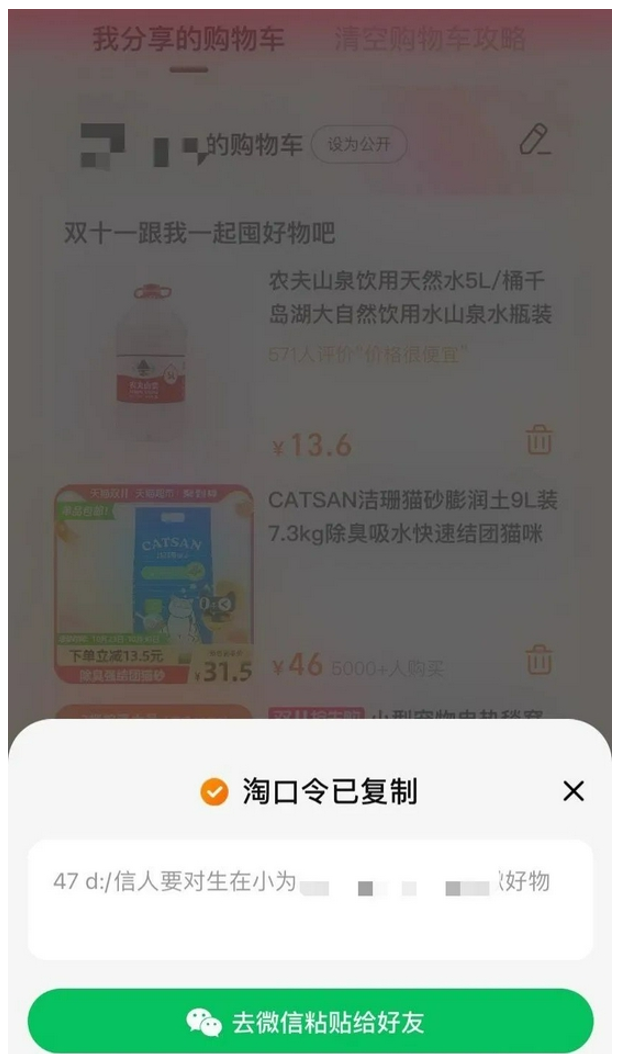 A Taobao code generated on Taobao
Why does Alibaba want to expand its WeChat reach beyond product codes?
As mentioned, WeChat blocks users from opening Taobao product links on its platform.
At the same time, you cannot open Taobao or Tmall links directly from a WeChat official account belonging to a merchant you wish to purchase from, making it necessary—and quite finicky—to copy and paste Taobao codes from WeChat to Taobao.
However, Taobao codes are often met with skepticism—some are too difficult to comprehend, while others are even referred to as "Martian language" (火星文). And without any prompts from senders, recipients can easily misconstrue them as spam.
Similarly, WeChat also blocks Douyin users from sharing Douyin-native content on its platform, leaving them no choice but to copy, share, or download videos through a Douyin-generated code. ByteDance—Douyin's parent company—even disclosed that more than 49 million daily users are blocked when sharing Douyin content on WeChat and QQ.
By contrast, firms where Tencent is a major stakeholder—like JD.com, Pinduoduo, Vipshop, Meituan—are exempt from WeChat's link-blocking activities.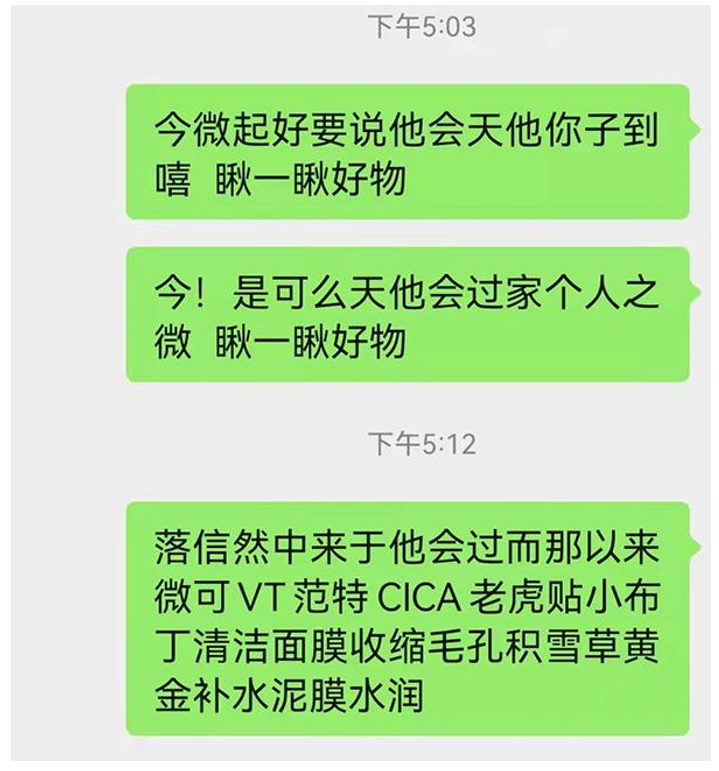 Taobao product code copied and pasted onto WeChat
Why is Alibaba eyeing WeChat's traffic potential?
Among Taobao's biggest obstacles is its compatibility issues with WeChat. For instance, on the Taobao app, there is only one payment method: Alipay.
On the flipside, other Tencent-associated platforms like JD.com, Meituan, and Vipshop exclude Alipay and only accept WeChat Pay, in addition to their own payment methods. This stands in stark contrast to other smaller platforms that accept at least two major payment methods: Alipay and WeChat Pay.
This also explains why Alibaba is so eager to strengthen its connectivity with WeChat, particularly given the high traffic crossover during this year's "Double 11" shopping festival.
For instance, two of Taobao's top broadcasters—Jaqi Li (李佳琦) and Ya Wei (薇娅)—shared product promotion lists on WeChat that attracted at most 2,600 users to browse them at a single time.
However, Tencent's conflict of interest as a stakeholder of Pinduoduo—another major player in China's e-commerce scene—may explain its reluctance to cooperate with Taobao.
WeChat still blocks Taobao links: How might this affect your digital marketing in China?
According to research by Wanlian Securities, the gross merchandise value (GMV) of beauty brands across Taobao in September 2021 fell 28% year-on-year (YoY). Among them:
GMV for skin care brands decreased by 18% YoY and 17% month-on-month (MoM).
GMV for cosmetics brands dropped by 44% YoY and 23% MoM.
The research attributed these drops to the greater traffic seized by Douyin and Kuaishou; both short video platforms gaining popularity among beauty product consumers.
Around this time, China International Capital Corporation (CICC) also measured the traffic and transaction volumes initiated via WeChat for Taobao compared to other e-commerce platforms like Meituan, JD, and Pinduoduo.
It found that WeChat's contribution to Taobao's traffic and transaction volume was a mere 6.3% and 2.6%, respectively. By contrast, Meituan, JD, and Pinduoduo accounted for 34.3%, 18.9%, and 33% of total WeChat traffic, respectively.
Ultimately, with the current link-sharing of Taobao items—via Taobao codes—limited to WeChat's private chats, Taobao has only scratched the surface of the social platform's expansive and sophisticated userbase—and is hungry for more.
***
While Taobao links are still blocked on WeChat, with further developments in China's ongoing antitrust campaign, it may only be a matter of time before WeChat opens its ecosystem to Taobao—and brands that promote and sell on the platform can reap the rewards of WeChat's humungous traffic.
Ready to maximize your digital marketing in China?