SERP Features on Yahoo! Japan: From Chiebukuro to NAVER Matome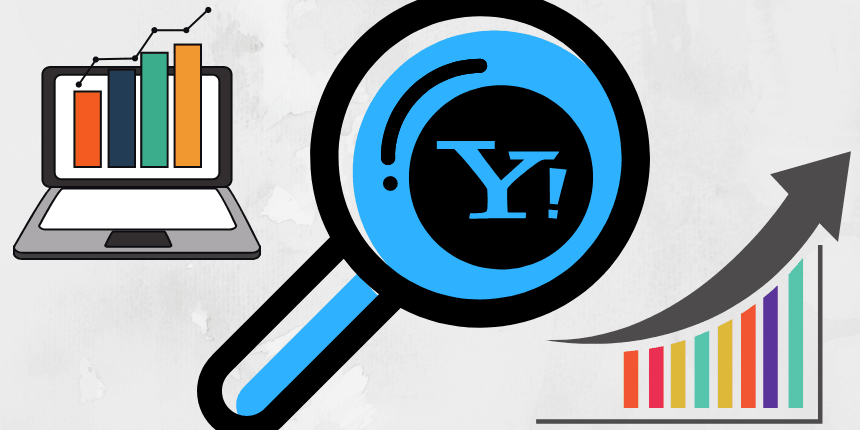 Despite Google being the dominant search engine in Japan, Yahoo! has remained a strong competitor due in part to its smart integration with individual platforms, such as Yahoo! Chiebukuro and NAVER Matome.
The popularity of Yahoo! Japan may also lie in how it differentiates itself from Google. In this article, I will introduce some of the internal and external SERP features to help you understand the characteristics of Yahoo! Japan and target Japanese users.
1. Landing Page Format
As shown below, Google focuses on minimalism, whereas Yahoo! Japan follows a traditional web portal format that allows users to immediately access a variety of content.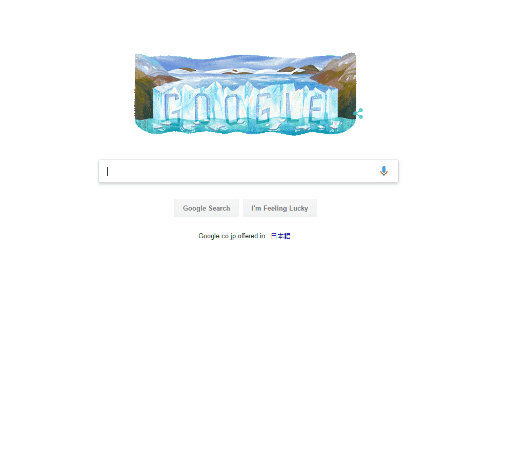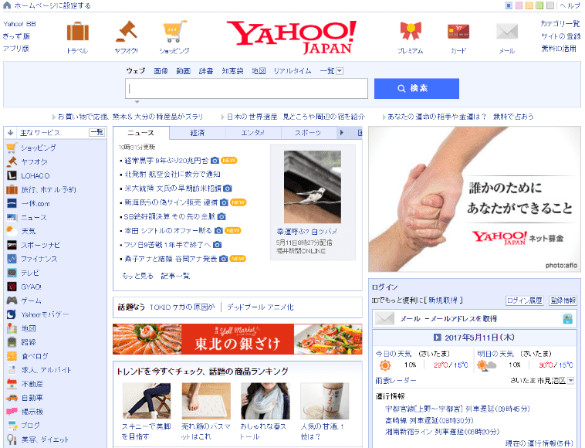 Google Japan Homepage (left) & Yahoo! Japan Homepage (right)
In fact, some of the most successful websites in Japan, such as Rakuten and DMM, use a similar design. This format is popular among Japanese users, which is why the Yahoo! Japan platform consists of shopping, online games, auctions, finance, and many other categories that provide recent and popular information.
2. Internal Vertical Search Results
Yahoo! Japan has several useful features that collate content from external sources and are popular among local internet users: Yahoo! Chiebukuro, Yahoo! Shopping, Yahoo! Loco, Yahoo! Maps, Yahoo! News, and Yahoo! Auctions. Each of these platforms has different features that provide users a comprehensive search experience.
2.1 Yahoo! Chiebukuro
Like Quora.com and Yahoo! Answers, Yahoo! Chiebukuro is a question and answer (Q&A) platform that allows you to communicate with other users by asking and answering all different types of questions.
There are over 500 million Q&A pages (as of January 2017), which makes it one of the most popular knowledge and community platforms in Japan. Although Yahoo! Japan has not revealed its ranking factors, pages with "Chiebukuro" domains are often displayed when typing long-tail search queries (especially in a question form).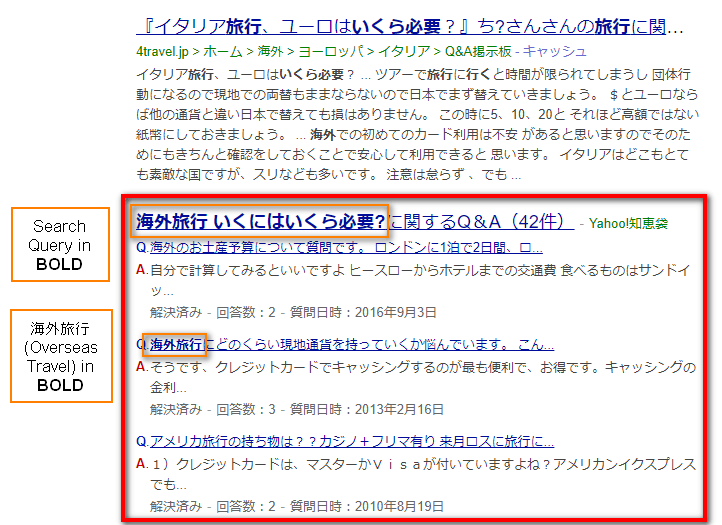 Yahoo! Chiebukuro SERP Feature – Overseas Travels
In this case, the search query is "how much would I need to go on vacation overseas?" As you can see, the keywords that are implemented for the search are written in bold to emphasize the relation to the indexed Q&A pages.
The screenshot below shows other elements that are displayed on the Yahoo! Chiebukuro SERP feature.

Yahoo! Chiebukuro – SERP Feature
Many of the posts that are being displayed on the search results are from high-quality account users. This indicates that the better score you have on a profile, the more likely your content will be indexed on the search results. Activity data is measured based on the quantity and quality of the Q&A.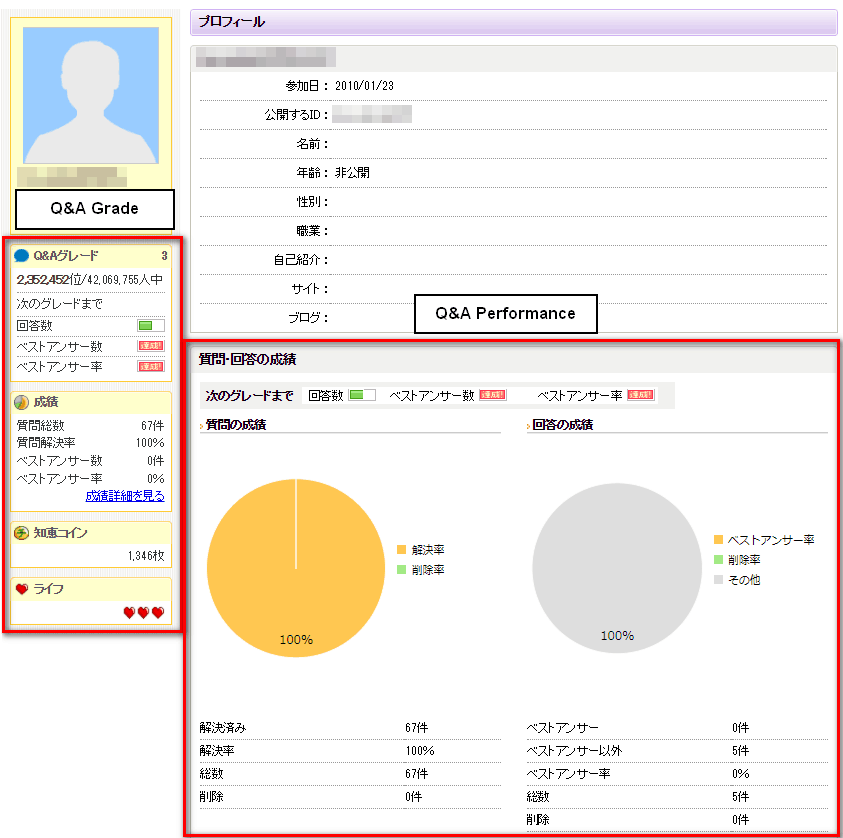 Yahoo! Chiebukuro – Q&A Criteria
In some cases, despite a low-quality score, a page is shown on the search results due to many answers and views on a thread. In addition, recent publishing dates are considered a likely factor for Yahoo! Japan to pick up your landing pages.
To improve your quality score, you must meet Chiebukuro's quality criteria by answering questions on other users' threads and creating quality threads to engage with other users.
2.2 Yahoo! Shopping
Yahoo! Shopping is an online shopping service that provides items from a variety of shops and individual sellers. Like Amazon and eBay, you can sell products at any cost or purchase items at any time. This vertical search result has 2 features that direct users from the SERP to the Yahoo! Shopping platform.
A. Generic Keywords
Product categories are often displayed on the vertical search results when a user types generic keywords on search queries. Like the sitelinks on Yahoo! AdWords and Quicklinks on Yahoo! Promotional Ads (paid search platforms), they provide users with easier access to what they are looking for. For example, when a person searches for "bags" on Yahoo! Japan, the SERP feature displays types, targets, brand names, and the characteristics of each bag.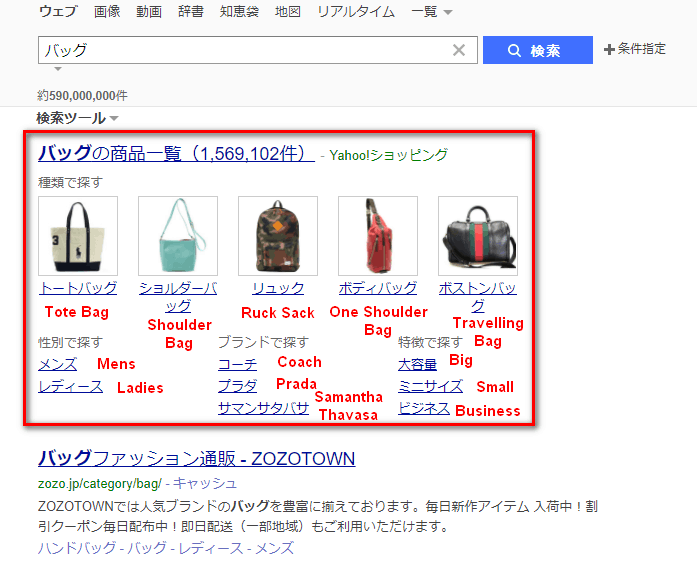 Yahoo! Shopping SERP Feature – "バッグ" (bags)
Depending on the search query, Yahoo! Shopping displays differentiated results. Using "hats" as another example, the SERP displays the fabrics of hats instead of the brand (compared with the categories shown for the search term "bags").
Note: This SERP feature only activates on certain keywords.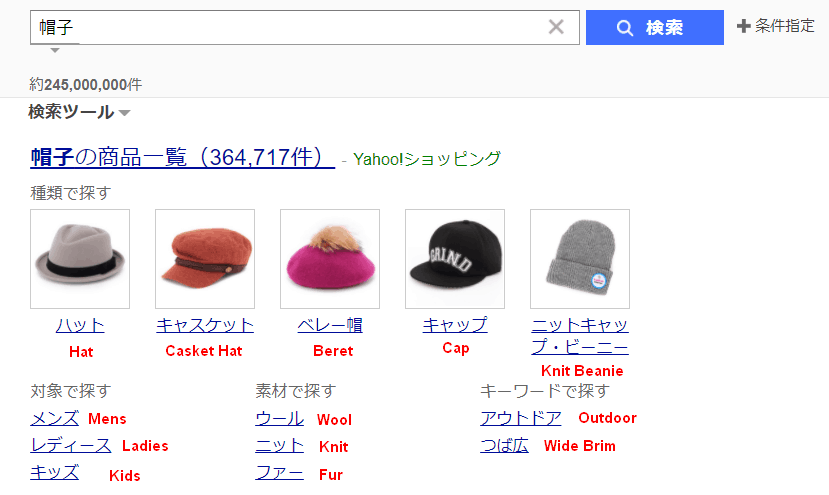 B. Descriptive Keywords
When utilizing descriptive and more specific keywords such as "shoulder bags" on search queries, Yahoo! Shopping displays 10 popular items being sold on the platform. It convinces users to click on the link by displaying the picture, price, characteristics, and ratings of the product.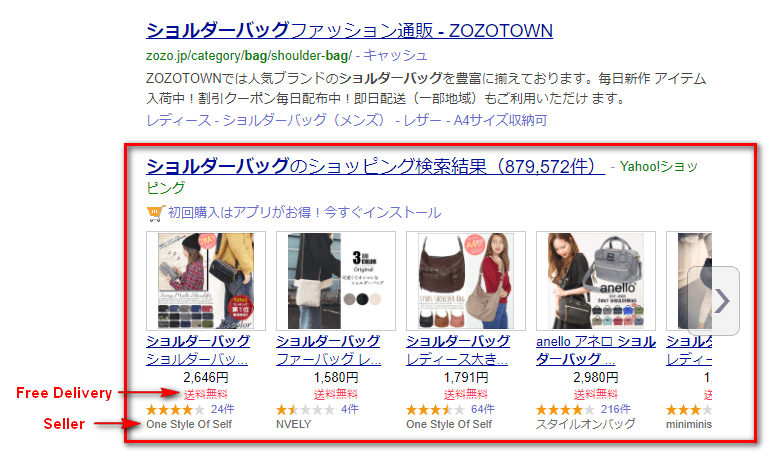 Yahoo! Shopping SERP Feature – Shoulder Bags
Since the Yahoo! Shopping ranking is calculated by its individual algorithm, there is not much you can do organically for your product to be displayed on the SERP. According to Yahoo! Shopping, the ranking factor is based on the product demand and purchase history of each customer and the  sales promotion expenses paid by stores.
One way that may help your product appear at the top of the page and be displayed on the SERP feature is to run a paid ad called "Store Ichioshi" (ストアのイチオシ).
It focuses only on the Yahoo! Shopping platform, where you can bid on keywords related to your product. This will help your product rank higher on certain keywords, which gives a better chance of being displayed on the vertical search results of Yahoo! Japan.
Clicking the product link on this feature will send you to a specific landing page about the product on Yahoo! Shopping.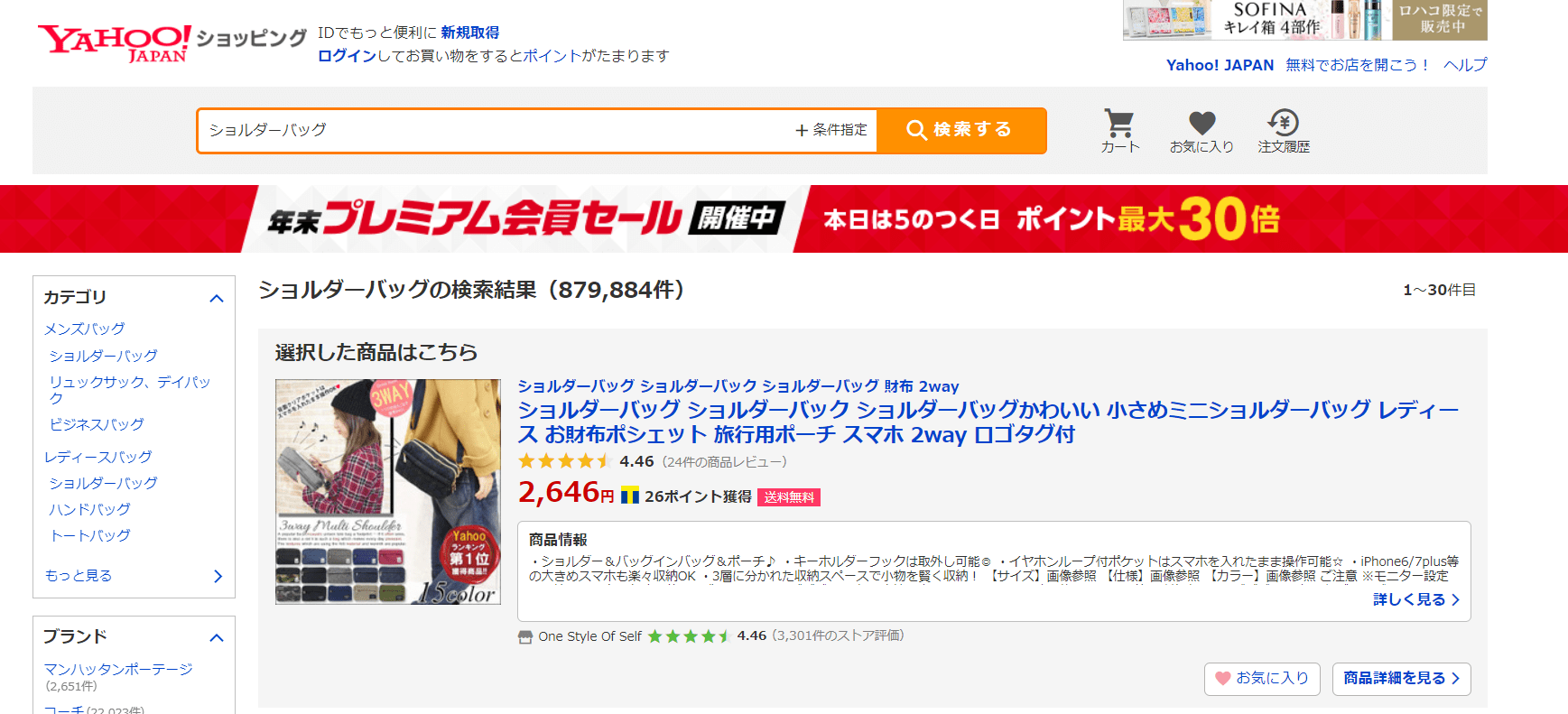 Yahoo! Shopping Landing Page – Shoulder Bag
2.3 Yahoo! Loco + Yahoo! Maps
Yahoo! Loco is a regional information website integrated with Yahoo! Maps to inform users about location-specific queries. Like Google Maps vertical search results, the feature displays popular places or services in a nearby or exact location depending on the search query.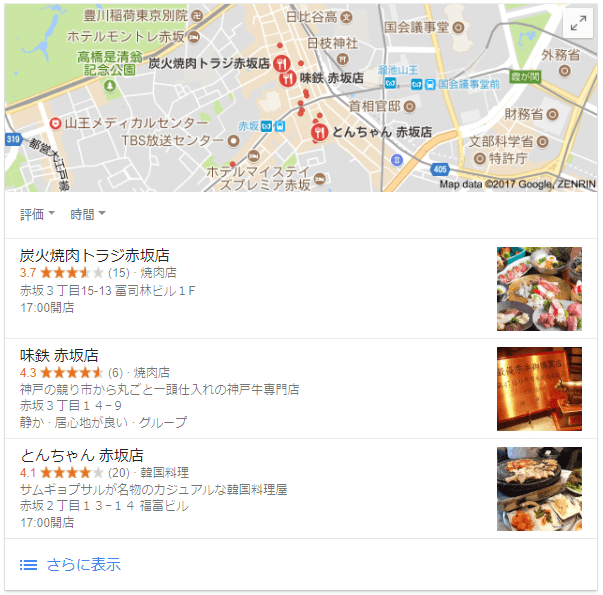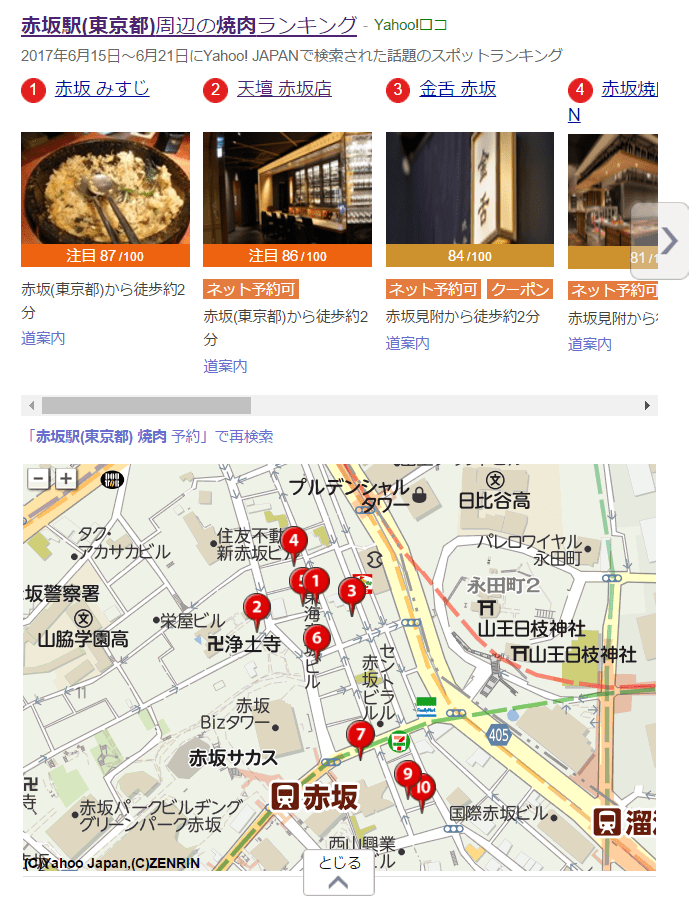 Yahoo! Loco (Yahoo! Maps) & Google Maps: 赤坂 焼肉 (Akasaka Yakiniku)
To get your business on Yahoo! Loco, submit your business information by registering for a Yahoo! Japan ID. In addition, if you are an owner of a restaurant or a café, registering for Yahoo! Dining may be useful to improve your rankings on vertical search results.
2.4 Yahoo! News
Google Japan displays recent top stories mainly from authoritative online news sources, such as Nikkei, Sankei, and NHK. Yahoo! News does not index external sources for its vertical news search result. Instead, the search engine uses its internal source Yahoo! News to promote its news content.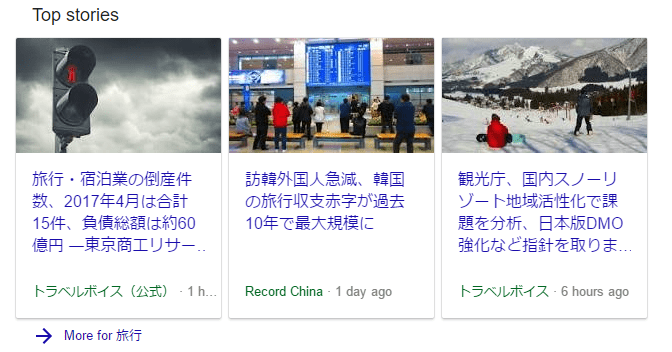 Google Japan – Top Stories

Yahoo! News – Topics
From this, Yahoo! Japan acquires a large amount of traffic and increased page views within its own domain.
2.5 Yahoo! Auction
Yahoo! Auction is an online auction service where any user can sell or buy a product through the process of bidding. It is the most popular auction service in Japan with over 50 million items (as of December 2017). Like Yahoo! Chiebukuro, there are many ranking factors that need to be considered. To display your product on the vertical search results, the number of users bidding on the product and the rating on the user profile must be high. It also helps if the date of the last bidding day is close (up to 5 days).

Yahoo! Auction – "バイク" (Bicycle)
3. External Vertical Search Results
3.1 NAVER Matome
In 2013, Yahoo! Japan announced a partnership with NAVER Matome, a curation platform where users can create articles on any topic they desire by gathering information through links, videos, and images.
With approximately 2.6 billion monthly users (as of June 2016), it is hugely popular among Japanese internet users. Users can even receive remuneration on NAVER Matome by writing high-quality content, which in turn benefits searchers who have more useful content available to them online.
Yahoo! implemented a new algorithm to generate crawl and index on the vertical search results to increase the number of users.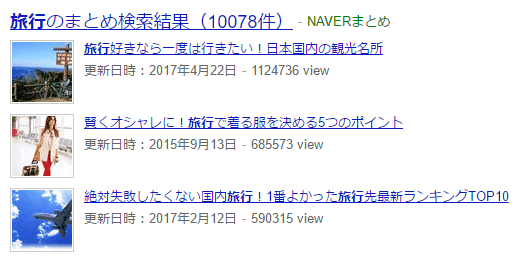 Yahoo! Japan – Naver Matome: "旅行" (Travel)
Although there is no specific data on ranking factors, one of the most common assumptions is that the amount views on the content page is a prominent ranking factor. As you can see above, all three pages have over 500,000 views. In addition, like Yahoo! Auctions and Yahoo! Chiebukuro, you can assume that content freshness is an important factor for the pages to be displayed.
3.2 Real-Time Search
Yahoo! Japan also implemented a real-time search service that displays posts from Facebook, Twitter, and Instagram. This special algorithm is only used on Yahoo! Japan. It started off with only Twitter in 2011, but with a significant increase in Facebook and Instagram users, the company introduced an update on all three social media platforms.
For a social media post to be shown on this platform, each account must be set as public for Yahoo! algorithms to crawl and index. Here are a few criteria that must be followed:
Twitter posts must be in Japanese.
Instagram accounts must be popular with at least thousands of followers.
Facebook accounts must be set to "public."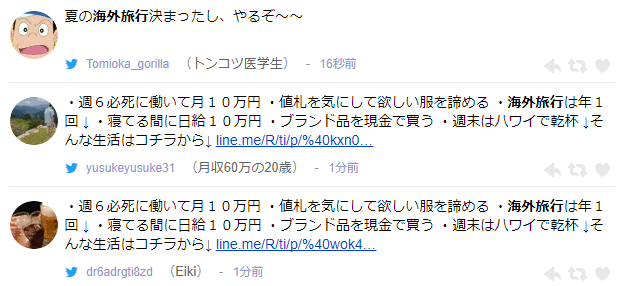 Yahoo! Japan – Twitter Results: "海外旅行" (Overseas Travels)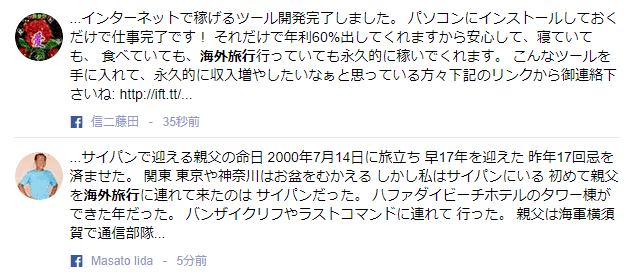 Yahoo! Japan – Facebook Results: "海外旅行" (Overseas Travels)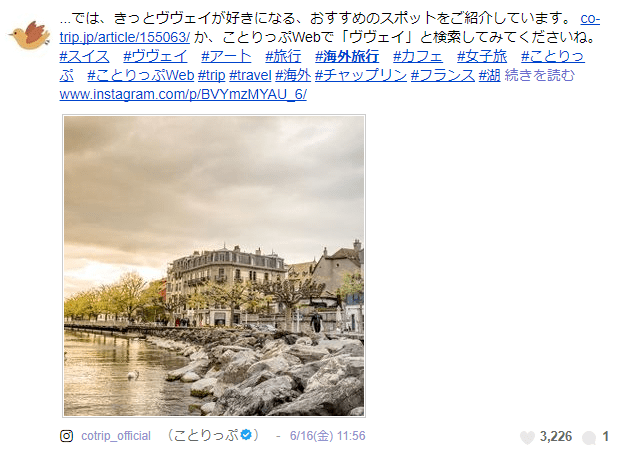 Yahoo! Japan – Instagram Results: "海外旅行" (Overseas Travels)
4. Popularity of Yahoo! Japan
Yahoo! Japan's constant updates on internal and external vertical search result features may be the reason behind the popularity of Yahoo! in Japan. The search engine leaves searchers with a positive user experience by generating a variety of content through both internal and external platforms. These effective vertical search results provide users with faster access to the information they are looking for.
We can help you target Japanese consumers.