3 Tips for Voice Search Optimization (VSO) in Japan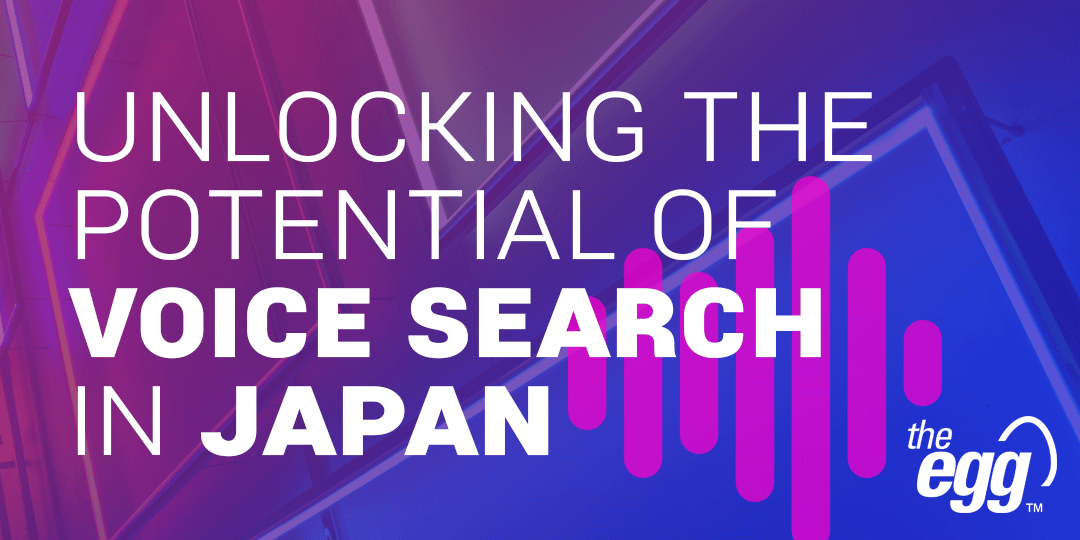 Voice search is rapidly gaining popularity in 2023, providing users with an alternative way to search for information by speaking to smart speakers or search engines instead of typing out their queries. Leading voice assistants like Google Assistant, Alexa, and Siri are driving this trend.
As the relationship between generative AI and search engines evolves, we can soon expect even more advanced voice search experiences from platforms such as Microsoft Bing and Google's Search Generative Experience (SGE).
In Japan, although users have been slower to adopt voice search, it's now gaining momentum. As a result, businesses operating in the region must adapt their strategies to stay ahead of the curve.
In this article, learn the essential tips and tricks to enhance your voice search optimization (VSO) to improve your website's visibility in voice search results in Japan.
Fundamentals of Voice Search
What is voice search?
Voice search is a method of finding information on the web with use of a smart speaker or search engine—clicking on the voice icon beside the search box and verbally articulating the query.
What is Voice Search Optimization (VSO)?
Voice Search Optimization (VSO) refers to the process of making a website and its content more comprehensible to search engines that support voice search. With voice search enabling users to articulate their search queries to devices, implementing VSO can help you attract more interested users, amplify your online visibility, and increase conversions.
Voice Search in the Global Market
Compared to text-based searches, which involve users inputting search terms into search engines, voice search is being adopted at a faster rate due to its improved versatility and accuracy in delivering relevant search results.
In the United States, for example, it is estimated that around 128 million people use voice assistants at least monthly, which make up 44.2% of Internet users in the US and 38.5% of the total population.
Globally, meanwhile, at least 27% of the online population worldwide uses voice search on mobile according to a study by Google in 2018.
Voice Search in Japan
According to a survey of Japanese attitudes towards voice search conducted in 2017 by KDDI, a major Japanese telecommunications company, 71.1% of the respondents said they would feel embarrassed to conduct voice searches in public.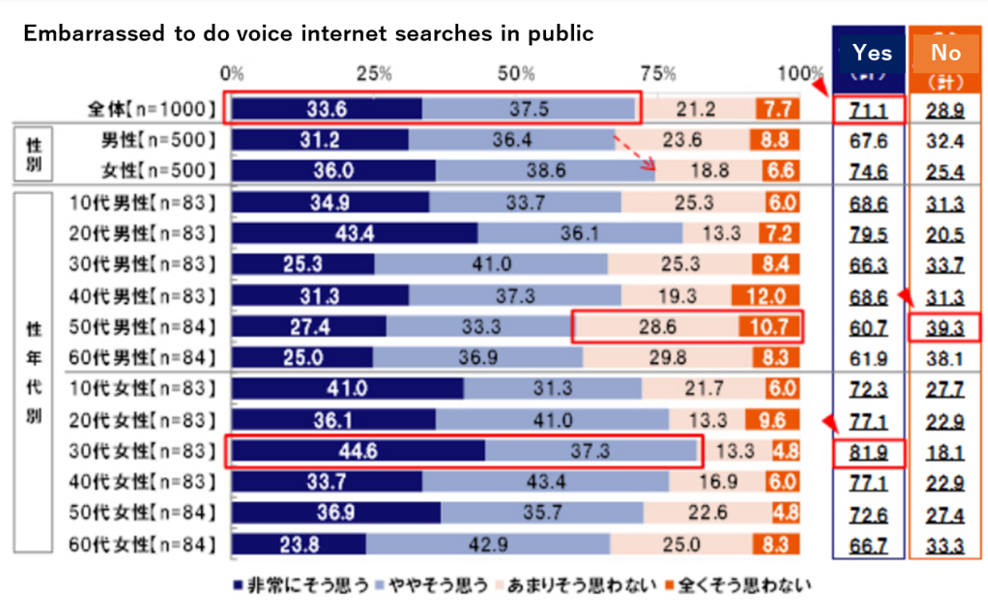 Survey of Japanese attitudes towards voice search show by age group and gender (KDDI, 2017)
Another survey conducted by the Japanese media company IID Inc. also found that users in Japan are less inclined to use voice search assistants compared to users in China and the United States.
Together, these observations highlight how reserved Japanese users are when adopting voice search in their daily lives compared to users from other countries. This trend can be attributed to the trait of Japanese culture that stresses being considerate of others in public spaces.
Conversely, it's also worth noting that about 50% of Japanese users find text-based searches cumbersome. Therefore, if voice search can provide more precise results, it is likely that they will find its convenience valuable and become more inclined to adopt it.
WANT DIGITAL INSIGHTS STRAIGHT TO YOUR INBOX?
3 Tips for Voice Search Optimization (VSO)
Tip #1: Create a Mobile-Friendly Website
Users who utilize voice search tend to do so through mobile devices like smartphones and tablets. Thus, one of the most critical steps towards VSO would be creating a website that is mobile-friendly.
As a rule of thumb, your website should adhere to the following mobile-first indexing best practices.
Create a Responsive Web Design
Google strongly recommends optimizing for screen size on your website while ensuring it delivers the same HTML code with the same URL regardless of the user's device type.
Adopt Dynamic Delivery
Maintain a consistent URL across all devices to avoid having different URLs for the same content on desktop and mobile.
Separate URLs
This configuration involves serving distinct HTMLs to each device and using separate URLs. Like dynamic serving, it utilizes the user-agent and Vary HTTP headers to redirect users to the most suitable version of your site based on their device.
Pro tip: To ensure your site is optimized for mobile devices, we recommend running it through Google's Mobile-Friendly Test Tool.
Tip #2: Create a FAQ Page
In VSO, creating a frequently asked questions (FAQ) page can be highly effective in attracting valuable traffic since users tend to ask questions off the top of their heads when using voice search.
By crafting a well-designed FAQ page that comprehensively addresses these questions, you can improve your likelihood of ranking higher on voice search results.
When creating an FAQ page, keep the following in mind.
Identify Questions Your Users Might Ask
To identify FAQs users may have, whether directly about your business, products, or services, or business, or indirectly, such as about your niche or industry, review sources like Q&A sites, social media, and customer inquiries.
Use Structured Data
By implementing correct markup for your FAQ pages, you can improve their chances of appearing as rich results that typically appear at the top of search results pages. At the same time, doing so makes it simpler for search engines to comprehend and, in turn, index the information on your pages.
Tip #3: Localize Your SEO
To increase the likelihood of appearing in voice search results, especially if you run a physical store, we recommend implementing SEO localization strategies.
Register for Google Business Profile
Google Business Profile is a free service offered by Google that lets you manage your online business listing and all the information associated with it. By creating a Google business profile, you can improve the visibility of your business on search engine results and make it more accessible to potential customers.
Use Local Keywords
To improve the visibility of your website in search engine results related to your region, it's recommended to incorporate local keywords that include the name of your area into your site content.
This can make it easier for search engines to recognize the relevance of your content to the region and increase the likelihood of it appearing in relevant search results.
Want more tips on SEO localization for Japan? Check out our article on how to get your business found on local search in Japan.
***
As voice search and voice recognition technologies continue to evolve and gain popularity worldwide, it's becoming increasingly critical for businesses and marketers to adopt VSO as a key strategy in their SEO to provide a better user experience.
And while the awareness and adoption of voice search is relatively lower in Japan compared to the rest of the world, the Japanese voice recognition market is expected to grow, so incorporating VSO in your Japan marketing strategy will help you stay ahead of the curve.
Ready to maximize your digital marketing in Japan?