How to Get Your Business Found on Local Search in Japan
How to Get Your Business Found on Local Search in Japan – APAC in 3 – Episode 19
A prominent trait of Japanese user behavior is their tendency to use local business search platforms to search for brick-and-mortar store locations—anything from retail stores, restaurants, beauty salons, and more.
Popular examples include Hot Pepper—one of the most-used platforms for local restaurant and beauty salon searches—and Gurunavi, TabeLog, and Retty, all of which specialize in food-related searches.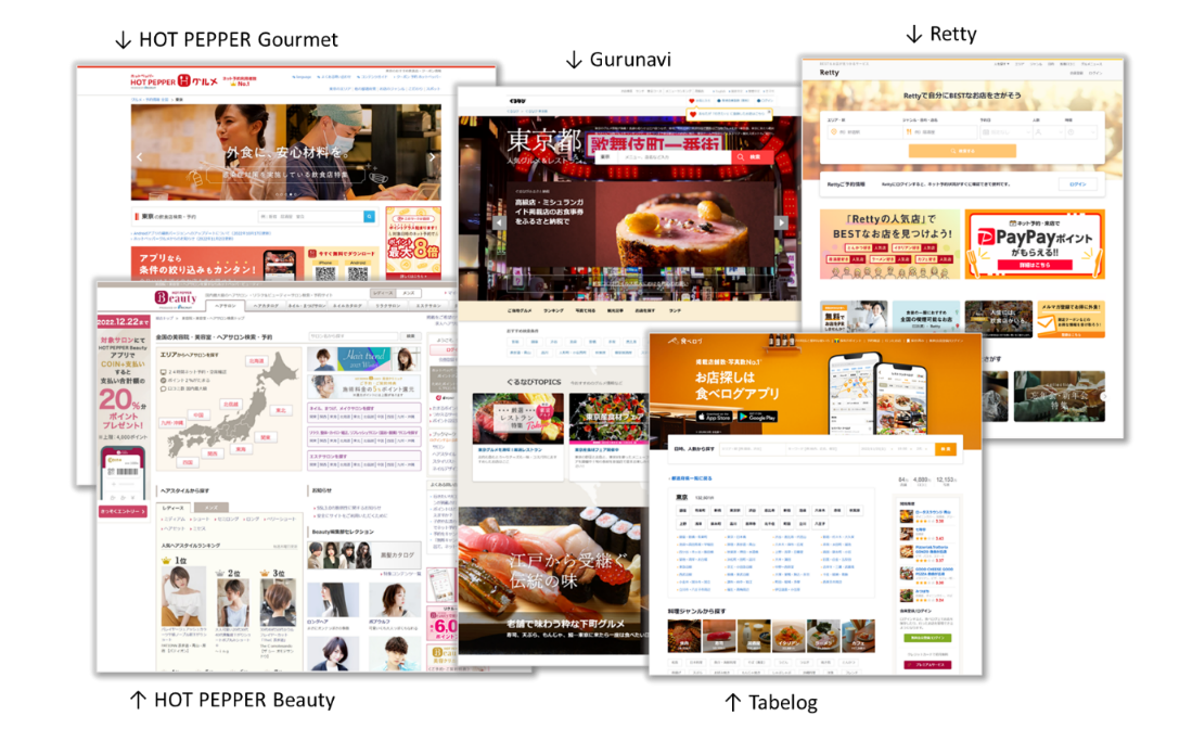 Popular local business search platforms in Japan
But while these platforms are still popular, the use of Google Search (and Google Maps) is becoming more mainstream for local store searches in Japan, particularly for mobile searches—why is that?
In our latest APAC in 3 (EP 19), discover everything you need to know about getting your business found and scaling its presence on local search in Japan. For a more detailed overview, read on!
What changed the local business search landscape in Japan?
To understand this, we need to turn back the clock to early 2018—when the appearance of local search results on search engines began to change on the back of two significant events in Japan that upped the ante for local business search.
More Localization Introduced to Google Business Profiles Prior to Tokyo 2020 Olympics
With Tokyo hosting the Summer Olympics in 2020, Google Japan focused on improving Google Business Profile (formerly Google My Business) to help local businesses cater to the influx of international visitors.
Information about local stores began appearing under queries where they did not previously appear at all—no doubt this change affected the number of organic brand website visits. Google Japan also started applying automated translations to store reviews and held its first closed event (Google Local Guides CONNECT in Tokyo 2018) for top local guides on Google Maps.
More Features Added to Google Business Profiles During COVID-19
The impact of the declared state of emergency by Japan's government in response to COVID-19 was hard-felt among local businesses in Japan, making downsizing or store closure for many brick-and-mortar stores a possible threat and, in many cases, a grim reality.
Over this period, Google Business Profile introduced new features to help store owners better manage their store listings according to the country's COVID restrictions. This included a new service-based model added to the business status (i.e., delivery- or takeout-only) and new restriction-abiding notices (i.e., requirements for temperature checks, seating partitions, product packaging) added to listings.
How do local business search platforms make money?
Below is an example of the typical fee structure of Japan's local business search platforms.
At its core, the operators behind local business search platforms monetize their platforms by charging listing fees from each store it hosts. And while there are free plans that don't require a listing fee, their available features tend to be limited, so paid plans with more features and opportunities for search exposure (by pageviews) are more effective for attracting customers.
The fees are usually undisclosed and visible only to stores that sign the contract. Details of a platform's fee structure can also vary by region. For example, listing fees are relatively more expensive in high-competition areas across Tokyo like Shibuya, Shinjuku, and Ginza. Even though the listing fees per platform are undisclosed, it is common for some stores in popular areas in Tokyo to spend upwards of ¥5 million per year.
With that said, here's an idea of what kind of features usually come with the various paid and free plans.
Free plans: Only your store information is visible, and users cannot make reservations or send inquiries to you through the platform. Overall, stores on a free plan enjoy only limited search exposure within the platform and, in most cases, tend to be small businesses that don't have their own website and use their platform profile as a substitute.
Mid-priced paid plans: Reservations can be made online or by phone from the store's listed information. For the former, platforms generally provide stores with a dedicated dial-in number that appears on its listing. This means that the number on the store's listing may not be its official phone number.
Premium paid plans: Stores with premium-priced plans can typically access the same features available on mid-priced plans but might be guaranteed more prominent search exposure on the platform. In addition, the platform operators may allocate you a sales representative to offer advice and support regarding how to manage your store page and optimize your listing.
Note: For paid plans, if your local business involves customers making appointments, your platform's operators will typically charge you a small commission fee per successful store visit initiated by reservations made on it.
WANT DIGITAL INSIGHTS STRAIGHT TO YOUR INBOX?
Why Google Business Profile is More Important Than Ever…
Google Business Profile has updated its functionality quite drastically to reflect the changes in user behavior and store owners in Japan. In particular, the prominence of Google Business Profile results occupying the top of search results has increased and may affect the appeal of the local business search platforms.
On top of that, with the sales numbers of physical stores generally spiraling downwards from past COVID-19 restrictions, store owners may be urged to reduce costs associated with running paid listings on those platforms.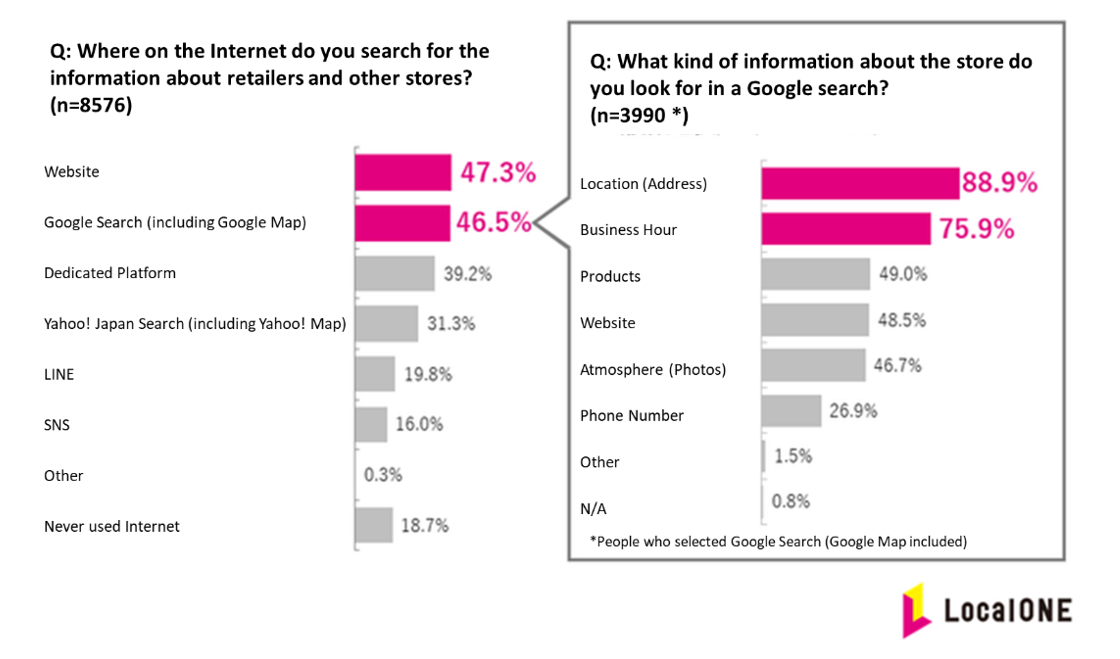 Location and business hours were the two things about a store that a group of Japanese respondents said they searched the most for on Google (Source: One Compath, 2020)
Let's see what this looks like on Google's actual search engine results pages (SERPs) for desktop and mobile.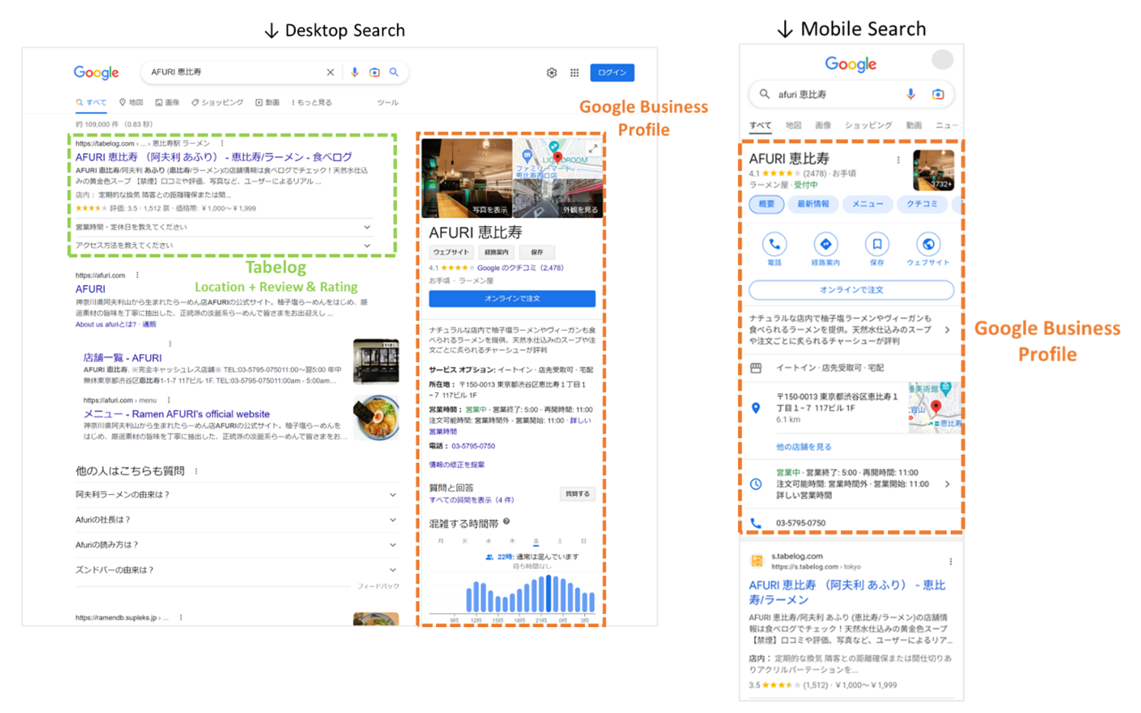 Google SERPs for a popular ramen restaurant "AFURI" in Tokyo on desktop (left) and mobile (right)
For example, while a result from the local business search platform Tabelog ranked first for searches of a popular Tokyo-based ramen restaurant named AFURI, the restaurant's Google Business Profile ranked first on the mobile SERP.
AFURI's Google Business Profile also appeared beside the organic SERP section of the desktop results, pointing to how critical optimizing Google Business Profiles is for local business owners.
Benefits of Using Google Business Profile
Nowadays, businesses can make their listings much more comprehensive with Google Business Profile's host of features, from push notifications, CTAs, performance tracking, and more.
Push Notifications to Customers
This includes the ability for businesses to push notifications for:
Temporary closure or temporary adjustment of business hours
Menu and discount notices
Safety measures reminders (e.g., packaging requirements, sanitation procedures)
Date-specific specials and promotions
Hot-selling items and new arrivals
Upcoming events and promotions
Translated with DeepL Translator
Your establishment's availability of sports game broadcasts. For instance, you could showcase a badge on your listing to Tell your customers you're streaming the World Cup (launched on Nov 10, 2022).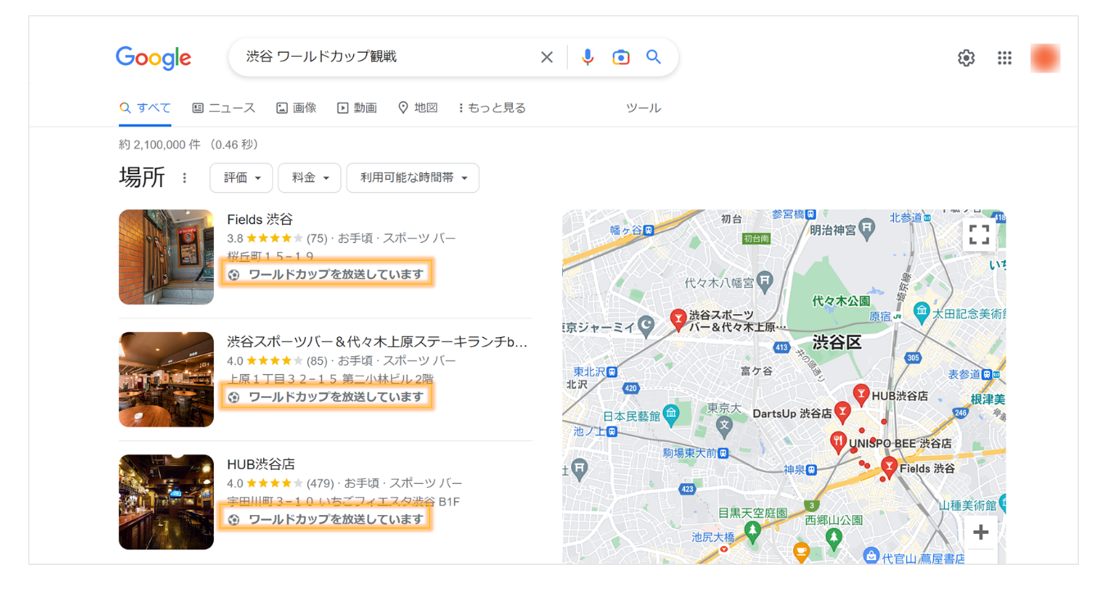 Google's search results for search term "watch world cup games in Shibuya"
Calls-to-Action (CTA)
This includes the ability for businesses to include call-to-action (CTA) buttons for customers to:
Make reservations
Sign-up to your newsletter
Direct to your conversion pages
Reply to other customer reviews
Performance Tracking
This includes the ability for businesses to view stats about:
How many incoming searches were made and via which channels
How users interacted when they first visited your store page
How many times your store photo was viewed
How the number of photos submitted compare to your competitors in the same industry
***
Japan's local business search platforms offer various functions to promote your brand and are now more than just a place to publish store information. Together with your store's Google Business Profile, they form a pivotal engagement channel for customers at the beginning of your funnel.
Ready to maximize your digital marketing in Japan?