Why Bing Search Engine Can't Be Ignored for B2B Marketing in China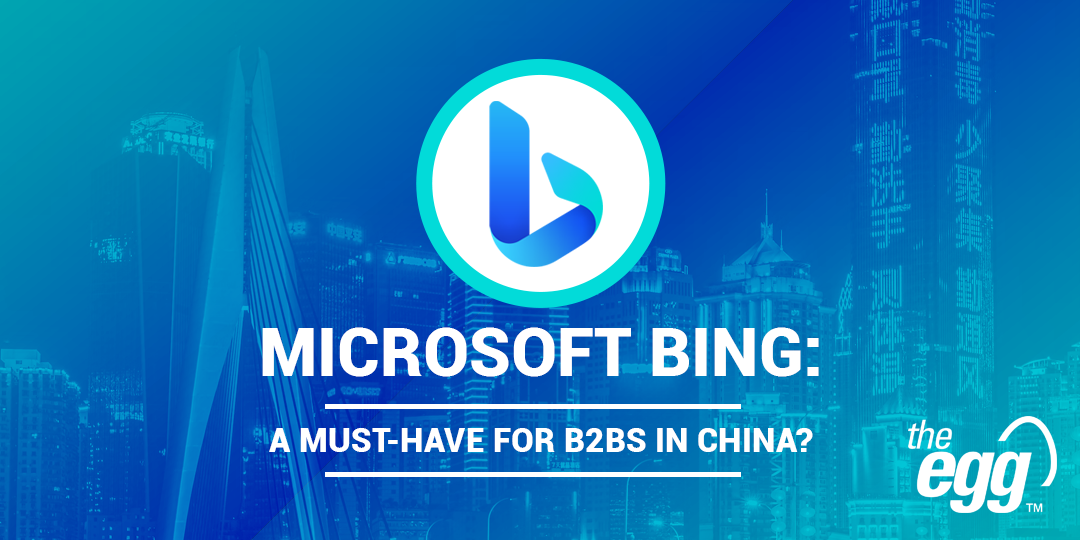 Launched in 2009, Microsoft Bing has since become one of the most popular search engines in the world, providing users with standard search results, as well as image and video search, news search, and maps through its proprietary algorithm.
In contrast to B2Cs that leverage various channels for e-commerce, B2Bs rely more heavily on search engines to direct website traffic and conversions—Bing has become a significant player in this aspect and should not be overlooked.
In this article, we dive deeper into why Bing cannot be ignored for businesses looking to expand their reach in China through B2B marketing.
Bing's Growing Search Market Share in China
When compared to the popularity of Baidu in China and Google in the rest of the world,  Bing is still a relatively small search engine, yet its market share in China rose significantly from 5.6% to 14.7% YoY between February 2022 and February 2023. This jump speaks volumes about the growing appeal of Bing in China.
Bing's rise in popularity can be attributed to several factors, such as its improved search algorithms and user interface and strategic partnerships with Chinese companies. Additionally, its focus on providing localized search results and catering to the unique search behaviors of Chinese users has helped it gain a foothold in the competitive Chinese search market.
On top of that, Microsoft's unveiling of a new version of Bing ("new Bing") in February 2023 that stirred a ton of buzz due to its integration of the generative AI technology behind ChatGPT could be a reason for its recent surge in users—even if Microsoft has not completed its rollout to every user and the fact that ChatGPT is still unavailable in China.
As ChatGPT continues to ascend in popularity new Bing becomes more widely available, Bing's user adoption is likely to increase.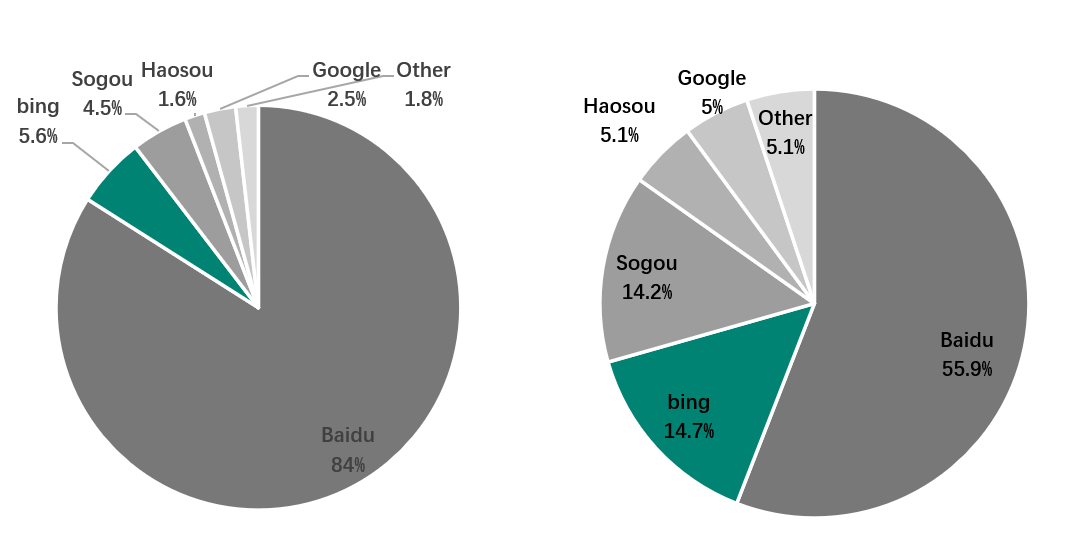 Bing's market share in China's search engine market (Feb 2022 vs Feb 2023)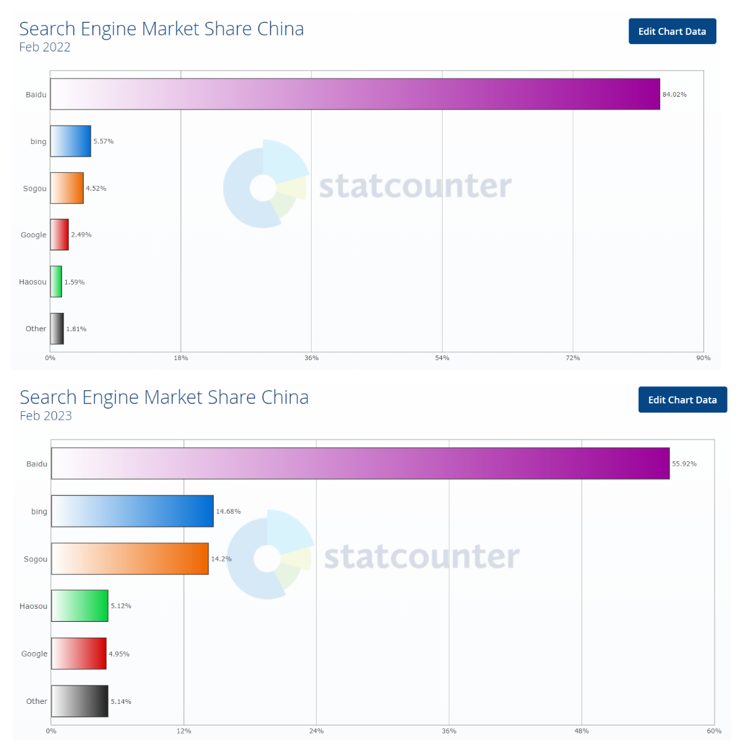 China's search engine market share (Feb 2022 vs Feb 2023)
In fact, Bing was already showing signs of growth from 2021 to 2022. In China, Bing's market share is 3.08% in 2021, growing to 9.63% in 2022. Especially in the second half of 2022, the growth is strong.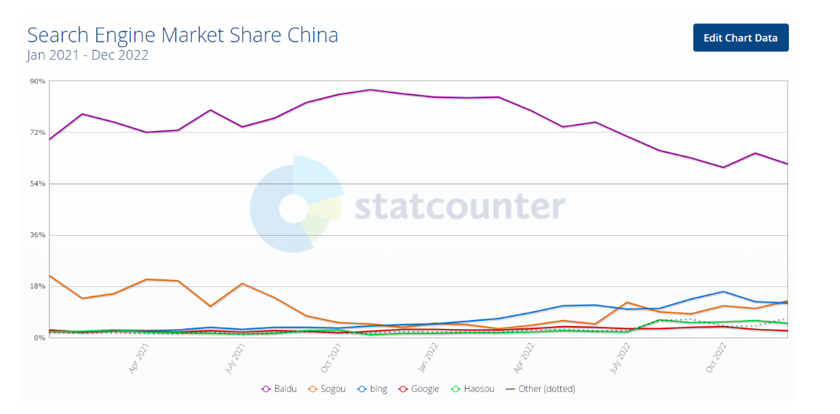 China's search engine market share (Jan 2021 to Dec 2022)
WANT DIGITAL INSIGHTS STRAIGHT TO YOUR INBOX?
Bing Search Index in China Increase
Another way we can validate Bing's user growth over the past two years is by analyzing its search index on Baidu, which provides real-time keyword search volume and trends, as well as insights into user behavior and interests.
Mirroring the upward trajectory of its search market share in the last two years, searches for "Bing" and "必应" (meaning "Bing" in simplified Chinese) rose gradually from 2021 to 2022 and saw a surge in early February 2023 according to Baidu Search Index.

Baidu Search Index: Search volume for "Bing" and "必应" (Feb 2021 to Feb 2023)
In the tables below, you can see that the total year-on-year increases (%) in daily search volumes for "Bing" and "必应" outgrew those for "百度" (meaning "Baidu" in simplified Chinese) in 2022 compared to 2021. This highlights an increasing number of users in China who are showing interest in Bing, which suggests potential higher user adoption of the search engine.
Baidu Search Index (2021 data)

Daily averages and YoY percentage changes of search volumes for "Bing","必应", and"百度"(Jan 1, 2021 – Dec 31, 2021)
Baidu Search Index (2022 data)

Daily averages and YoY percentage changes of search volumes for "Bing","必应", and"百度"(Jan 1, 2022 – Dec 31, 2022)
Furthermore, Baidu and 360 Search ads have been observed to appear more frequently at the top of Bing's search results since the middle of 2022. This implies that Bing has recognized the increasing number of users relying on it for their search queries.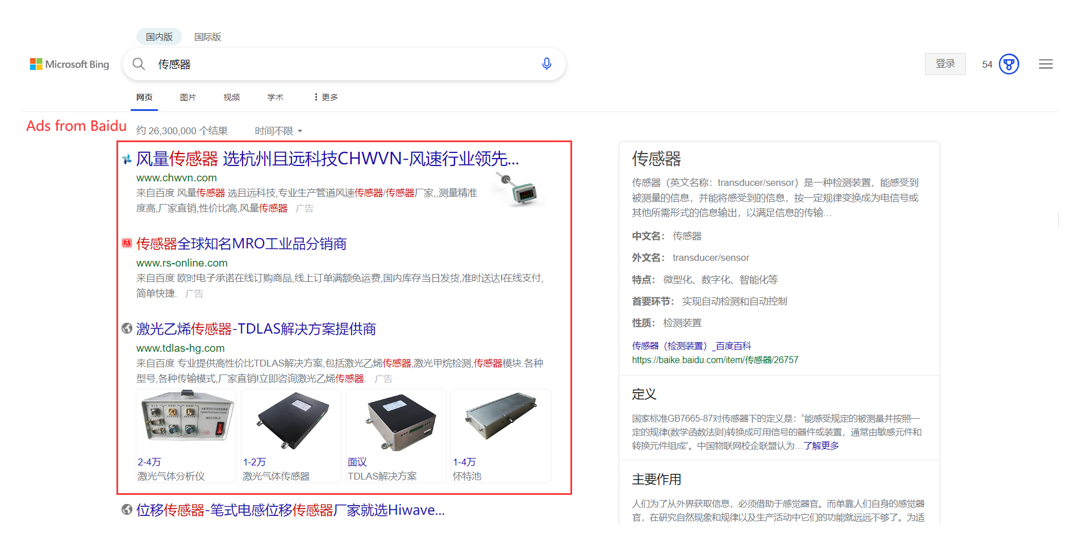 Baidu ads showing up at the top of Bing's search results
Why You Might Choose Bing over Baidu for China B2B Marketing
Bing has a lower search market share in China compared to Baidu but generated more organic traffic for B2B websites in February 2023. This can be attributed to B2B-related keywords being easier to rank on the first page, or top 10 search results, on Bing than on Baidu.
Additionally, Bing indexes new pages faster than Baidu, further aiding their ranking potential. On Baidu, only one brand website can rank as a Baidu B2B result on Baidu's search results, whereas two or more can rank on Bing for B2B-related search terms.
***
Based on our analysis, it is evident that Bing is becoming a noteworthy search engine in China's B2B sector. If you're looking to expand your online brand presence in China, consider implementing Bing SEO if you haven't already.
Ready to maximize your digital marketing in China?