Where is the Travel Demand? Discover Mainland China's Top 3 Travel Topics for 2021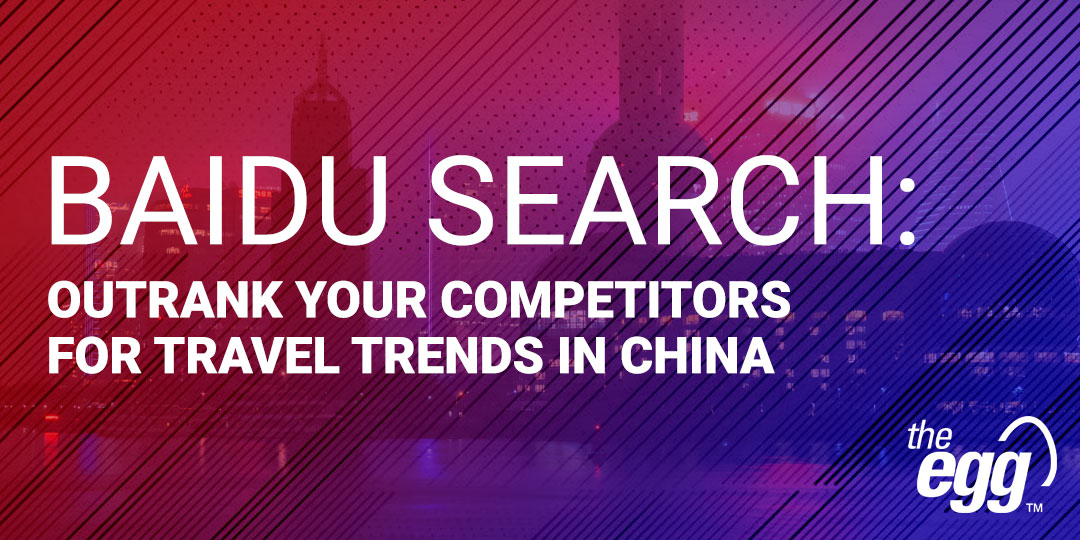 Although leisure travel remains dormant due to the pandemic, that hasn't deterred the far and wide demand for travel content in Mainland China—spurred by the rapid recovery of its domestic tourism since the second half of 2020.
Due to global travel restrictions, the regular sight of Mainland Chinese tourists on international holiday has become a distant memory. However, what transpired was the revival of China's domestic tourism market, with a path to recovery distinctly characterized by a zero-case-first strategy, efficient vaccine rollouts, and resurgent traveler confidence.
Since May last year, China's demand for local excursions, domestic short- and long-haul journeys, and domestic business trips has mirrored pre-pandemic levels of domestic travel. In fact, over 30% of the population—a staggering 425 million people—travelled across the country during the 'Golden Week' holiday in October 2020.
So, to understand what drives demand for domestic tourism in Mainland China, let's examine the top 3 travel topics that people are searching for on Baidu—China's #1 search engine with 222+ million active users:
旅游租车 (tourist car rentals)
旅游景点 (tourist attractions)
旅游攻略 (travelling guidelines)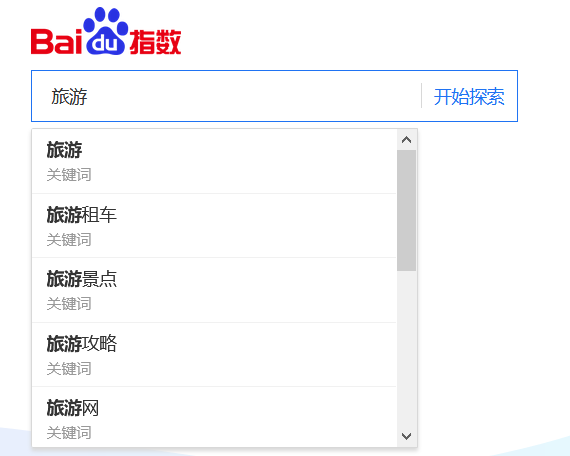 Top 3 travel search terms on Baidu (April 2020)
Similar to our research on travel search trends in Hong Kong and Singapore, we used Dragon Metrics—an all-in-one global SEO research tool—to understand popular search terms specific to Mainland China and how you can rank for them on Baidu.
Mainland China Travel Search Trend 1: "旅游租车" (Tourist Car Rentals)
Monthly Search Volume: "旅游租车" 
When Mainland China's pandemic situation stabilized in April 2020, monthly search volume (MSV) for "旅游租车" bounced back—and has remained high ever since. It spiked significantly in October and peaked at 66,800 searches in November, most of which were desktop searches.
The volume of organic mobile searches increased more than tenfold between March and November 2020. Regardless, the overwhelming volume of desktop versus mobile searches is still expected since people with information needs generally favor computers for doing research, such as finding the best deal for a car rental.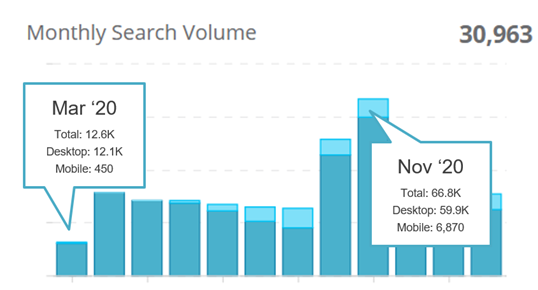 Monthly search volumes for "旅游租车" on Baidu
Top 10 Search Results: "旅游租车"
Dragon Metrics lists the sites currently occupying the top 10 positions on the SERP for any keyword, alongside other SEO ranking metrics, including:
Page authority (PA)—out of 100
Domain authority (DA)—out of 100
Backlink volume for each domain
Diving into the competitive analysis for "旅游租车", let's examine which sites populate the Baidu SERP for this search term.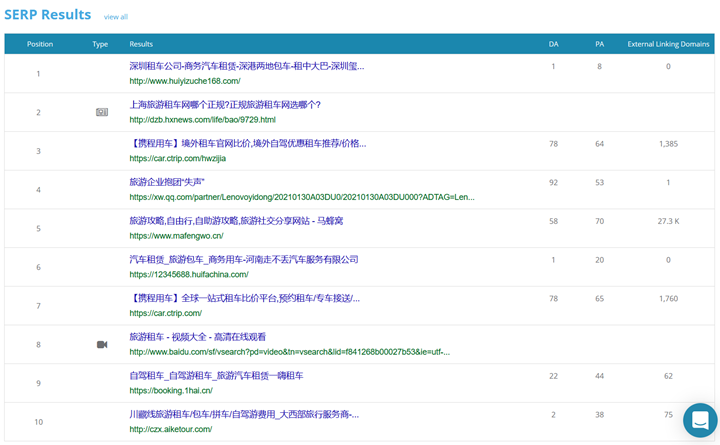 Dragon Metrics: Top 10 SERP results for"旅游租车"
 As you can see above, the top 10 search results for "旅游租车" comprise mostly official websites of car rental companies, online travel agencies (OTAs), and news outlets. Indeed, in the absence of overseas travel, most Chinese residents turned to self-guided tours or road trips, which is widely viewed as safer and more acceptable than rail or flights.
Most of these sites have varying PAs (between 8 to 70) and DAs (between 1 to 92), highlighting the clutter of both small and large websites on the SERP. However, the websites that have both low PA and low DA scores, as well as weak backlink profiles, are predominantly car rental companies. As such, outranking them for "旅游租车" may not be too difficult if you promote car rentals with engaging content that makes price and convenience the primary selling points.
Mainland China Travel Search Trend 2: "旅游景点" (tourist attractions)
Monthly Search Volume: "旅游景点"
MSVs for "旅游景点" fluctuated over the past 12 months, with June 2020 recording the lowest volume, which then gradually recovered and peaked at 248,600 searches in September—before plummeting to lower levels again.
Unlike for "旅游租车", considerably more people searched for "旅游景点" on mobile. This is expected since people who search "旅游景点", especially on mobile, seek travel inspiration—liking, commenting, and engaging with travel content as a means to dream of that next perfect getaway.
Thus, given that smartphones conveniently let you search anywhere and anytime, the search intent for "旅游景点" is likely spontaneous.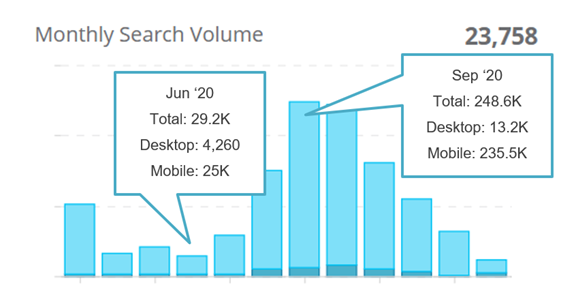 Monthly search volumes for "旅游景点" on Baidu
Amidst rising mobile searches and shortening attention spans, ensure you optimize your travel content for mobile to increase traffic, customer retention, and ultimately conversions.
 Top 10 Search Results: "旅游景点"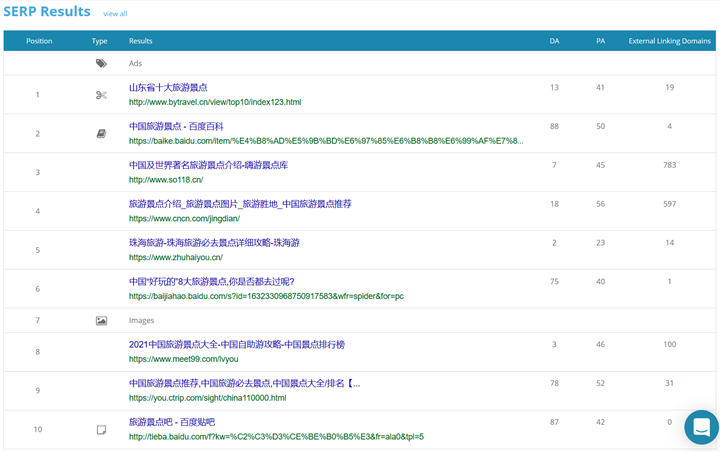 Dragon Metrics: Top 10 SERP results for "旅游景点"
The top 10 SERP results for "旅游景点" comprises primarily OTAs providing guidelines for popular tourist attractions, particularly in Shandong and Guangdong provinces.
Most of the websites have moderate PAs (23 to 56) and varying DAs (2 to 88), suggesting that it may not be too challenging to rank above these sites for "旅游景点" if you create high-value content about the guidelines for visiting the most sought-after attractions in Mainland China.
Mainland China Travel Search Trend 3: "旅游攻略" (travelling guideline)
Monthly Search Volume: "旅游攻略"
MSVs for "旅游攻略" on Baidu peaked at 76,900 searches in March 2020—during the commotion of Mainland China's border closures. MSVs for the term then hovered just below that level for half a year before plummeting to 22,100 searches in January 2021 .
Much like for "旅游景点", mobile searches for "旅游攻略" outnumbered desktop searches. With that said, the proportion of mobile searches for this term is not as high as it is for "旅游景点".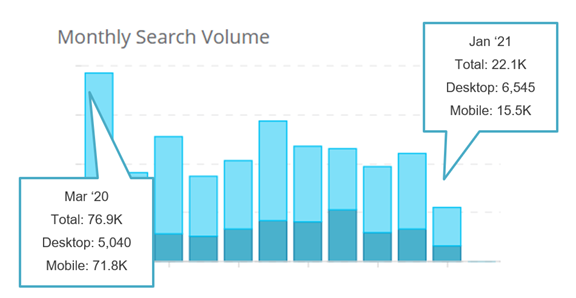 Monthly search volumes for "旅游攻略" on Baidu
 Top 10 Search Results: "旅游攻略"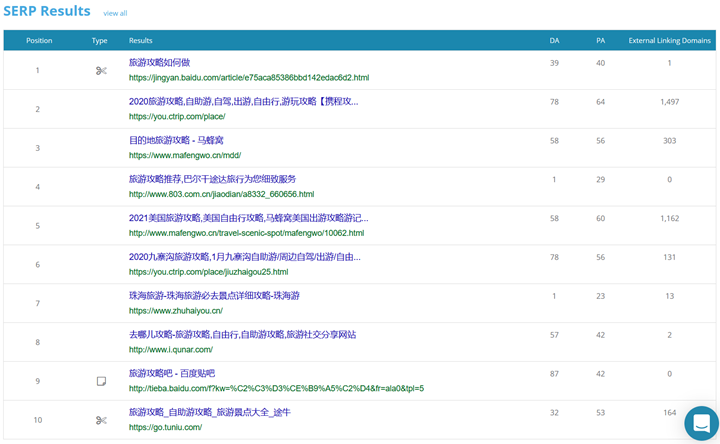 Dragon Metrics: Top 10 SERP results for "旅游攻略"
The top 10 search results for "旅游攻略" majorly feature travel guidelines from OTAs for different places within Mainland China as well as for overseas countries.
Most of these sites have moderate PAs (23 to 64) and varying DAs (1 to 87), leaving ample room to outrank them by creating well-researched content that covers travel guidelines for destinations looking to re-open their borders with Mainland China in the near-future. 
How To Rank for the Right Travel Keyword
After you've identified target travel keywords from your competitive analysis, Dragon Metrics' keyword research tool can help prioritize the keywords for which you have the best likelihood of gaining traffic. The platform uses these metrics in its assessment:
Keyword difficulty measures the backlink strength of sites ranked on page 1 of the SERP and reveals how many backlinks it takes to rank in the top 10 results.
Organic CTR measures how much of page 1 is made up of ads, rich results, and various SERP features. This illuminates the percentage of clicks that go to organic results and helps you de-prioritize keywords that generate results below the fold.
Priority is an aggregate score—made up of search volume, keyword difficulty, and organic CTR—that reveals a keyword's organic traffic potential. Lower keyword difficulty and higher search volume and organic CTR make for a higher priority score.

Dragon Metrics: Keyword overview for "旅游租车"

Dragon Metrics: Keyword overview for "旅游景点"

Dragon Metrics: Keyword overview for "旅游攻略"
Out of the three keywords, "旅游景点" (tourist attractions) exhibited the lowest organic difficulty at 39%, making it the easiest to rank for with the fewest quality backlinks. "旅游租车" (tourist car rentals) and "旅游攻略" (travelling guidelines) had moderate organic difficulties at 42% and 51% respectively.
"旅游攻略" has the highest organic CTR at 95%, indicating that incoming traffic for sites on its SERP is mostly organic and not directed from paid ads. The other two terms both shared moderate CTRs.
Altogether, "旅游租车" (tourist car rentals) had the highest priority score at 68, followed by "旅游景点" (tourist attractions) at 65, and "旅游攻略" (travelling guidelines) at 57.
As such, given its lower keyword difficulty, "旅游租车" (tourist car rentals) can be prioritized in your SEO to outrank SERP competitors for travel search terms in 2021.
To this end, Dragon Metrics' priority score can efficiently evaluate the target keyword(s) for which you have the best likelihood of ranking highest.
***
Travel demand looked set to dwindle when virtually the entire world's borders shut down in 2020—but that was not the case in China. Instead of storing away their backpacks and suitcases, Chinese people dashed online to research, interact, and book their perfect domestic getaway.
Our findings on Dragon Metrics showed that travel remained domestic within Mainland China, with consistently high search volumes for content about homegrown activities—like road trips and local attractions—in the last 12 months.
With the prospect of overseas travel returning to the fray in 2021, our insatiable appetite for travel content will only grow over time.
Pro-Tip: As The Egg's sister company, Dragon Metrics is a proprietary tool developed as the first truly global SEO platform that provides rank tracking, onsite optimization reports, link management, keyword research tools, and more for search engines around the world. In this article, we look specifically at Dragon Metrics' prowess on Baidu, but Dragon Metrics works for all of the world's major search engines, including Google.
Need a global SEO tool
that covers China?
Need a global SEO agency
that provides full service?