What Factors Affect Baidu Search Rankings?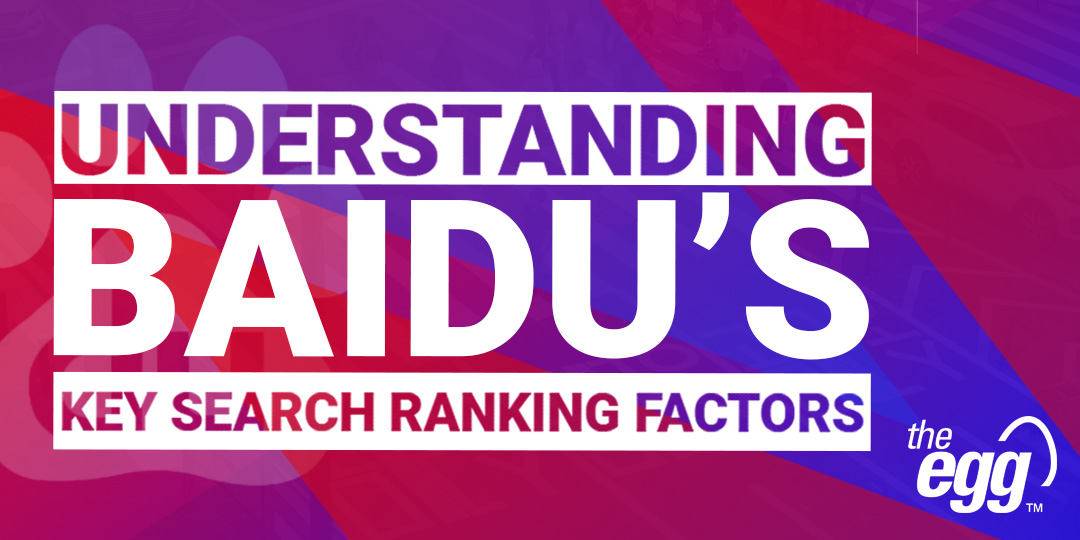 But doing SEO for Baidu is a lot different than optimizing for Google: Aside from overcoming China-specific requirements and technical considerations, SEOs must also one-up their competition on Baidu's search engine results pages (SERPs) by adapting to its ranking algorithm, which continually evolves in response to real-time search demand, personalization, and more.
In this article, learn about Baidu's most critical ranking factors and discover ways to improve your site ranking and, in turn, leverage its unparalleled search visibility in China.
Baidu Ranking Factors
The following are some of the most important ranking factors for Baidu:
Title length: The title of your page should be less than 32 characters long.
Content volume: Your page should have at least 3,000 characters of content.
Backlinks: The number and quality of backlinks to your page will affect its ranking.
Referral domains: The number of unique domains that link to your page is also a ranking factor.
Mobile-friendliness: Your page should be mobile-friendly in order to rank well in Baidu.
These factors are similar to the ranking factors for Google, but there are some differences. For example, Baidu places more emphasis on the quality of backlinks than Google does.
What factors impact your Baidu ranking?
Baidu's search rankings are far from fixed and tend to fluctuate in real-time—let's look at the key factors behind this.
User experience is perhaps the most important factor that can influence your Baidu ranking. In particular, Baidu prioritizes page load speed and emphasizes that all content on a webpage—whether on desktop or mobile—should ideally load within 1.5 seconds.
Moreover, international websites hosted outside of China often tend to experience slow loading speeds since they must undergo the scrutiny of China's Great Firewall. So, if this applies to you, be sure to check out our guide on how to prepare your global site for China.
In summary, you can improve your page load speed in China in the following ways:
Obtain an ICP license
Create a CDN for your website
Removed blocked APIs
Baidu Ranking Factor #2: Relevance of Your Website and Content
The relevance of your website's meta tags with search keywords plays a huge role in your ranking on Baidu's SERPs—usually, the more optimized and relevant your meta tags are, the higher you will rank.
Like many other local platforms, Baidu has also recently focused on cultivating an environment that encourages original content and incentivizes creators with higher traffic potential. To this end, creating original content and optimizing it with your target keywords can help you rank higher for them. When creating original content, remember–quality over quantity!
Baidu Ranking Factor #3: Time-Sensitive Content
Baidu tends to rank timely content—like news and industry trends—higher on its SERP. Therefore, if you can catch on and create high-quality and informative content that engages users interested in these topics, you may find it easier to rank higher on Baidu's SERP.
But there's a catch: To even show up on Baidu in the first place, your brand new content must be crawled by Baidu in a timely manner. So, ensure you include an XML sitemap and update it regularly to help Baidu's crawler decipher your site structure and index your webpages in time to serve on its SERPs.
As always, remember that your sitemap should only include live, indexable URLs when submitting on Baidu (or any search engine for that matter).
Baidu Ranking Factor #4: Illegal or Inappropriate Content
This factor is straightforward enough: If your website features any content whatsoever relating to pornography, gambling, drug abuse, or trafficking, it will be heavily penalized by Baidu and will see limited to no ranking potential.
WANT DIGITAL INSIGHTS STRAIGHT TO YOUR INBOX?
Bonus Tips for Improving Your Baidu Ranking
Tip #1: Match User Search Expectations
If you're looking to improve your site ranking for a particular keyword, one way would be to optimize your landing pages to match user expectations and, in turn, increase their stickiness once they click-through to your site. This can increase your engagement and lower your bounce rate, thereby improving your likelihood of ranking higher on Baidu.
To facilitate this, you should research your target users' search demand and intent—namely what search terms/keywords they search and what sort of answers or information they are ultimately seeking from you.
Here, you can use Baidu Zhishu (or Baidu Index) to identify search trends of selected keywords based on user interest and their web exposure.
Tip #2: Learn From Your Competitors
Your competitors are far from static: Their SEO strategy can change at any moment. Thus, it's prudent to keep a steady eye on your best-performing competitors by gathering insights about their websites, keyword rankings, content, and users—only then will you know how to beat them!
If you can one-up your competitors in terms of content quality, scope, and matching what your shared target users are searching for, you'll find that your site's ranking performance will improve over time.
***
Although universal SEO best practices still apply to Baidu, its specialized requirements—and China's online ecosystem in general—mean that a tailored approach is needed to rank higher on the platform.
Ready to maximize your digital marketing in China?