How to Use Baidu Baijiahao for Your B2B Marketing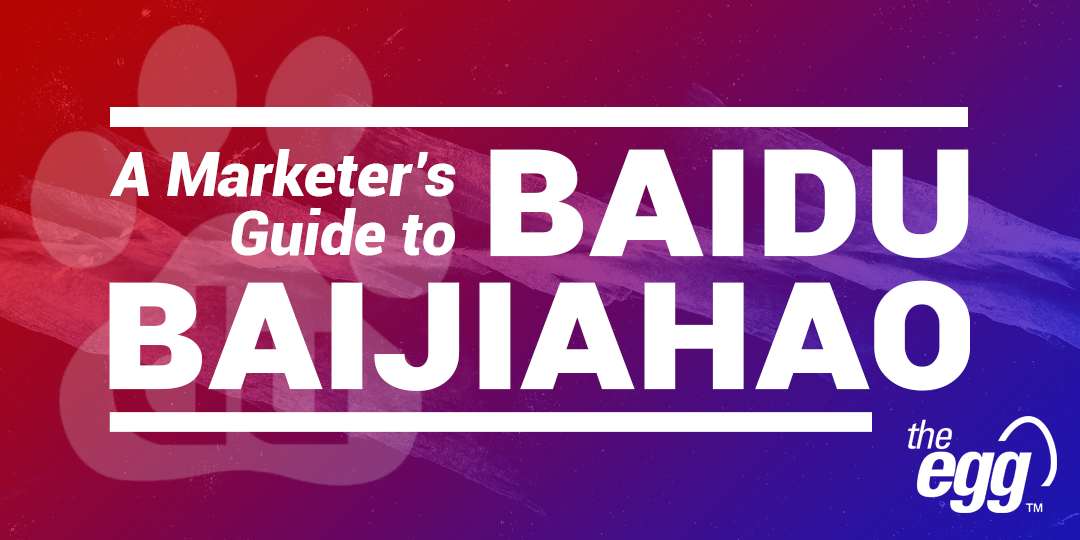 On top of that, Baijiahao seamlessly integrates with Baidu's ecosystem of apps and search functions and lets users share content across other popular Chinese social platforms like Weibo, WeChat, and QQ.
How, then, should you go about using Baijiahao for your B2B marketing?
Since it ranks favorably on Baidu's SERP, it is best used as a tool for brand exposure, which you can augment by regularly posting original content via your Baijiahao account to attract and engage new users relevant to your business.
There are a total of seven content formats you can upload onto Baijiahao, including:
Images and text
Videos
New or events articles
Text-to-video video format
Livestreams
Video collections
Themed image galleries
Not sure where to start? Here's a three-part guide to help you start posting content on Baijiahao. As a bonus, we'll also show you how to publish articles, images, and videos on the platform, which are the most popular content types among its users.
But first, is Baijiahao free to use?
Is Baijiahao Free?
Yes! Baijiahao is currently free for all entities.
However, if you are a business and want to enjoy the tools available exclusively to verified enterprise accounts, like including a business phone number on your Baijiahao page, you'll need to verify your account and pay an annual fee of RMB ¥600.
Verified Baijiahao accounts that rank on Baidu's search engine results pages (SERPs) will appear with a "V" (i.e., verified) icon next to their SERP result, which instantly makes them more credible to users.

A Baijiahao SERP result with a verified "V" icon
How to Start Posting Content on Baidu Baijiahao
PART I: Login to Baijiahao With Baidu (or Create a Baidu Account to do so)
Log into Baijiahao by inputting your Baidu account-registered phone number, username, or email followed by your password. If you don't have a Baidu account or are unsure of how to sign up for one, refer to our guide on registering for a Baidu account.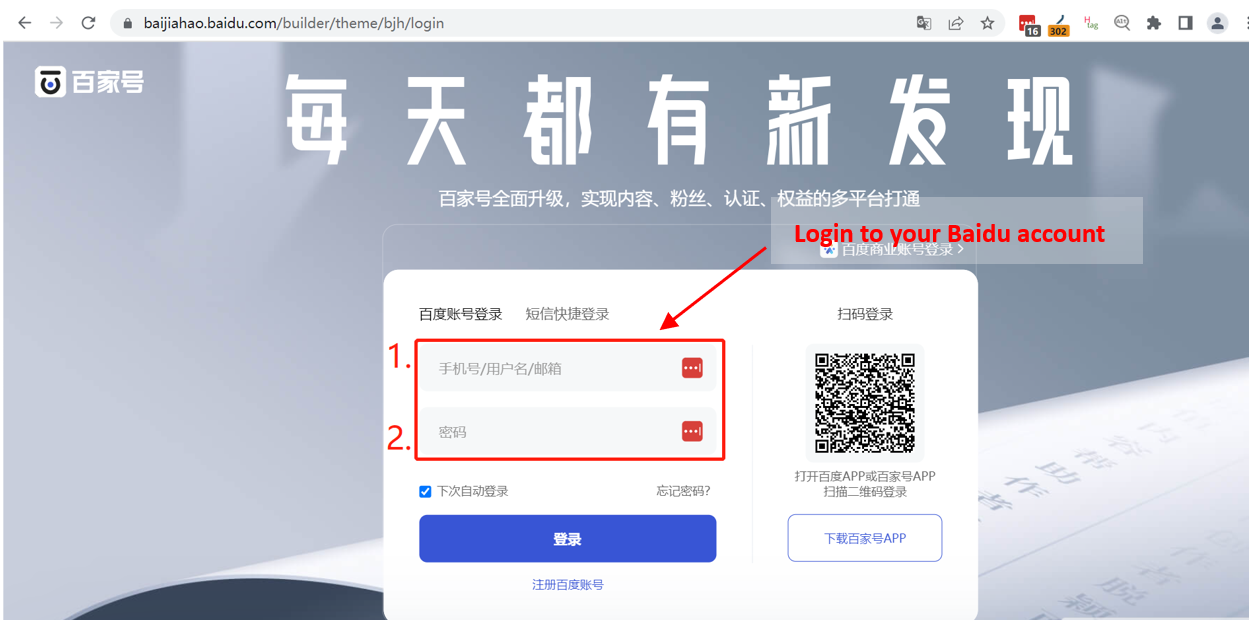 Baidu Baijiahao login page
PART II: Set up Your Baidu Baijiahao Account
Step #1 – Verify Your Baijiahao Account Setup
Once you've signed into Baijiahao with your Baidu credentials, click the blue button at the top to Proceed to Verification ("去认证").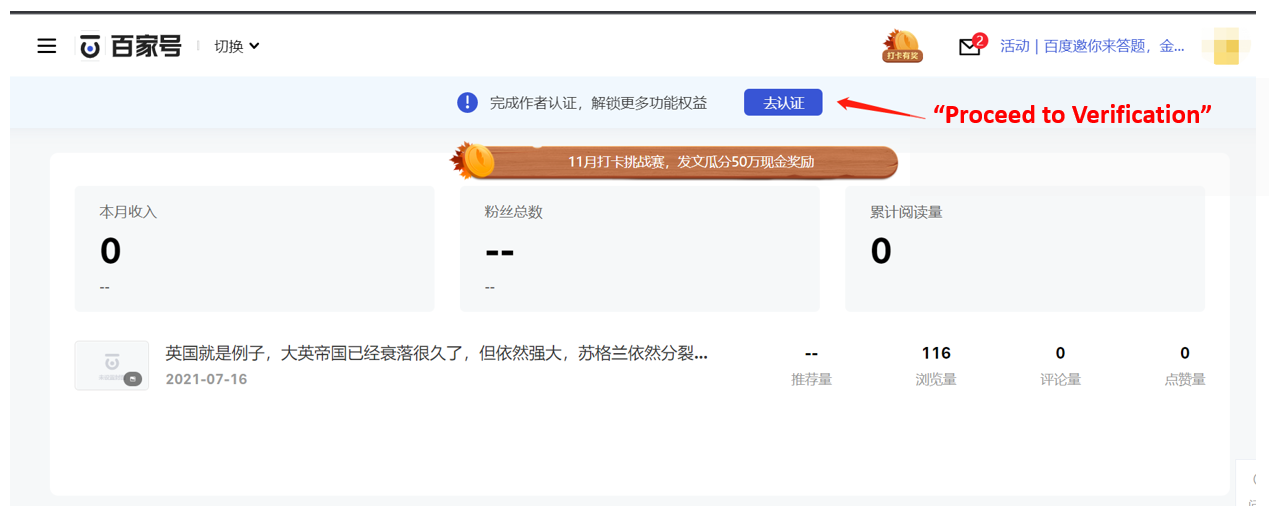 Click on "Proceed to Verification" once inside Baijiahao
On the following screen, you'll see that your Baijiahao signup will be automatically filled out for you with your existing Baidu account details. Simply confirm your details by clicking the blue button to Continue to Setup Baijiahao Account ("继续开通百家号").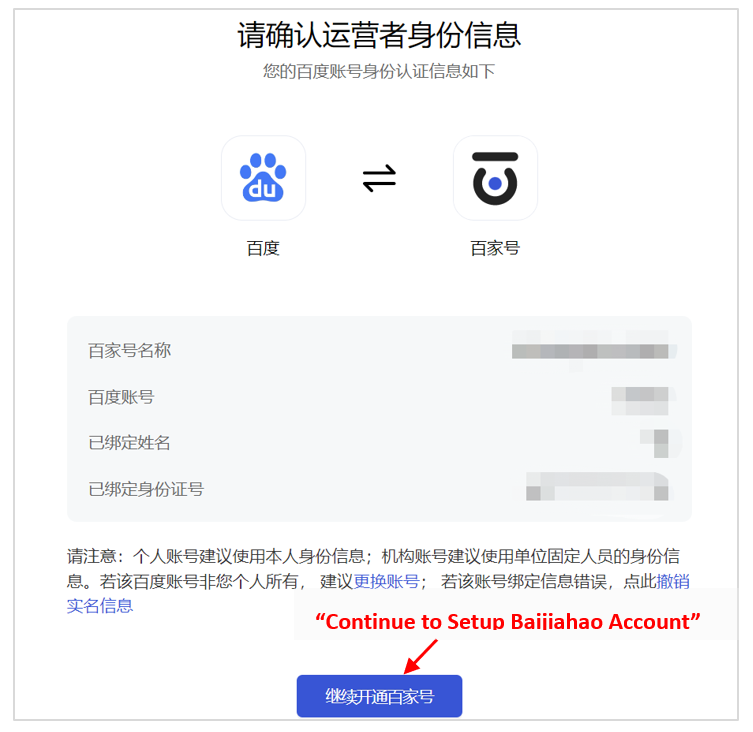 You can set up your Baijiahao account using your existing Baidu account details
Step #2 – Select Baijiahao Account Type
Next, you'll get to select your Baijiahao account type. There are five different account types on Baijiahao, though we typically recommend the business account type if you are publishing content on behalf of an organization. Note, however, that only businesses registered in China are eligible for a Baijiahao account.
To proceed, click the blue button below your choice (in our case, below the business account type option).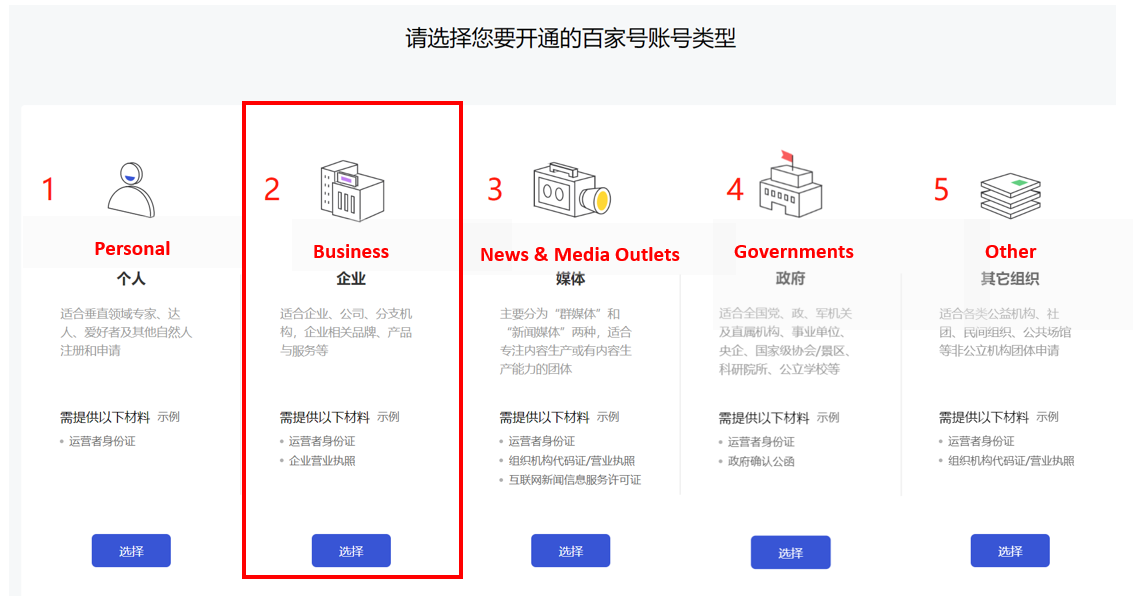 Five different Baijiahao account types
Step #3 – Provide Baijiahao With Additional Context About Your Business
You'll then be prompted to upload the following items:
Account icon (this can be your business logo)
Account name: You can input anywhere between 2 to 10 Chinese characters in the field. Baidu recommends avoiding language that is too "salesy". No special characters are permitted.
Short introduction (10-20 Chinese characters) about your business
After that, select the blue button at the bottom to Submit.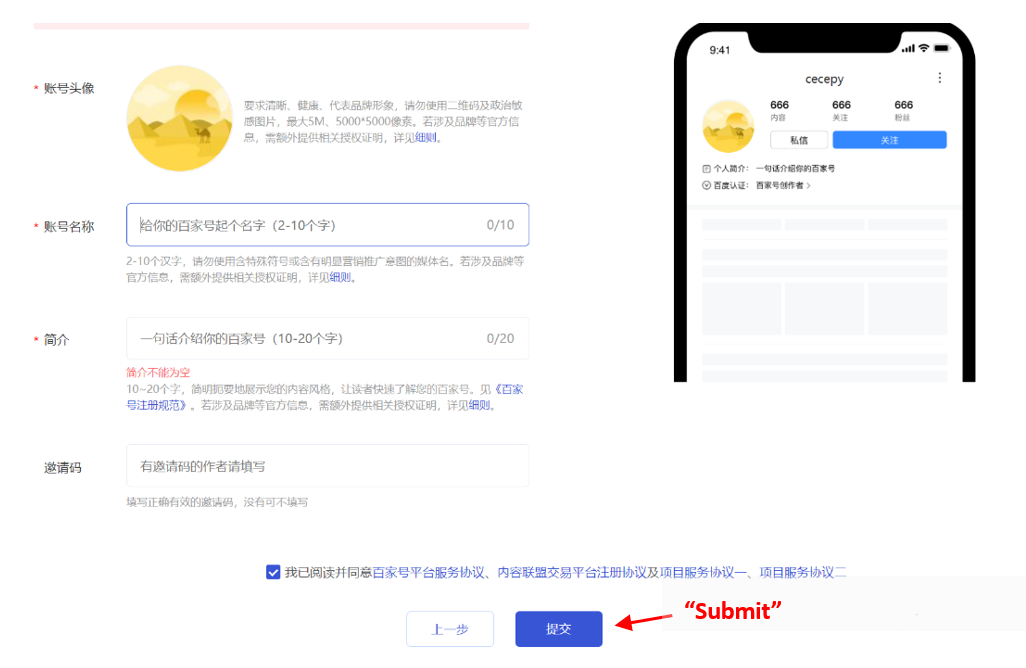 Submit an account icon, account name, and short introduction to provide Baijiahao with additional context about your business
Step #4 – Upload Supporting Documents
To complete your Baijiahao (business) account setup, you'll need to upload the following supporting documents:
A photo of your Mainland Chinese business license (Required)
A photo of your Internet Information Service License (Optional)
A photo of written authorization for any use of third-party brand images (Optional)
A photo of both sides of your account operator's identity card (Required)
Proof and confirmation of your account operator's name (Required)
Proof and confirmation of your account operator's identity card number (Required)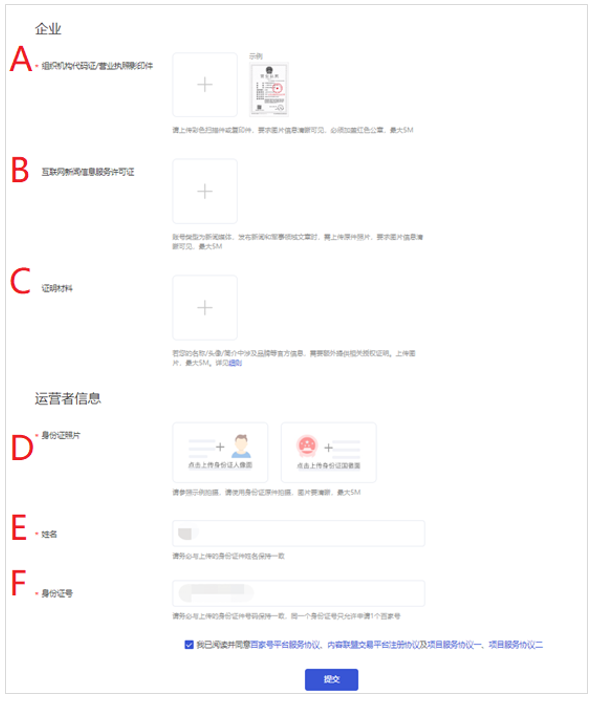 Upload supporting documents to complete your Baijiahao account setup (the asterisk * denotes items that are required)
Once you're ready, click the blue button at the bottom to Submit ("提交") your supporting documents, after which you'll need to wait for Baidu to review and verify your account application.
WANT DIGITAL INSIGHTS STRAIGHT TO YOUR INBOX?
PART III: Start Uploading Content onto Baijiahao
Congratulations! Once Baidu has verified your Baijiahao account, you can begin publishing content on the platform.
Now, whenever you access Baijiahao, you'll land on its builder page (i.e., content creation dashboard). Click the blue button Publish Now ("立即发布") to start generating your content.
Click Publish Now to start generating content on Baijiahao
How to Generate Articles on Baijiahao
To create an article on Baijiahao, select the tab Images & Text ("图文") at the top navigation. Then, give your article a title (see Note below) and either type out your article from scratch or paste an existing one into the editor.
Once you're done, select the blue button to Publish ("发布").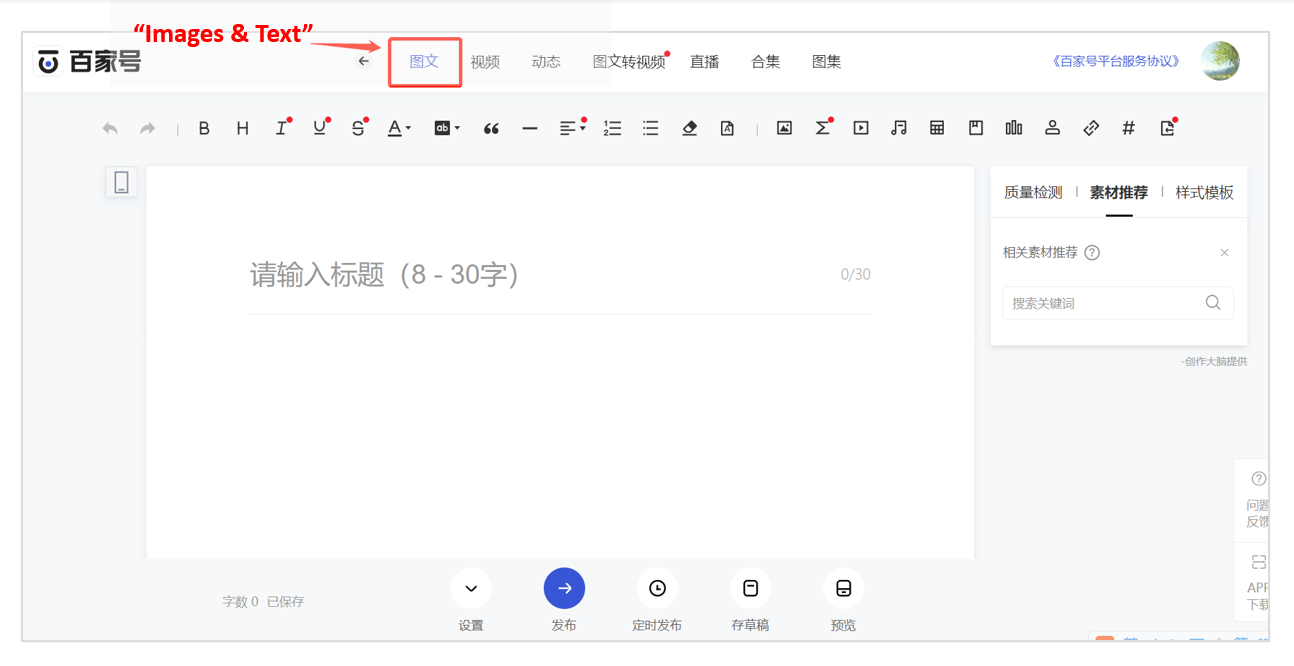 Select the Images & Text tab at the top navigation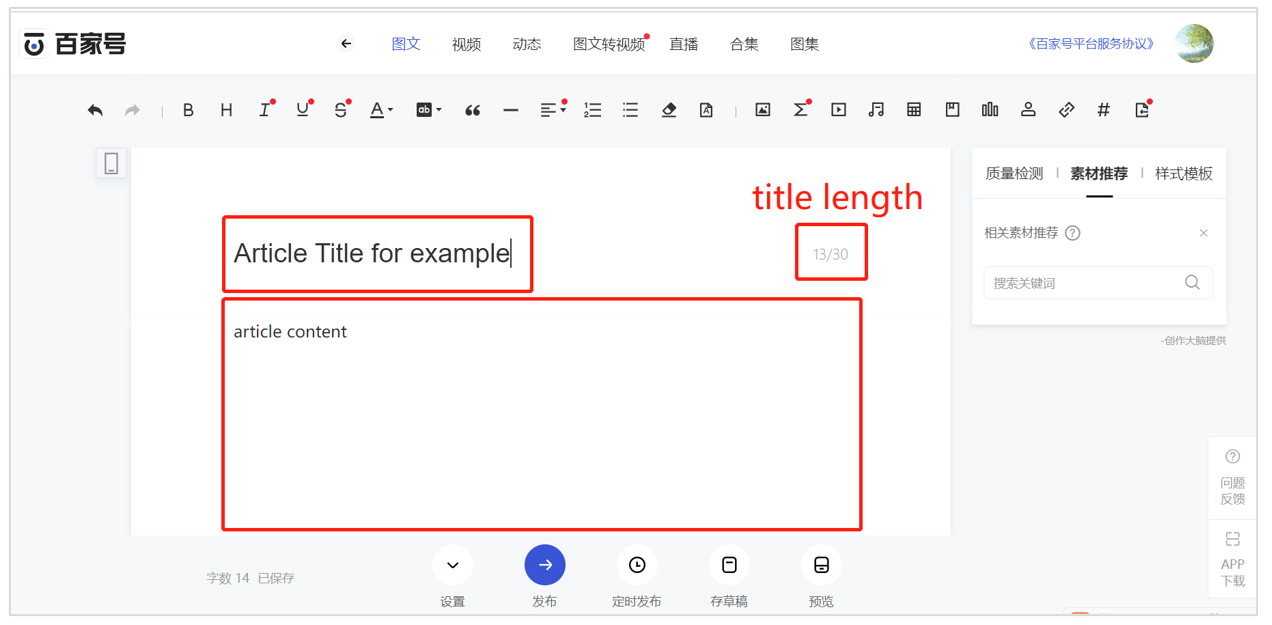 Provide a title and either type out your content or paste an existing article into the editor
Note: The article title must be between 8 to 30 double-byte characters (the character count to the right of the title field reflects this). One Chinese character takes up one double-byte character, while two English letters take up one. The article can be made up exclusively of Chinese or English characters, or a combination of the two with numbers.
Once published, your Baijiahao article will appear on Baidu's SERPs like this: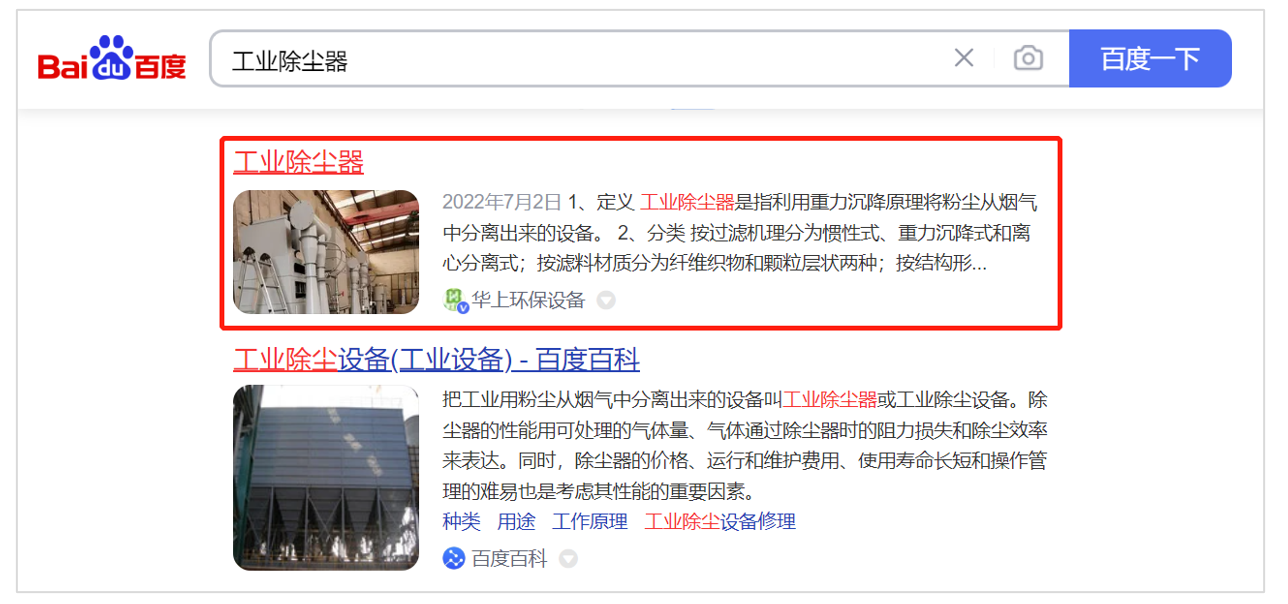 An example of a Baijiahao article result on Baidu's SERPs (desktop)
How to Upload Videos onto Baijiahao
To upload a video onto Baijiahao, head over to the Videos ("视频") tab at the top navigation.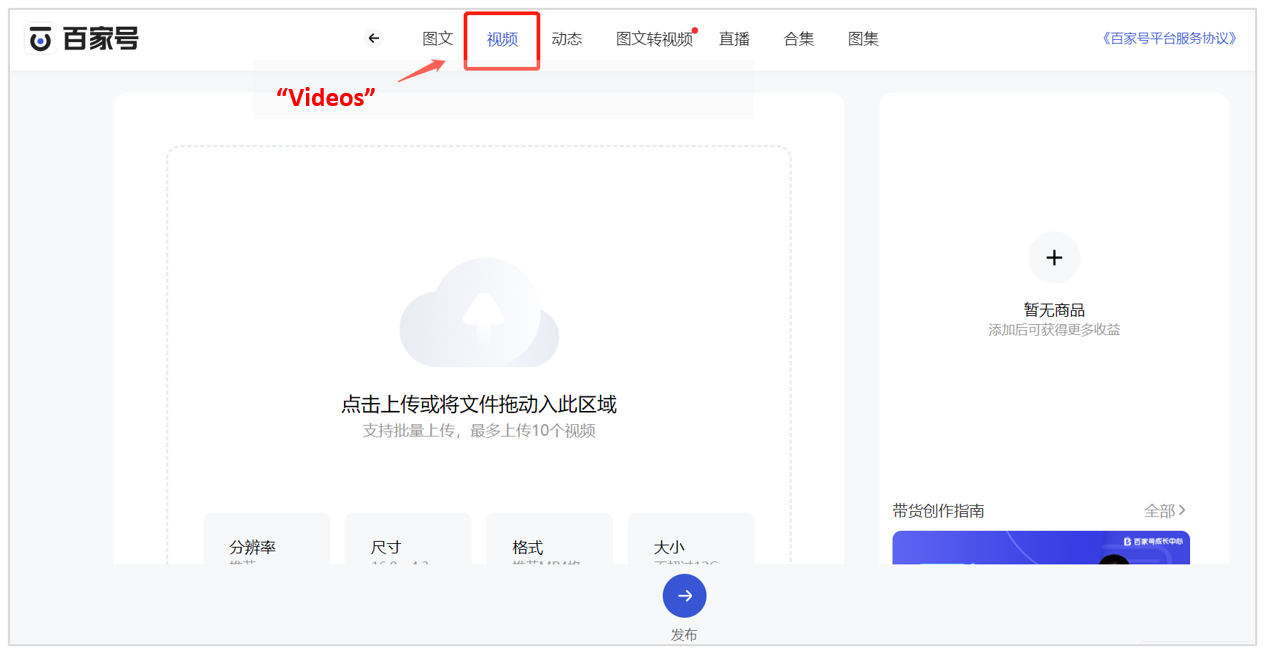 Select the Videos tab at the top navigation
Next, upload the video you wish to post onto Baijiahao—you can do this by file upload or using drag and drop. When you're ready, select the blue button to Publish ("发布").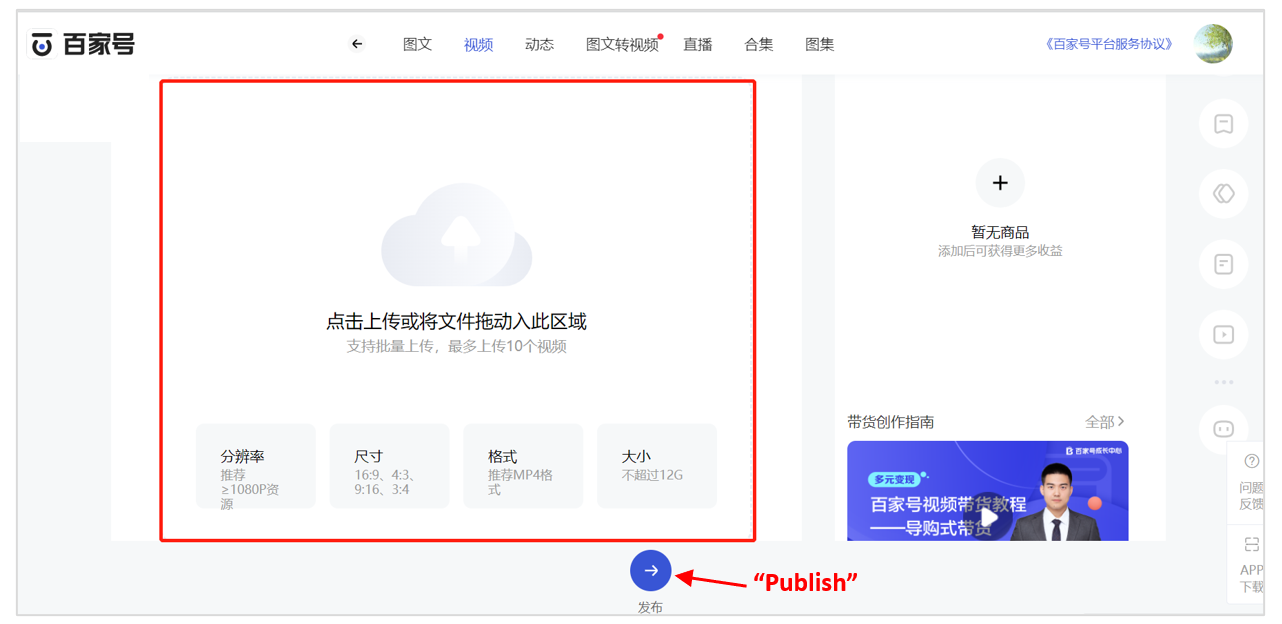 Upload videos onto Baijiahao by file upload or drag and drop
Once published, your Baijiahao video will appear on Baidu's SERPs on mobile like this: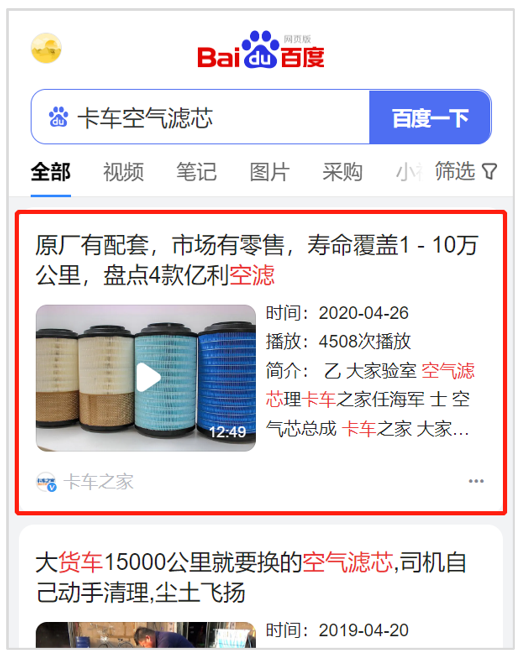 An example of a Baijiahao video result on Baidu's SERPs
***
Baidu Baijiahao's high SERP visibility, easy integration with Baidu's ecosystem, and connectivity with third-party social platforms arguably make it one of the best tools for brand promotion in China. If you'd like to incorporate Baijiahao in your overall B2B marketing strategy, use this guide for your reference!
Ready to maximize your digital marketing in Asia?