Google's Helpful Content Update: 3 Tips to Optimize Your Content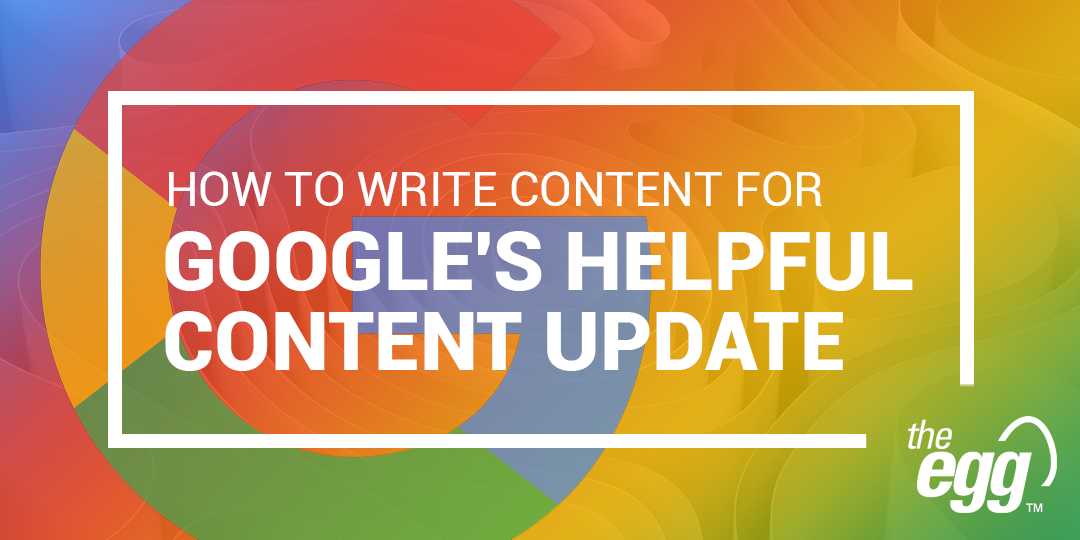 With competition rife for high-ranking keywords, how do you write content exceptional enough to cut through the clutter while staying in line with Google's latest Helpful Content update?
On September 9, 2022, Google completely rolled out its Helpful Content update across all its English-language searches worldwide. According to Google, the update aims to "better reward content where visitors feel they've had a satisfying experience, while content that doesn't meet a visitor's expectations won't perform as well."
Essentially, Google will begin rewarding people-first content and devalue content written purely for search engines and SEO, making it a new signal Google will use to rank webpages. But since the update is sitewide as opposed to targeting specific kinds of pages, it has the potential to impact all pages.
How might it affect your website and what can you do to prepare for it?
Discover what Google's Helpful Content update entails and three tips to optimize your content to align with its "people-first" content best practices.
Why did Google launch its Helpful Content update?
As the world's most powerful and popular search engine, Google is continually updating its algorithm to improve its user experience and connect its users to more accurate search results based on their search queries.
That is where Google's Helpful Content update fits into the mix: It helps direct users to webpages with more original, helpful content written by people for people, as opposed to content written purely for ranking on search engines. This update also serves to curb the growing number of AI-generated articles on the web that might not cater best to the overall reader experience.
Indeed, ranking higher on search engines is typically the end goal of content creation for SEOs. But the creation process predicated on that goal can often result in web content that is not "people-first".
As a result, Google now rewards websites with more "helpful" content—and encourages other websites to follow suit—by improving their keyword rankings and, in turn, their potential to rank higher on its SERP.
According to Google, if you can answer "yes" to the following questions, you're on the right track to creating helpful content:
Would an existing or intended audience in your business niche find your website helpful once they discover it? (i.e., Does your content match their expectations and answer what they're looking for?)
Does your content demonstrate first-hand expertise and a depth of knowledge about its subject matter (e.g., a product or service)
Does your website have a primary purpose or focus?
After consuming your content, will a user leave feeling they've learned enough about a topic to help achieve their goal?
Will someone who has read your content leave your site feeling like they've had a satisfying experience?
WANT DIGITAL INSIGHTS STRAIGHT TO YOUR INBOX?
How to write content for Google's Helpful Content update?
Are you worried about how Google's Helpful Content update might affect your site ranking? Here are three best practices to help you stay on the right track.
Tip #1: Delete Unhelpful Content (And Avoid Creating More)
It is common for content writers to follow a scattergun approach and push out lots of content regularly in the hope at least some of them will rank for high-performance keywords.
Of course, while some of their webpages might appear on Google's SERP, it must be noted that low-quality content—even in a few areas of your website—can weigh heavily on your entire site's ranking.
Thus, if you have webpages attracting low or even no traffic, consider removing them from your website completely.
Tip #2: Focus on Your Niche
Although tempting, do not attempt to stuff irrelevant keywords from different niches—no matter their search volume potential—into your content. Doing so makes your content neither helpful to users nor favorable in the eyes of Google's algorithm after its Helpful Content update.
If your content is not topic-specific or is too general, Google will likely flag it as "unhelpful", especially if the search query users searched to find it only requires a short answer.
Tip #3: Add Value to Your Content (Don't Plagiarize!)
When creating content, always consider the value users would get from reading it as Google's Helpful Content update favors content with first-hand expertise. Ideally, you'll want to write original content that educates your readers about your subject matter.
But what if you don't have the capacity to create relevant content week in, and week out?
Taking inspiration from your competitors and creating content based on similar topics with your expertise can be another great (and sustainable!) way to write for Google's Helpful Content update. After all, your competitors will naturally produce content related to yours.
Of course, you should never duplicate other content and always include your unique perspective to avoid Google punishing your website by decreasing your site's keyword ranking potential.
One of the most common mistakes an SEO can make is copying content directly from other sources. But Google continually indexes every webpage on its SERP, so it is bound to be able to identify websites whose content relies on copying.
***
Google's Helpful Content update currently only affects English searches worldwide but is set to expand to other languages in the future. Furthermore, this will not be the only Helpful Content update Google releases.
Therefore, remember to observe Google's upcoming announcements as it continues fine-tuning its detection of helpful content on the web.
Ready to maximize your digital marketing in Asia?