A Complete Guide to Google SERP Features: 2022 Edition
Google consistently updates its SERP features to optimize the search experience.
Google's SERP features are special elements that offer greater real estate for your content to occupy when people search your keywords. Thus, optimizing your site to rank for Google's rich results will give you greater SERP visibility.
Read on to discover the nine most common Google SERP features—and how they work—so that you can rank for them and increase your click-through rates (CTR).
What is a SERP?
A search engine results page (SERP) appears after a user submits a search query on a search engine. SERPs typically display links to websites that the respective search engine's algorithm deems most relevant to a search query. And in addition to organic results, which are traditionally displayed as links, SERP features also regularly appear on the page.
What are the changes to Google's SERP layout with SGE?
Google has recently introduced a new feature called SGE (Search Generative Experience) that has transformed the SERP layout. SGE adds an interactive AI-powered snippet at the top of the results page that provides an answer to the user's query. The snippet also includes a carousel of websites that SGE used to corroborate the response. The snippet may take a few seconds to generate as the AI algorithms are at work.
This new layout is designed to provide users with a more helpful and informative experience. It is still in the early stages of development, but it has the potential to revolutionize the way we interact with search engines.
What is a SERP Feature?
SERP features go beyond traditional organic results. They help users see the information they need–which is hopefully your site content–directly on the SERP based on relevance to the query.
The nine most common SERP features–in no particular order–are:
Rich snippets
Featured snippets
People also ask
Image packs
Local packs
Videos
Knowledge graphs
Sitelinks
Paid results
Check out APAC in 3 (EP 10) for a visual guide to these common Google SERP features.
And for a deeper dive, read the full article below.
WANT DIGITAL INSIGHTS STRAIGHT TO YOUR INBOX?
9 Common Google SERP Features
Here, let's explore nine of the most common Google SERP features and how they work.
What Is A Google Featured Snippet?
Featured snippets appear as boxes at the very top of the SERP providing short, instant answers to a user's search query. They can come in various formats—like short paragraphs, bulleted or numbered lists, images, or widgets—and are common for search terms inquiring about facts, famous people, events, unit conversions, calculations, and more.
How to Target a Featured Snippet
Give details of immediate practical importance related to your keywords that directly add value and answer queries.
Featured Snippet Example
---

Google SERP: Featured snippet for the search term "dogs and wolves"
---
What Is A Google Rich Snippet?
Basic organic and paid results consist of a title, description, and a link to a particular domain's webpage. And rich snippets are additional information—like reviews, ratings, price, and stock availability—that appear below  the basic elements and can play a role in swaying users to click on the result.
Schema markup helps search engines better identify rich snippet information within your content and improves the likelihood of that information appearing on the SERP.
How to Target a Rich Snippet
Implement schema markup, which is backend code that Google can parse to surface information on the SERP.
Rich Snippet Example
---

Google SERP: Example of a rich snippet for the search term "green bucket hat"
---
What Is Google People Also Ask?
People also ask is a list of questions that Google believes can answer any related questions users might have about a search query or topic. The section features accordion-style navigation, so by clicking on a question, you can view its answer from a reliable external source in the drop-down.
How to Target People also ask
Use Q&A format in your content and implement FAQ schema markup.
People also ask Example
---

Google SERP: 'People also ask' section for the search term "dogs and wolves"
---
What Is A Google Image Pack?
Image packs are horizontal rows or blocks of images with links. Clicking on an image will bring you to Google Images, where you can click through to the website that's hosting the image.
How to Target an Image Pack
Assign a caption and alt text to your images and ensure their file names are descriptive and relevant to the search query.
Image Pack Example
---

Google SERP: Image packs for the search term "nature background"
---
What Is A Google Local Pack & Teaser Pack?
For geographically defined search terms (e.g., "dentists in Melbourne"), Google's SERP displays local packs with business locations it finds most relevant to a user's search query, along with a Google map pinpointing their addresses.
And just below local packs, local teaser packs display additional business information— like operating hours, user reviews, contact details, prices, and images—of up to three local businesses showing on the Google map.
How to Target a Local Pack
Complete all fields in your Google Business Profile and optimize the relevant  webpage it directs to.
Local Pack Example
---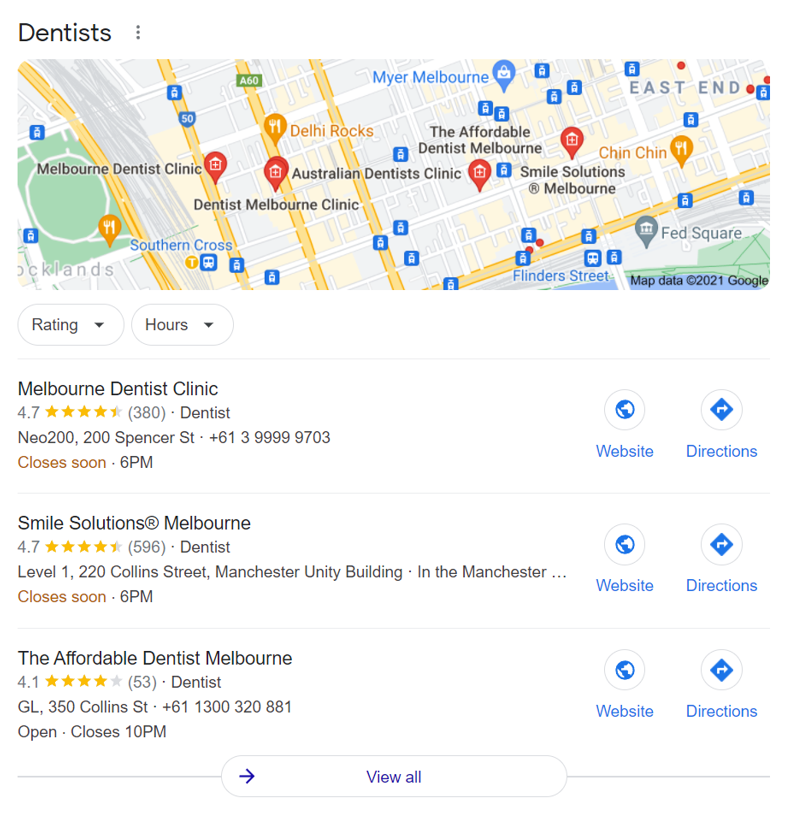 Google SERP: Local packs and local teaser packs for the search term "dentists in Melbourne"
---
What Is A Google Video Result?
Video results may appear on a SERP if Google determines that videos would be the most appropriate and relevant content format to answer a user's search query. Google may sometimes indicate the exact timestamps in a video that directly answers a search query, making for an overall better user search experience.
Most of the videos ranking on Google are hosted on YouTube (also owned by Google) and typically require schema markup for them to appear on SERPs.
How to Target a Video SERP Feature
Implement schema markup for the version on your site and ensure your video is also optimized on YouTube, which is owned by Google.
Video SERP Feature Example
---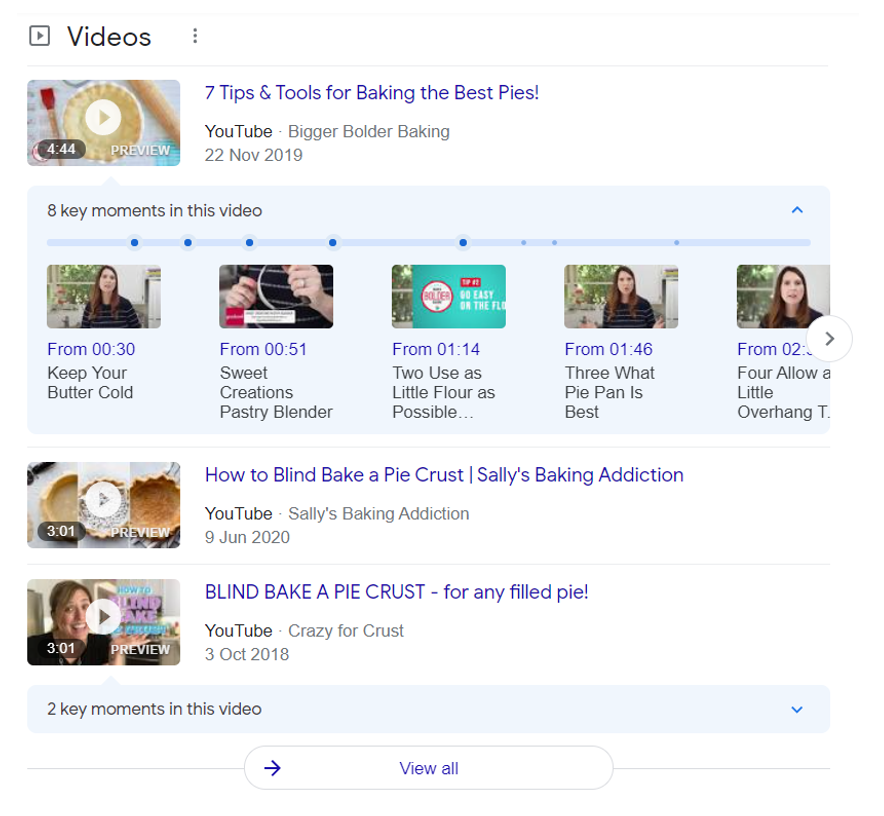 Google SERP: Video results for the search term "bake a pie"
---
What Is A Google Knowledge Graph?
Knowledge graphs (or knowledge panels) extract and collate semantic data from various sources about a particular subject. The information is then displayed in a panel at the top of the SERP for mobile or to the right of search results on desktop, giving users most of the information they need about their query at a glance.
How to Target a Knowledge Graph
Ensure your brand, product, and service information is factual, accurate, and complete across the web so that Google can find and amalgamate it in a knowledge graph.
Knowledge Graph Example
---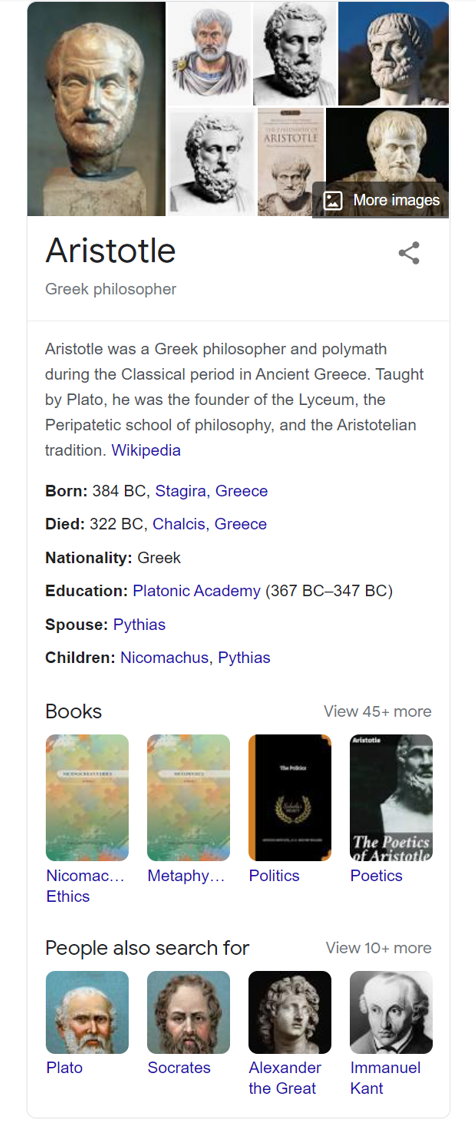 Google SERP: Knowledge panel for the search term "Aristotle"
---
What Is A Google Sitelink?
Sitelinks are sets of up to 10 internal links directing users to specific landing pages on a website or sections on a page. Sitelinks will usually appear for branded searches, such as "The Egg Company" (that's us!).
Besides occupying more SERP real estate and improving CTR, sitelinks can help users jump to specific pages they are interested in or navigate webpages for the information they want.
How to Target Sitelinks
Choose appropriate anchor text and link to important pages from your homepage to help Google understand your site structure and feature key pages.
Sitelinks Example
---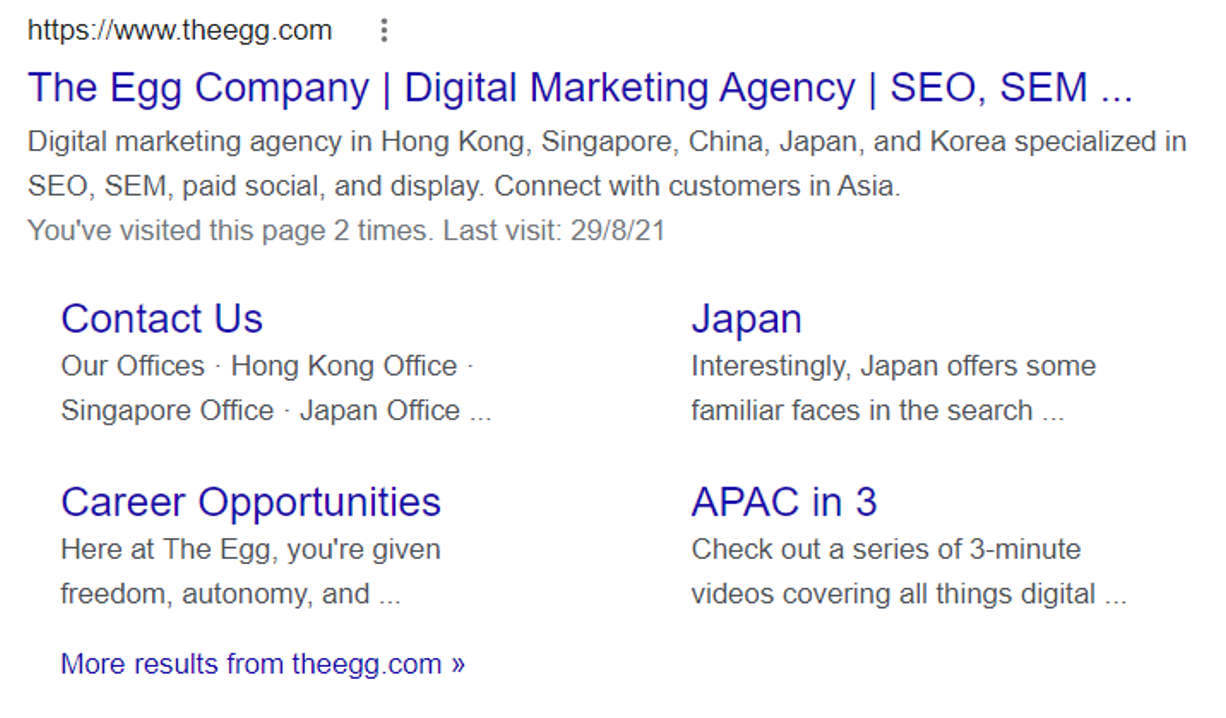 Google SERP: Sitelinks for The Egg Company's SERP result
---
What Is A Google Paid Result?
Paid results are ads that appear at the top or bottom of a SERP and can be identified by the Ad tag. Paid results appear on SERPs based on several factors, including relevance to the search query, bid strategy, and more.
Note that paid results at the top of a SERP can push organic results further down the page and potentially impact their CTRs.
How to Target Paid Results
Through your Google Ads account, create ads that are relevant to queries and optimized to convert.
Paid Results Example
---

Google SERP: Paid results for the search term "yoga mats"
---
***
So, how important are SERP features?
Zero-click searches are increasing on Google, making it crucial for brands to optimize their websites and webpages for maximum SERP exposure and, therefore, brand visibility.
Aside from the SERP features mentioned above, less common ones for Google shopping, news, sports, jobs, reviews, breadcrumbs, and twitter cards may also appear if Google deems them relevant for a specific search query.
However, remember that Google frequently tests existing SERP features while introducing new ones, so it is imperative to stay up-to-date with these changes, learn how they may affect your SERP rankings, and leverage them as best as you can.
Ready to maximize your digital marketing in Asia?