Boost Your Google Visibility: 5 Tips on How To Get Sitelinks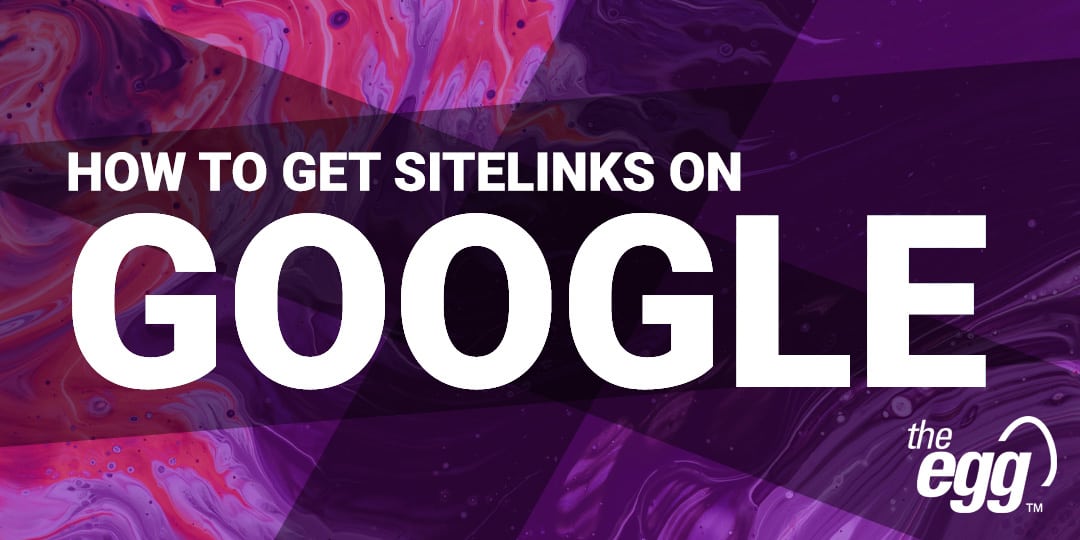 Sitelinks are critical to SEO. They outline your website on Google's SERP (search engine results page) and make it more efficient for users to identify and navigate to key pages—without having to go through your homepage.
By featuring your important pages and maximizing SERP real estate, Google sitelink snippets can improve your CTR (click-through rate) and drive greater organic traffic deeper into your site.
In today's 'Google it' culture, sitelinks are also increasingly influential, appearing on the SERPs of 43% of search queries across Google Hong Kong alone.
So, how do you get sitelinks on Google?
While Google ultimately decides whether or not it provides sitelinks, you can increase your likelihood of qualifying for them by ensuring your website is crawlable and follows a logical hierarchy.
Here, get 5 SEO tips to improve your site's chances of ranking on the SERP with sitelinks and attracting greater traffic from your target audience.
What are sitelinks?
Before we dive in, let's define: What are sitelinks?
Sitelinks are the extra links beneath the first organic search result on Google. They link to deeper pages beyond that first organic result's homepage.
Google sitelinks are displayed in one of two ways: in two-column or single-line snippets.
Across two columns, Google may display between 1 to 6 sitelinks; each sitelink has a title on top of a description and links to a webpage outside the homepage, but under the same domain.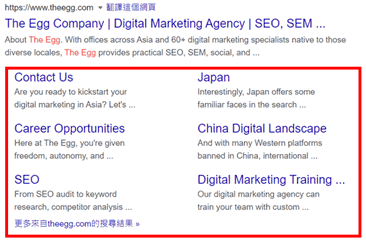 Two-column sitelink snippet of The Egg Company's website
Alternatively, sitelink snippets can also be condensed into a narrow strip of up to 4 sitelinks, but without titles or descriptions.

Single-line sitelink snippet of The Egg Company's website
Ultimately, both formats simplify user navigation to important pages that Google deems relevant to the search query.
How to Get Google Sitelinks – Tip #1:
Rank First For Your Brand Term
In the two-column sitelink format, only the top search result can generate sitelinks from branded searches. Hence, it is critical that your homepage ranks #1 on the SERP for your brand keywords.
In fact, this is critical beyond just the effort to generate sitelinks, affecting CTR, conversions, and ultimately sales.
Branded search queries make up much of a brand's organic traffic, while the people who search by brand name are more likely to buy.
At the same time, the top 1 to 5 results for branded terms tend to get the most clicks, while results below the fold are generally sidelined.
This means that if you don't rank at the top of the SERP for your brand search queries, you lose high-purchase potential searchers.
Pro Tip: Unless you are an immediately recognizable brand, like Three Mobile or Apple, your site name must be unique enough for Google to recognize it as a specific brand term to generate sitelinks for your website.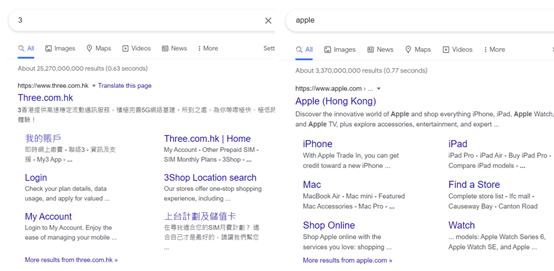 Recognized brands tend to rank first on the SERP for branded terms and generate sitelinks
How to Get Google Sitelinks – Tip #2:
Serve Up The Right Pages
Google's sitelinks are usually linked to internal pages located one click away from the homepage, such as those hyperlinked on navigational menus or on a featured section of the homepage.
Therefore, it is imperative that internal links to candidate sitelink pages are both valid and readable for search engine crawlers and users.
Given Google's limited crawl capacity, directly linking your candidate sitelink page to your homepage essentially helps Google comprehend the importance of that page and increases its likelihood of featuring as a sitelink.
Pro Tip: You can also help Google by submitting an XML sitemap or going onto Google Search Console and demoting the pages you don't want to appear as sitelinks.
How to Get Google Sitelinks – Tip #3:
Simplify Anchor and Alt Text
In Google's best practice guide for how to get sitelinks, they recommend writing informative, simple anchor and alt text for internal links.
As an example, let's examine ViuTV: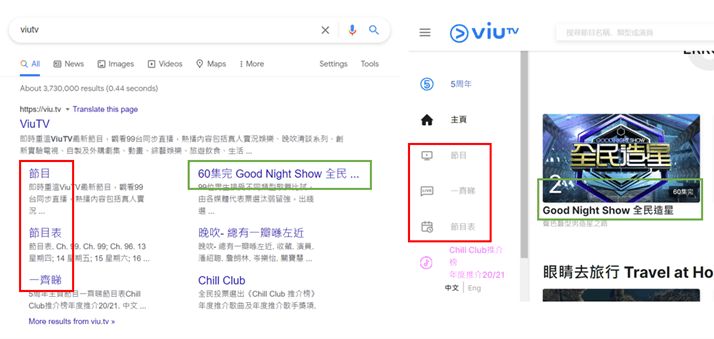 ViuTV's sitelink titles (left) match the anchor and alt text on their homepage (right)
In ViuTV's two-column snippet, the sitelinks on the left column derived their titles—word-for-word—from the anchor text on ViuTV's website's navigation menu. Similarly, the sitelinks on the right column are derived from the website's on-page alt text linked to their TV programs, like "Good Night Show".
Hence, best practice stipulates simplifying any anchor and alt text on your homepage, especially if the sitelink candidate pertains to one of the subcategories on your navigation menu.
Pro Tip: To optimize sitelinks in Traditional Chinese, keep anchor text under 12 characters.
How to Get Google Sitelinks – Tip #4:
Optimize Meta Descriptions
While sitelink titles are derived from anchor text on the homepage, the descriptions are extracted from the meta descriptions of the candidate sitelink pages. Meta descriptions are implemented on the backend of the page to tell Google and users what the page is about.
Because sitelink descriptions have a character limit—around 60 English characters and 25 Chinese characters—key messages and information about the candidate sitelink page should be prioritized at the beginning of the meta description.
Pro Tip: Also include your call-to-action at the front to incentivize users to click the sitelink.
How to Get Google Sitelinks – Tip #5:
Create a Table of Contents for Long-Form Content
Single-line sitelinks snippets are unique because, on top of brand term queries, they also appear on the SERPs of non-branded queries. What's more, they can navigate to different sections of the same page as opposed to only linking to separate internal pages.
One method to generate single-line sitelinks is to create a table of contents with anchor links to particular sections (like we did at the beginning of this article!), which is especially useful for long-form content like blog articles.
Not only does a table of contents help users navigate within the page, it also attracts them to specific chapters or sections of greater importance to your business. At the same time, it helps Google read the page and generate single-line sitelinks.
***
Although not a guarantee for generating sitelinks—as Google is the ultimate decision-maker—these 5 SEO tips will certainly improve your website's crawlability and make Google more inclined to give you sitelinks.
Ultimately, with search queries becoming increasingly niche, the demand for sitelinks will only grow over time, and brands must position themselves to ride this SEO wave.
Ready to maximize your digital marketing in Asia?