7 TIPS FOR GETTING GOOGLE SITELINKS TO BOOST YOUR VISIBILITY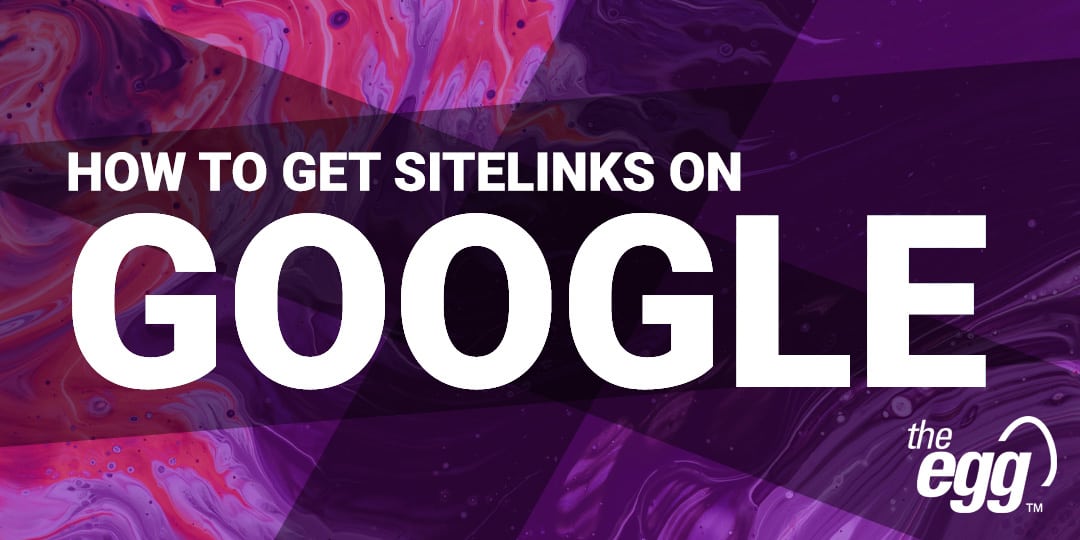 Sitelinks are critical to SEO. They outline your website on Google's SERP (search engine results page) and make it more efficient for users to identify and navigate to key pages—without having to go through your homepage.
By featuring your important pages and maximizing SERP real estate, Google sitelink snippets can improve your CTR (click-through rate) and drive greater organic traffic deeper into your site.
In today's 'Google it' culture, sitelinks are also increasingly influential, appearing on the SERPs of 43% of search queries across Google Hong Kong alone.
So, how do you get sitelinks? In this Guide, you'll learn in detail about what Google sitelinks are, how they can help your site and, most importantly, 7 insider tips for getting sitelinks to appear in your site's search results.
Let's dive in.
WHAT ARE SITELINKS?
First of all, what are sitelinks?
Sitelinks are the extra links beneath the first organic search result on Google. They link to deeper pages beyond that first organic result's homepage.
Google sitelinks are commonly displayed in one of two styles: full sitelinks or one-line sitelinks.
With full sitelink snippets, Google may display up to 4 sitelinks; each sitelink has a title on top of a description and links to a webpage outside the homepage, but under the same domain.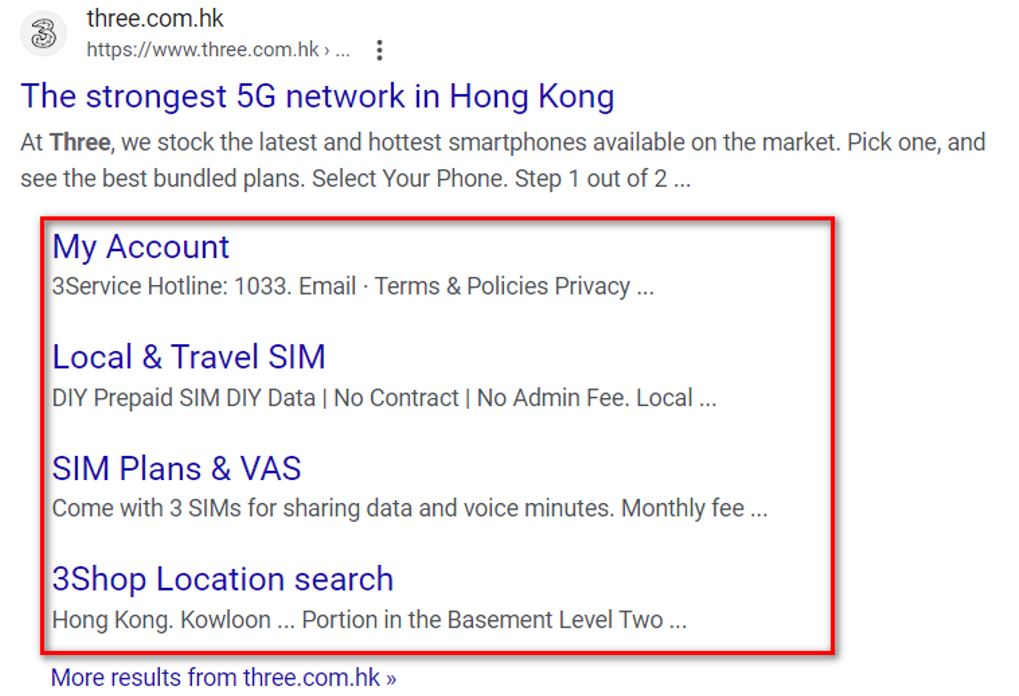 Full sitelinks of Three Hong Kong's website
Alt txt: Full sitelinks of Three Hong Kong's website
Alternatively, one-line sitelinks are condensed into a single row of up to 4 sitelinks, without titles or descriptions.

One-line sitelinks of The Egg's website
Alt txt: One-line sitelinks of The Egg's website
In either format, sitelinks serve the purpose of helping users access your website more efficiently. For example, a user searching for "The Egg" might be interested in the SEO Services section instead of the Homepage. With sitelinks, he/she can access the SEO page directly.
Ultimately, sitelinks simplify user navigation to important pages that Google deems relevant to the search query and eventually help improve your content stickiness when users find and land on the right pages more efficiently.
WHY ARE SITELINKS IMPORTANT?
Sitelinks can be beneficial in many ways to your website. Here are some of the benefits:
1. Sitelinks Increase Click-Through Rate
Sitelinks can benefit your website's CTR in two ways. Firstly, when your website is given a sitelinked snippet on Google SERP, it not only showcases your main page, but also displays direct links to the most relevant and attractive subpages. This enables users to quickly access the information they seek, which increases the likelihood of them clicking through to your site.
Furthermore, when displayed in full form, sitelinks help your website occupy a larger portion of the screen on the SEPR. A study by Backlinko that analyzed 4 million Google search results found that the top three results get the majority of the clicks. By having sitelinks to your website, you effectively gain 3-4 times more space on the SERP, which could get you an additional 30% of clicks at no additional cost! On mobile device, sitelinks can even occupy the entire mobile screen, making them that much more impactful to increasing your website's visibility and clicks!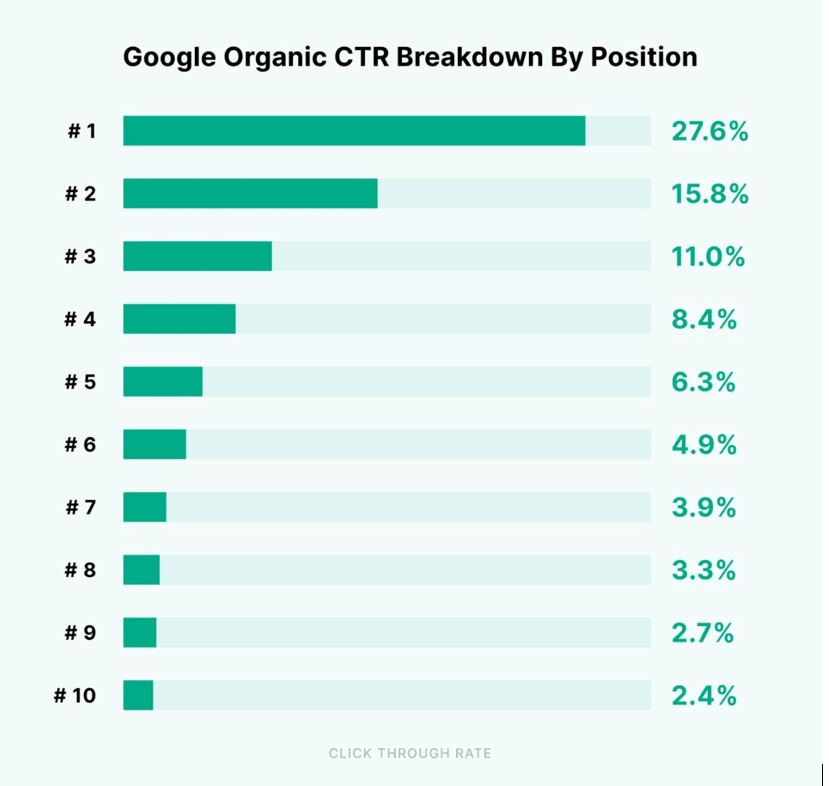 Google Organic CTR Breakdown by Position
Image by Backlinko
Alt txt: A large portion of the clicks come from the top three search results
2. Sitelinks Build Trust
Google's objective is always to provide users with high-quality content through its search results. When your website receives sitelinks, it serves as validation from Google that your site has good navigation and quality content that users find valuable. Conversely, a poorly structured or optimized website is unlikely to have sitelinks appear on the SERP.
In fact, a website that is deemed high-quality may even feature a search box together with sitelinks in its search result snippet. It lets users search the website for  specific information  and land on the exact page that matches their intent, which greatly enhances user experience.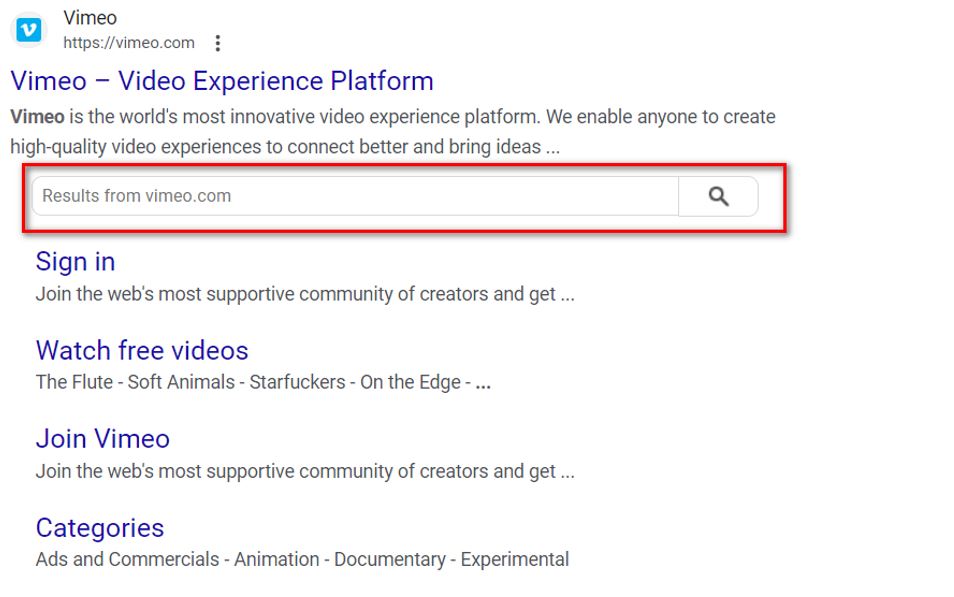 The search box within the sitelinked snippet for Vimeo helps improve CTR and user experience
Alt txt: The search box within the sitelinked snippet for Vimeo helps improve CTR and user experience
3. Sitelinks Help Market Your Key Products and Services
Sitelinks are also a great way of showcasing your products and services to users who are interested in your brand. Google typically select high-value pages as sitelinks based on your site's structure, content, and internal linking, and these are often your core products/services pages and pricing pages. With sitelinks, potential customers can become more informed about your business' offerings just by glancing at these sitelinks.
4. Sitelinks Let Users Explore More Pages
When users browse your site through navigation, they often focus on a few prominent sections only. Your top-viewed blogs, most downloaded guides and most engaging content might be missed. These hidden gems – if chosen by Google as sitelinks – can be presented prominently to users, giving them opportunities to explore and engage with your website further.
5. Sitelinks Prompts Users to Act
When users who are already familiar with your brand and services search your brand again, often times they are looking to form a deeper relationship with you – for example, by subscribing to a newsletter or signing up for a free trial. Sitelinks can shorten the conversions path by letting users access those action-oriented pages directly without having to navigation through the homepage first. This streamlined user experience with sitelinks can encourage users to take immediate action, increasing your conversion rate.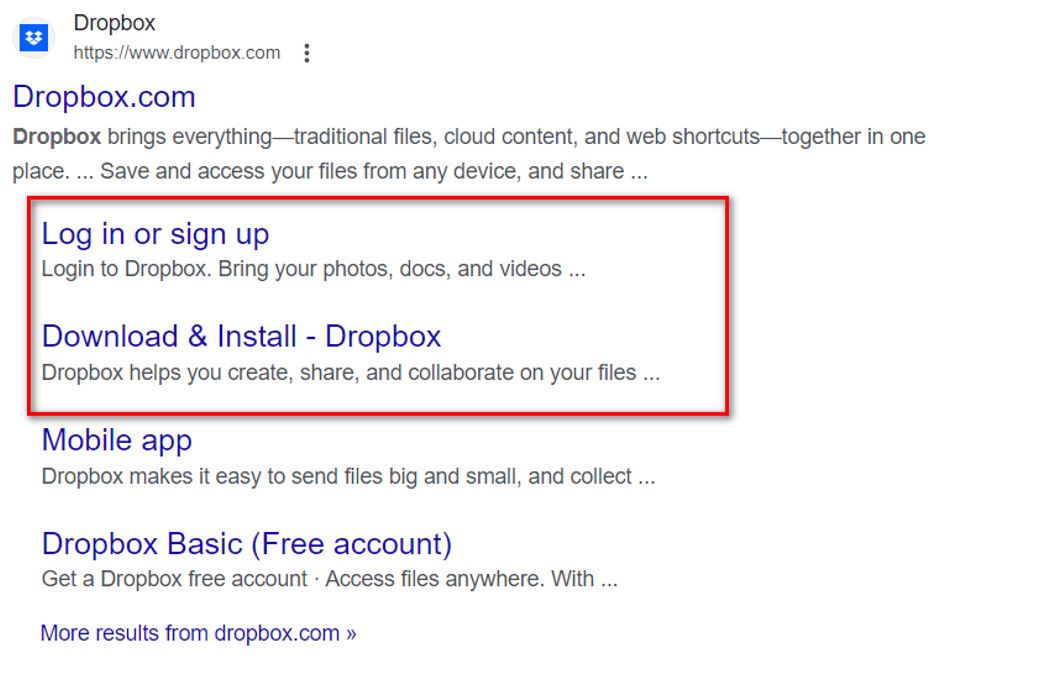 The Log in and Download & Install pages are chosen as sitelinks for the brand term search for Dropbox
Alt txt: The Log in and Download & Install pages are chosen as sitelinks for the brand term search for Dropbox
HOW TO GET SITELINKS TO YOUR SITE
While Google ultimately decides whether it provides sitelinks, you can increase your likelihood of qualifying for them by ensuring your website is crawlable and follows a logical hierarchy.
Here, get 7 SEO tips to improve your site's chances of ranking on the SERP with sitelinks and attracting greater traffic from your target audience.
How To Get Google Sitelinks – Tip #1: Rank First for Your Brand Term
The full sitelink snippet is typically reserved for the top search result in branded searches. Hence, it is critical that your homepage ranks #1 on the SERP for your brand keywords.
In fact, this is critical beyond just the effort to generate sitelinks, affecting CTR, conversions, and ultimately sales.
Branded search queries make up much of a brand's organic traffic, while the people who search by brand name are more likely to buy.
At the same time, the top 1 to 5 results for branded terms tend to get the most clicks, while results below the fold are generally sidelined.
This means that if you don't rank at the top of the SERP for your brand search queries, you lose high-purchase potential searchers.
Pro Tip: Unless you are an immediately recognizable brand, like Three Mobile or Apple, your site name must be unique enough for Google to recognize it as a specific brand term to generate sitelinks for your website.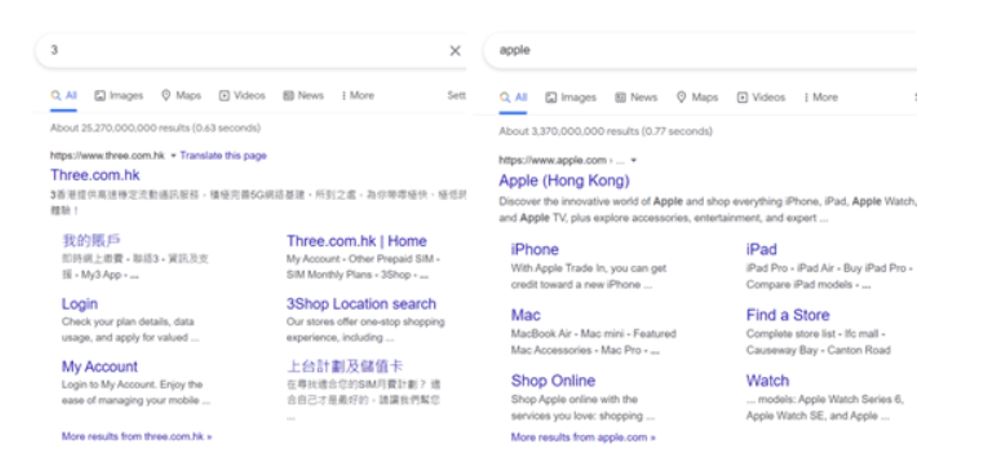 Recognized brands tend to rank first on the SERP for branded terms and generate sitelinks
WANT DIGITAL INSIGHTS STRAIGHT TO YOUR INBOX?
How to Get Google Sitelinks – Tip #2: Build An Easy-to-Understand Site Structure
Site structure refers to how you organize your website's content. A simple and straightforward structure helps Google to effectively crawl your site and identify the most important pages, which are likely to be considered for Google sitelinks.
Moreover, a site structure that is easy to navigate and to understand encourages users to stay longer and interact with your website more. This positive engagement signals to Google that your site is of high-quality and trustworthy, increasing your likelihood of being rewarded with sitelinks.
Pro tip: An ideal site structure would contain no more than 4 levels or hierarchy, so make sure your deepest pages are accessible within 3 clicks from the homepage.
How to Get Google Sitelinks – Tip #3: Serve Up the Right Pages
Google's sitelinks are usually linked to internal pages located one click away from the homepage, such as those hyperlinked on navigational menus or on a featured section of the homepage.
Therefore, it is imperative that internal links to candidate sitelink pages are both valid and readable for search engine crawlers and users.
Given Google's limited crawl capacity, directly linking your candidate sitelink page to your homepage essentially helps Google comprehend the importance of that page and increases its likelihood of featuring as a sitelink.
Pro Tip: You can also submit an XML sitemap, which helps Google to better understand and navigate your website..
How to Get Google Sitelinks – Tip #4: Emhasize Page Importance with Internal Linking
The number of links that a page receives directly reflects its significance to search engines. When multiple pages within the same domain link to a specific piece of content, it signals to Google that the content is valuable, trustworthy, and important to the overall site, prompting Google to consider this page as a candidate for sitelinks.
You can use Google Search Console to identify the number of internal links a page receives and strategically add internal linking to promote the pages you want to showcase as sitelinks.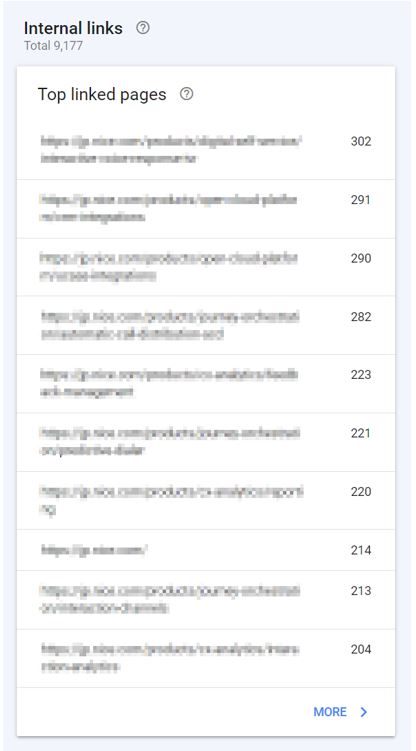 Top linked pages from Google Search Console
Alt txt: Top linked pages from Google Search Console
Pro tip: Google has a crawl limit of 150 links per page, so make sure that you do not overstuff the content with internal linking.
How to Get Google Sitelinks – Tip #5: Simplify Anchor and Alt Text
In Google's best practice guide for how to get sitelinks, they recommend writing informative, simple anchor and alt text for internal links.
As an example, let's examine ViuTV: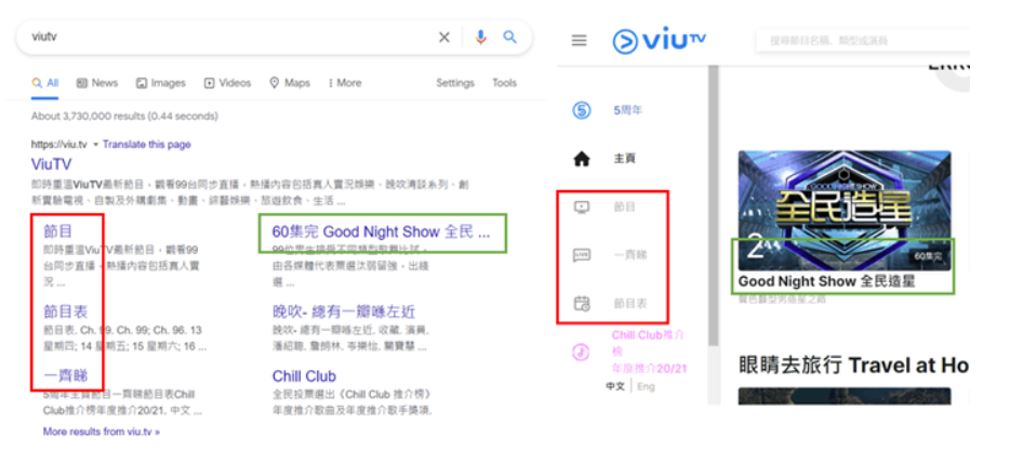 ViuTV's sitelink titles (left) match the anchor and alt text on their homepage (right)
In ViuTV's sitelinks snippet, the sitelinks on the left derived their titles—word-for-word—from the anchor text on ViuTV's website's navigation menu. Similarly, the sitelinks on the right are derived from the website's on-page alt text linked to their TV programs, like "Good Night Show".
Hence, best practice stipulates simplifying any anchor and alt text on your homepage, especially if the sitelink candidate pertains to one of the subcategories on your navigation menu.
Pro Tip: To optimize sitelinks in Traditional Chinese, keep anchor text under 12 characters.
How to Get Google Sitelinks – Tip #6: Optimize Meta Descriptions
While sitelink titles are derived from anchor text on the homepage, the descriptions are extracted from the meta descriptions of the candidate sitelink pages. Meta descriptions are implemented on the backend of the page to tell Google and users what the page is about.
Because sitelink descriptions have a character limit—around 60 English characters and 25 Chinese characters—key messages and information about the candidate sitelink page should be prioritized at the beginning of the meta description.
Pro Tip: Also include your call-to-action at the front to incentivize users to click the sitelink.
How to Get Google Sitelinks – Tip #7: Include a Table of Contents for
Long-Form Content
One-line sitelinks snippets are unique because they not only appear for brand term queries but also for non-branded queries. What's more, they can navigate users to different sections within the same page as opposed to only linking to separate pages.
One method to generate one-line sitelinks is to create a table of contents with anchor links to specific sections (like we did at the beginning of this article!), which is especially useful for long-form content like blog articles.
Not only does a table of contents help users navigate within the page, it also attracts them to specific chapters or sections of greater importance to your business. At the same time, it helps Google read the page and generate one-line sitelinks.
Bonus Tip: How to Get Sitelinks Search Box?
As mentioned earlier, the sitelinks search box is a feature that lets users conduct follow-up searches on your website directly from a sitelinks snippet. It leads them to another search result page that shows relevant results exclusively from your domain.
Like sitelinks, the appearance of a search box is determined by Google and is dependent on various factors. However, there are steps you can take to increase the likelihood of triggering the search box when people search for your brand term.
One method is to implement the WebSite structured data, which helps Google gain a better understanding of your site. Add it to your homepage only and always specify one SearchAction for the website.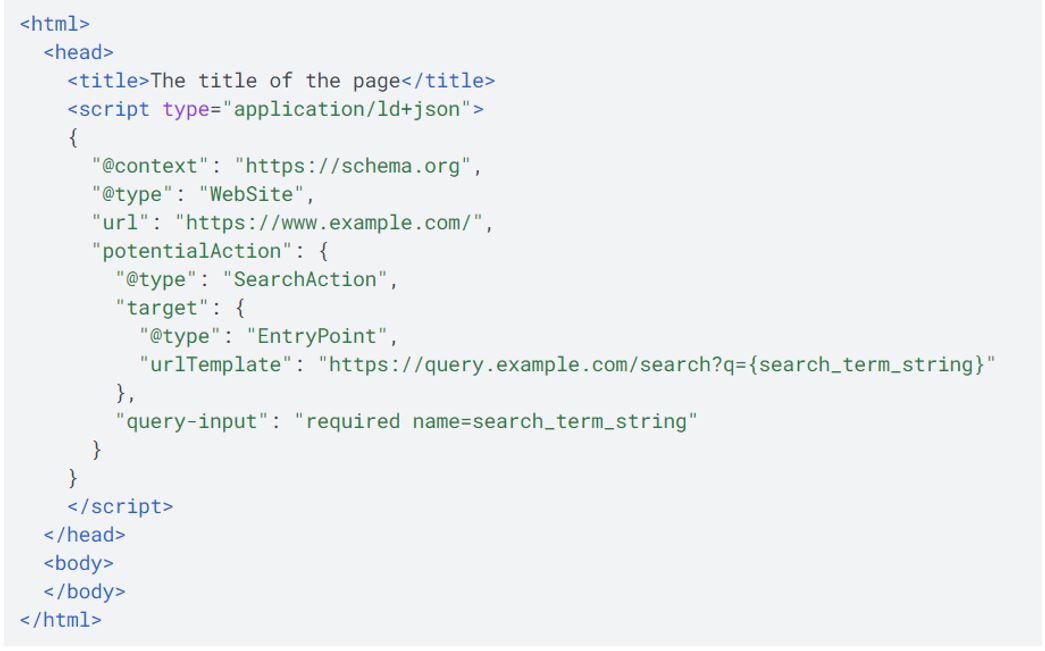 Examples for WebSite schema markup
Alt txt: Examples for WebSite schema markup
Additionally, you need to have a robust internal search engine for the search box to appear on the SERP. Follow best practices such as displaying internal search results by relevance, highlighting search keywords, providing result filters, and presenting alternatives when no immediately relevant results are found.
A FREQUENTLY ASKED QUESTION: CAN I DEMOTE SITELINKS?
If there are specific pages appearing as sitelinks that you would like to remove, it's important to note that Google has discontinued the sitelinks demotion tool in Google Search Console since 2016. There are, however, two things you can do (with caution!) to indicate your intention to Google:
Review and Sculpt Internal Links: Identify all the internal links on your website pointing to the page you do not want to appear as a sitelink. By trimming these internal links, you can downplay the importance of that particular page in Google's eyes.
Nonindex the Undesired Page: If you absolutely do not want the page to be included in Google's index and search results, you can choose to noindex the page completely. This is the only guaranteed way to remove a sitelink, but only do so if you do not want the page to appear in any and all search results.
Remember to consider the potential impact on your overall SEO strategy and consult with an SEO professional before making any significant changes to your site's indexing or internal linking structure.
***
Although not a guarantee for generating sitelinks—as Google is the ultimate decision-maker—these SEO tips will certainly improve your website's crawlability, make Google more inclined to give you sitelinks and let you take better control of them.
Ultimately, with search queries becoming increasingly niche, the demand for sitelinks will only grow over time, and brands must position themselves to ride this SEO wave.
Ready to maximize your digital marketing in Asia?