5 Steps to Master SERP Analysis: Your Key to Outrank Competitors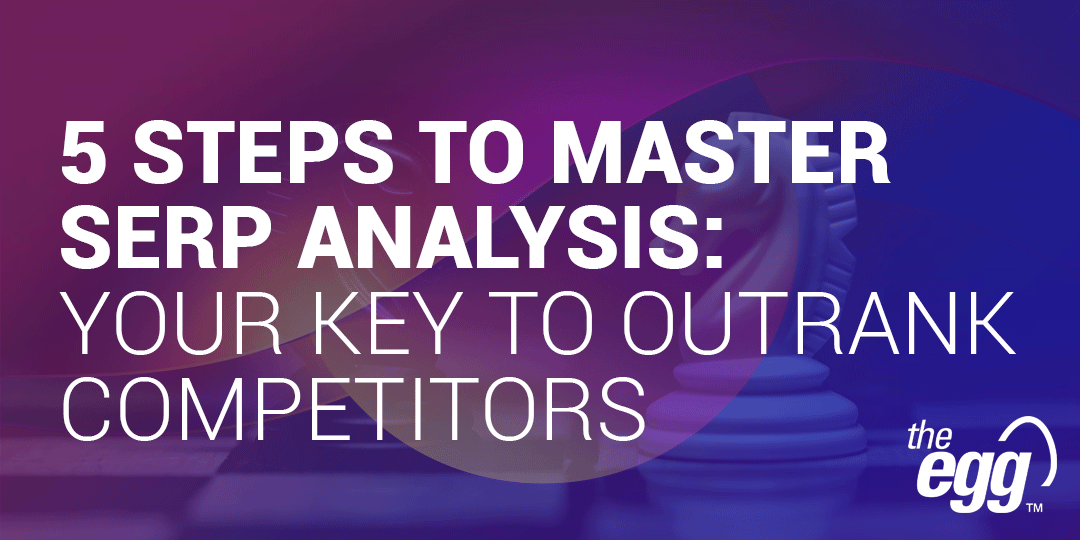 Modern SERP is an ever-changing and evolving place.
To excel as an SEO professional, it is crucial to understand and harness the challenges and opportunities it presents.
In this guide, we will explore the five essential steps of performing SERP analysis. By mastering these steps, you will enhance your chances of securing a top position on the SERP for your target keywords.
WHAT IS SERP ANALYSIS?
SERP analysis is the process of examining the top results on Google's Search Engine Results Pages (SERP) for a specific keyword. It provides invaluable insights into the competitive landscape and your chances of achieving a top ranking, which allows you to make informed decisions to optimize your website's visibility and performance. Without SERP analysis, you would be navigating blindly in your SEO efforts.
WHY DO A SERP ANALYSIS?
Doing a thorough SERP analysis has many benefits, with two biggest advantages being:
Determining Keyword Relevancy. Before diving into content creation and page optimization, you need to make sure that the keywords you target are genuinely relevant to your business and niche. As Google prioritizes the most relevant pages for top search results, a SERP analysis can provide valuable insights into the relevancy of your selected keywords. It is possible that your ideal keywords, despite having high search volume, trigger entirely different types of pages than the content you intend to deliver. By assessing the SERP beforehand, you can avoid heading in the wrong direction right from the start.
Revealing Ranking Difficulty. The more competitive and difficult a keyword is, the more effort you need to rank for it. But how can you assess the difficulty level of a keyword? The answer is doing a SERP analysis. By gathering data on the top-ranking pages, such as the quality of their content and the number of inbound links they receive, you can gauge the feasibility of ranking well in a competitive landscape. 
The benefits do not just end here. SERP analysis can also enable you to:
Uncover new ideas by looking at what is lacking in competitors' ranking content.
Find SERP Feature opportunities to target.
Understand how volatile the SERP is for your target keywords (we will delve into this at the end of the article!).
In summary, SERP analysis provides you with valuable insights that illuminate the path to ranking for your target keywords.
5 STEPS TO DO SERP ANALYSIS
Before doing SERP analysis, you need to conduct keyword research and build a list of keywords relevant to your niche.
Begin by defining your goals and objectives for your brand, products, and services. This will help you brainstorm ideas and generate a list of potential keywords. You can also utilize tools like Dragon Metrics, which can assist in uncovering keywords that may have been overlooked.
For example, enter "serp analysis" in the Keyword Research tool in Dragon Metrics, and you will be presented with a list of related keywords with monthly search volume and competition score. In the left panel, you can filter related keywords according to your business needs.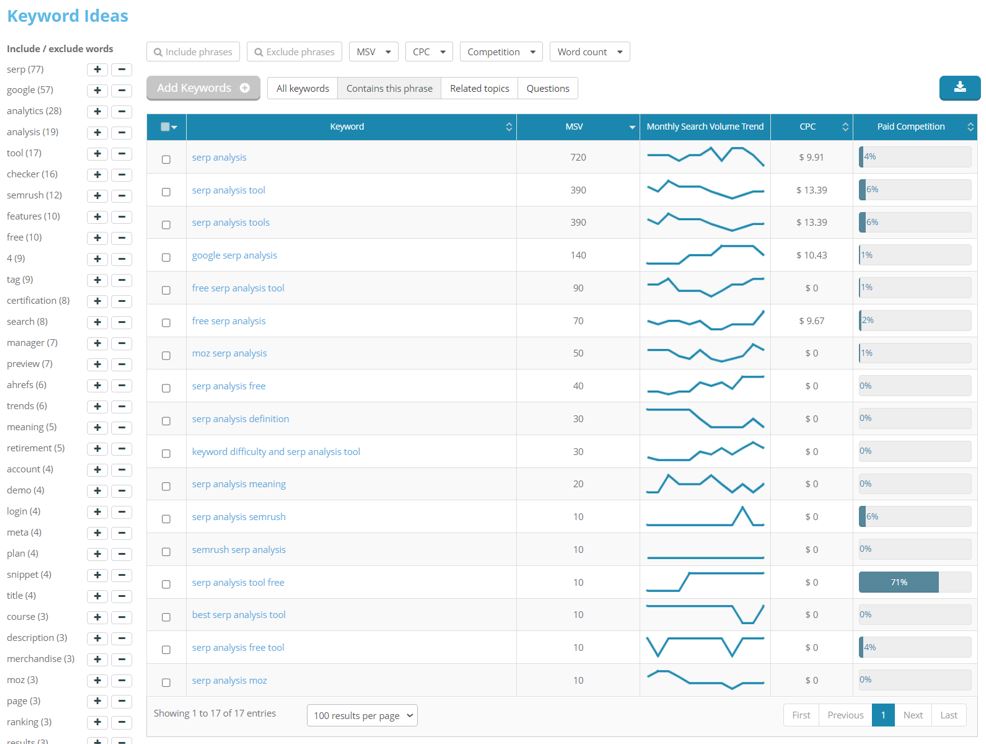 Use Dragon Metrics to generate keywords for "serp analysis".
Alt txt: Use Dragon Metrics to generate keywords for "serp analysis".
Once you have compiled your list of keywords, it is worthwhile to spend time to evaluate their priorities for the SERP analysis. Recognize that not all keywords have the same level of importance for your business. Label your keywords as main or secondary, and the main keywords are the top candidates for your SERP analysis.
Now, here are the five essential steps for doing SERP analysis:
Step #1 Understand Search Intent
Search intent is the primary objective that users have when entering a query into a search engine. There are generally four main categories of search intent:
Informational Intent. Users seek information to solve a problem and educate themselves on a particular topic.
Navigational Intent. Users aim to reach a specific brand or website that they already know.
Transactional Intent. Users intend to make a purchase of products or services.
Commercial Intent. Users conduct research on a product or service before making a purchase decision.
As Google serves the most relevant pages to users, you can judge a query's search intent by looking at the top-ranking results.
For example, if you search for "buy rain jacket," you will be presented with eCommerce websites that sell rain jackets, indicating transactional intent. However, if you change the query to "best rain jacket," you will see review articles listing the top-rated rain jackets, indicating commercial intent. On the other hand, searching for "rain jacket Amazon" shows that the intent is navigational, as you are specifically looking to navigate to the Amazon website. Lastly, if you search for "choose a jacket," Google will present you with articles that discuss tips and considerations for selecting a winter jacket, indicating informational intent.
Once you know the search intent behind a keyword query, you can align your content and SEO strategy accordingly and provide the most relevant information to users based on their search goals.
Pro tip: Sometimes you will see mixed results for a query because the search intent is ambiguous. In these cases, target longer-tail, more specific keywords.
Step #2 Examine Formats of Ranking Content
When conducting SERP analysis, it is crucial to examine the formats of the ranking content. This involves observing the types of content that appear in the top-ranking pages on the SERP.
Take note of whether the ranking pages predominantly consist of long-form blogs, listicles, case studies, articles with infographics, or any other specific format. If Google consistently favors certain content formats, it would be beneficial to align your content strategy accordingly in order to improve your chances of ranking.
For example, if you created a long-form blog focusing on different routes for road trips in Australia but found that the ranking articles were mostly travel blogs highlighting bloggers' personal experiences on road trips, it's important to understand that your content format may not align with what Google and users are looking for in that specific search query. Adjusting your content format to match the types of content that are ranking well can be a strategic move to improve your chances of ranking.
Pro tip: Videos, infographics, listicles, and quizzes are known to be highly engaging and tend to generate a significant number of shares. If you find that the ranking content is in these formats, it's a no-brainer to follow suit and incorporate these engaging formats into your content strategy.
Step #3 Evaluate Ranking Difficulty
The third step of SERP analysis involves assessing the level of difficulty in beating the websites that currently rank as the top results. You will need to gather relevant metrics about these top-ranking pages.
There are two key aspects to examine:
Backlinks
Backlinks is a crucial ranking factor for Google, and pages with a higher number of high-quality backlinks have a better chance of ranking well for competitive keywords. Therefore, if the top-ranking pages have a significant number of backlinks, it indicates that it may be more challenging for you to surpass them in rankings.
On Dragon Metrics, follow these steps to see backlinks to your competitors:
Go to the "Research"
Select "Keywords" from the menu
Enter your target keyword, such as "backlink outreach," in the search bar
Select "SERP Results" from the left menu
Navigate to the last column in the table, and you will find the number of external linking domains to the current ranking pages on the SERP. Note that Dragon Metrics tracks the number of linking domains instead of individual links, as multiple backlinks from the same domain hold little additional value compared to a single link from that domain.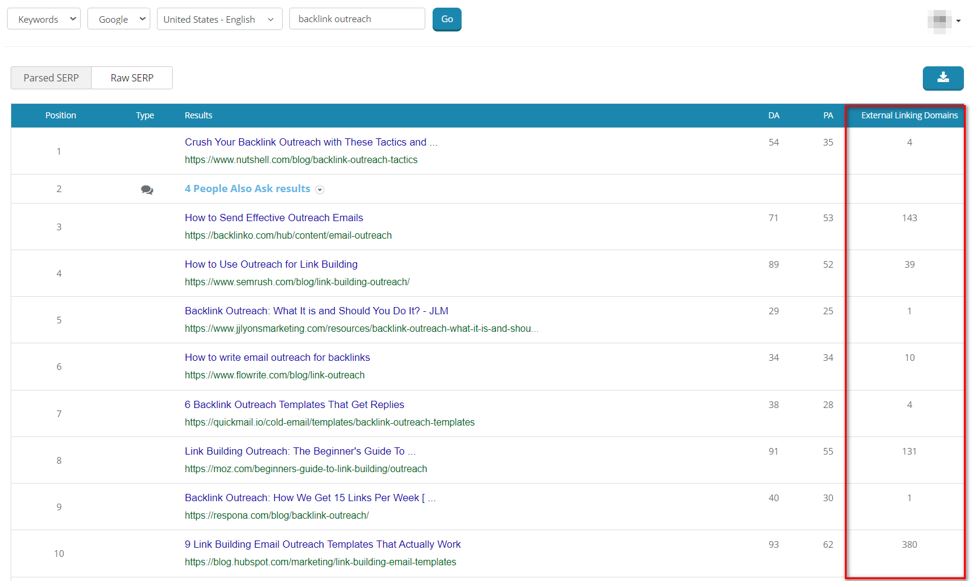 Use Dragon Metrics to check the number of linking domains to your competitors on SERP
Alt txt: Use Dragon Metrics to check the number of linking domains to your competitors on SERP
Additionally, you can check the Domain Authority (DA) and Page Authority (PA) of these top-rankings pages. The higher the DA and PA are, the harder it is to outrank these competitors on SERP.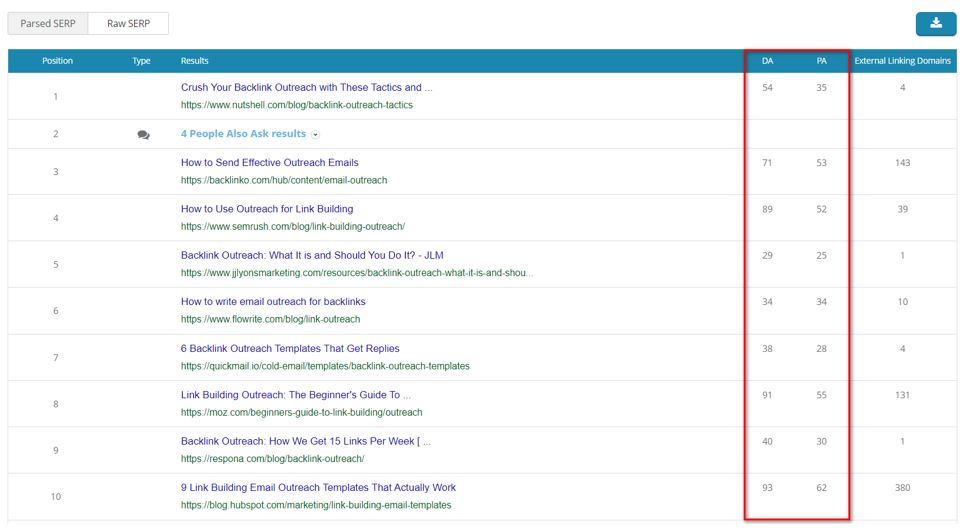 Use Dragon Metrics to check your competitors' DA and PA on SERP
Alt txt: Use Dragon Metrics to check your competitors' DA and PA on SERP
If you want to delve deeper into the link status of the top results on the SERP, you can hover over the URL and select "View this URL in Link Research". This action will direct you to a page where you can access more detailed information, including the top linking pages to the selected page.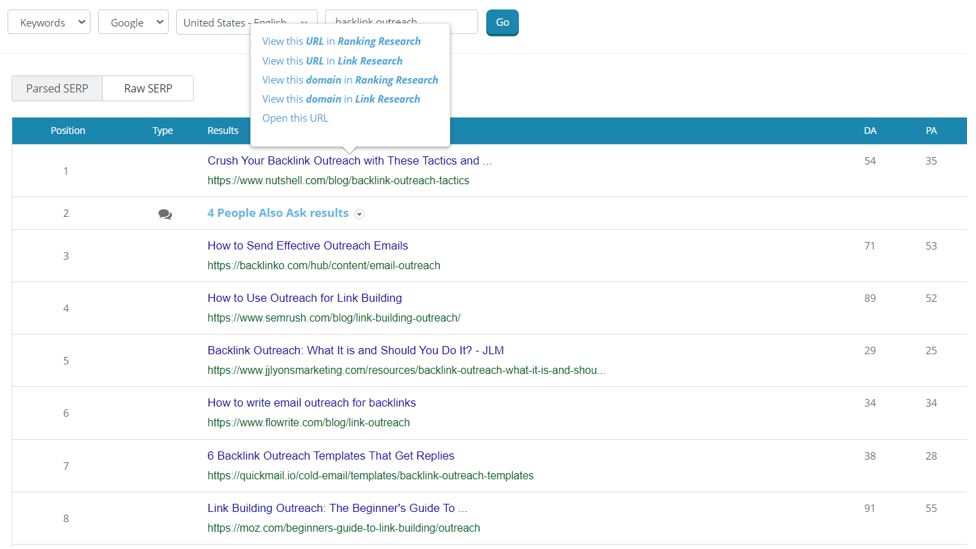 Select "View this URL in Link Research" to access more backlinks data of your competitors on SERP.
Alt txt: Select "View this URL in Link Research" to access more backlinks data of your competitors on SERP.
WANT DIGITAL INSIGHTS STRAIGHT TO YOUR INBOX?
Content Quality
While backlinks are important ranking signals, Google's ultimate goal is to provide users with high-quality content that satisfies their needs. To assess the difficulty of outranking top results in a SERP, you need to evaluate their content quality.
Ask yourself the following questions from two perspectives:
Content
How in-depth does this content go?
Has it demonstrated experience, expertise, authority, and trustworthiness (also known as E-E-A-T)?
Is it helpful to readers?
Does it provide unique value?
Has it incorporated industry data and references?
What points are missing from the content?
Readability
Is the content well-structured?
Is it easy to read and understand?
Does it engage readers effectively?
Has it used visuals to aid comprehension?
Assign a score to these questions for the top-ranking results, which will give you a sense of the effort required to outrank them. By considering both backlink profiles and content quality, you can better assess the level of difficulty involved in outranking the current top results.
Pro tip: In the case of high keyword difficulty and market competition, consider whether you have the topical authority to rank for this keyword. If not, it is better to target long-tail keywords.
Step #4 Do Not Forget SERP Feature Opportunities
According to SEMrush, only 2.68% of Google's first page results are now without any SERP features. This highlights the importance of targeting SERP features in your SEO strategy, as neglecting them means missing out on a significant portion of the ranking battle.
SERP features refer to any elements that appear on the search results page besides organic links. Some common SERP features include:
Feature snippets
Knowledge panel
Local packs
Image carousels
Video thumbnails
People also ask sections
As part of your SERP analysis, it is essential to identify which SERP features are appearing for your target keywords. It allows you to tailor your content and optimization efforts to target and leverage these features, enhancing your chances of ranking higher.
On Dragon Metrics, you can easily identify SERP features from the "Results" column on "SERP Results" section. Simply hover over the icons displayed, and you will be able to see what exactly these features are.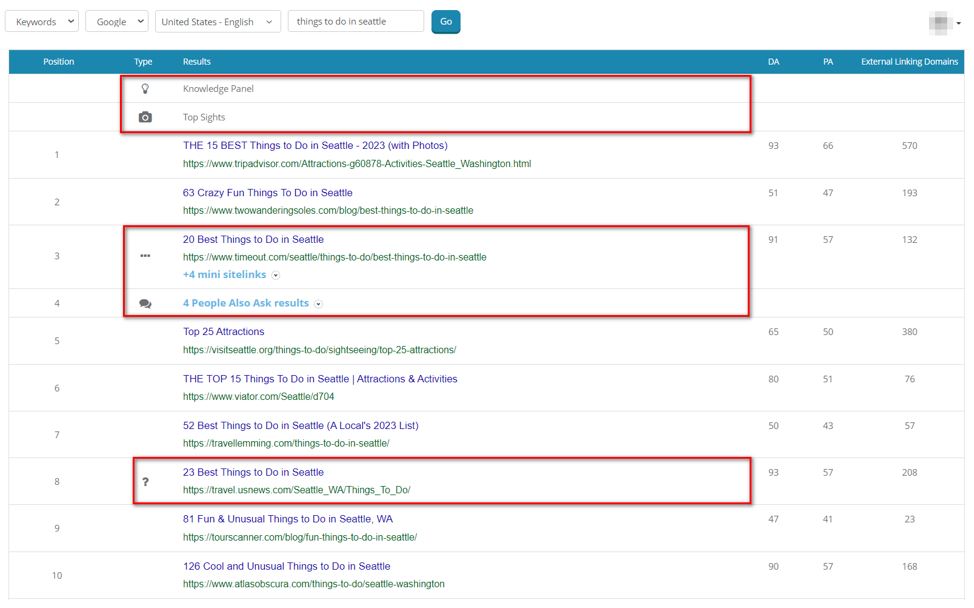 Use Dragon Metrics to identify SERP features
Alt txt: Use Dragon Metrics to identify SERP features
Once you have identified the SERP features relevant to your target keywords, you can read this guide on how to specifically target these features. This knowledge will enable you to make the most of SERP feature opportunities and up your SEO ranking game.
Pro tip: It is at Google's discretion whether to show SERP features. Therefore, even if you follow all the best practices, they may not appear. Keep optimizing and testing and you will be better equipped than your competitors to vie for SERP features when they do surface.
Step #5 Apply the Insights to Optimizing/Creating Content
Now that you have gained insights from your SERP analysis about search intent and the elements that contribute to the success of top-ranking pages, you can leverage this data to optimize your existing content or create new content. Here's how you can make use of these insights:
For existing pages, consider the following strategies:
Deepen content depth, refine content structure, or switch content angles to align more closely with user intent.
Tweak your meta title, description, and headings (H tags) to make them more appealing to users than your competitors
Start building backlinks if you find that top-ranking pages have strong external links, as this can improve your own page's authority and ranking potential.
Implement structured data to compete for SERP features, such as adding schema markup to enhance visibility and increase the chances of appearing in rich snippets or other featured elements.
If you are creating new content, use the insights from your SERP analysis as a guide to:
Identify the type of content (e.g., guides, tutorials, case studies)
Consider the ideal length for the content
Define a unique angle or perspective for your content to differentiate it from existing competition.
Decide on the visuals, such as images, charts, or diagrams, that can enhance the content's readability and provide additional value to users.
Identify content gaps or opportunities that your competitors may have overlooked, allowing you to fill those gaps with your own unique and valuable content.
By using the insights obtained from your SERP analysis, you can optimize your existing content and create new content that best aligns with search intent and have better chances of ranking on top of SERP.
BONUS TIP: UNDERSTAND THE SERP VOLATILITY
Google SERP is always changing and evolving. Even if you make it to the top results, it is not guaranteed that you will stay there forever.
Therefore, it is vital to monitor the SERP for your important keywords, do SERP analysis regularly, and make changes to your pages accordingly.
Here are a few reasons why the SERP fluctuates and how you may combat them:
Reason 1: Mixed search intents. Some search terms have ambiguous intent, resulting in mixed or inconsistent search results.
How to combat: Be cautious when targeting such keywords and consider focusing on long-tail keywords that have clearer intent.
Reason 2: Competitors' content updates. Competitors may refresh their content, and the updated content outrank your pages.
How to combat: Use tools like Wayback Machine to track and analyze competitors' content updates. Update your own content accordingly to remain competitive.
Reason 3: New competitors in the market. New competitors might enter the market and produce content targeting the same keywords as you.
How to combat: Evaluate the content of new competitors and compare it to your own. Identify areas where your content can be improved to maintain or regain your rankings.
Reason 4: Indexing issues. Your pages may have indexing issues, affecting their visibility on SERP.
How to combat: Check Google Search Console for any indexing issues and fix them promptly to ensure your pages are properly indexed.
Reason 5: Google algorithm update. Google's algorithm updates can impact your site's rankings.
How to combat: Assess if your site has received any manual penalties and address them accordingly. Additionally, identify any areas for improvement in your content related to the update.
It's important to stay calm when rankings fluctuate. Instead, focus on leveraging the insights from your SERP analysis data to find appropriate solutions to improve your rankings. Adaptation and continuous optimization based on SERP analysis are key to staying competitive in the ever-changing SERP landscape.
Ready to maximize your digital marketing in Asia?