3 Tips for SEO Success in the New Normal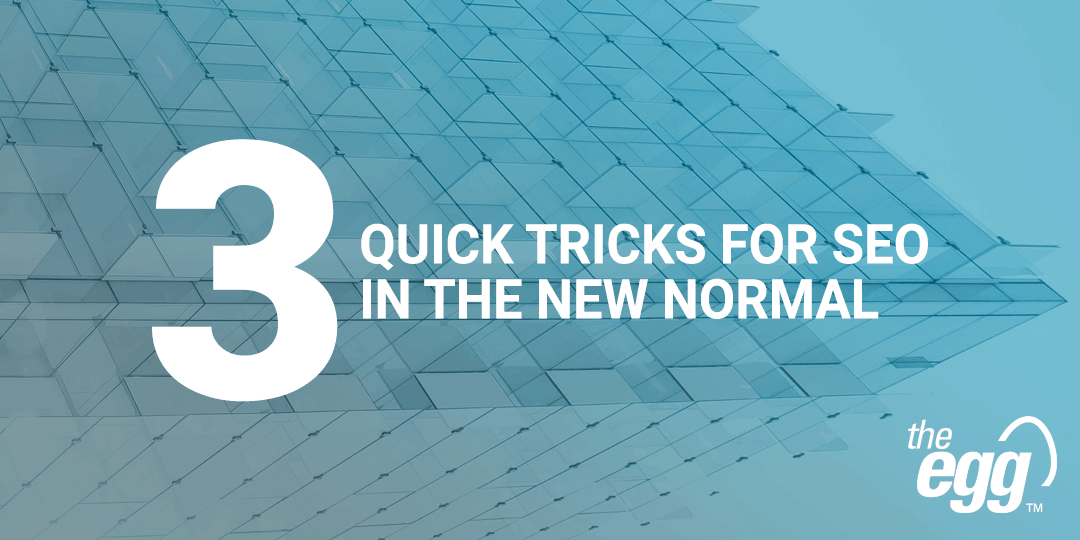 The COVID-19 pandemic has thrown the world and its economies into disarray.
Businesses around the world have taken a hit as consumers' preferences and purchasing patterns abruptly and drastically transformed.
New regulations have changed the way both sellers and consumers operate. While economic downturn is inevitable, there are small strides that businesses can take to alleviate this pressure on a digital front.
Now more than ever, it is important for businesses to be forward-thinking to aid recovery. In this vein, Google made changes to some of its search engine features to help businesses better communicate pandemic-related information and evolve with the new normal.
Here are 3 SEO tactics to remain connected and competitive with your consumers through your owned media presence during and beyond the COVID-19 pandemic.
SEO Tip 1 for New Normal:
Update your details on Google My Business
Google has been making changes to its Google My Business platform since Feb 2020 for brands to show more information, particularly pertaining to COVID-19. This includes displaying whether the business is still open, any limited operating hours, any changes of locations, updated customer policies, etc.
Google aims to show the most accurate information at all times; however, this also requires a bit of additional effort on your part to ensure your information is current. But luckily, Google has made this quite simple: The Google My Business COVID-19-related features let you stay updated and connected with your consumers during the pandemic.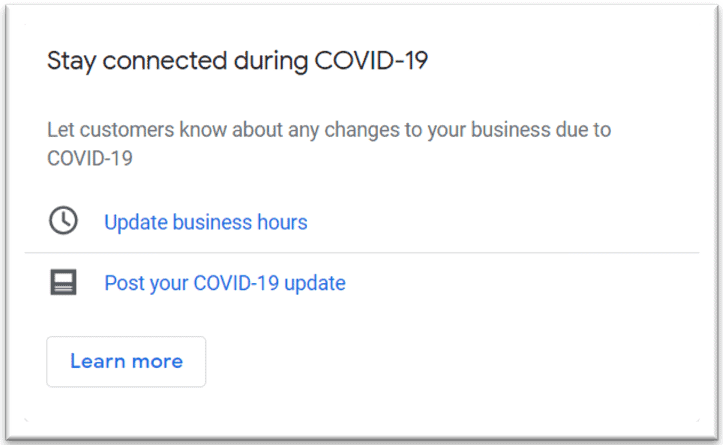 Example: Google My Business COVID-19-related information
This feature allows you to update according to any regulations that are in place—and these tend to change rapidly. It also allows you to add other business descriptions, such as delivery, takeout, and drive-through for F&B operations for example.
You can also select different attributes to highlight any changes in your business, such as:
Changes in hours of operations, e.g. if you open late or close early
Add 'more hours' to reflect a change in business operations
New attributes to highlight if your business offers online services, such as classes, appointments, etc.
Delays in business services
Updates on how your location manages safety and hygiene
Temporary closure of your business
Investing in local SEO is especially important now during the pandemic as it is a useful and effective way to reach out to your community and keep your customers engaged. Apart from Google My Business changes, there are also a few other areas that you can improve on, such as:
Add your company details on business directories, such as Yelp.
Create company social media channels.
Encourage positive customer reviews online.
These are just some of the ways to help your business out. Check out our in-depth guide on how to build your local SEO.
SEO Tip 2 for New Normal:
Add structured data for COVID-19 announcements
Schema markup allows Google to read and understand your page better and enables your page for rich results. While Google can read the contents of a page rather effectively, structured data provides explicit clues on the meaning of a page in a standardized format.
The structured data for COVID-19-related special announcements can be used by organizations that are publishing urgent announcements that affect the daily lives of people. According to schema.org, this is done to "cover the kinds of everyday practical information being posted to existing websites during an emergency situation."
Many organizations, especially governments, healthcare, schools, and more, are publishing urgent announcements with regards to crisis-related information (this is not the same as emergency warning technology, but functions in the same way).
Crisis-related information that could fall under the 'SpecialAnnouncement' schema markup includes:
Closure notices (for facilities, transport services, etc.)
Change in schedules and rescheduling of events
Government announcements such as benefits, leave, etc.
Quarantine guidelines
Travel restriction orders
Announcements of revised hours of operations and shopping restrictions due to new regulations in place
COVID-19 related statistics
When this structured data is added to the page, this enables the content to be eligible to appear with COVID-19 special announcement rich results. For example: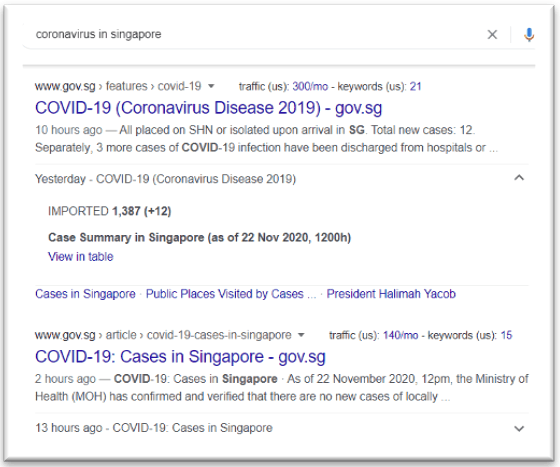 Example: COVID-19 special announcement
There are 2 ways to implement the schema markup COVID-19 special announcements feature:
1. Add 'SpecialAnnouncements' structured data to your webpages
Use schema markup to add important details relating to your COVID-19 special announcements. This is a piece of code added to your page to tell Google what your page is about.
While Google is primarily using this to highlight information from health and government agencies, the feature is still developing and adding in this markup will help Google better understand how to better their product.
Here's an example of how this 'SpecialAnnouncement' schema markup would look like for something like a school closure: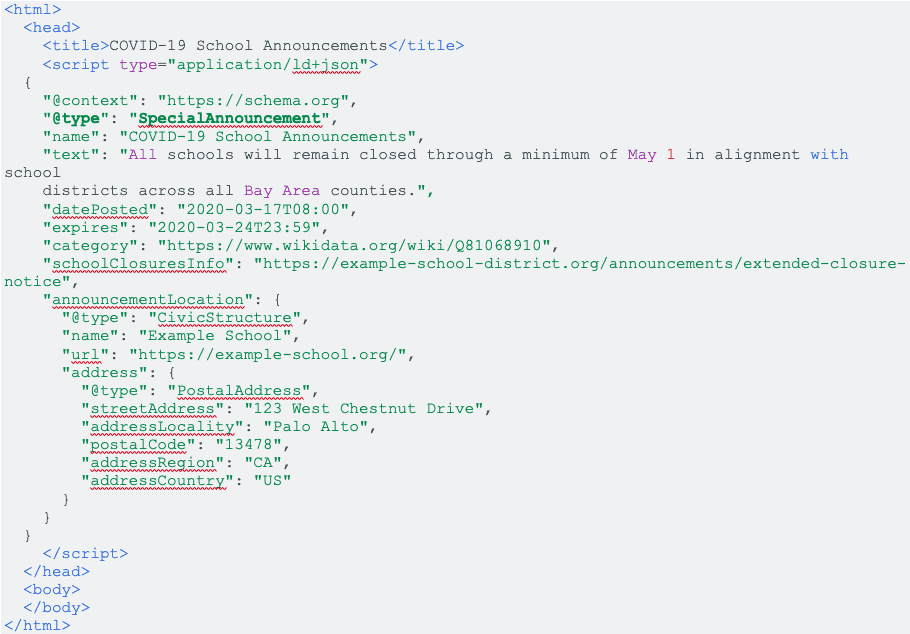 Sample code for schema markup special announcement
In this code, the "@type", "@schoolClosureInfo" and "@announcementLocation" are newly added features to schema that would explicitly tell Google that your page should feature under 'SpecialAnnouncements'.
2. Submit announcement in Google Search Console
For users that do not have the technical skills available to implement structured data, Google Seach Console also allows you to submit COVID-19 announcements.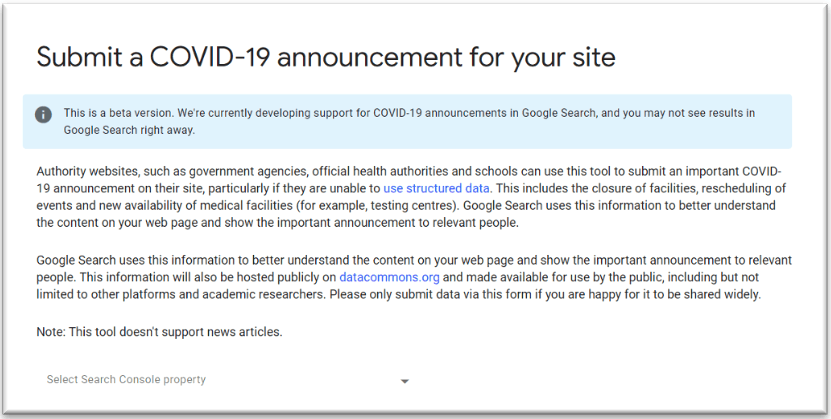 Submit COVID-19 announcements through Google Search Console
However, do note that this is just a short-term solutions and the announcements made through Google Search Console will not be tracked through Google Search Console's Special Announcement markup.
Google Search Console's Special Announcement is a new report that highlights any errors, warnings, and invalid implementations on your announcements. Website owners can use it to verify whether their schema markup was implemented correctly and any errors/fixes can be immediately validated through the report.
SEO Tip 3 for New Normal:
Create content of value for your consumers
Content creation is not a new recommendation. However, now more than ever, consumers turn to the internet to get their content, especially COVID-19-related information.
Google reports that search trends since the pandemic started have shifted drastically. As new regulations fall into place, Google has identified a large shift in the way consumers behave.
Google's report highlighted 5 main areas in which consumer behavior has changed in response to COVID-19:
A sharp increase in consumers are using multiple devices to go online. Over 12 hours of content are being consumed daily, and consumers are spending 20% more time in apps than they did before.
People are using search more to fulfill essential needs. In particular, there has been a large increase in searches for online grocery shopping and deliveries since the start of COVID-19.
Consumers are finding new ways to connect with their loved ones over the digital space.
Internet-first routines have surfaced, be it for work (telecommuting), health, or pleasure.
Searches for how to improve physical and psychological wellness have increased.
All around, this report highlights that everything has taken on a digital-first focus since COVID-19 arrived. Since the start of year, there have been over a million COVID-19-related posts.
For businesses to remain competitive and connect with their community, it is now more important than ever to continue generating content to fit the needs of their consumers.
***
Nobody knows when the COVID-19 pandemic will be over, and as economies continue to fluctuate, brands must do whatever they can to alleviate the pressure on their businesses. Considering the shift into a digital-first landscape, businesses should thus focus on building their digital presence to remain competitive during COVID-19 and beyond.
Are you ready to maximize your digital marketing in Asia?