PPC Advertisement Options in Japan: Google AdWords & Yahoo! Promotional Ads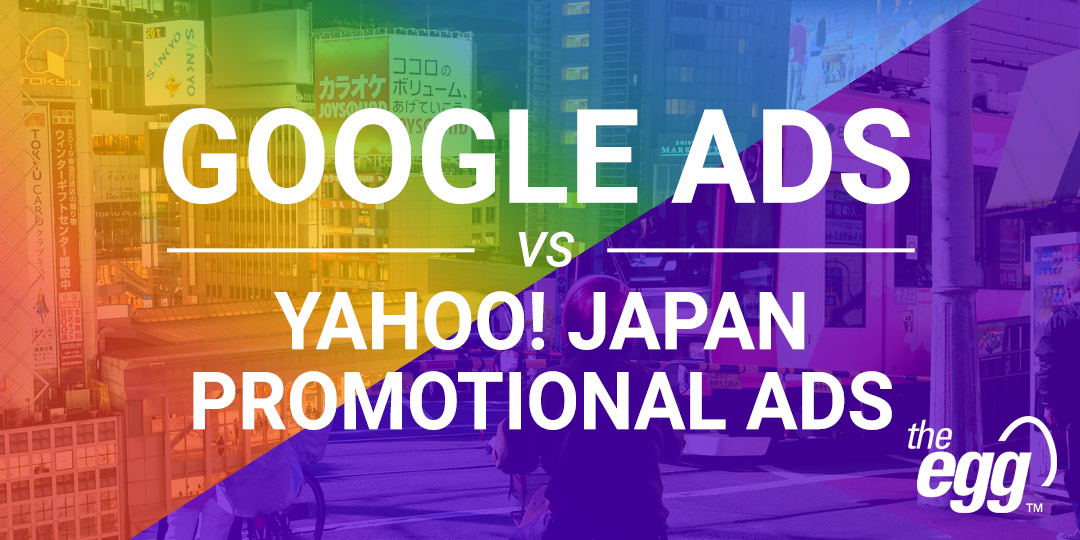 If you're looking to do paid search advertisement in Japan, Google AdWords, and Yahoo! Promotional Ads may be effective channels to drive traffic to your website.
Since Google and Yahoo! Japan have approximately 10 billion pageviews combined (according to 2012 finding), there are plenty of opportunities for all types of products and services that you provide.
Just like any other market out there, the Japanese market has its unique characteristics that are crucial to understand before running a campaign. By looking at both AdWords on Google Japan, and Yahoo! Promotional Ads, you will see several similarities and differences that could help you further understand the paid search platforms and to get you started on SEM campaigns in Japan.
1. How to Manage Your SEM Campaigns in Japan
Google AdWords and Yahoo! Promotional Ads follow similar reviewing processes when creating an account to managing paid search campaigns. In order to start displaying ads on the search results, the administrator must construct 4 main elements: campaigns, ad groups, ad copies, and keywords.
The section below shows tips on how campaigns and ad groups should be structured, and the requirements and opportunities that could guide your way through a successful PPC campaign in Japan.
1.1 Campaign Structure
The structure of campaigns should be organized by categories of products or services that your company provide. For instance, if a clothing store created an account on either Google AdWords or Yahoo! Promotional Ads, the primary focus would be to categorize generic products. As displayed on the chart below, T-Shirt, Pants and Socks should be separated into different campaigns to easily manage the account.

Campaign Structure of a Clothing Store
On Google AdWords, you can create a maximum of 10,000 campaigns per account. Whereas, Yahoo! Promotional Ads only generates 100 campaigns. Not that its necessary to utilize maximum numbers of campaigns, it's good to know the limitation.
1.2 Ad Group Structure
Ad groups are utilized to manage more specific products or services, as it allows you to set certain ad copies, landing pages and keywords for each of your specific target audience. For example, under T-Shirt campaign, you can implement "Long Sleeve" or "Short Sleeve" ad groups to assign customized ad copy and landing page focusing on these specific products.

Ad Group Structure of a Clothing Store
Like the campaign structure, ad groups also have limitations on both platforms. Google AdWords can generate a maximum of 20,000 ad groups. However, only 2,000 ad groups can be created on Yahoo! Promotional Ads. Therefore, when targeting specific audiences with various products like E-Commerce websites, the limitation on Yahoo! Japan may be crucial when organizing ad groups.
1.3 Ad Copy Requirements
Each ad group must contain at least one ad copy to be displayed on the search results. The text ads include two headlines with a maximum of 30 characters each and a description of 80 characters. Although English characters follow a single-byte system where 1 character counts as 1 letter, keep in mind that only 15 letters on the title and 40 letters on the description can be used in Japanese, as they use a double-byte system. This indicates that 1 character counts as 2 letters in Japanese, so when implementing new ad copies on the SEM platform in Japan, you must be aware of the length.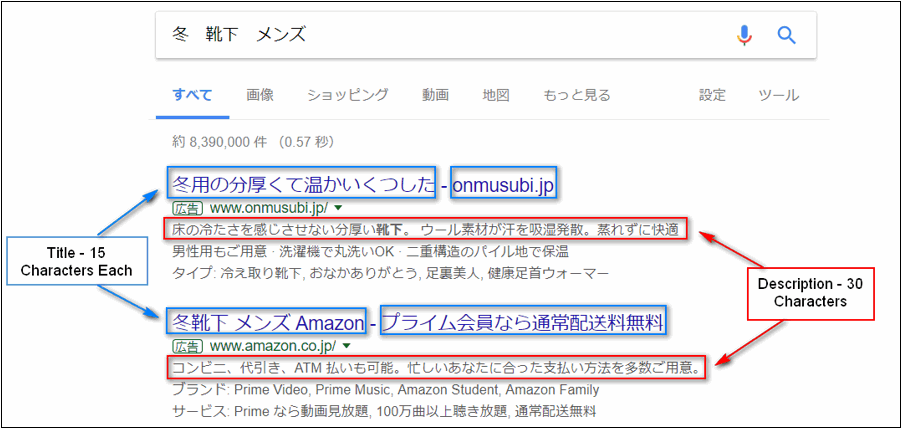 Ad Copies: "Winter Socks Men's" – Title and Description in Japanese
The focus when promoting a product on paid search campaigns is to come up with phrases matching the right audience. For example, in English, it's common to use the phrase "buy now" to entice all types of users that the product is worthy of purchase. This type of aggressive phrases is unpopular in Japanese language due to cultural aspects. Instead, advertisers would use phrases that are not too direct. For example, "please use this product" (ご利用ください) is often used to politely persuade users to click on the ad. Depending on the product or the audience, "Keigo" (a respectful language) is often utilized to express phrases less aggressively.
1.4 Keyword Opportunities
a. Keyword Research
To maximize results on PPC campaigns in Japan, the key is to choose the right keywords. Japanese writing system has 3 alphabets that can be used in different circumstances. Similar to Chinese, one character could have several meanings which could display a list of unintended ads. For example, if a company is selling a human resource software, the generic keyword could be "人事" (Jinji). The interpretation of this keyword could be referred as human resources or people's affairs. Depending on the user's search query, the campaign could produce unnecessary clicks and impressions, reducing the percentage of click through rate (CTR) and increasing the amount of media spend.
Utilizing Keyword Planner on Google AdWords and Keyword Advice Tool on Yahoo! Japan could help improve the performance of your PPC campaign by looking at the past or current trends of search queries. From thorough research, you may be able to compete against corporations that tend to bid higher against your campaign. Google and Yahoo! Japan provide different data that could help you identify several effective keywords that could improve the performance of your ads.
Keyword Advice Tool generates an estimate of the following elements: CPC, position, CTR, impressions, clicks and cost.

Yahoo! Promotional Ads – Keyword Advice Tool
It's difficult to use and implement the keywords by looking at this data on Yahoo! Japan as it only shows day by day estimate of each keyword (it's also interesting to see daily trends). Whereas, Google AdWords Keyword Planner displays past data on the keywords to see possible future trends. It also shows the average monthly searches that indicate the popularity. As you can see, the search term "旅行" has increased in May 2017, compared to the past, which means that there is an opportunity for advertisers to use this keyword in their ads.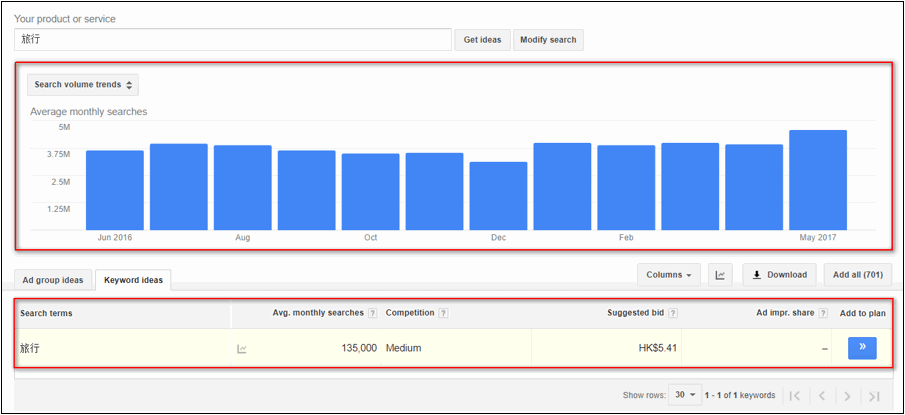 Google AdWords – Keyword Planner
Using the clothing store as an example of keyword research, under "Winter Socks ad group", you can implement two different keyword terms of socks: "靴下" and "ソックス". Since there are many options of keywords in the Japanese language, it's important to identify localized keyword terms that match the intent of the users.
Direct translations may provide keywords that lead a user to conversions but finding localized keywords with the best search volume and opportunities is more likely to improve the performance of your campaign.
Looking into keyword terms with a mixture seasonality, recent trends and other specified elements will help you identify potential keywords. The chart below shows examples of localized keywords that can help you get an idea of keyword options on each ad groups.

Potential Keywords for a Clothing Store
b. Negative Keywords
As briefly explained in the keyword research section, one Japanese character could have various meanings, which could display a list of unintended ads. Negative keyword list on the management platform is a great tool to prevent unnecessary spending when a non-related keyword is typed on the search query. For instance, if a user searches for "ズボン ハンガー" (Pants Hanger), and you're selling only pants, you can add the keyword term "ハンガー" (Hanger) on the negative keyword list to avoid the ads from showing on the search results.
1.5 Bidding Strategies
When working with digital marketing agencies in Japan, keyword or ad level bidding is usually done manually to control the performance of the campaign. However, when you're a shop owner who doesn't have the time to constantly look over the data, the automated bidding can help you optimize the campaign accordingly on the amount you want to spend on a daily, weekly or a monthly basis.
In addition, you can schedule a time and a date to maximize the opportunities of when users are most likely to click on the ads. For example, it's commonly known that Japanese internet users utilize their mobile devices when commuting on a train. By specifically increasing the amount of bidding during the rush hour, it may improve the number of clicks and conversions.
According to WordStream, the average CPC in Japan is 47% less than the US average. This indicates that the PPC bidding prices in Japan are generally less expensive, which gives you the opportunity to bid higher on keywords that generate the ads to be at the top of the page.
Account management may take some time when starting a SEM campaign in Japan but if implementation is done right, you will be able to accurately analyze the data and see positive performance results in the first few months.
2. Displays on Paid Search: Google AdWords & Yahoo! Promotional Ads
2.1 SERP Structure
Both paid search platforms display a maximum of 8 ads on the search results (4 at the top and bottom of SERP). Although both search engines utilize Google technology for organic searches, Yahoo! Japan uses its original algorithms and SEM management platform for paid searches. Therefore, when implementing the same search query on both search engines, the ads shown may vary tremendously. As you can see below, the keyword term "海外旅行" (overseas travels) displays different ads and rankings on Google and Yahoo! Japan.

Google AdWords Japan & Yahoo! Promotional Ads: Top 4 Paid Search Results

Google AdWords Japan & Yahoo! Promotional Ads: Bottom 4 Paid Search Results
The ranking factors are mainly determined by the quality and the bidding on individual keywords and ad copies. The more relevant the keywords are on the URL, descriptions and the landing pages, the higher the quality you are more likely to receive on the platform. On top of that, if you bid higher than your competitors on keyword or ad level, it's more likely that your ads will have a higher position on search results.
Google AdWords and Yahoo! Promotional Ads utilizes almost identical factors to determine in what order the ads appear: expected CTR, ad relevance, and landing page experience. In addition, both platforms look at the expected impact of extensions and other ad formats, which will be explained later.
2.2 Basic Snippets
In order to match the basic snippets on organic search results, Yahoo! adapts to AdWords in terms of design: the title tag in blue, landing page in green and the meta description written in a simple black text. Unless you use a third-party software, both platforms need to be managed separately and you can edit the texts to match according to the demographics or user behaviors on each search engine. As shown below, the aviation company ANA displays similar text ads on both platforms but uses slightly different phrases in the ad. In addition, the "広告" (ad) button shown on the left side of the URL is less obvious on Google than Yahoo! Japan. This could indicate that Google is trying to create a native environment for the ads on the search results.

Google AdWords Japan –  basic SERP result

Yahoo! Promotional Ads – basic SERP result
Other than the basic snippets on both platform, ad extensions are a great way to improve the number of impressions and clicks. Looking at the features on the ad extensions, you will see the main differences of the two search engine platforms.
3. Ad Extensions on Google & Yahoo! Japan
3.1 Sitelink Extensions
Instead of clicking through a variety of navigations on a website, the sitelink extensions on paid search ads will allow users to have a direct link to a specific landing page. This feature will provide a faster access to what they want to know or purchase on the website.
The difference between the two paid search platforms is that, Yahoo! Japan is only able to display general sitelinks. The ads will show maximum of 4 links below the landing page descriptions. You can easily implement this extension by going to the display options and selecting 'QuickLinks' on the Ad Display Option Types.

Yahoo! Promotional Ads – Sitelinks
On the other hand, Google Japan displays 2 to 6 sitelinks. In some cases, the ads will show description below each links to provide users with further information on each landing pages. This feature is more likely to increase the number of clicks as it generates more visibility on the search results.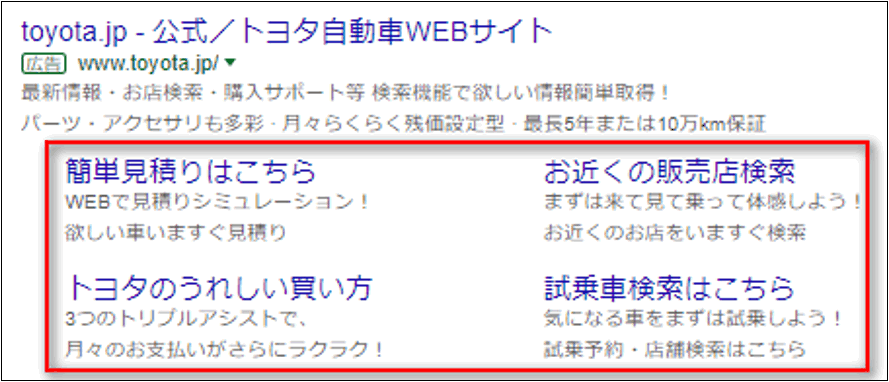 Google AdWords Japan – Sitelinks
3.2 Call Extensions
Call extension is a feature that lets you implement your phone number on the ads for users to directly call the business with one click of a button. This feature can be useful for service providing businesses such as restaurants or salons as users can quickly book an appointment on mobile devices.
Google displays the call extensions below other features of the ad, whereas Yahoo! Promotional ads display a phone icon on the right side of the ad.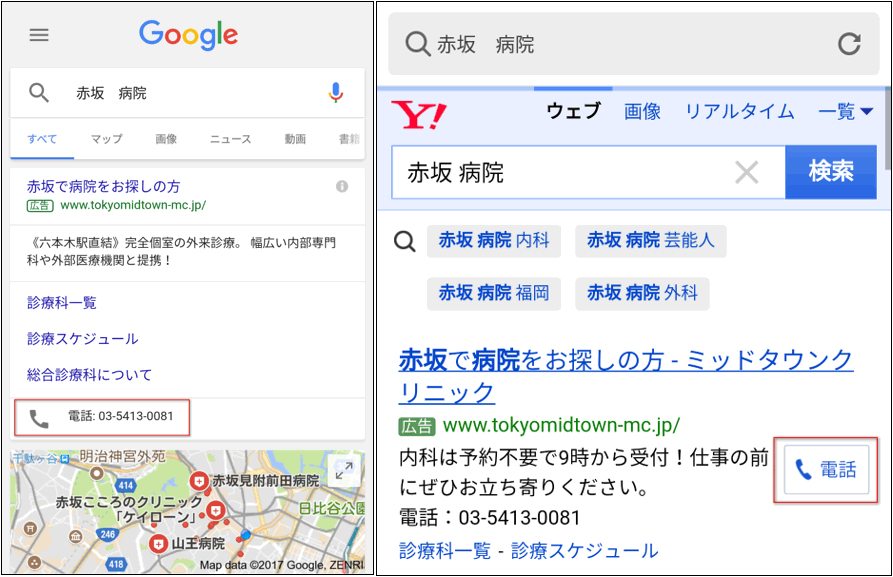 Google AdWords & Yahoo! Promotional Ads – Call Extensions
3.3 Call Out Extensions
Call out Extensions promotes detailed information about a product or service that have a unique selling point. For example, the screenshot below on Yahoo! Promotional Ads displays 4 phrases that could attract the users.
[24/7 Customer Service Support・Free Cancellation・Good Deals for 'on the Day Reservation'・1 Million Reviews from Customers]

Yahoo! Promotional Ads – Call out Extensions
This extension can benefit from the amount of ad space it produces and give further information on the products or services that is more likely to entice customers. Below is an example of Call Out Extension on Google AdWords.

Google AdWords – Call out Extensions
3.4 Seller & Review Extensions
Google has a unique feature that Yahoo! Japan does not attain, which provides customers with a positive user experience. Google AdWords displays seller and review extensions to show users the quality of a service by utilizing rating and comment features from third parties.
a. Seller Extensions
This feature will display a maximum of 5-star ratings on the right side or below the display URL, which could improve the performance of the ads from its reliability of third-party satisfaction. Since the extension is automated by Google algorithms, in order for your ads to display the seller ratings, you must have approximately 150 unique reviews and an average of over 3.5-stars. There are other guidelines that you can follow to increase the chance of seller extensions to show on the ads.

Google AdWords Japan – Seller Extensions
b. Review Extensions
By implementing the review extensions, you can choose to display comments from authoritative sources. For example, the screenshot below says, "The largest travel booking website in Japan" – Toyo Keizai (publisher). This feature will provide a positive image towards the company and will influence users to access the landing page.

Google AdWords Japan – Review Extensions
4. Analyze and Optimize on Google AdWords & Yahoo! Promotional Ads
In order for digital marketers to successfully optimize SEM campaigns in Japan, it might be necessary to utilize both Google AdWords and Yahoo! Promotional Ads to identify the demographics of the users to test and to analyze the effectiveness of the two search engine platforms. SEM in Japan can have unique characteristics compared to other countries, so by having the knowledge on what can be implemented on both platforms may help and improve the performance of your campaigns.
Looking at industry reports and opinions on both search engines may help you choose between Google or Yahoo! Japan but the real effectiveness of a PPC campaign in your industry can only be measured by experimenting and comparing the results on both paid search platforms.
Experiments on both PPC platforms can be done with low cost and at ease. If you need help with strategies on Google and Yahoo! Japan, feel free to contact us!
Are you ready to maximize your digital marketing in Asia?