Rules for Advertising in China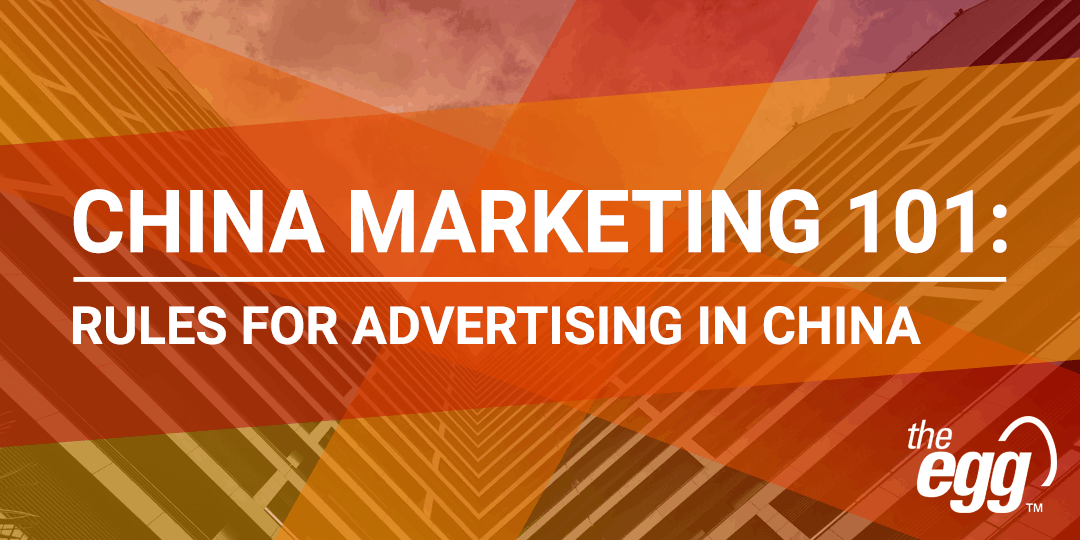 With burgeoning wealth and a growing middle class, China is one of the most promising markets in the world for brands to grow.
Chinese consumers are tech-savvy and use mobile apps as part of everyday life—hailing cabs, ordering food, finance and banking, social networking, making payments, purchasing goods and services, and more.
For brands to reach this high-spend, ultra-connected demographic, however, they must play by China's advertising rules, which are unique and comprehensive.
In this article, learn some of the rules and regulations that your advertisements must follow to avoid being banned—and boycotted—in China.
Advertising in China: Basic Rules
All your advertisements must follow these basic rules to ensure your brand remains not just permitted by authorities but respected by consumers in China:
The national flag, national anthem, national emblem, military flag, military anthem, and military emblem of the People's Republic of China shall not be used or used in disguised form.
Foreign national flags can be used but must be free from any negative content. For example, study abroad service advertisements can use foreign national flags as the background.
No use or disguised use of the name or image of state personnel (including deceased or retired state personnel and their families); no publicity in the name of the People's Liberation Army and Armed Police Forces or martyrs.
Such terms are prohibited: "national", "superior", "best", etc.
Advertising materials must not:

Harm the dignity or interests of the country nor divulge country secrets
Involve current affairs politics
Hinder social stability or harm the public interests of society
Endanger person(s) or property nor leak private information
Obstruct social public order nor violate good social practice
Contain obscenity, pornography, gambling, superstition, terror, or violence
Contain content that discriminates against ethnicity, race, religion, or sex
Hinder the protection of the environment, natural resources, or cultural heritage
Involve any situation prohibited by law and/or administrative regulations
Use RMB, illegal commemorative coins, or commemorative banknotes as advertising materials
Advertising in China: Rules for the use of Hong Kong, Macau, & Taiwan
Hong Kong, Macau, and Taiwan are regions of the country of China. This is often confusing for global brands perhaps unfamiliar with the market.
As such, incomplete maps of China cannot appear in any of your advertising materials or landing pages. Maps of China must include Hong Kong, Macau, and Taiwan as part of Chinese territory.
It's also imperative that you do not refer to Hong Kong, Macau, and Taiwan as individual countries in any of your adverts. And when the regions of Hong Kong, Macau, and Taiwan are mentioned in parallel with other countries, be sure to refer to them as regions. For example:
In a sentence, you'd say: "Delegates from different countries and regions around the world, including Germany, France, and Hong Kong, participated in the conference."
Say you have a dropdown list on your website that separates the regions of Hong Kong, Macau, and Taiwan from the country of China for perhaps shipping or billing purposes, that list must not be called "Countries" but rather "Countries and Regions."
Travelers from Hong Kong, Macau, and Taiwan to the Mainland should not be referred to as "coming to China", but rather "coming to the Mainland." Travelers from the Mainland to Hong Kong, Macau, and Taiwan should not be referred to as "travelling abroad", but rather "outbound travelers."
Essentially, 'Hong Kong and Mainland,' 'Macau and Mainland,' and 'Taiwan and Mainland,' are corresponding concepts that cannot be confused. The country is China. Hong Kong, Macau, Taiwan, and Mainland are regions of China.
Getting this wrong is risky business. There are major global brands who swan-dived into scalding water not abiding by and respecting these rules.
Versace, Coach, Asics, and Givenchy are among the brands who have received calls for boycotts, cancelled contracts with KOLs, and investigation from authorities—all for posting merchandise or store locators that listed Hong Kong separately from China.
Advertising in China: Ad landing page requirements
As we know by now, advertising in China must abide by specific rules and restrictions. This extends to the landing pages that ads links to. Below are the requirements for ad landing pages:
No contact information of any form can appear in text or pictures. Special exemptions include:

Fixed telephone numbers, such as 400, are allowed in feed ad pictures and videos.
If some product lines include contact information fields, they can feature as normal.

Landing pages must not include illegal links or Trojans.
Stealing private information (i.e., mobile phone numbers) with malicious code is strictly forbidden.
Landing pages must not entice users to visit links or download content that violates their expectations. For example, it is forbidden to set "receive red envelopes" or "click to buy" buttons that deceive users into downloading apps.
Landing pages must have the product or service promotion as its main feature and cannot indulge in any inauthentic promotion.
Landing pages must clearly indicate the subject and brand name.
Landing pages must not include content in foreign languages (all landing pages must provide content in Chinese language).
External links on the landing page must remain consistent with the primary brand domain.
Inclusion of content from Baidu's commercial advertising prohibition management policy is forbidden.
Advertising in China: Misleading content
Ads must not deceive or mislead consumers with false content, including (but not limited to):
Any form of attacking, slandering, or demeaning others
Health-related claims like "safe and non-toxic side effects" are prohibited. For example, your ad cannot state that Chinese herbal medicines are "natural" to reassure your customers of their usage.
Do not feature the names or images of any state, medical, industry, or academic institutions in your product promotion. Likewise, do not disclose names or images of experts, medical staff, or consumers.
You cannot promote honors or titles that China has explicitly banned from being promoted, such as the CCTV National Brand Plan.
False officiality (like "official website") or any content suspected of faking an official website is not permitted. If a website is indeed official, then you may include a statement of its officiality.
You must not deceive users that Baidu officially recommends your ad, product, or service.
You must not engage in any exaggeration in your descriptions.
You are prohibited from promoting products/services for the following: condyloma acuminatum, syphilis, gonorrhea, chancroid and other venereal diseases; psoriasis (psoriasis); AIDS; cancer (malignant tumor); epilepsy; hepatitis B; vitiligo; lupus erythematosus.
You also must not promote content around various high-risk genetic, chronic, skin, and venereal diseases.
It is forbidden for brands in the healthcare industry to directly sell medicine, health and disinfection products, or medical devices on any landing page, nor in-person using any corresponding contact information.
Advertising in China: Current affairs
Advertising surrounding politically sensitive topics and current affairs must be carefully managed. There are particular phrases and keywords that are strictly prohibited, so it will be immensely helpful to have local knowledge and understanding of what you can say and what you can't say surrounding these topics, which include (but are not limited to):
Epidemic-related content
Kobe Bryant's death
The two sessions, including (but not limited to) descriptions of "two sessions, issues, political consultation meetings, and congresses":

You must not purchase keywords relating to the two sessions or use any of its descriptive variants in your advertising.
You must not promote or disclose any meeting names/details or government agency names in your advertising.
You must not abuse hot topics related to the two sessions.
You must not use the national, party, regimental, or military flag/emblem in your advertising.

Ads must conform to China's core values and views on honor and disgrace.
Products that are significantly below market price cannot be advertised. You can find market valuations at these official websites for various brands (JD.com, Suning, Tmall).
Advertising in China: Policies on trademarks, competing products, & celebrity infringement
Do not include competing products or product terms in your advertising.
You must not use materials without authorization from the appropriate rightsholder. You must also refrain from imitating other brands or use any variations of their logos in your advertising.
Except with authorized exemption, your advertising must show that it is CCTV-certified.
You must not maliciously copy or impersonate other websites.
Refrain from featuring or plagiarizing unauthorized content.
You cannot have unauthorized celebrities or minors below 10 years old as advertising spokespersons.
Do not include the words "well-known trademark" on commodities, neither on packaging nor in advertising.
Advertising in China: General rules for pictures & videos
Your pictures must not have any overlapped, truncated, or flipped elements that might distort it before it is reviewed.
Picture watermarks must be legitimate and not infringe on any copyright.
Do not include interface features that mislead users into clicking them, such as false play/close buttons.
Do not display graphic or inappropriate content that audiences might find disturbing.
Videos must not feature competing products nor illegal, pornographic, nor copyrighted content.
Jump pages must have HTTP authenticated URL links.
Video content must be clear and identifiable, without noise, screen shaking, or freezing. Audio must be at an appropriate level, and visuals and subtitles should be consistent.
Videos cannot contain watermarks, links to webpages, or imitation windows (e.g., search boxes, field input boxes, drop-down menus, checkboxes).
***
What may seem like a minor distinction is actually quite the opposite when advertising in China. Be sure to follow these rules to stay above board with Chinese audiences and authorities.
Need help advertising in China?