Share the Love: Raising Money for Yan Chai Hospital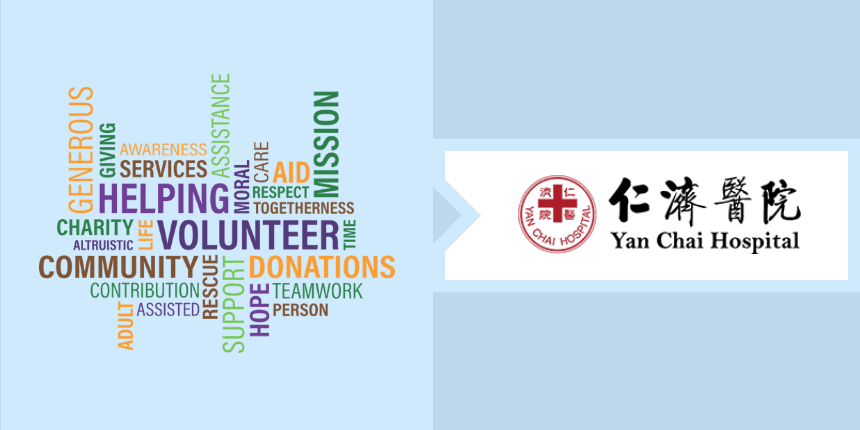 We care about Hong Kong. Since "hatching" here 20 years ago, The Egg has collaborated with many businesses and organizations to give back to the community. Recently, we've had the privilege of working with Yan Chai Hospital to help promote their fundraising campaign.
Founded in 1962, Yan Chai Hospital provides affordable and quality medical, social, and educational services for residents of the Tsuen Wan district in Hong Kong. To help improve the efficiency, quality, and impact of its services, Yan Chai Hospital launched a new donation website where the public can donate and encourage their friends and families to contribute.
The new website allows you to set up a fundraising page to celebrate special occasions, such as weddings, birthdays, and even grand openings. Instead of receiving gifts, you can encourage your friends and families to donate to your page, where donations will go toward bettering Yan Chai Hospital services and improving patient care.
Visit Yan Chai Hospital's donation page to participate and/or learn more about the campaign. And thank you for helping to make Hong Kong a healthier and better city!
(Detailed instructions are included in Chinese below, because Yan Chai Hospital's donation page targets mainly Hong Kong citizens. If you are interested in a good cause but are not in Hong Kong, feel free to contact us!)
仁濟醫院積愛.傳心籌款專頁
相信大家對仁濟醫院都有一定認識。仁濟醫院多年來一直服務香港市民,服務對象包括嬰幼兒、青年、老人及殘疾人士等。為籌募活動經費以服務更多市民,仁濟醫院一直舉辦不同慈善籌款活動。仁濟醫院亦一直貼近時代發展,近年已推出新的捐款方法,讓市民可透過八達通及支付寶捐款。最近,仁濟醫院更推出了賀禮、回禮捐款網站。每次參加生日會、百日宴、甚至婚宴等喜慶宴會,市民總會送上賀禮以表心意,而活動主人家亦會送上回禮以表示答謝。但在某些場合,主人家未必能用到收到的賀禮,而主人家送出的回禮亦未必適合來賓,結果造成浪費。有見及此,仁濟醫院推出新的籌款方法,讓市民以捐款表示對主人家的心意,又或取代回禮,把幸福和喜悅傳揚開去。
建立步驟
想建立自己的籌款專頁嗎?千萬不要錯過以下介紹!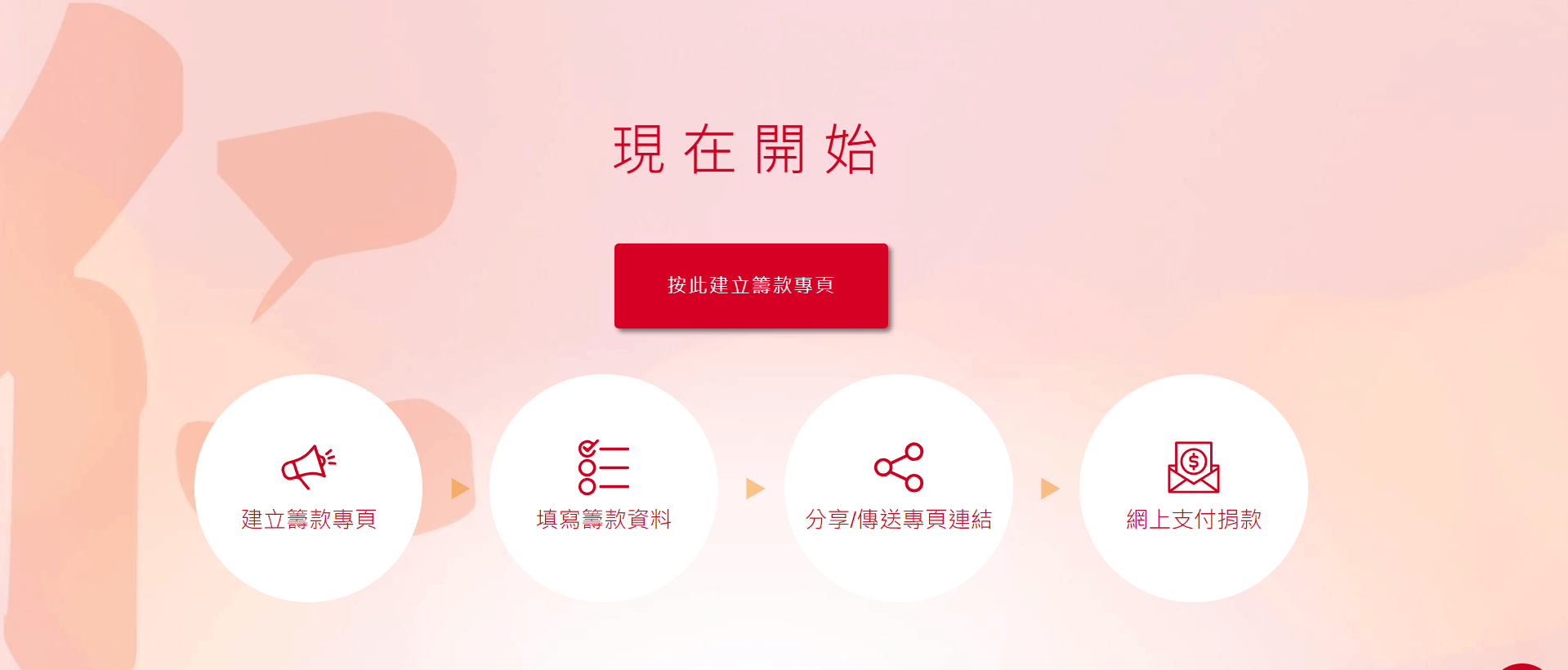 按下「按此建立籌款網頁」一鍵後,便會轉到以上畫面。接著,大家只需輸入簡單個人資料。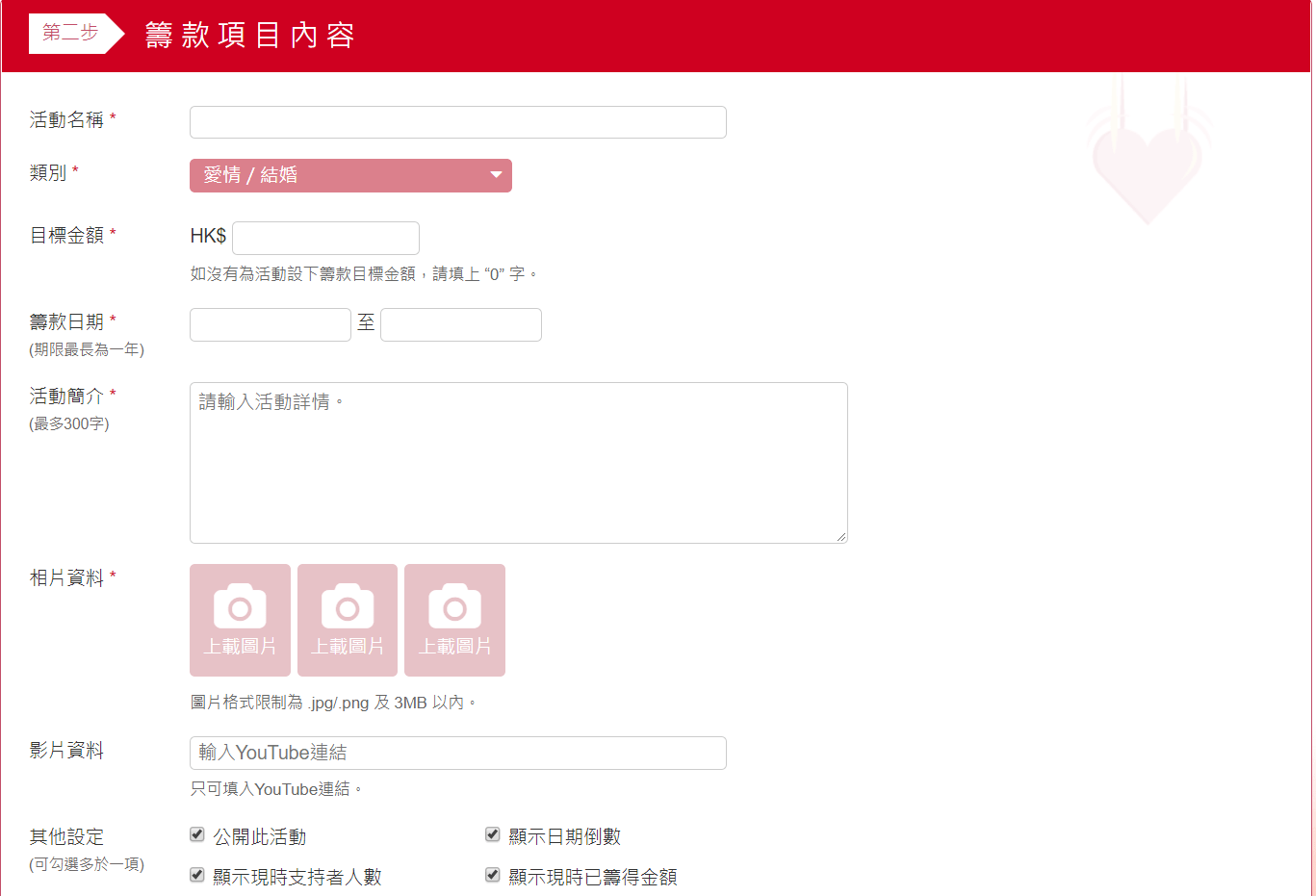 完成第一步後,大家便可輸入籌款項目內容,如活動名稱、相片資料及活動簡介。大家更可在「其他設定」部分選擇進一步設定,如是否公開已籌得金額或顯示現有支持者人數,甚至在「積愛‧傳心」籌款專頁上公開你的賀禮或回禮捐款活動,讓更多人一起參與你的籌款活動等等。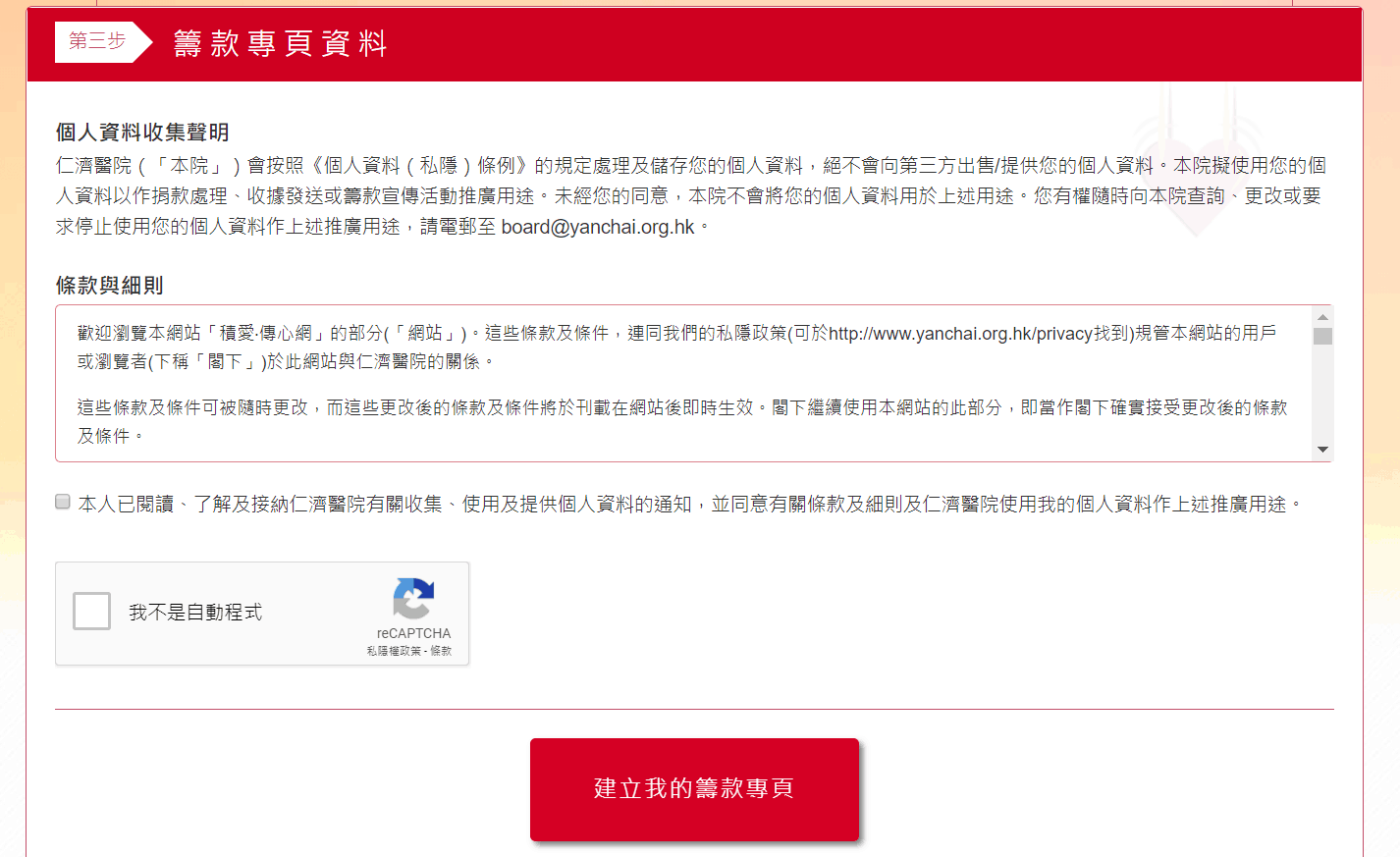 最後就只需閱讀活動條款及細則部分了!按下「建立我的籌款專頁」後,仁濟醫院便會於五個工作天內經電郵發送你的「籌款專頁」網址。收到網址後,你可分享或傳送連結給親友、甚至分享至社交網站,讓親友認識你的活動,一同把賀禮或回禮變成善款。
捐款步驟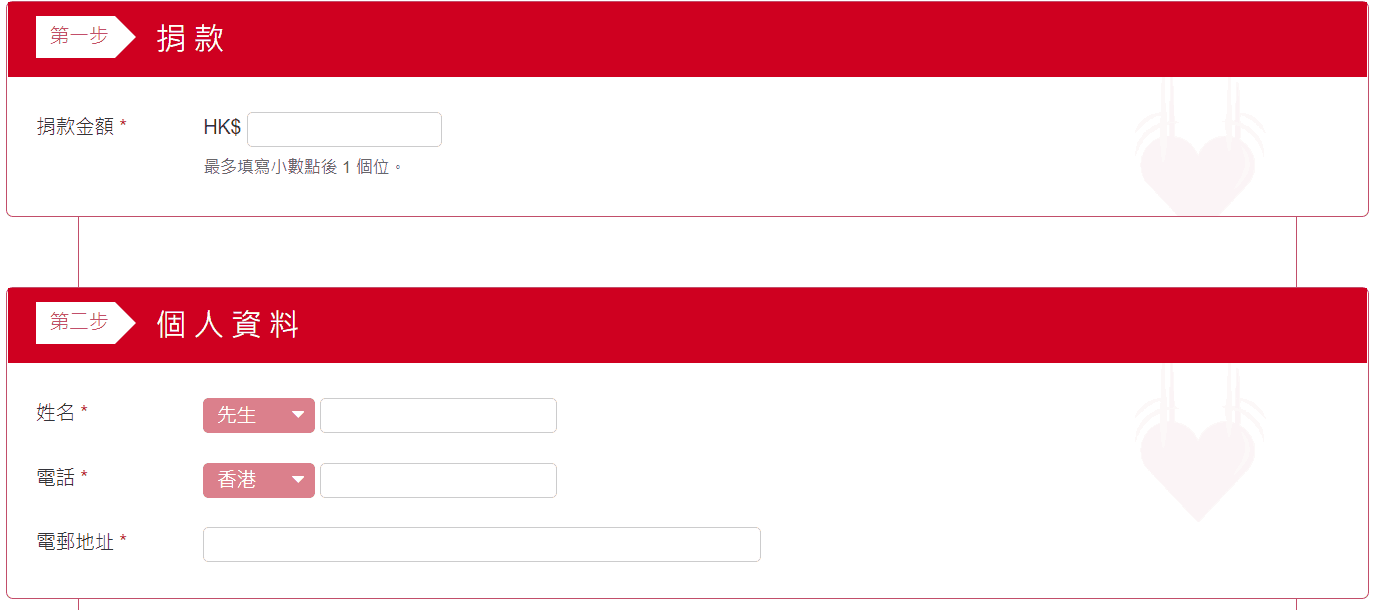 了解籌款專頁的建立步驟後,當然也要知道捐款步驟!捐款步驟比建立專頁更簡單,只有四個步驟!首先大家可輸入捐款金額,再填妥簡單個人資料。

接著,大家需選擇信用卡捐款方式。現時籌款網站支援銀通信用卡、VISA 或 MASTER 系統。系統更提供發出收據等選擇。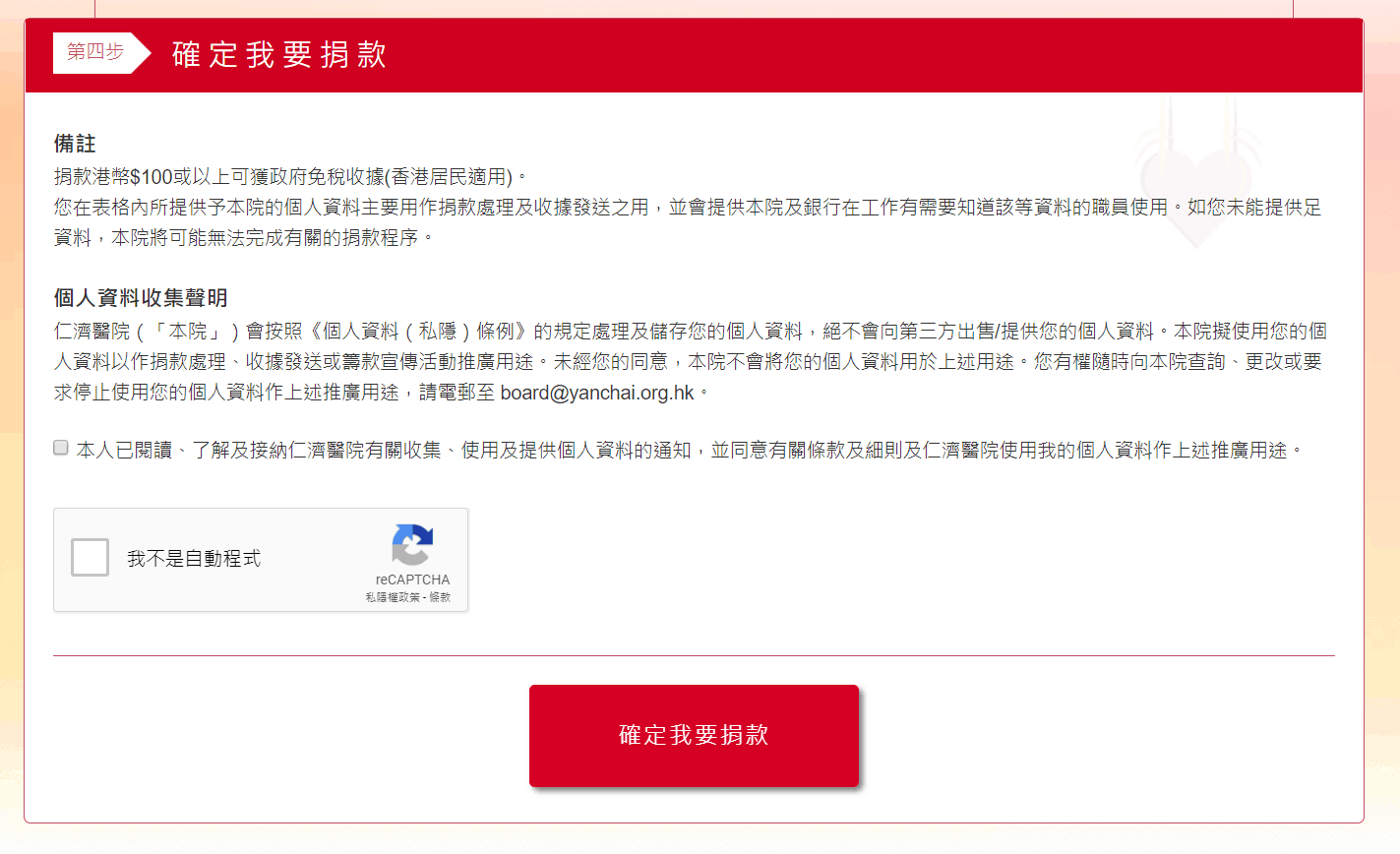 最後大家在閱讀捐款條款細則後可按下「確定我要捐款」一鍵,捐款步驟便完成了!
LIKE WHAT YOU SEE? WHY DON'T YOU JOIN OUR TEAM?!