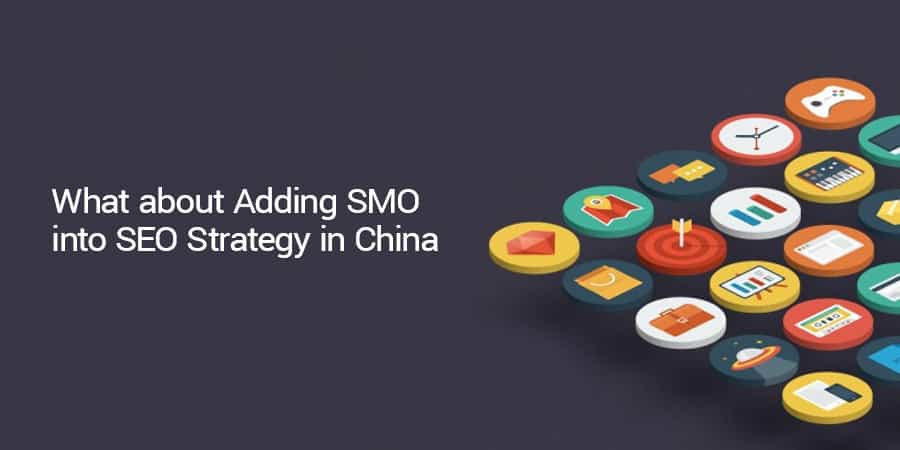 SMO stands for Social Media Optimization which is not a very new concept in digital marketing. The VP for Interactive Marketing with Ogilvy Public Relations, Rohit Bhargava, coined the term SMO on his blog post in 2006.
The main spirit of SMO is connecting tightly with social media platforms in order to convert those users with your valuable content into customers or others who free 'talk' about what you are doing to others, then drive more target traffic to your website. When SMO came out, China's SNS and microblogging were not as popular as now. In my personal view, it's a good time to lay store by SMO.
Let's see the image of China's social media landscape below: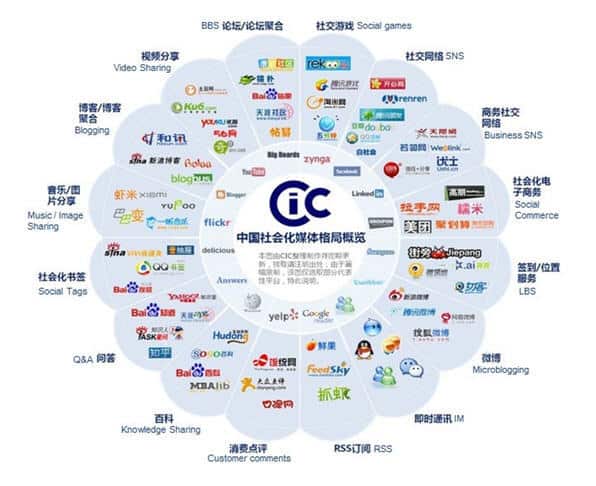 Source: Simonbai.com
Contrast the outer rings with the simple inner ring of the world's social media landscape. China's social media landscape after several years of development is essentially similar to the world's social media integration pattern. However, the social networking community formed by Chinese owns its cultural uniqueness.
Currently China's social media presents a flourishing state with no portal website dominating in every single part. But some portals perform prominently in some of the parts. For instance, Sina has a wide range of business but the most outstanding parts are Blogging, Microblogging and Q&A platform.
In a separate breakdown of each area, the competition is always high; only one or two websites are the leader in the area. As a popular saying goes, "Huge market has tremendous opportunities."  Some companies focus on one area of social media optimization to promote sales. Now take an imperfect example of eLong Microblogging for reference.
ELong's performance was striking in the past year. In the third quarter, eLong retained profit is $ 9.4 million RMB compared to 1.2 million RMB last year, an increase of 683%. As an ordinary user, I also felt eLong visibility increased and recognition improved.
This increasing profit of course ties in closely with its effective online marketing. SMO is a part of eLong online marketing strategy, and microblogging is the most intuitive SMO expression.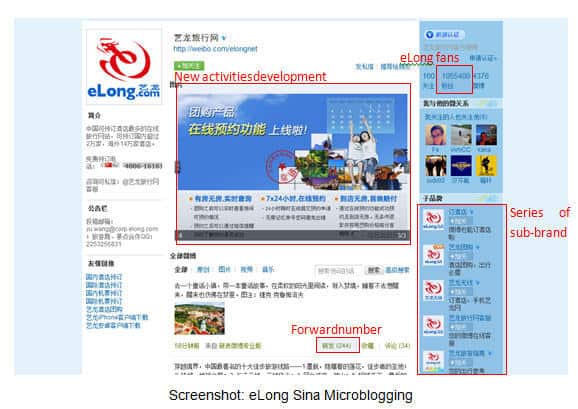 From the above image, we can see the following information:
ELong fans
ELong has the largest scale fans, 105 million, on Sina microblogging compared to Ctrip's 17 million and 17u's 58 million. ELong Microblogging started early and developed rapidly; this leads eLong to attract early customers and establish reputation.
Series of sub-brand
Elong established its series of sub-brand microblogging by dividing the microblogs by different types of service: book hotel; eLong group buy; eLong tour guide and so on. I think it's a smart idea to separate different services because it enables users to find what they need easily. 17u also set up some series brands, but I think it's not better than eLong's.
New activities development
Booking hotel through Microblog; check vacant rooms before group buy; check in hotel online and Last Minutes hotel promotion. Service diversification and humanization have made eLong hotel sales dramatically increase.
Microblogging forward number
eLong updates microblogging frequently and its usual mode is a short text with an attractive image. I don't think the mode is special or good enough. But the forward number is generally hundreds.
The above is a simple eLong microblogging analysis; even if the number of fans is not able to explain the marketing effect, we can clearly see eLong microblogging investment and the hard work.
At least on Microblogging, eLong is doing better than the OTA giant Ctrip and its peers. Though there is no an accurate data provided so far, in my opinion, eLong's profit enhancement this year has a significant contribution from microblogging.
From the development of the Internet to present, search engines are not the unique entrance to Internet. Social media has become one of user Internet portals, and has a tendency to expand rapidly.
When we develop SEO strategies, we should not only consider the feelings of the search engines but also should try to consider a whole SMO plan, to complement and benefit our SEO strategies.