Korea SEO: Understanding Naver's Unique SERP Features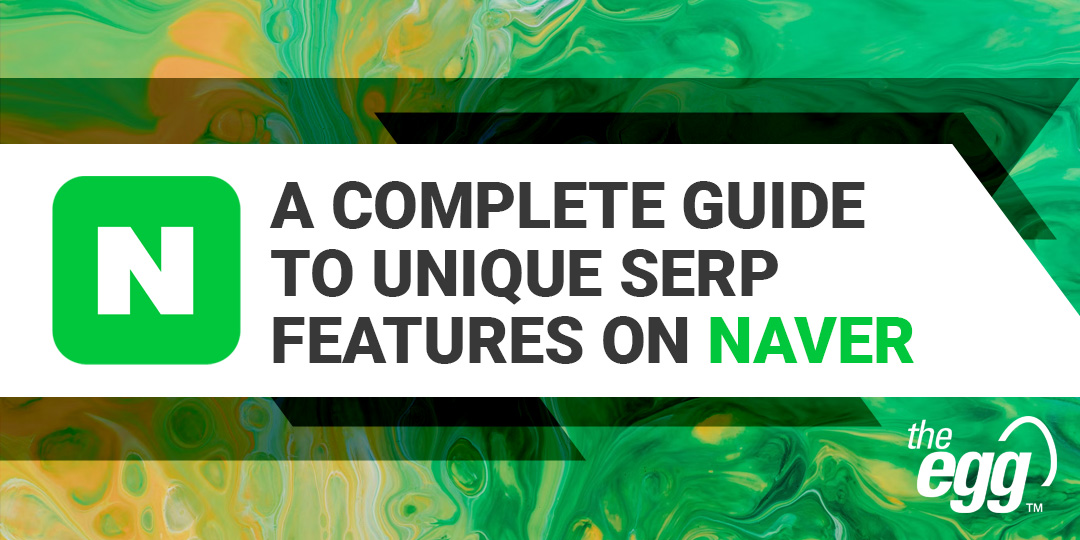 SERP features are special ranking elements on a search engine results page (SERP) that go beyond traditional organic results (i.e., the "10 blue links") to enhance the SERP and make it more informative.
Naver—Korea's most popular search engine—shares many similar SERP features with familiar search engines like Google. But because Naver operates more like a portal than a pure search engine like Google, there are subtle differences in the appearance and functions of its SERP features as well.
To encourage a more exploratory search experience, Naver's search results are displayed in several curated sections on a single SERP and heavily favors content from its array of properties like Naver Café, KnowledgeIn, Naver Blog, and Naver Shopping. Consequently, its SERP features are adapted to supplement this style of user journey.
This makes it critical to understand Naver's SERP features and the available search options that fuse its universal SERP with its native properties, whose results tend to rank higher.
So, to help you maximize your search visibility in front of your Korean audience, we've analyzed five of Naver's unique SERP features, starting with:
Naver Featured Snippets
Prominent on both Naver and Google, featured snippets are highlight excerpts of a webpage's text or contents that appear at the very top of the SERP and are most relevant to a given search query.
However, what's unique about Naver's featured snippets is that, for relevant search terms, they can feature content pulled directly from Naver's service pages—like Naver Flight, Naver Book, edwith (i.e., Naver Education). For instance, by searching "flight booking" on Naver, a featured snippet from Naver Flight will appear as the first result on Naver's universal SERP.
Google's featured snippets, by contrast, are usually made up of the highest-ranked third-party content for any given search term.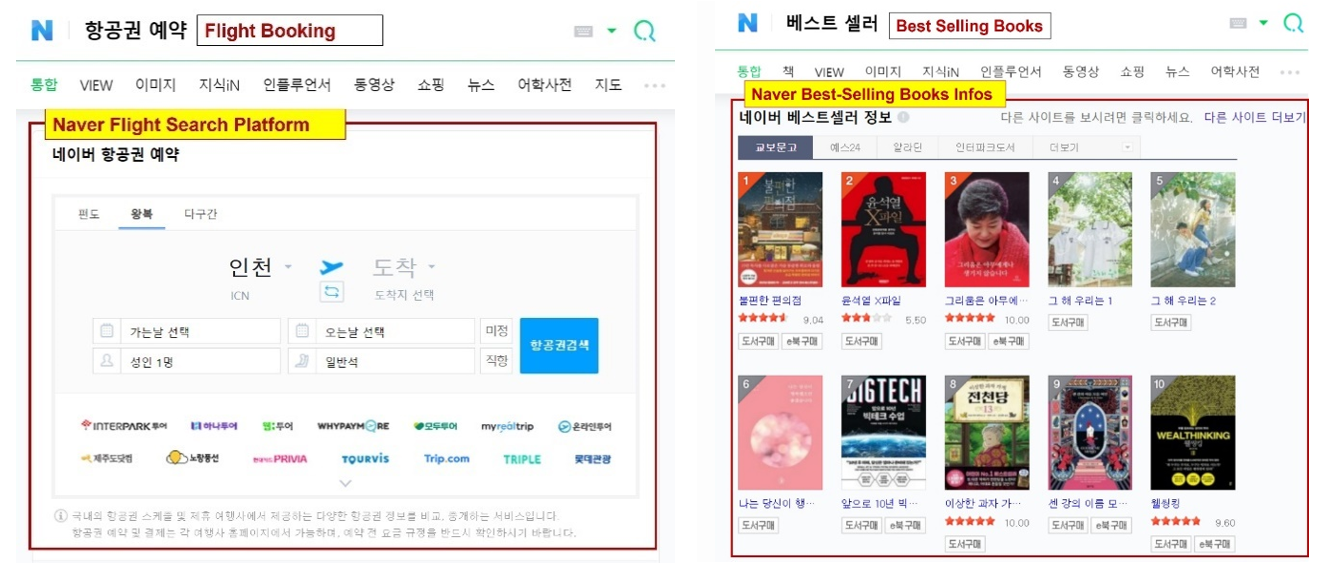 Searching "flight booking" and "best-selling books" on Naver will spawn a featured snippet from Naver Flight and Naver Books, respectively
Naver Knowledge Snippet
Naver's knowledge snippets, on the other hand, are the equivalent to Google's algorithm-powered featured snippets, which, as mentioned, are the top-positioned results on the SERP featuring excerpts from sources that best match a user's search intent.
But while Google's algorithm draws what it deems as the most relevant excerpts from the countless third-party websites on its index, Naver will often feature third-party excerpts from its own properties—e.g., Naver Blog, Post, or Café—if possible.
For example, for the search term "digital transformation" in the image below, you'll notice that while Google fitted its featured snippet with content from a third-party website (koreadx.kr), Naver's knowledge snippet showcases a relevant result from its encyclopedia property: Naver Terms.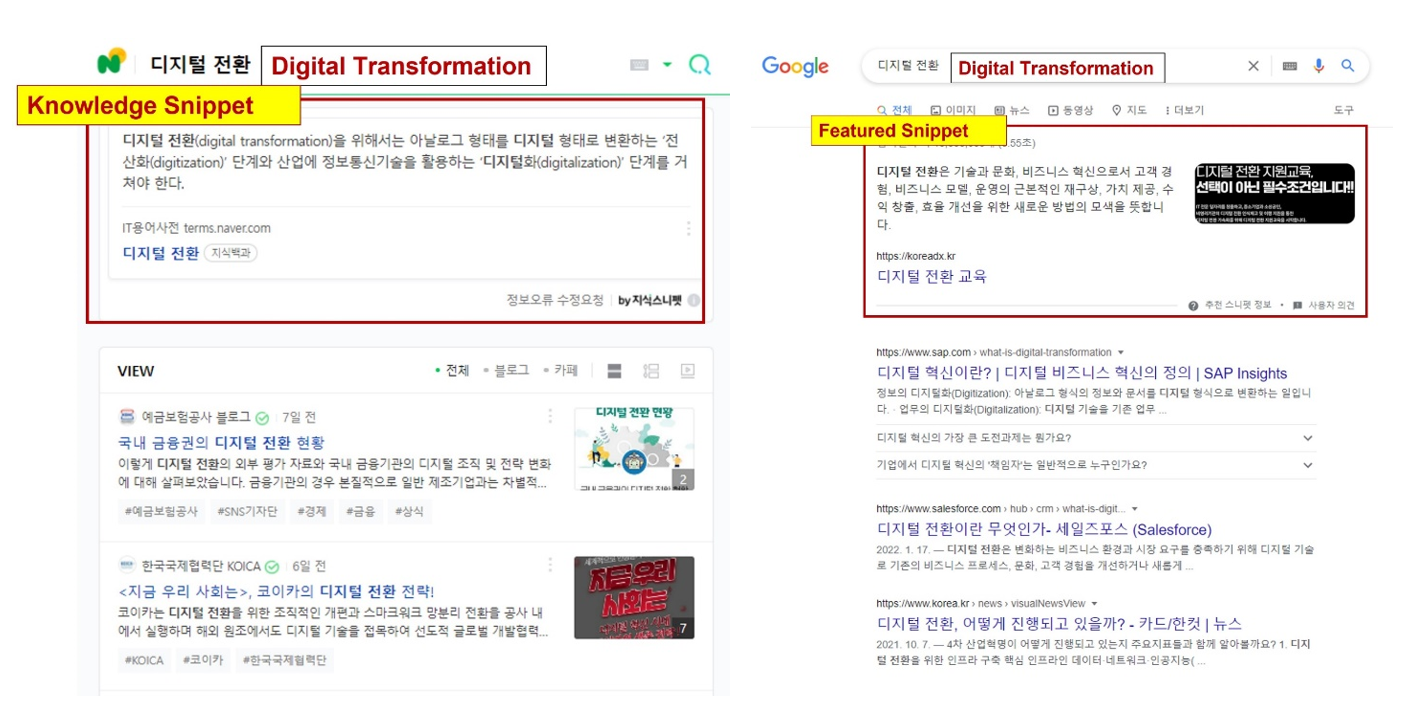 Naver's knowledge snippet (left) vs. Google's featured snippet (right) for "digital transformation"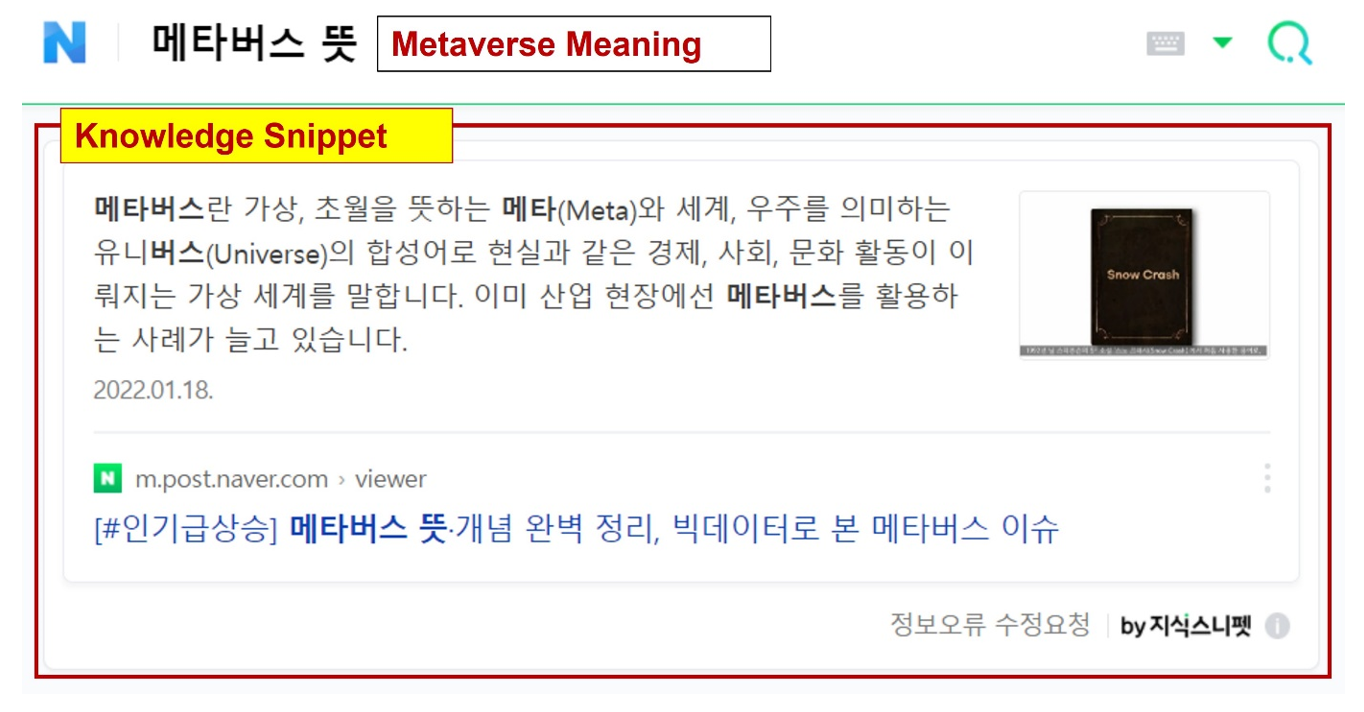 Naver's knowledge snippet for the search term "metaverse meaning" features a result from Naver Post
As such, content that is detailed, well-structured, and best answers a given search query will have a higher likelihood of ranking as a knowledge snippet on Naver's SERP. In 2021, Naver even outlined how knowledge snippets are served on its SERPs with three main steps:
Firstly, Naver's algorithm determines whether knowledge snippets are best suited to answering a given user's search query.
Next, it scours its database for content that is most relevant to the search query.
Finally, it extracts the key pieces of information from these relevant resources that best match the particular search query and the user's intent.
WANT DIGITAL INSIGHTS STRAIGHT TO YOUR INBOX?
Naver VIEW Section
In terms of rankings, Naver prioritizes results from its user-generated content (UGC)—like Naver Blog,  Café, and Post—higher on its SERPs and consolidates them under the VIEW search section, which is also navigable from the top search bar.
Thus, to increase your traffic among Korean readers, you can create and optimize written content to stand out on Naver-owned properties that favor longer-form content, like Naver Blog or Post.
For certain queries, particularly those related to recipes or reviews, you'll likely find results from the VIEW section at the top of the SERP.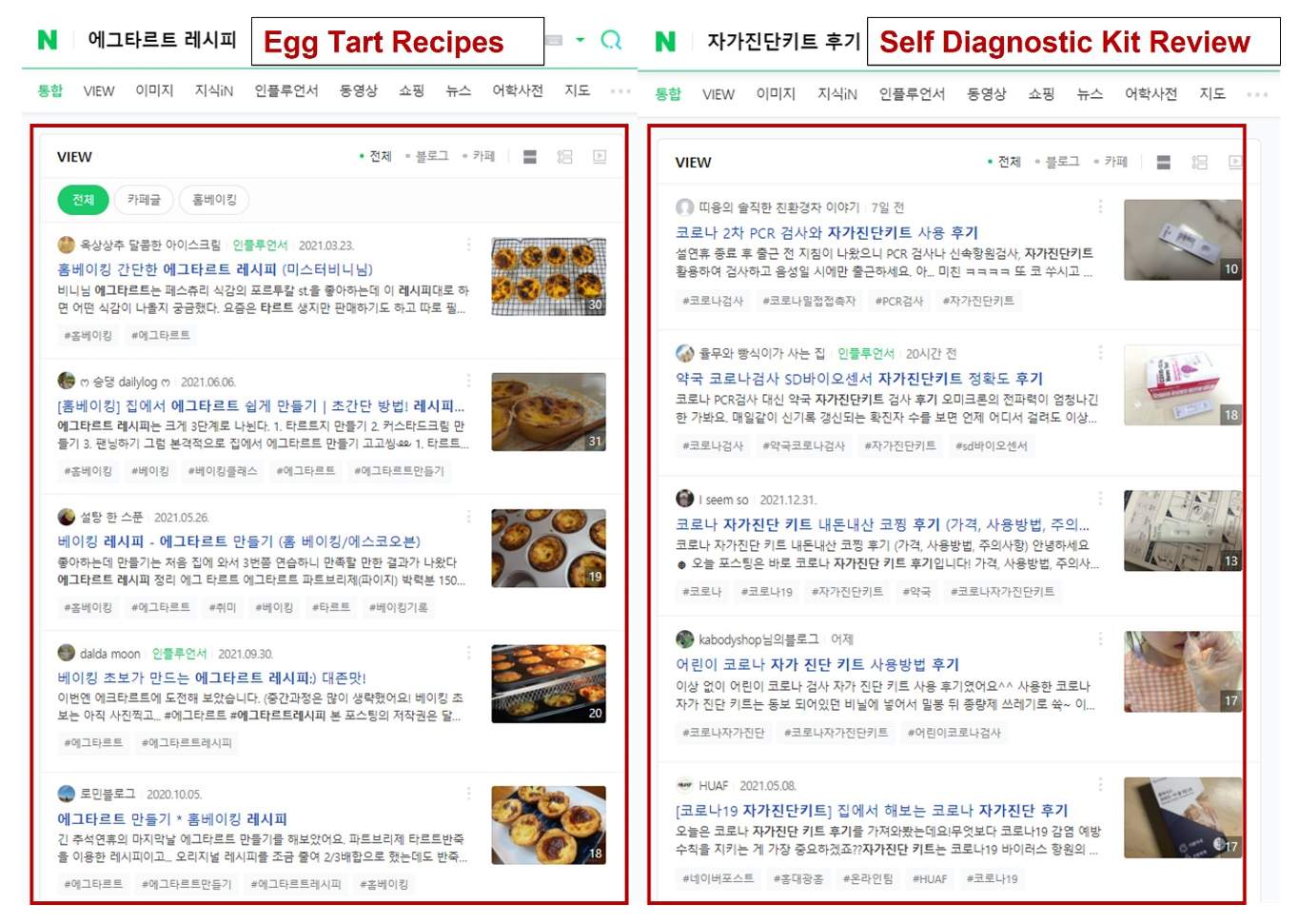 Naver VIEW sections for search terms "egg tart recipes" (left) and "self-diagnostic kit review" (right)
Naver LatesT CONTENT Section
Whenever users search terms relating to a particular brand, it will generally rank first on Naver's SERP alongside its social media links and a collection of its latest content.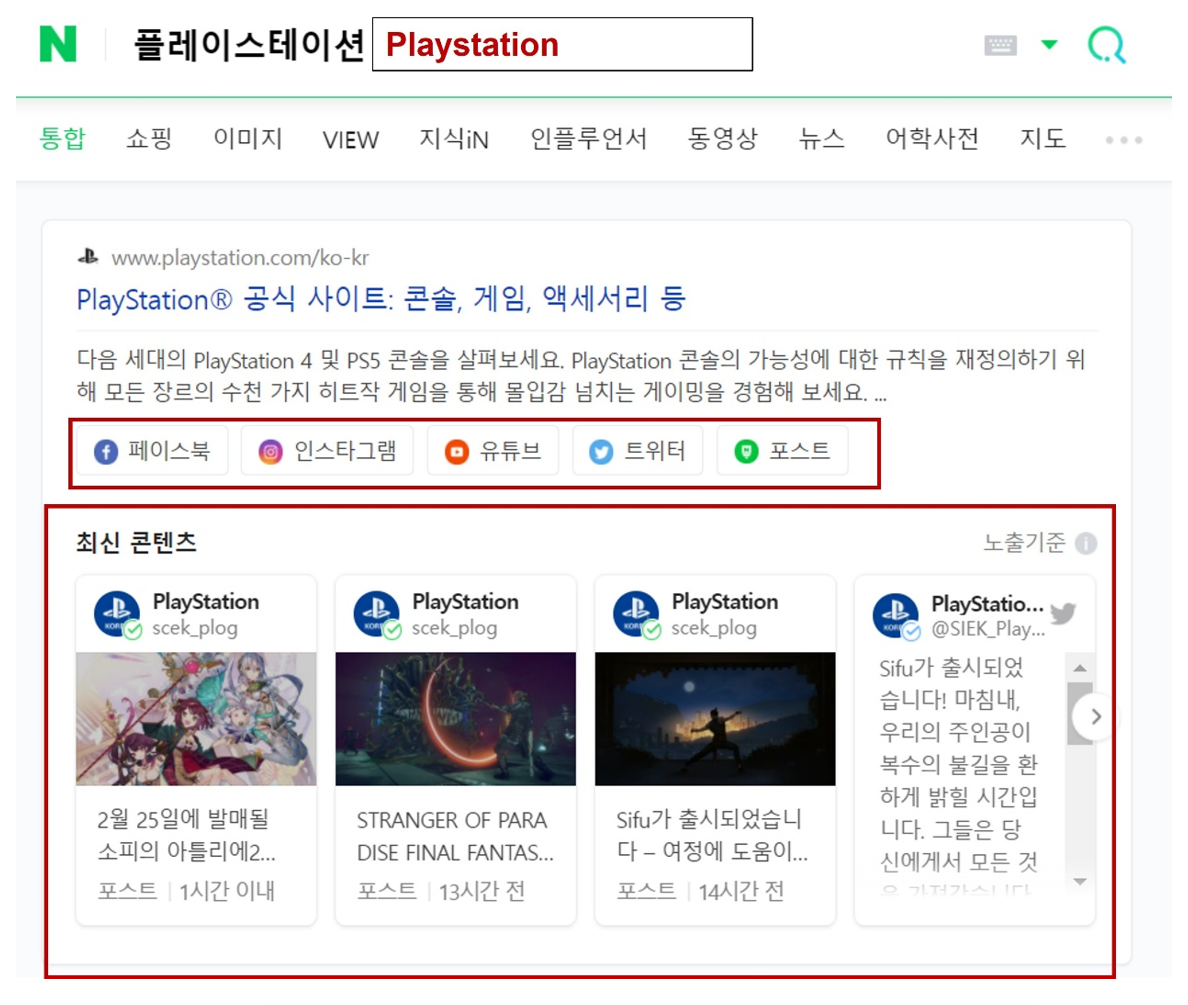 Naver's latest content section for the search term "PlayStation"
Aside from the familiar likes of YouTube, Instagram, and Twitter, this section may also link to the latest content posts by the brand on Naver-owned properties—whether that's on Naver Blog, Naver Post, or Naver TV.
But not every brand is eligible to rank on Naver's SERP with a section of its latest content: To do so, the brand must reach a follower threshold on each of its official channels. Moreover, it must have posted at least once in the last 28 days, hinting toward regular and engaging social posting as a best practice for ranking on Naver with this SERP feature.
Ultimately, Naver's latest content section is ideal for conveying your brand message at a glance and redirecting traffic to your social channels where users can explore more facets of your brand, product, or service.
Naver Smart Blocks (AiRSearch Technology)
AiRSearch is Naver's new AI-powered search technology that analyzes users' intent and interest towards a particular topic and helps them not only find answers, but also discover their taste through personalized results related to it.
Naver delivers these results via Smart Blocks, a SERP feature that curates various information about a topic to fuel exploratory search. For example, if a user searched "home baking" on Naver, they'll find results for popular related topics like "home baking cake" and "air-fryer baking".
Then, depending on the vagueness of their intent, they can either browse for answers to any home baking-related queries or narrow their search by exploring those related topics on the same SERP—all without having to enter additional searches themselves.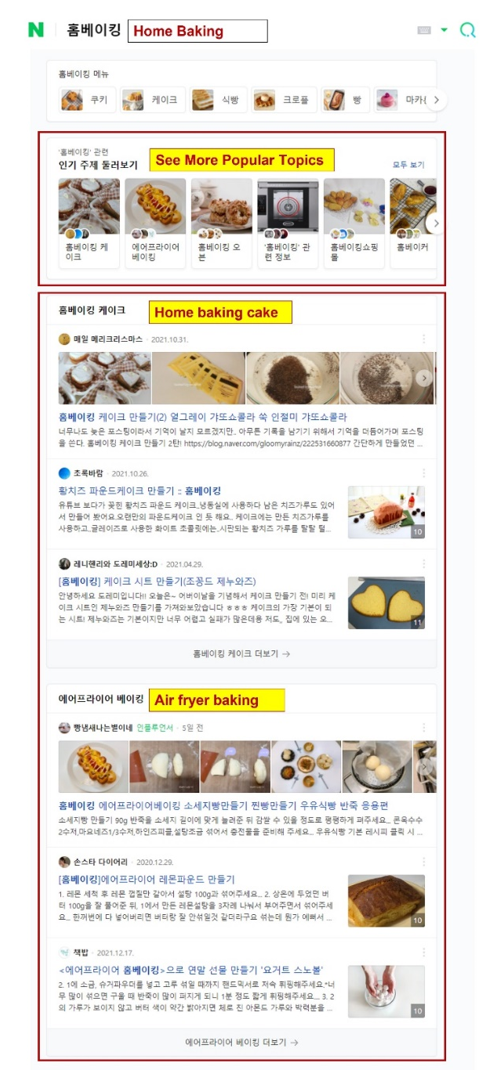 Naver's Smart Block feature for the search term "home baking"
And while Smart Blocks predominantly covers search topics in the lifestyle category (hobbies, interior design, recipes, gardening, etc.), Naver announced it would gradually expand its topic coverage ideally to about 10-15% of total search results. Similarly, it will add more personalization—primarily by gender and age group—to its results and plans to apply additional responsive searches that consider user feedback in real-time.
Therefore, if your brand category relates to any of the existing—or up-and-coming—topics under Smart Blocks' coverage, it is critical to identify the relevant high-performing target keywords and create content based on them to boost your visibility on Naver.
***
Understanding the SERPs of popular local search engines is essential to any search strategy. And since Naver regularly updates its SERP features to enhance its user search experience, you must optimize your content accordingly to stand out in front of your Korean audience.
Ready to maximize your digital marketing in Korea?