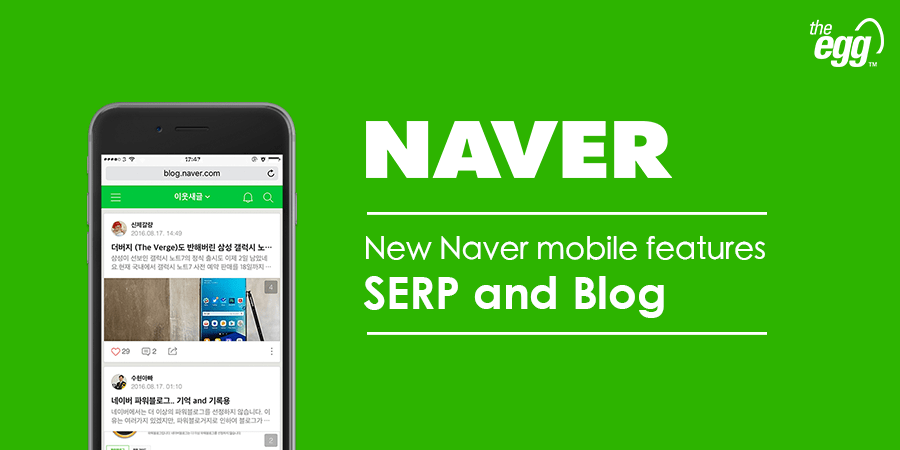 The pace of Naver's updates on mobile is picking up. New features have sprung up in October and November 2015 alone that continue to enhance mobile search experiences on Korea's most popular search engine.
This article first looks at the 3 new features on the Naver Search Engine Result Pages (SERPs) that are exclusively on mobile, as well as walking through how each mobile feature works and offering some comments about the potential of these features. The second half of the article will focus on the 2 new mobile features on Naver's blogging platform (Naver Blog), where new navigation and search features have been introduced.
3 New Naver SERP Features on Mobile that Offer an Enhanced Visual Search Experience
New SERP Feature 1
A condensed form of a travel guidebook: the "Recommended Itinerary" feature
Koreans generally love getting recommendations from other people. Naver has taken note of this behaviour and targeted the highly demanded keyword "travel" this time, improving the search experience for users who are looking for recommended itineraries for local holiday destinations.
To search for recommendations on things to do in a certain travel destination in Korea, open the Naver homepage on mobile, and you will see the below: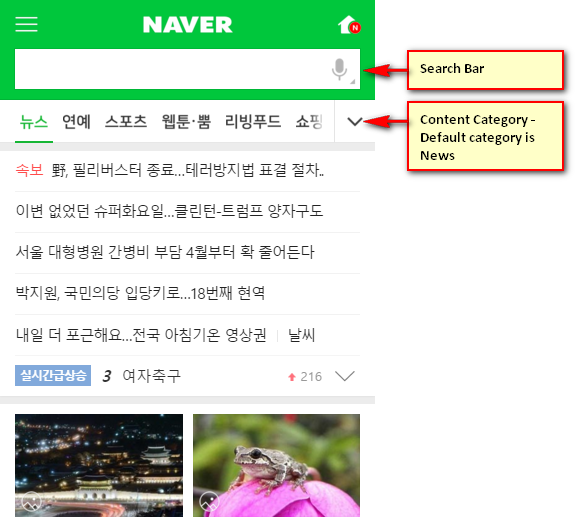 Then do a Naver search for a local destination and include the keywords "travel itinerary" in the search. The new feature "Recommended Itineraries" is shown at the top of search results.
Below is an example showing search results for the travel itinerary of the Korean province of Gangwon, using the keywords "Gangwon province travel itinerary" (강원도여행코스):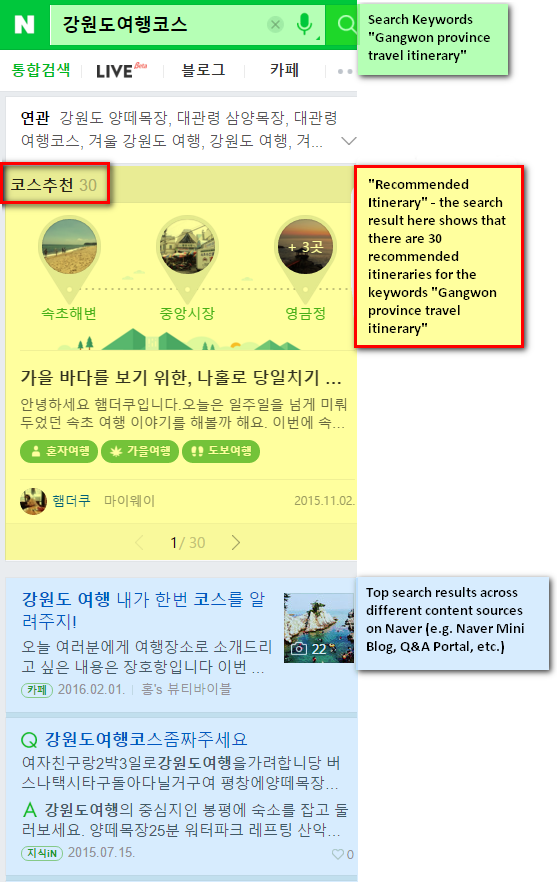 Zooming in on the section "Recommended Itinerary," we can see three different categories of information: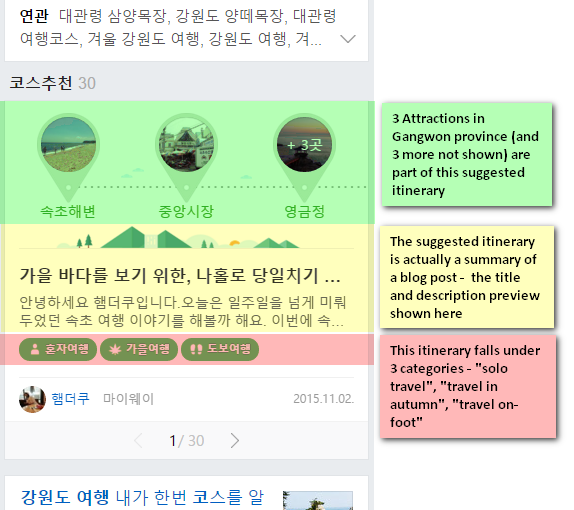 Naver extracts data based on keywords from various content sources (blogs, cafes, Q&A, etc.) and compiles them into a summarized format. Moreover, each itinerary is classified into different categories of travel, such as "solo travel," "travel in autumn," and "travel on foot" in our example above.
Due to the limited screen space for displaying content on mobile, this format displays a range of valuable information in a consumable way. We expect Naver to potentially expand this feature to comprise international travel itineraries to users in the future.
---
New SERP Feature 2
The visual summary of the latest promotions: the "Shopping Windows" feature
Naver has now made it even easier for mobile users to be in the know of the latest shopping trends and offers in Korea. Recently, Naver introduced special categories of search results when users search for a very specific set of keywords around shopping categories – "style," "beauty," "living," "food," "kids," and the beta version "global."
These shopping themes, referred to as "shopping windows" by Naver, are categories on Naver's shopping platform, Naver Shopping.
Here is an example of what mobile users can enjoy when they search for one of the "shopping windows" – the "style window" (스타일윈도):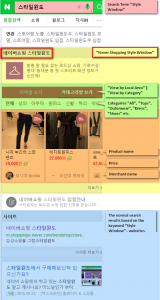 A special category of search results called "Naver Shopping Style Window" is shown at the top of the results. Under this category, users are informed of the latest promotions (discounts of 20% and 6% in the above example) in an instant. The navigation on this feature is extremely convenient as it is tailored to the shopping intent of the user.
Depending on the "shopping window" you search for, different views will appear in the search results. For instance, with "Style Window," there are 2 views to narrow your search – "view by local area" and "view by category." With the search "Beauty Window," there is "view by store type" instead of "view by local area."
The 6 "shopping window" search result categories that tempt viewers to shop present a new avenue through which Naver can attract more users to Naver Shopping. It was recently announced that Naver Shopping surpassed 10 billion Won in monthly sales for 2 consecutive months in August and September of 2015. As they continue to improve the ease of shopping through services such as "Naver Pay," offering an online shopping experience on the dominant Korean search engine will continue to be lucrative for businesses.
---
New SERP Feature 3
The enhancements in multimedia search continue: the "Picture Dictionary" feature
Naver is moving towards improving mobile search for multimedia – that is, images and videos. Following the application of Naver's image clustering technology on restaurants and food, Naver has extended this technology to images of animals. When you do a Naver search for an animal (e.g. lions), the top search result categories are now "Picture Dictionary Board" and "Image Board," as shown below: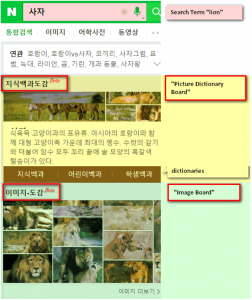 While the "Picture Dictionary Board" only shows a few images to refer to, if we look closely at the "Image Board" category below the Picture Dictionary, you can see how the images are split into columns, demonstrating the use of image clustering more clearly.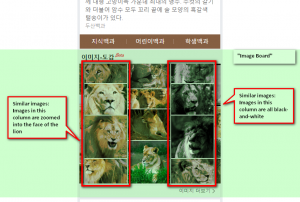 Although not all columns of images have a clear theme, we can observe similarities in some of the columns. Each image on the left column is zoomed into the lion's face, and on the right column is only black-and-white.
It is these types of incremental changes add up to a great user experience on mobile, and we believe there is potential for this technology to expand to even more Naver search terms.
What's next for Naver SERPs on Mobile?
While Naver has announced their intentions to expand image clustering to search themes around local landmarks, they have yet to do so.
It remains to be seen if they will try to integrate some features together to enhance the mobile search experience even further. For instance, they could quite possibly focus on the new "Shopping Windows" feature and include promotions from stores found near the landmarks being searched for.
Continuing with Naver mobile updates, we move on to new features on Korea's popular blogging platform, Naver Blog.
---
2 New Naver Blog Features on Mobile – Navigation & Search
New Naver Blog Feature 1
Continued search results at the end of blog posts
According to Naver, many users find and visit blogs from their search results (link in Korean). Recognizing that users typically browse a number of blogs on a particular topic, Naver has made this process more seamless. When in the past you would have had to return to the search results page to see the other blog results before choosing the one you want, now, you are able to simply see a few of the most relevant blog articles at the end of the blog you're on.
Our example below is of the popular bar and restaurant area of Soho in Hong Kong (with the famed longest escalator in the world). Typing "Hong Kong Soho" (홍콩소호) into the search bar on Naver's homepage brings up a list of results including blogs.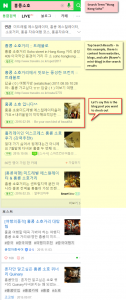 You tap on the blog entry you want to read and this opens the blog post as shown: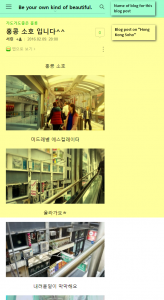 This blog entry looks promising, so you continue reading it until you reach the end of the entry. At the end though, you will now come across the new mobile feature on Naver Blog: related blog articles within a blog page.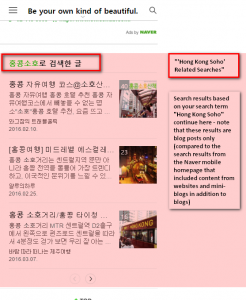 With this small feature, you no longer need to navigate out of the blog to go back to your search results to look at a number of different blogs. They are waiting for you at the end of the blog, ready to take you to the next blog when you're ready.
---
New Naver Blog Feature 2
Popular tags used by bloggers can be found using the search icon
To reveal this new feature, you will need to visit Naver Blog directly on your mobile. From the Naver mobile homepage, tap the menu icon on the top left,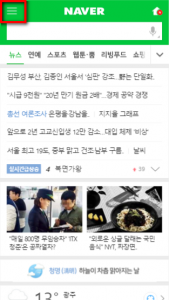 and then choose the Blog icon: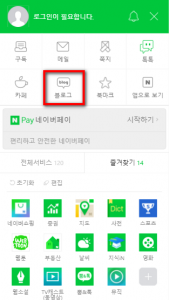 If you are logged into Naver, you will see some content right away on this blog homepage. If you are not logged in you will see the following page: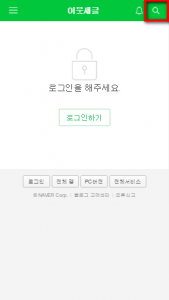 Simply click on the search icon on the top right-hand corner, and you will be taken to the following page: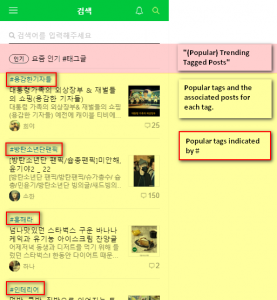 This is the new feature for Naver Blog on mobile – you are presented with "Popular Tags" that bloggers are using on Naver before you even start searching for tags yourself. Users can now easily discover what is trending among bloggers without having to do a specific search for it.
What's next for Naver Blogs on Mobile?
The key for Naver is to keep users engaged on their platform and features such as those outlined in this article will ensure just that. With significant number of mobile users in Korea – 32.4million according to a 2015 report by We Are Social – Naver is always testing new features to better user experiences on mobile. Although small, these features will eventually add up to become significant improvements in user experiences on the most widely-used search engine in Korea.