Naver Unveils Generative AI Services: Going Head-to-Head with Google, Microsoft, OpenAI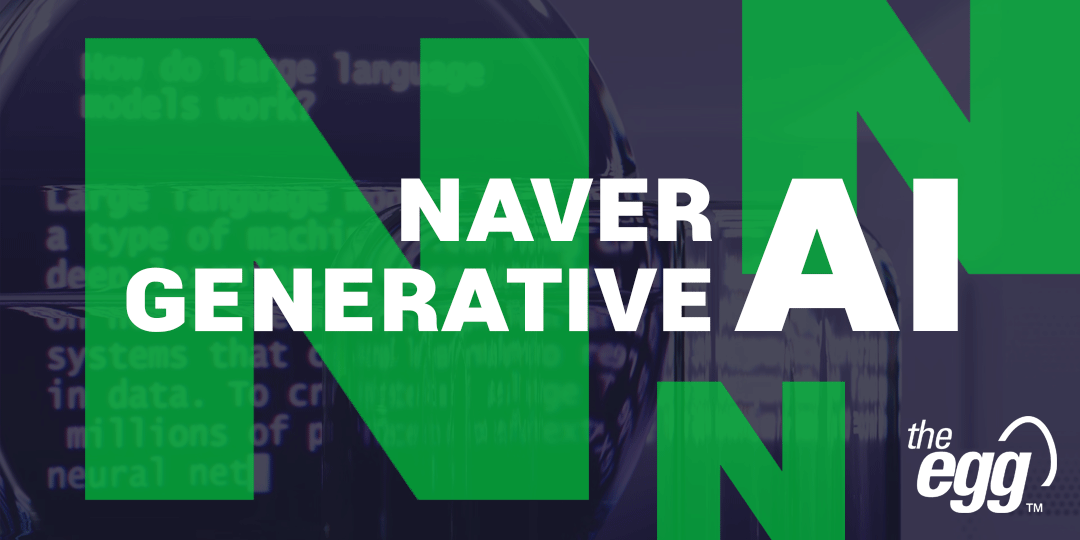 Explore Naver's highly anticipated generative AI services. Learn how Naver's strategic plan counters global competition and discover the potential impact on digital marketing.
Naver, the Korean search giant, is unveiling its highly anticipated generative AI services at a conference in Seoul in August 2023. The stakes are high, as the success of these services could change the trajectory of Naver's future.
Naver has long held the title of the top search engine in South Korea, with the majority  of Koreans relying on it for their information needs. However, since early 2023, as the AI race heated up and global competitors like Bing and Google launched their AI products, Naver's dominance in the Korean search market underwent a shift.

Search engine market share in South Korea, December 2022 vs July 2023
According to web and data analysis firm Internet Trend, Naver's market share declined from 63.82% in December 2022 to 56.09% by July 2023. In contrast, Google made a significant gain in its search engine market share in Korea, climbing from 26.37% in December 2022 to 34.22% by July 2023. This relatively rapid progression narrowed the gap between Naver and Google to a mere 21.87% difference in the span of seven months.
While international tools like ChatGPT and Bard have made headlines and are used globally, our team of native speakers has found these tools underperforming when faced with the complexities of the Korean language. Recognizing this as an opportunity, Naver has focused its AI development efforts on the creation of "AI specialized in Korean". With their deep understanding of the local market and language, Naver aims to carve out a space in the AI race and solidify their position as the frontrunner in Asia.
In this article, we will explore Naver's strategic plan for its generative AI services, and how they may capture the interest of digital markets.
Naver Generative AI Lineup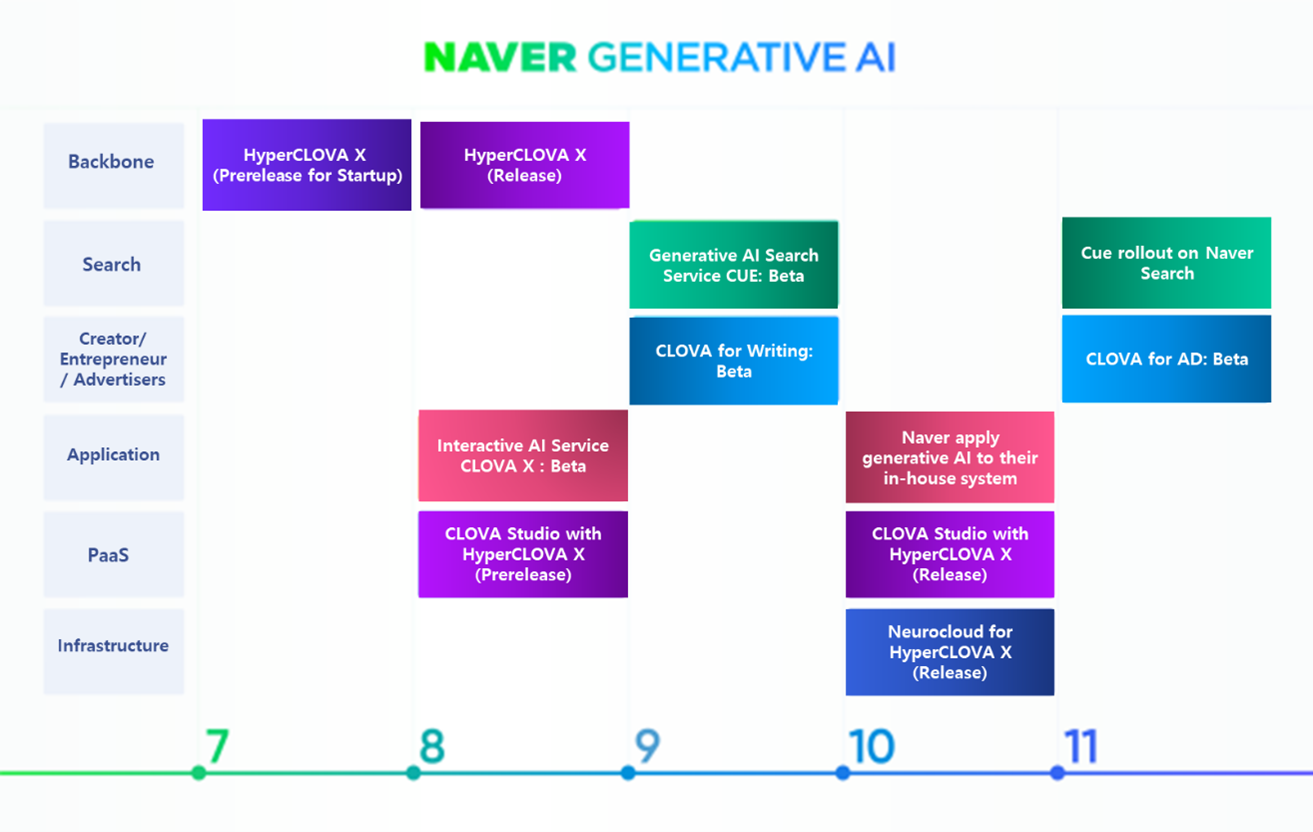 Naver's generative AI service lineup
Naver announced their planned Generative AI lineup in July 2023. At the core of all Naver AI services lies the latest version of its large language model (LLM), HyperCLOVA X, which is set to launch in August alongside CLOVA X, a chatbot service. The generative AI-powered search service, Cue, is expected to enter beta in September, with a general rollout planned for November. For content creators, CLOVA for Writing beta will be available in September, while for advertisers, CLOVA for AD will have a pre-release in November. Other services targeting enterprise users were also introduced.
HyperCLOVA X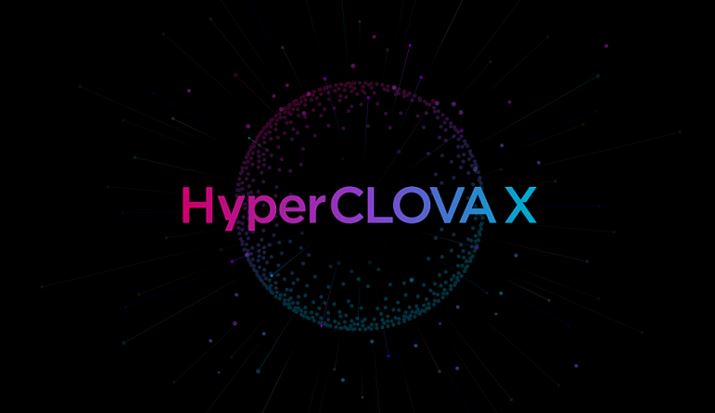 HyperCLOVA X serves as the backbone of Naver's generative AI development. This latest version of Naver's large language model was trained with 50 years of news data and 9 years of blog data, including Naver knowledge iN. Naver claims that HyperCLOVA X has learned 6,500 times more Korean words than ChatGPT and performs better in Korean language proficiency test. HyperCLOVA X is the platform on which Naver creates AI-powered user experiences.
CLOVA X
CLOVA X is Naver's own chatbot, similar to ChatGPT. In addition to generating comprehensive answers to a variety of questions, CLOVA X can also be used as a productivity tool by leveraging its excellent writing and summarization skills. Furthermore, CLOVA X can be linked to other Naver services through plug-ins, which allows users to easily access a wealth of up-to-date information on Naver.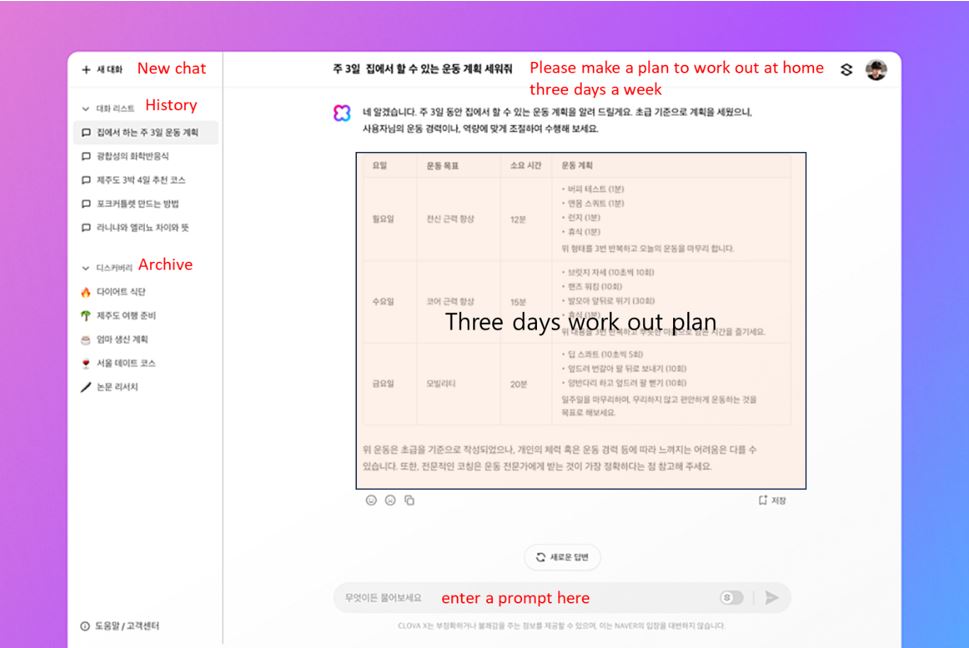 CLOVA X: Naver's generative AI chat bot
Users can create new chats to enter prompts, similar to how they would interact with ChatGPT or Bard. CLOVA X will respond to the prompts and provide explanations for the results it generates. Additionally, users have the option to archive the chat and save the prompt history for future reference. By launching a chatbot as its initial offering, Naver can effectively showcase the capabilities of the LLM and its proficiency in the Korean language.
WANT DIGITAL INSIGHTS STRAIGHT TO YOUR INBOX?
Naver Cue
Cue, formerly known as SearchGPT, is a brand-new AI-power search feature on Naver. The name "Cue" represents the concepts of curation, curiosity, and ready to converse.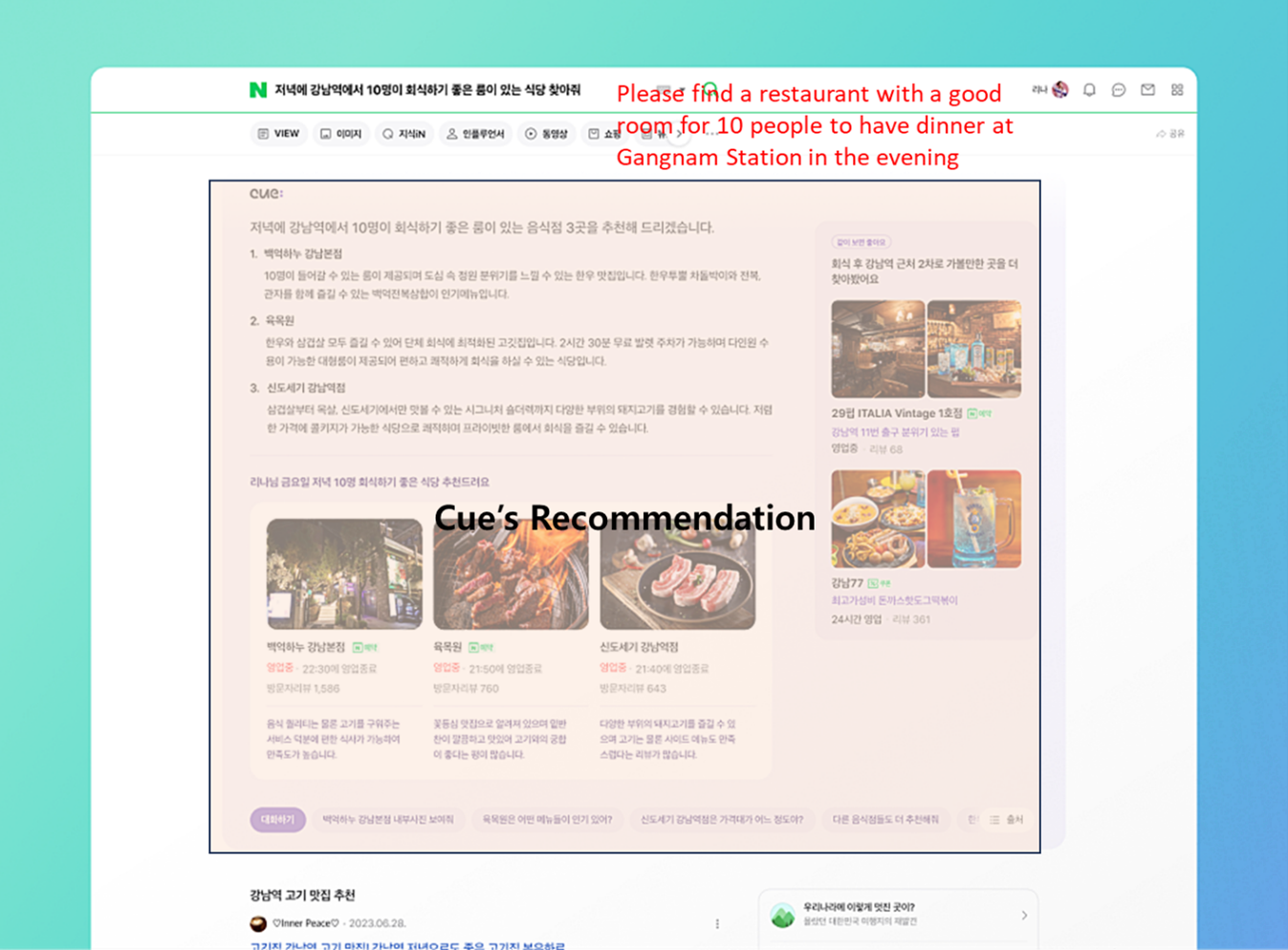 Cue: a generative AI search result feature
Cue will be integrated into Naver's search engine results and appears to be Naver's answer to Google's Search Generative Experience (SGE), which is currently only available in the US. Cue can understand complex questions with multiple intentions and provides a summary of the latest reliable information based on high-quality content available on Naver services such as shopping, local, and community. This positions Cue at the center of every consumer journey in Korea and can have significant impact on the search marketing landscape locally.
CLOVA for Writing
Naver plans to release a new version of its composition tool "Smart Editor", which is used by content creators on Naver platforms like Naver Blog. Leveraging the generative capability of HyperCLOVA X, the new tool, CLOVA for Writing, will helps users create draft content or edit their writing based on a given a keyword. It will be initially provided to select blog creators in September and expand to more users and Naver services in the future.
CLOVA for AD
CLOVA for AD brings the power of generative AI to Naver Ads and helps brands create personalized and engaging experience. While details of the service are scarce, it will use HyperCLOVA X to understand user context and create appealing ads. Importantly, it allows brands to incorporate the appropriate brand voice and messaging, to deliver context-aware brand stories and experiences. According to the roadmap, CLOVA for AD will be pre-released by the end of the year.
Other Offerings
Naver will launch other services aimed at corporate customers from October. One of these offerings is CLOVA Studio, which empowers companies to build their own customized HyperCLOVA X AI models.
Upcoming updates from Naver
Naver is hosting the inaugural DAN 23 conference in Seoul on August 24, 2023, where they will introduce their latest generative AI technologies and business plans. During this event, Naver will discuss about how they are making search and shopping services smarter with AI, alongside their commitment to using AI ethically.
As digital marketers, we closely monitor the development of new search engine features like Cue, as it can have a significant impact on SEO practices, and CLOVA for AD, for its potential to can enhance SEM efforts. Additionally, new tools like CLOVA X and CLOVA for Writing offer opportunities to increase productivity in creating marketing content, especially in the Korean language.
These announcements also represent Naver's response to increasing global competition and its effort to solidify its market leadership position while defending against global tech giants like OpenAI, Google, and Baidu. It will be exciting to witness how these developments unfold and how generative AI will transform the field of digital marketing.
As we continue to delve deeper into Naver's new generative AI services, our Korean team will keep you informed with local insights and analysis. Stay tuned for more updates and our expert views on how these advancements will shape the Korean digital marketing landscape.
Ready to maximize your digital marketing in Korea?