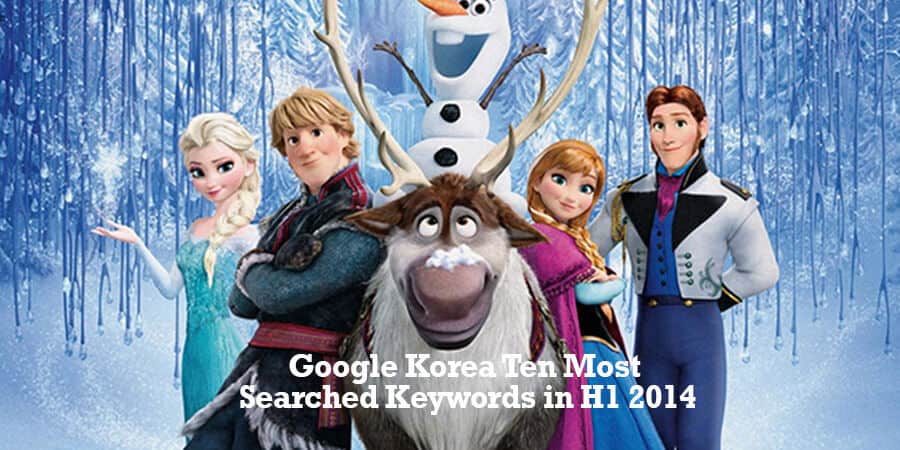 Google Korea released the top ten most popular keywords for the first half of 2014, i.e. January 1st to June 30th of this year. Looking at the most popular keyword terms on the not so popular search engine Google Korea (with less than 5% market share), the insights reveal some very interesting insights about the few people using the search engine in Korea.Mainstream topics, such as the two biggest international sport events (World Cup and Sochi Winter Olympics) are barely covered in the overall keyword rankings. Only searches on Kim Yuna, the currently most famous and successful ice skater in Korea, could make it into the top 10. It seems that Google in Korea is mostly used to retrieve information within the entertainment sector with keywords referring to movies, computer games and music.
The Sewolho ferry disaster is the only exception that does not fall into the categories above and this might be an indicator that people in Korea were looking for alternative information sources outside of the mainstream portals Naver and Daum as the government was heavily involved in this tragedy.
| | | |
| --- | --- | --- |
| Ranking | Overall Top 10 | Translation |
| 1 | 겨울 왕국 | Frozen (Movie) |
| 2 | 리그 오브 레전드 | League of Legends (Computer Game) |
| 3 | 마인크래프트 | Minecraft (Computer Game) |
| 4 | 김연아 | Kim Yuna (Ice Skater) |
| 5 | 세월호 | Sewolho (Ferry Disaster) |
| 6 | 뽀로로 | Pororo (TV Show) |
| 7 | 기황후 | Ki Empress (TV Show) |
| 8 | 아이온 | Aion (Computer Game) |
| 9 | 풋볼데이 | Football Day (Online Game) |
| 10 | 렛잇고 | Let it go (Soundtrack) |
For reference, we also included the top ten keywords for other categories published by Google Korea. Feel free to copy and paste these terms into Google yourself to see what they are about.
Ranking

Sports

TV Program

People

1

월드컵 2014

기황후

김연아 (스포츠)

2

프로야구

별에서 온 그대

류현진 (스포츠)

3

축구

정도전

김수현 (배우)

4

소치 올림픽

마녀사냥

걸스데이 (가수)

5

올림픽 헌장

무한도전

아이유 (가수)

6

류현진 중계

왕가네 식구들

엑소 (가수)

7

LPGA

(미국여자프로골프)

밀회

스텔라 (가수)

8

WWE

(미국프로레슬링)

런닝맨

전효성 (가수)

9

쇼트트랙

슈퍼맨이 돌아왔다

이상화 (스포츠)

10

한화 이글스

감격시대

전지현 (배우)
Feel free to leave a comment or your opinion on what you think about the Google Korea most searched keyword terms.